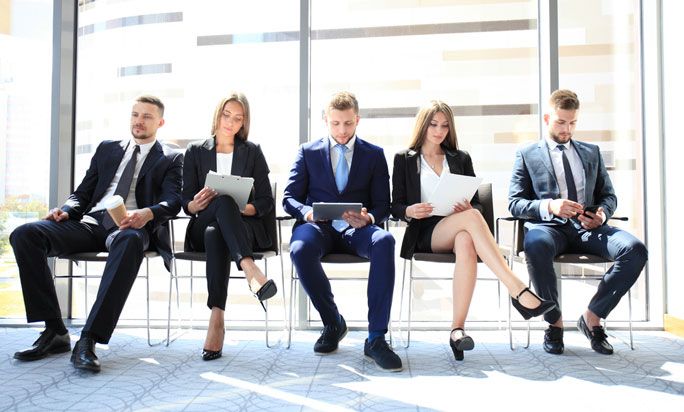 When it comes to job interviews, there is no one profession that has the corner on the market. While attorneys are trained in negotiation, litigation, and legal argument, these skills don't automatically transfer over to their job interviews. This is why we have put together a comprehensive list of articles about law firm job interviews. This list features articles about general preparation, dress, interview questions, turning interviews into offers, post-interview tips, law student interviewing, and many more areas. It even features a section with advice for law firms on how to properly conduct attorney interviews. We hope you find this page to be a helpful resource throughout the interview process, and we will continue to update this page as new interview articles are added to our site.  
Law Firm Interview General Preparation
The Importance of Interview Preparation - No Matter How Confident You Feel about Your Interviewing Skills
Interviewing Tips
Interview Preparation Techniques
Big Law Interview Tips and Law Firm Interview Preparation
Acing Your Interview Starts with Assessing The Interviewer
How to Choose Writing Samples for an Interview
Your Interviewing Personality
Off-the-Record Interview Tips from Law Firm Interviewers
Interviewing and Dating: Some Parallel Principles
Law Firm Interview Dress Tips
What is Appropriate Dress for an Interview?
What to Wear to a Lunch Interview?
Law Firm Interview Questions
Open-Ended Interview Questions
What Questions Should I Ask During an Interview?
When Asked about "Salary Expectations" in an Interview How Should I Respond?
Interview Yourself First - Questions to Ask Before Starting Your Lateral Search
Turning Interviews into Offers
The Art of Interviewing: Tips for Converting Interviews into Offers
The #1 Thing You Need to Say in Legal Job Interviews to Get a Job
Interviewing a Law Firm: Distinctions that Make the Difference
The Benefits of Taking a Proactive Role in Job Interviews
Top 23 Law Firm Interview Tips: How to Excel in Law Firm Interviews
The Importance of Interest, Energy and Enthusiasm in a Law Firm Interview
Law Firm Interview Q & A
Do I Have to Tell the Firm with Whom I am Interviewing My Current Salary?
Do I Have to Reveal My Current Salary to a Firm with Whom I am Interviewing?
How to Interview in a Different City without Risking Your Current Job?
How to Conduct Yourself During a Lunch Interview?
What Should I Bring to a Job Interview?
Is Voluntary Disclosure During an Interview a Good Idea?
If I Want to Relocate, Can I Expect Reimbursement During the Interview Process?
Are You a ''Me-Focused'' or a ''You-Focused'' Interviewee?
INTERVIEW 101: When Did "Type A" Become "Too Much"?
Is It Ever a Good Idea to Lie or Exaggerate about Your Qualifications on a Resume or in an Interview? (Part II)
Recently Laid-off Associate Unsure How to Handle Job Status in Interviews
Common Interview Mistakes and Issues
35 Absurd Ways to Create an Awkward Moment in an Interview
The Secret to Effectively Sharing Concerns about Your Current Employer without Committing the Most Common Interview Blunder
The Interview Quandary
Recently Laid-off Associate Unsure How to Handle Job Status in Interviews
Associate about to Be Let Go Unsure How to Handle Reason for Leaving in Interviews
How to Address Your Layoff in Cover Letters and Interviews
Interview Uncertainty
Shy 4th Year Associate Needs Help in Overcoming Interview Fear
The Changing Interview Landscape
Interviewing after a Long Time
Remote Interview Tips
A Guide to the Interview: Videoconference Interviews
How to Ace a Phone Interview
How Should I Handle a Skype Interview?
Interviewing Tips for Lateral Attorneys
How Should I Address ''Potential Portables'' in an Interview?
Lateral Interviewing Techniques
Summer Interviewing Tips
The BCG Guide to Summer Interviewing
Bikinis or Briefs ... What Lies Beneath the Perfect Summer Interview
Law Student Interview Tips
The Law Student's Interview Cheat Sheet
Top 10 Interview Tips for Law Students
After the Interview
The Interview Post-Mortem: Don't Forget Your Thank You Notes!!
Had a Great Interview but Have Got No Response to My Thank-you Emails
What Does It Mean if I Haven't Heard Anything Back from an Application/Interview in a Couple Weeks?
What Should I Do If I Don't Hear Back After a Good Interview?
Conducting an Interview
How to Effectively Interview Lateral Candidates: Pointers for Law Firms
How to Conduct an Interview for Lateral Hires
Top 7 Rules for Law Firms Conducting Call Back Interviews of Law Students
Behavioral Interviewing Techniques to Help Your Law Firm Get Great Laterals
Learn why attorneys usually fail law firm phone-screening interviews in this article: