For the World's Largest Collection of Law Firm Interview Resources Click Here
The first step in any successful interview is reading and assessing your interviewer. The person in front of you is a lawyer, not a professional interviewer, and may or may not conduct a traditional interview. It is up to you to read each interviewer's tone and steer the interview to a positive place that will leave the interviewer with a great impression of you.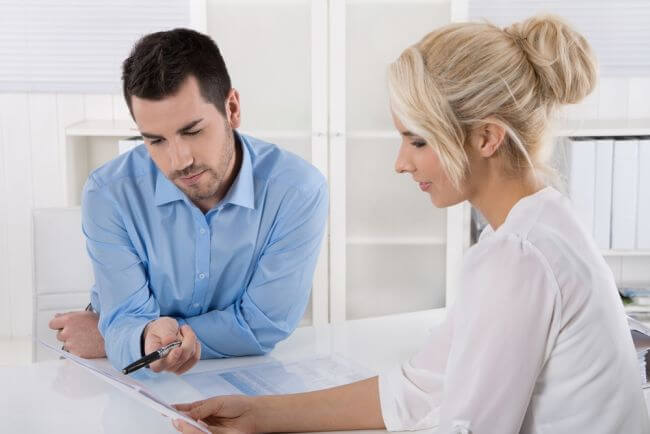 In this article, I will examine some common types of interviewers and how to handle them. For example, your interviewer may feel annoyed at having to take time out of her busy day to interview you. Others may be most interested in whether they will enjoy working with you- whether there is a personality fit. Still others may ask you about every aspect of your resume. A last type may be the dreaded "hard interviewer" who poses a series of difficult questions seemingly intended to trip you up. You have no way to know what kind of interviewer you will encounter. Therefore, taking a moment to assess what kind of person you are talking to as soon as you sit down is key.
1. The Too-Busy Senior Associate.
This interviewer felt that she had to say "yes" to the partner who asked her to interview you at the last moment. She is overwhelmed, working too many hours, hoping to make partner herself. You are taking time away from her billable day. The moment you walk in, you sense that she is annoyed.
How to navigate this scenario:
This person starts off not being engaged in the interview; her mind is elsewhere. Your solution: try to engage her and get her to focus on you.
She probably will not ask you a lot of questions, so you need to make the effort
, at least initially. Volunteer information about yourself. Talk about your career, yes, but the important thing with this interviewer is to connect with her. If you can brighten her day, she will feel great about you. Make a subtle joke, make lots of eye contact, smile. If you noticed something from her bio that you have in common with her, subtly bring it up. Look for opportunities to get her to talk about herself. She went to school in your hometown? Ask her how she liked it there. She is an avid skier? So are you- now you can talk about ski destinations. If you are more comfortable doing so, you can always stick to work-related topics: ask her how she ended up in her particular practice area, about the path she walked to get there. Ask her why she loves working at the firm, her favorite project, proudest moment- these are guaranteed mood lifters. It will also help, after you have established a connection, to acknowledge that she has taken time out of her busy schedule and thank her for doing so. For example, "I really appreciate your taking time to talk to me when you must have so much work to do." This gives her an opportunity to state the opposite, that it really was no problem; she truly enjoyed meeting you, and needed a little break.
2. The "Friend."
This person wants to know whether she will enjoy working with you. This is usually an associate level person; she will leave the decision whether you have the skills to work in the firm up to the partners. She is therefore less interested in your skill set; she just wants to know whether she likes you, and whether you are someone she wants to work with.
How to navigate this scenario:
The trick here is not to become too relaxed.
It is all too easy to talk yourself out of a job by saying something inappropriate to someone you have "bonded" with.
This person is not your friend. She may be looking to make a connection, but always, always, remain professional when talking to her. Be careful not to let your guard down too much. If you say something inappropriate, she will absolutely notice and she will remember. Don't forget that she will be asked for her opinion about you after the interview.
The Friend will focus primarily on your interests outside the workplace. Maybe you know the same people, belonged to the same sorority, went to the same school. The two of you will connect right away. Specifically, I have heard of interviewers who will say negative things about a former employer, discuss wild times, politics and religion, even use swear words during interviews. Resist the urge to do the same, even if your interviewer does. Do not discuss your personal life, except for neutral matters. Never ask about salary, about reduced-hours possibilities, "true" billable requirements, or bonus amounts, no matter how comfortable this person makes you feel. Smile and be warm, make jokes, find common ground, and remain professional.  
3. The Resume Miner.
This is generally a partner who wants to hire someone with a particular skill set. It is quite possible that he saw something on your resume that caused him to bring you in for an interview. He is trying to determine how in-depth your work was, whether you had a high level of responsibility or were just performing specific tasks as directed. Show him that you are tuned in to the big picture.
How to navigate this scenario:
Know everything on your resume
, and know it well. Go back and review the work you have done before your interview and be prepared to discuss everything. If you wrote a brief to an appeals court several years ago, and you are talking to a litigation partner, you had better know exactly what the issue was in the case, what the research showed, and how the case ultimately came out, even if you were not part of the team the ultimately saw the matter to argument.
If you submitted a writing sample
, go back and re-read it.
Know details and be able to talk confidently and cogently about them
; this is what this interviewer is after. I
f you were worked on a due diligence matter, know if the deal went through, and know what the sticking points were.
Be able to talk about the challenges and outcomes in each of the matters you worked on. If you supervised people, if you ran a deal or portions of a deal, if you talked regularly to clients or opposing counsel, this is the time to say so. Highlight any leadership roles. If you wrote a law review comment or article, you will almost certainly be asked about it. If you can't remember details about an item, it is probably best to take the item off your resume.
Similarly, know the non-legal related items on your resume. You play xylophone in the church choir band? Be prepared to discuss your training and your participation. You used to be a professional ice skater? Be able to discuss your experiences, and why you were drawn to that activity. Active in cat rescue? Tell them all about it, and why you love it. These are great opportunities to bond with your interviewer, and make yourself memorable. They are probably asking about it because they do something similar, or find that activity interesting.
4. The Difficult Questioner
This person, happily, is rare. However, she will appear from time to time in one form or another. She will ask you all the questions you hate to answer, seemingly just to watch you squirm. As a general matter, when talking to this interviewer, don't let her see you sweat. Remain calm and focused. Sometimes when we are nervous, we tend to talk too much and say the wrong thing, and that is exactly what she is watching for. Take a deep breath before answering, speak slowly, and think about each response carefully, even if you take a noticeable pause.
Now let's go over some commonly asked difficult questions, and some do's and don't's of how to answer them.
A. Where do you see yourself in five years?
This is probably my personal least-favorite question. The obvious answer is, "Here! As a partner in this law firm!" But you can't say that, can you? Therefore, think about what will actually make you happy as a law firm lawyer in five years. Picture yourself as a partner. What are your goals? Are you someone who looks forward to cultivating business? Why? What would you like about it? Is your goal to argue a case before a federal trial or appellate court? What do you plan to do to get there? Do you see yourself running deals and training associates? Being a big client's main contact? Being an expert in a particular area of law? Do you see yourself as active in the bar association, possibly heading a practice section? Giving speeches, writing books and articles? Talk about what you see yourself doing in accomplishing your professional goals. Get excited.  
The best answer usually involves becoming an authority or leading figure in your field
, with much visibility in the community, as well as a resource for junior attorneys at the firm. These are things that benefit both you and the firm.
Here are some examples of what not to say:
- "I see myself going in-house."
- "Working part time."
-"I'm not choosy, I just want to be happy."
These answers all betray a desire not to embrace the life of a
law firm associate
, much less put in the effort to become partner. You would be surprised how often people give these honest, but fatal, answers.
B. What is your worst quality?/What has been your biggest challenge in your current position?
This is a world-famous question that interviewees always get, and always dread. I do not recommend the hackneyed, "I work too hard. " Instead, offer something that was a challenge for you in the past, but no longer is because you recognized the issue and worked hard to overcome the problem. Discuss the steps you took. Always, always make it a problem that is now solved and entirely within your control.
For example:
-"I am actually a very shy person, but I forced myself to take acting classes in order to make myself feel unafraid when dealing with people. Now I can speak publicly and am not nervous."
Another example:
- "I generally dislike legal research. I therefore spent the maximum amount of time with our firm's librarian, who showed me all kinds of great resources to make research quicker and less painful. I no longer feel like I have to reinvent the wheel each time I research an issue because of the tools I've learned. I still dislike research, but I'm far more efficient, so it is no longer the chore it once was."
A third example:
-"There is a brilliant but demanding partner in our law firm who everyone finds very intimidating on a personality level. Rather than avoid her like some other associates do, I sought her out early on in order to show her that I can handle her work competently. Now I'm her go-to associate. She still intimidates me, but I get fantastic, steady work that I love, she trusts me more and more as time goes on, and has told me she is happy with my work product."
The moral of the story is always that you have overcome the obstacle. You had a problem or issue, you took constructive steps, and you won.
Here are some examples of answers that always make you look bad, and that you should never offer as examples of your worst trait, even if they are:
-"I have a hard time with time management."
-"I get really stressed out/frustrated and feel overwhelmed."
- "I hate doc review/due diligence/grunt work."
- "I'm not detail oriented enough."
All of these answers reflect on the candidate as not having the control or desire to be an effective law firm associate.
A final note on this topic: I highly recommend avoiding mentioning challenging situations that are ancillary to
practicing law
. For example, you didn't get good work assignments because the work-provider partner has an inappropriate relationship with another associate? Avoid the topic altogether. You want to leave your firm because your work-provider is a screamer who makes his secretary cry? Find another reason. You don't get invited out for drinks and feel that generally you don't fit in with the other associates? No need to mention it. These are things that certainly happen in law firms, but they are not appropriate for discussion during an interview.
C. Tell me about yourself.
Attorneys who are not particularly talkative hate this question. However, it is important to recognize that it gives you an opportunity to discuss why you are an interesting, dynamic person. If you are shy or modest by nature, think hard about this question before walking into any interview; it is important to have an answer ready.
When this question is posed will determine the tone of your answer. Many interviewers will lead off with this question. If they do, I recommend starting with your resume, walking backwards, but embellishing what's there. For example, if you are coming from another firm, discuss why you chose that firm, that practice group, that city, what you have enjoyed about those choices. If you are moving cities, discuss why. If it feels right, you can also discuss the reasons you are looking to move firms. You may or may not get the opportunity to discuss your skydiving adventures or your passion for collecting stamps, but again,
the important thing is to read your interviewer and look for opportunities to point out the qualities that set you apart and make you interesting.
Also important is to engage the interviewer; make sure she seems interested in what you are saying. If she doesn't, move on to another discussion or give her a chance to ask a different question.
If the question comes towards the end of the interview, you have probably already discussed your legal skills and experience. What is interesting about you that is not on your resume? What are your interests, aside from practicing law? Again, the first step here is to assess your interviewer. If you're sitting with a partner who has a reserved air, she may not relate to your recent heli-snowboarding trip, or your weekend at Lollapallooza. She may want to hear, however, about a great book you recently read, or a foreign language you're trying to learn. An animated junior associate may jump on other experiences to bond with you. I recommend avoiding discussing family and children to the extent that you can; whether you are married or have children is generally not an interviewer's concern.
D. What questions do you have for me?
This is another much-hated question. Interviewees often feel tired at the end of an interview, and seldom know what to ask. However, you can miss another opportunity to make yourself memorable if you simply say, "I think all my questions have been answered, but thanks!"
There are some standard questions which can be viewed as overasked, but which should still be asked at some point, because you do need to obtain this information.
They are:  
What will my day look like?
What kinds of matters will I be working on?
How is feedback given and how will I know I'm doing a good job?
What is the partner -associate ratio?
Will I get client contact, and when?
Once you have asked these questions of one interviewer, however, there is no need to ask them again. When subsequent interviewers ask, you can use this question as an opportunity to get your interviewer to talk about himself. What has been his most exciting experience at the firm? Why did he choose this firm? This practice group? What is his favorite part about working at the firm? Can he describe the firm's culture?
In sum, a key factor in a successful interview is
assessing within the first few minutes the type of person who is sitting across from you. You need to be focused and pay attention to the signals your interviewer is giving you
. Once you have done this, you will not have a problem turning each interview to your advantage.
This article was also published in
Legal Employment Weekly
.
Learn why attorneys usually fail law firm phone-screening interviews in this article:
See the following articles for more information: