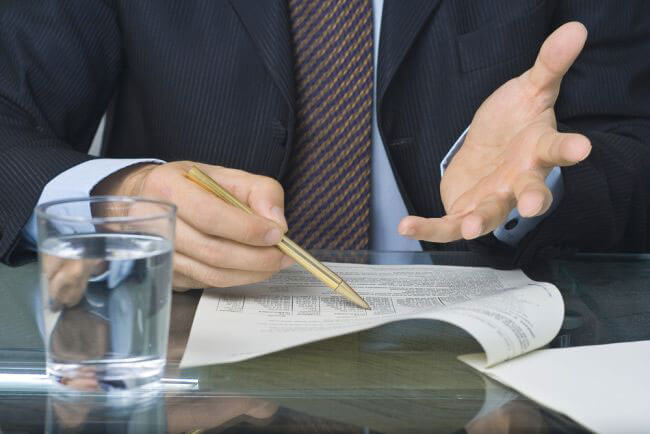 There are a few key concepts to keep in mind to both survive the interview process unscathed and to contribute to the selection of the firm's next generation of lawyers.  
1. BE KIND
Students know that every candidate will not get an offer. It is not good to "play" with applicants or to be intentionally cruel. It takes no more time to make someone feel good about meeting you and spending time at the firm than it does to cut the interview short and say to someone "you are not going to make it here." You might think that you are doing that person a favor by not wasting their time, but keep in mind that beside the compelling reason of being sensitive to a candidate's feelings, you might be sitting opposite a future judicial law clerk, opposing counsel or potential client. Thoughtfulness during times of stress often goes a long way toward making the firm look attractive even though an offer is not extended.
2. EVALUATE CAREFULLY
Try very hard not to make a judgment immediately. It has been said that many interviewers form an impression during the first 30 seconds of an interview and then spend the rest of the time confirming that determination. Everyone is different in their ability to relate to someone immediately.
It is productive to spend the full 20 minutes allotted to the interview to try to get to know the applicant and to learn why the on-campus interviewer offered a call-back. Firms include many different questions on their evaluation forms but standard on many forms are: business appearance, communication skills and experiential background. One firm considers two questions critical to their decision about a candidate: would you want to have lunch with this person, and would you feel comfortable taking this person to a client meeting. Most firms invest over $1,500 in each student called back for an interview. This includes lawyer time and is exclusive of student travel and accommodation expenses. Thus, a decision made on campus obligates the firm to an investment in that interview. This investment alone should encourage you to take this process seriously.
3. BE PREPARED
Many students are not yet attuned to the business world. Thus, they will not always behave as the firm's training programs informed you they would. You probably have not heard the interesting stories often shared with career service offices about interviews that did not turn out the way anyone expected. Both students and interviewers are the causes of these odd experiences. The stories range from the student who put his feet, sporting cowboy boots, on the interviewer's desk, or the student who broke into song in the middle of the interview (two choruses of "I've Got Personality"), to the interviewer who dropped her skirt (due to a broken button) when she stood to greet the student, or the interviewer who became ill -- on the desk -- during the interview.
It sometimes takes thinking on your feet and keeping your sense of humor to deal with the unexpected with grace and style. In the end, everything that happens is part of the experience of getting to know and evaluate the fit of a candidate.
4. SHOW NO FEAR
Students are not going to know that it is your first time interviewing. They will assume that you are experienced and will treat you with the same level of respect that they show more senior interviewers. Most associates begin with "lunch duty." The expectation is that you will play a dual role: that of buddy to the student as well as evaluator. Most of the stories about destructive interviews come from lunches gone awry. Lunch is not the opportunity to party with students visiting the firm, have a free meal at an expensive restaurant or to become friends with the candidate. It is also not the time to bond with other associates at the firm, thus ignoring the student at the table.
  Lunch interviewers tend to be the harshest evaluators, perhaps because both students and associates tend to make the most errors during lunch. Whether the cause is too much alcohol or the group becoming too relaxed assuming that they are all friends, the lunch interview can make a significant difference in the final decision as to whether to extend an offer. The intent of the lunch is not to trip up someone but to get to know her or him in a more relaxed social setting.
5. NO TOUCHING
No matter how tempting it is to hug an applicant in your enthusiasm to appear friendly or to show your "support" of their candidacy, restrain yourself. Anything more than a handshake in greeting or saying good-bye (and sometimes even a handshake is not appropriate due to religious considerations) is outside of what is considered acceptable behavior. Such actions can gain you a formal harassment complaint from the law school as well as from the firm. You can show your enthusiasm in other ways including offering to serve as a source of information for the student after she or he has left the firm.
6. THINK BEFORE YOU ASK
In most cases, the firm supplies interviewers with training in what is appropriate -- as well as what is not appropriate -- to discuss at an interview. Most firms also go so far as to explain the rules governing proper questions. Learn how to read a resume and know that you are free to ask about any item which appears there. Look for time gaps that should be explained, experiences that are relevant to the firm's work, language skills that would be helpful in working with specific clients, and other related abilities.
It is always surprising how many interviewers forget their role as evaluators and see themselves as mentors to students. The difference is that a mentor is asked, and expected to provide, advice about many aspects of a student's professional life. An interviewer, however, is an evaluator and thus is limited by law and ethics to what can be discussed.
Every question must be job-related and appropriate to the skills and needs of the position. Asking whether someone is eligible to work in the U.S. is fine if the question is asked of every applicant. Asking only those candidates of color or who speak accented English if they are citizens of the U.S. is not acceptable. Asking anyone what their father does for a living is not acceptable, whether asked of men or women students. Asking only women who indicate they have families if they have childcare arrangements allowing them to work the hours required is unacceptable. Telling all applicants that the job requires many hours beyond a 9 to 5 schedule and asking if this will be a problem is fine. Clearly, asking someone out on a date to celebrate his or her call-back offer is definitely outside the realm of acceptable behavior.
7. KNOW YOUR LAW FIRM
One of the keys to interviewing well is to know your firm and what it considers important in the evaluation process. Review the firm's evaluation form used to note your response to each applicant. Ask and understand what the firm is looking for in new attorneys.
Your interview approach may change if your firm hires attorneys for specific practice areas. In that case, you will look for different skills and abilities depending upon the particular department's needs for summer or graduating associates. Meet with your recruiting office to determine what they consider an informative evaluation of an applicant.
The real key to success, however, is being able to answer a student's basic questions, including those about work product evaluation, the assignment system, mentor programs, departmental rotations and (always a favorite) the firm's training programs. Students have returned from interviews with associates who could not answer inquiries about the firm's structure and work assignment system. This raises doubts about whether the firm is involving associates in the very training programs that they are purporting to offer to all associates. It also reflects poorly on the preparation of the interviewer and their interest in the student applicant.  
CONCLUSIONS
Interviewing is a learned skill both for students and interviewers. The more interviewing you do, the better you will become at the evaluation process. It is often helpful to have an "ice breaker" question ready to ask in order to set the tone of the interview. Most experienced interviewers use an item that appears on the resume. This approach will allow the student to feel at ease by discussing something that they are familiar with from their experiences or skills and will allow you to begin to be comfortable with getting to know the student.
Remember that all candidates are not equally able to bond with you immediately. Learn to evaluate outgoing students as well as introverted students who may take a little longer to open up. Providing a business card at the end of the interview is also a nice gesture. Taking the time to participate in the firm's hiring program will not only gain you the appreciation of the hiring committee and the recruitment office, but will also give you a voice in identifying the future generation of lawyers who will be joining the firm as your professional colleagues and friends.  
Learn why attorneys usually fail law firm phone-screening interviews in this article:
Interested in Learning More About Legal Hiring? Read the Definitive Guide:
About Harrison Barnes
Harrison Barnes is the founder of BCG Attorney Search and a successful legal recruiter. Harrison is extremely committed to and passionate about the profession of legal placement.
His firm BCG Attorney Search has placed thousands of attorneys
. BCG Attorney Search works with attorneys to dramatically improve their careers by leaving no stone unturned in job searches and bringing out the very best in them.
Harrison has placed the leaders of the nation's top law firms
, and countless associates who have gone on to lead the nation's top law firms. There are very few firms Harrison has not made placements with.
Harrison's writings about attorney careers and placements attract millions of reads each year.
He coaches and consults with law firms about how to dramatically improve their recruiting and retention efforts. His company LawCrossing has been ranked on the Inc. 500 twice. For more information, please visit
Harrison Barnes' bio
.
About BCG Attorney Search
BCG Attorney Search matches attorneys and law firms with unparalleled expertise and drive, while achieving results. Known globally for its success in locating and placing attorneys in law firms of all sizes, BCG Attorney Search has placed thousands of attorneys in law firms in thousands of different law firms around the country. Unlike other legal placement firms, BCG Attorney Search brings massive resources of over 150 employees to its placement efforts locating positions and opportunities its competitors simply cannot. Every legal recruiter at BCG Attorney Search is a former successful attorney who attended a top law school, worked in top law firms and brought massive drive and commitment to their work. BCG Attorney Search legal recruiters take your legal career seriously and understand attorneys. For more information, please visit
www.BCGSearch.com
.