For the World's Largest Collection of Law Firm Interview Resources Click Here

As a rule, candidates who take a more proactive role in their interviews tend to get more callback interviews and job offers than candidates who take a passive approach to interviewing. Proactive candidates are often perceived as more engaged, more thoughtful and more enthusiastic about the position. Additionally, it's often easier for interviewers to envision working alongside someone who takes a proactive role in interviews simply because the interviewer gets to know more about an engaged and proactive interviewee as compared to a passive candidate.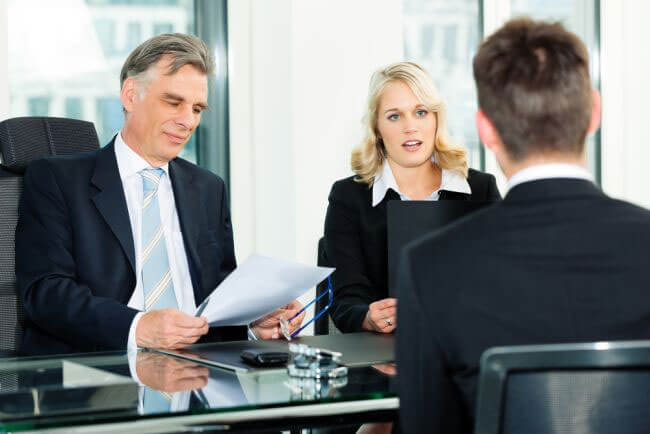 Proactive candidates tend to be more prepared for interviews both in terms of the research they conduct and their ability to understand (and therefore articulate) their own experience. As a result of preparing more effectively for interviews, proactive candidate are often better able to determine whether the position under consideration is a good fit. Passive candidates, on the other hand, are often not as well prepared and, as a result, can come off as lacking in enthusiasm during interviews and/or as lacking in self-confidence. Additionally, passive candidates tend not to gain as much from interviews and therefore often lack a good sense of whether an opportunity is ideal for them.
The good news, however, is that naturally passive individuals should not despair: with a little bit of work, candidates who gravitate towards passivity can learn how to take a more proactive role in job interviews. But, first, it's helpful to understand some of the classic mistakes passive interviewers make. Here are some examples:  
Prior to applying to jobs and interviewing at firms, passive candidates tend not to spend enough time reflecting on why they are looking to make a move to another company. Often they know they are unhappy or that they are feeling antsy but they don't take the time to reflect on why this is so and what they are looking for in their next position.
Passive candidates also tend not to spend enough time critically thinking about why the company they are applying to/interviewing with is of interest to them and why it may be a better fit than their current position. In other words, passive candidates don't always prepare as well in advance of interviews. This is not to say that such candidates are lazy and don't review materials in preparation for interviews. However, often such candidates don't review a broad enough range of materials or don't adequately reflect upon the materials they do review.
Passive candidates can get in their own way by focusing too much on what they haven't done rather than being able to effectively articulate what they have accomplished. In other words, they fail to understand the extent of their experience and the depth of their skill set. For example, let's say there is a litigation associate with four years of experience. This associate is at a large firm so most of his work has involved discovery and drafting pleadings and motions. He has argued a motion in a pro bono matter and has defended depositions but has not taken depositions. He is on an interview with a firm he thinks highly of and where he believes he can gain more hands on experience. One of his interviewers asks him if he has ever taken depositions. If he is a passive candidate he will likely answer this question with a quick and ineffective "No" or with a negative response followed up with a brief explanation (or excuse) for why he hasn't gained any deposition experience yet. He will not be able to provide a stronger response because he has not given enough thought to what he has accomplished and, as a result, lacks the confidence to formulate a better response.
Passive candidates forget to play offense. They spend the majority of the interview on defense, fielding questions with a quick response instead of using the question as an opportunity to engage in a more extensive dialogue and to learn more about the firm. Perhaps because of a lack of preparation or self-confidence, passive candidates often answer questions very quickly (e.g., "No, I do not have experience taking depositions" or "Yes, I am familiar with the False Claims Act."), because they falsely assume that the faster they answer a question the less likely it is that they will mess up. In other words, they have not adequately prepared for the interview or taken the time to reflect on the position, or their experience, and thus they lack confidence in their ability to interview well.
Passive candidates generally do not ask the right questions. They typically have a few stock or generic questions they keep on hand in the likely event that an interviewer asks them if they have any questions. These questions are not grounded in the interviewee's research about the firm or observations garnered during the interview process. Nor are they intended to elicit useful information or actually help the candidate determine if the position under consideration is a good fit. Instead, they are simply meant to check the box on asking a question. When candidates ask generic questions there usually is little to no dialogue, or follow-up, once the response is given. Interviewers will typically pick up on this and will be able to tell that the interviewee is not really engaged in the interview or, at a minimum, that the question was not a sincere one.
Each of the above-mentioned classic passive interviewing mistakes can be corrected with a little hard work and critical thought. It all comes down to preparation and analysis. Here are a few things naturally passive candidates can do to successfully take a more proactive role in interviews and, as a result, increase the chances of a call back or an offer:  
Before beginning a job search, take some time to reflect on why you are looking to make a change and on what changes you specifically would like to see. This involves more than just stewing about the things you don't like about your current job. It also involves reflecting on what you like about your current job and would, therefore, hope to see in your next job. For example, upon reflection, you might determine that your primary reasons for considering new job opportunities is because the work flow at your current employer is too inconsistent and that you are nervous about what this means for the long-term health of your firm or sub-group. Relatedly, when considering positives, you may determine that you really like the collegiality in your office or sub-group and that you have been lucky enough to take on significant responsibility on your matters. Taking all of this into consideration, you determine that you are looking to make a move to a firm or company where you can continue to take on substantive responsibility and work in a collegial environment but where the work flow is more consistent and the company is growing/performing at peak levels rather than stagnating. You can now proactively focus your search on companies that seem to fit the bill.
Although assessing what you might be looking for in your next job is a positive step you also need to be able to clearly articulate your specific interest in a company to your interviewers. This takes adequate research which includes more than just skimming the bios/profiles of the attorneys with whom you are meeting. Among other things, thorough preparation includes: carefully reviewing practice pages; knowing where the firm has offices (and how this might impact your practice or your interaction with attorneys in other offices); getting a sense of the number of partners and associates in a particular practice area; assessing the class year spread among associates; and reading press releases, articles and other news features which can give you more information about the firm. By doing this you will be able to give more cogent and detailed responses to the question, "why are you interested in our firm?" To give another example, let's say that you notice by reviewing the number of associates and partners in the practice group you are interviewing with that there is one associate to every two partners. This observation will provide you with both a tangible reason for thinking you will likely gain substantive experience at the new firm and a basis for asking about whether the group leanly staffs matters. This is a far more effective approach than simply saying that you "hear associates get to take on significant substantive responsibility on matters."
Take some time prior to an interview to really reflect on your skill set strengths and weaknesses. Be able to quantify your experience and clearly articulate what you have accomplished. To use the example from earlier in this article, let's assume that you are interviewing for a mid-level litigation associate position. You know from discussions with your recruiter and from the job listing that the firm typically gravitates towards candidates with experience taking depositions. However, you have not yet taken a deposition. It is very likely that you will be asked by one or more interviewers if you have ever taken a deposition and your response will be critical to their determination as to whether or not to hire you. Of course, you cannot change the fact that you have not yet taken a deposition, but by reflecting on the full extent of your experience and your skill set you can proactively approach the question rather than just answering in the negative. For example, if you have successfully reflected on your overall experience, you can instead respond with, "I am looking to gain deposition experience and that's one of the reasons I am looking to switch firms. I have defended multiple depositions and have second-chaired more than a dozen depositions so far. I have also taken the NITA Trial Advocacy course and did extensive deposition training during that program. I also have significant experience drafting complex deposition outlines for both fact and expert witnesses and have single-handedly prepped witnesses for depositions." Although there's nothing you can do if a firm will only look at candidates with experience taking depositions, it's easy to see how the above response is far more effective and compelling than a simple "No, I haven't had an opportunity to take depositions yet."
Don't forget to play offense. Remember that you are conducting an interview as much as you are being interviewed. The more effectively you prepare for a job interview, the more likely it is that you will feel comfortable engaging in a dialogue and, in turn, the more you will learn about the new potential employer. For example, you might notice when reviewing the bio/profile of one of the attorneys with whom you are meeting that they attended your law school or that they worked extensively on behalf of a shared client. These commonalities are great ice breakers. Additionally, if you adequately prepare for your interview you will find yourself providing more thoughtful responses to questions, rather than just trying to hurry things along, which will in turn tell the interviewer more about you. An instructive example is the scenario I highlighted earlier regarding a more thoughtful response to the question "Have you taken any depositions?" Because you will have reflected upon, and become more comfortable with, your deposition-related experience, you are better able to highlight the full range of your skill set. In other words, you are better able to take charge of the question being asked.
Do the research and critical analysis necessary to ask better questions in interviews. Instead of relying on the usual list of stock questions, candidates who have adequately prepared for interviews will find that they naturally have numerous genuine questions for their interviewer. You will find that one question will yield more questions and that the result is a natural dialogue in which you are a proactive participant who is gaining knowledge with each question asked. Let's look at two examples discussed earlier in this article. First, your research might reveal that the firm you are interviewing with has recently added a number of new partners in your practice area. During the interview you will naturally want to inquire whether these new partner additions are simply because the firm is in growth mode or if there is another reason, e.g., the firm recently lost a couple of partners from the practice group. If the latter is the case then you will want to dig even deeper to find out why those partners left. Another example is that, while reviewing the firm's website in preparation for your interview, you might notice that there are multiple other associates at your class level even though the practice group only has fifteen members. This is a possible red flag which you will want to ask about during your interview to, among other things, better assess what your long-term progression prospects might look like with so much competition at your class level.
While the above examples are not intended to be exhaustive, they are intended to highlight some of the steps naturally passive candidates can take to more proactively engage in their interviews. Taking a more proactive role in interviews does not guarantee success; however, by taking the time to adequately prepare for interviews and to critically reflect on your goals and experience, you will generally perform better in interviews and will be able to better weigh new opportunities.
 
See Top Ten Interview Questions for more information
Learn why attorneys usually fail law firm phone-screening interviews in this article:
See the following articles for more information: