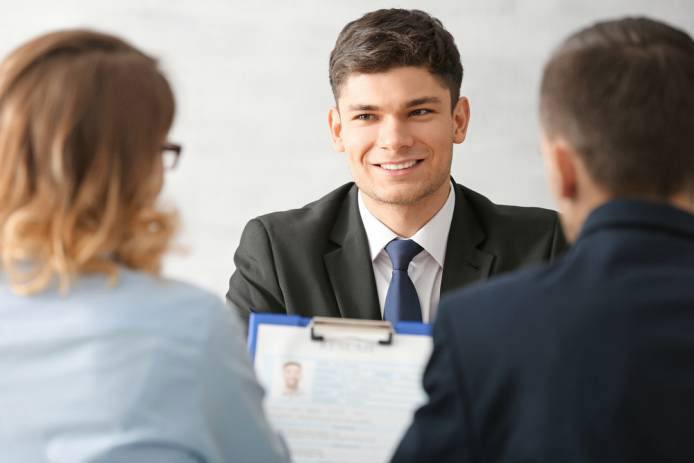 One of the most frustrating things for lateral attorneys is applying for positions at law firms and then hearing nothing back from the firms. This can happen when a candidate has sent an application and is waiting for a response, or after a candidate has gone through an interview at the firm. There are many reasons why this happens, and to understand this phenomenon you first need to understand how lateral recruiting is done inside of most law firms.    
How Lateral Legal Recruiting Is Done Inside of Law Firms
Law firms do their recruiting in two ways. The first way is through a recruiter or a recruiter's candidate making contact with a law firm's recruiting department. The second way is through a recruiter or recruiter's candidate making contact with a partner, associate, or someone else at the firm that the recruiter or candidate personally knows. If you are applying to a large, important firm, you should almost always use the first way, and go through the firm's recruiting department. However, if you are applying to a smaller law firm without the resources for a recruiting department, then you should go through someone you know. A resume that goes to the designated recruiting person in the recruiting department will almost always go to a partner anyway.
What styles of law firm recruiting have you seen? What do you think is most effective?
See the following articles for more information:
Law firms with recruiting departments want everything to go through them. Candidates often ask me "who I know" inside of the law firm and similar questions to see if I have any power that can help them and push them forward. The answer to this is that in most major law firms I know partners because they are my candidates and at different stages of the recruiting process I may have placed them or I may be involved in recruiting them. Nevertheless, just because I know partners does not mean it is a good idea for me to call them about given candidates. Most recruiting departments want to be "in control" of the situation when lateral talent is being recruited. They get very angry when they are not the first "touch point" in the process. Recruiting departments are supposed to be in charge of bringing in lateral talent. The people in these departments fulfill a whole host of responsibilities. They arrange interviews, conduct background checks, do meet and greets, connect with candidates, and more. Going around these people results in confusion and mistakes. It is best to contact the recruiting department in most instances. That is their job.
Certainly, it is important to have a partner send your materials to the recruiting department if you send them to that partner. I know of countless instances where an attorney sent his or her resume to a partner or friend and never heard anything. These candidates then asked me to send their resumes for them and they immediately got interviews—and in several cases hired. The law firm did not have the candidate's resume, and the candidate's "friend" (for whatever reason) did not forward the resume. You need to be careful about who you approach. Friends may be jealous and competitive with you, or they may simply be disorganized—you do not know. Partners may feel that the firm does not need any more associates in your practice area (they may be competitive with partners in your practice area and not want to help you), the partner may be uncomfortable with you working in the firm due to your personal relationship, or the partner may not like you as much as you think.
One time, when I was younger and a law student, I forwarded my resume to a partner I knew well growing up. He lived in my neighborhood and I was dating his daughter's best friend. After I sent the resume, I called him a few months later to follow up. I expected a warm reception. But instead, he was very cold with me.
"I have nothing to do with this. I sent your resume to the recruiting department."
Needless to say, I did not get a good feeling from this; however, this is what most partners are expected to do in the most organized of law firms.
Have you ever submitted your resume through a friend in a law firm? How did it go?
One thing I have noticed in my 20+ years in this business is that when a law firm does not have a good legal recruiting department, this is often a reflection of things that are not going right inside of the law firm. In almost every instance in which I have encountered a bad legal recruiting department, over time, the law firm has gone out of business or merged. You can often ascertain that a law firm has internal problems by the way its recruiting department behaves towards recruiters and candidates. If there is tension in the recruiting department, this means one of the following:  
The Recruiting Department Is Not Respected by the Firm - If the recruiting department is not respected by the firm, then the people within the recruiting department may be angry, do the minimum required, not pass along applications to partners, not follow up, not respond to applications, not respond to phone calls, and more. This creates all sorts of issues. I have had people within recruiting departments tell me in private conversations how much they hate their firms. One recruiting department at a major AmLaw firm recently told me "Who likes it here? No one likes it. Everyone would leave if they could."
The Recruiting Department Is Not Needed by the Firm to the Extent It Should Be - If a recruiting department is not needed to the extent it should be, this means that the firm is slow and does not have enough work, or the recruiting is being handled by another department. Regardless of who is applying to the firm, the recruiting department will either fall silent or not respond because the law firm does not have enough work to hire new people.
The Recruiting Department Is Simply Not Being Managed Properly by the Firm - Recruiting departments, like people, need to be managed properly. If a recruiting department is not being managed properly, it can get away with a lot. A non-managed recruiting department might not forward applications, might manage their email improperly, might not respond to applications, might lose things, might not pick up phone calls or return calls—and more. This creates issues where even the best applications go unnoticed. Our recruiting firm always sends applications via email, letter, and fax to make sure nothing escapes the firm.
The recruiting department of a law firm is a very important part of the law firm. It is the public face of the law firm and helps set the firm's reputation in the marketplace. The recruiting department is also responsible for responding to applications and keeping things organized. The people who work inside of a recruiting department are thus expected to have certain characteristics to make them effective from a public relations and efficiency perspective.
To understand what happens to your application when you apply to law firms, you should understand the recruiting department inside of most law firms. You should understand what a recruiting coordinator is expected to do and what a recruiting coordinator is expected not to do.
What do you think makes an effective law firm recruiting coordinator?  
Recruiting Coordinators Are Expected to Be Interested in People
The job of a
legal recruiting coordinator
is to be interested in people. Recruiting coordinators are expected to be interested in everyone around them and be liked. The recruiting coordinator should be liked by the staff of the firm, the partners in the firm, and the people whom the recruiting coordinator encounters applying to work in the firm. Most recruiting coordinators are very outgoing and people-oriented. This makes them interested in the people calling and sending applications, in partners requesting certain types of attorneys to assist them, in meeting new people, and in going to conferences. Being interested in people means that the recruiting coordinator can see what makes each person interesting.
The best recruiting coordinators are always able to put together a few sound bites about each person in the firm that makes them attractive to lateral candidates. They will bring these sound bites up as they take candidates back and forth to interviews. They can do the same with the partners about the candidates. They do this because they are interested in people.  
HOW BCG ATTORNEY SEARCH HELPS THIS ALONG

To make our candidates interesting to law firms and recruiting coordinators, we always write letters that contain summaries of our candidates as well as longer letters laying out their qualifications and backgrounds. We also ask our candidates (through questionnaires and interviews) to tell us more about themselves, including personal details that can make them interesting to the firms. This makes the legal recruiting coordinators and partners feel like they know the candidates before they even see them and this helps the candidates. Legal recruiters like this information because they are interested in people. This sort of information makes our candidates (more than the candidates of other legal recruiters, who do not do this) better able to get hired.

WHERE THINGS GO BAD

Some (but very few) legal recruiters are not interested in people and view their jobs, candidates, and others as annoyances. They will often have issues that will cause "communication breakdown" to occur. They will not pass on important details about you. They will have a bad attitude and this will prevent them from understanding what the firm wants and from passing on helpful information about you to the people making hiring decisions.
How can be interested in people also help you when you apply to a law firm?  
Recruiting Coordinators Are Expected to Be Able to Connect with People (Partners, Associates, and Outside Recruiters)
In addition to being interested in people, the recruiting coordinator needs to be able to connect with people. Recruiting coordinators should be able to understand people, appreciate their positive characteristics, and get more in-depth insight into people than is revealed on paper. This ability to connect is important because it makes lateral interviewers comfortable and makes the partners working with the
legal recruiting coordinator
comfortable as well. The ability to connect with lateral talent and partners is a skill. The recruiting coordinator needs to be able to ask questions and show a level of understanding of a given candidate that might not otherwise come out in interviews.
Some of the very best
legal recruiting coordinators
go so far as to give lateral candidates the impression that they are their friend and connect on a level that they can get the information they would not otherwise get—good and bad. This is very helpful for the firm.
The best
legal recruiting coordinators
also connect with outside legal recruiters. I have had several legal recruiting coordinators call me when their firms had dire needs for certain types of lateral candidates and spend a good deal of time buttering me up. Other lateral legal recruiting coordinators (and firms) regularly invite me to their offices and make close contact with me that way. This is their job, and the better this is done, the more effective the law firm becomes. This is because they can get candidates faster and they can get candidates they might not get otherwise.
Connecting with people applying to the law firm also makes it more likely that these people will say good things about the firm in the market and also that they will be more likely to go there (over other firms) when an offer is extended. I have seen many strong
legal recruiting coordinators
carry the day when a candidate had multiple offers. It is a very important job.  
HOW BCG ATTORNEY SEARCH HELPS THIS ALONG

To connect with legal recruiters inside of law firms, our company tends to gravitate towards hiring recruiters who are also interested in connecting with people. Most of our legal recruiters like talking on the phone and are able to connect with many personalities. While many legal recruiting firms brag about the qualifications of their legal recruiters (such as the schools they went to and the law firms they worked in), this is only an important component for potentially connecting with similarly-situated attorneys. In reality, the best legal recruiters need to be able to connect with the people inside of the law firm. This is as—if not more—important than connecting with attorneys. One year, I connected with a legal recruiter in Los Angeles who took a liking to me. In the space of two months, she hired four candidates from me and told me she did so because she liked me so much. This can make a difference. It is important that a legal recruiter can be more of a connector and less of a professional when working with candidates.

WHERE THINGS GO BAD

Things go bad when the legal recruiting coordinator is unable to connect with people in his or her firm and the people he or she is bringing in. This gives the coordinator an unoptimistic attitude about their jobs and creates unnecessary tension in the hiring process. Legal recruiting coordinators are also often unable to connect with outside legal recruiters, and when this happens, outside legal recruiters will often be turned off. The worst legal recruiting coordinators do not connect with candidates or partners. As a consequence, they are unable to bring in the best candidates and often ignore the best candidates when they do come in.
What are some ways you can make connections with attorneys in the law firms you apply to?
See the following articles for more information:
Recruiting Coordinators Are Expected to Be Smart Enough to Understand The Needs of the Firm and What the Firm Likes and Does Not Like in Its Lateral Candidates.
This is a very important skill, and one that most (but not all)
legal recruiting coordinators
get. Recruiting coordinators need to understand not only the needs of the firm, but also the sorts of candidates that the law firm is most likely to be interested in (regardless of whether or not the firm has a position). They need to make a careful calculation as to when there might be a business case for hiring certain candidates as well as reasons for not rejecting candidates who seem otherwise qualified.
Most
legal recruiting coordinators
went to respectable colleges (many these days are former attorneys from large law firms), and some did not go to college. Most often, however, the legal recruiting coordinator is hired for his or her social, people, and administrative skills and is paid accordingly. Because of this, they often look for very well-defined sorts of people and perform a screening function where mistakes can be made and not made. The screening function can often prohibit people who might otherwise be brought in from being interviewed. This is not always the case, of course and legal recruiting coordinators much, much more often than not know what to look for than what not to look for. I should note that each year numerous legal recruiting coordinators pick up on and bring in candidates for skills and talents that I even missed – in fact, I am grateful for the times this has occurred.
Here are some recent examples of when the process has failed. These are not an indictment of any firm in particular and more often than not these mistakes are made by smaller firms that put people in a position where they are not able to distinguish between different types of attorneys.  
A third-year patent associate from a major law firm who attended an Ivy League law school was rejected for poor grades in chemistry as an undergrad. The recruiting coordinator in Boston had been told to look for people with only the "top grades" in undergrad and law school and from big firms and top law schools. Had the partners in the firm seen the candidate's resume (which I made sure they did), the candidate would have gotten an interview off the bat. I got him an interview with the firm and a job.
A fourth-year litigation attorney who graduated at the top of his class from Harvard Law School, who did a circuit court clerkship, and was coming from the US Attorney's Office in Hawaii was rejected for not coming from a law firm by the ten law firms he applied to in Los Angeles. This was done on the grounds that he did not have law firm experience. The recruiting coordinators had been told to look for people from top firms. None of the recruiting coordinators were former attorneys and they did not understand the value of a circuit court clerkship and how remarkable it was to have gotten a position with the US Attorney's Office before ever working in a law firm. Had the partners in the firm seen the resume initially, the candidate would have gotten interviews and offers. I ended up getting him interviews at four of the firms and he got offers from three of them.
An ERISA candidate from a major law firm who graduated at the top of his class from a top-10 college and then attended Loyola Law School in Chicago and graduated in the top-5 students in the class was rejected from several major New York law firms because of the "quality" of his law school. The legal recruiting coordinators had been told to only look for people from top law schools. I ended up getting him two interviews and an offer from the same firms that rejected him initially.
HOW BCG ATTORNEY SEARCH HELPS THIS ALONG

When we represent you, this conveys to recruiting coordinators that we would not be wasting our time on you unless there was something in your background that merited our involvement. Also, because we do not just send resumes, we typically can make a case for you and explain your background in a way that would otherwise not be made if you were not being represented by us. If you were to approach the firm on your own, or through a legal recruiter who did not take the time discuss you with the firm, or did not understand your strengths, you would likely get rejected more than you would with us. We can also say lots of things about you and your background that emphasize your strengths in a way that would look bad coming from you—but that look good coming from us (for example, we can call you "remarkable" and "one of a kind" and similar things that would be an instant turn off if coming from you). We also take the time to call the legal recruiting coordinators and elevate things to partners if we feel you are not properly understood.

WHERE THINGS GO BAD

What all of this means is that some legal recruiting coordinators (not all, but some) do not have the skills to adequately review resumes and reach conclusions about whether or not you belong in the firm. They may reject you, or not respond to your application, because they may be blindly following a script that simply does not apply to you. This occurs in many rejections and prevents candidates who should be working inside a given law firm from ever getting in.
How well does your law firm's recruiting coordinator understand the needs of your firm?
See the following articles for more information:
Recruiting Coordinators Are Expected to Be Efficient and Organized
You can imagine how difficult it is for recruiting coordinators to be efficient and organized. They are presented with a constant stream of applications from law students, attorneys, and legal recruiters. They need to arrange interview schedules, send out rejection letters, respond to phone calls, go to meetings, and respond to texts. It can be a very stressful job requiring a high degree of organization. Applications are often lost. At times, recruiting coordinators even forget that they have scheduled interviews with people until the day they show up for an interview.
I have had numerous instances where I called a law firm about a candidate and the recruiter indicated that he or she had "lost" the application I sent—despite the fact I sent it three times (by email, fax, and letter). When prodded, they always say something like: "Oh, yes I see it now. It's right here. I will pass it along right away." This occurs with such regularity (and has throughout the years) that it seems pretty clear to me that it is quite difficult for many
legal recruiting coordinators
to keep track of all of the applications that are coming into them.
I've seen other instances where I called to follow up with a recruiting coordinator a couple of weeks after sending an application. "I see it right here. Yes, they told me they wanted to interview her a few weeks ago and it just completely slipped my mind. When can she come in?"
Some legal recruiting departments are extremely well organized. The best I have ever seen is
Lowenstein Sandler
—a New Jersey-based firm. This firm is "on it" and knows exactly what is going on. Not only does the recruiting department respond to all applications quickly, but they do it with a personal phone call. There are countless very efficient recruiting departments in the United States; however, I have never seen one that is consistently so on top of things. Some are very, very bad, of course, but it is nice when some are so good. The organization of a recruiting department is often an indication of the organization of the firm.  
HOW BCG ATTORNEY SEARCH HELPS PUSH THIS ALONG

We make sure applications are seen three times (by email, fax, and letter). We send reports to law firms every two weeks showing their pending candidates. We call and follow up with each application in an attempt to get a response. We keep very good records. Because of everything we do, our candidates typically get far more interviews and jobs than they would with competing recruiting firms.

WHERE THINGS GO BAD

If the legal recruiting department is disorganized, your application may never get seen. A firm that wants to interview you may never do so.
Is the recruiting coordinator at your law firm organized and efficient? Why or why not?
See the following articles for more information:
In my experience, the most organized law firms—the up and coming ones and (often) best ones—are the most responsive. The recruiting department of a law firm and everything that goes on there will determine to a large extent whether you get silence after you send your application.
The times that you hear silence are as follows:  
You Apply (on Your Own, Through a Recruiter, or Friends) and Hear Nothing
When this happens, it is generally due to the following reasons:  
The Firm and Recruiting Department Is Disorganized and May Have Reviewed Your Application But Is Uninterested and Too Lazy to Respond
Many
legal recruiting coordinators
hate receiving applications because they have to respond to them. Some send letters rejecting people and others call on the phone or send emails. Most do nothing. They may do nothing because they do not want to do anything, or because the firm does not require them to do anything. Regardless of the reason, you may never hear anything. If you call the firm, you may get a rather uncomfortable blow off.
The reason we spent so much time discussing recruiting coordinators above is that it all depends on them and what the firm requires of them. If the firm has high standards and is willing to spend the time and money to hire and train good recruiting coordinators, then you will hear something.
When we send reports to our BCG Attorney Search candidates each week of the firms that have and have not responded to their applications, it is almost always the best and most successful firms (and those that are on the way up) that are responding to applications. Firms that are on the way down and having problems do not respond. In my 20+ years of doing this, I have consistently seen the inefficiencies in the recruiting departments be reflections of the overall health of the law firm.  
The Firm Never Reviewed Your Application and May Not Have Received It
I hate to say it, but many times when you ask a friend at the firm (or a legal recruiter) to send your application, the firm never receives it. In fact, this is such a common occurrence that I would say it may be near crisis proportions because far too many candidates get rejected and do not get the jobs they are seeking because firms never see the applications coming in.
First, the
legal recruiting coordinator
may be so disorganized that he or she never showed it to people in charge of making hiring decisions. This happens all the time. Things get lost. Recruiting coordinators do not show the application to partners. Who knows? This happens all the time.
Second, when you have a legal recruiter send your resume to a law firm, the law firm also may never receive it. These days, recruiters send a ton of spam to the law firm, and because there is so much spam coming in, IT departments block their emails. Law firms thus miss tons of applications because their recruiters are blocked. To avoid this issue, we always send applications by email, fax, and letter and have a 5+ person IT department that makes sure our IPs are always white-listed with law firms. These resources give us (and our candidates) a major edge.
Legal recruiters also are the salesman and often do not send applications when they say they are going to. They may have a better applicant for the position, or may simply be working on something that is more high priority for them. Working with legal recruiters can be frustrating for many attorneys. To address this issue, we always make sure that we send our candidates a weekly report that discusses the status of their applications. In addition, we keep internal records to indicate whether or not the applications were received and opened. We also create an online profile for our candidates that is specific to each law firm and private that they can view online and that we track.
I have worked with countless candidates throughout the years—and encounter them almost every week—who thought they had applied to a given firm through a legal recruiter but found out the recruiter never sent their resume when I or our recruiters got involved. You need to be careful whom you trust with your career.
When you submit your resume through a friend who works at a firm, or someone you know at a firm, the odds are not as much in your favor as you might think. The issue with this is that friends are often competitive with one another and, as such, do not pass along the resume when they say they will. Even when they do pass along your resume, they may add a touch of information that does not put you in the most positive light to protect themselves. Finally, you never know how your friend is viewed by the law firm. For example, the friend may be having issues at the law firm, and this will end up harming your chances because the law firm knows one upset person will infect the other.  
The Firm Reviews Your Application and Is Interested But Hesitant
This is common. The law firm may see a need for you in the future but does not have one now. In this case, the law firm will put your application in a "later" file and may or may not respond later. In most cases, the firm will not respond. The firm might be interested and may bring you in later if it has the work or the need, but not right now.
The law firm may not be sure about your application because:  
Your qualifications are good, but not outstanding. This simply means the law firm is going to wait to see if it gets someone with a better fit in the future.
The firm is waiting for more work to come in and thinks it will need additional people. The law firm may be expecting things to pick up. The firm's attorneys are not overworked at the moment, but the firm anticipates this may occur in the future and will wait.
The firm is already in the process of hiring and interviewing people and wants to see these people through first. Law firms like to jump at the first people who apply. The firms bond with these people. We try and get our candidates out to new positions within hours of them becoming open for this reason.
Why is it important to continue applying to other firms even after interviewing for potential offers?
The Firm Reviewed Your Application and Did Not Want to Reject You Because You Might "Come Around Later," and the Firm Wants to Leave Open the Potential for a Relationship Later
This is extremely common. If you have the sorts of qualifications that make it look like you could work in the firm in the future, the law firm will not reject you. It will not want to upset you and it will want to leave the field open for you to apply again. You should not worry about a law firm delaying and not responding to your application for this reason. If you have good qualifications, this is often the reason why.  
The Law Firm Is Already in the Process of Interviewing Someone—or May Have Made Another Offer—and Is Not Ready to Interview Anyone Yet
When a law firm has an opening, it typically will interview the first people applying. The firm will interview these early people and bond with them. This means that applications that come later often get less attention (or ignored altogether). People are humans and bond with other people, and when this occurs the firm is often in the position of deciding between different people it already knows and likes.
At BCG Attorney Search, we make a huge deal out of new openings and do everything we can to get our candidates into these openings as quickly as we can. We immediately alert them with emails and a formal request for them to approve the firm. Nothing is more insane in your job search than sitting around and thinking if you want to apply to a given firm. This is a recipe for not getting a job.  
You Speak with Someone on the Phone (a Phone Interview) and Then Hear Nothing, You Have a Screening Interview and Hear Nothing, You Have One (or a Series of Live Interviews) and Hear Nothing, or You Are Told You Will Receive an Offer and Hear Nothing
This happens to attorneys all the time. When this occurs, generally it is for the following reasons:  
The Firm Needs to Discuss You and Has Not Yet
In many cases, law firms go through very formal processes when discussing who to hire and bring in for interviews. Firms need to arrange meetings, discuss individual candidates, and get everyone together. Sometimes this process can take some time, and law firms lose a lot of good potential candidates in the process of arranging all of this. When this occurs, there is not much to worry about—unless it goes on too long (more than three or four weeks).  
Needs and Work May Have Changed
This is extremely common as well, and there is not much you can do about it. A law firm's needs can change very quickly when (1) a case (or series of cases) settles or (2) a major client is lost. Law firms will "go dark" and may not say anything because they are embarrassed and also because they hope the work will come back. You simply cannot do much when this occurs other than hope the work will come back.  
The Attorney (or Attorneys) You Spoke with Do Not Want to Reject You
The attorney you see initially may be someone you know socially, or in some other capacity, or bonded with during interviews. Rather than reject you, the attorney is hoping you get another job in the interim, so he or she does not have to reject you. They will delay and delay so they do not have to give you the bad news. Alternatively, they know you might be considering positions in-house or elsewhere in the future, and they very much want to remain on your good side in case you can perhaps one day send them work. If you know them socially, or in some other capacity, they do not want to spoil that relationship either.  
The Firm Is Considering Other People
After you interview, the law firm is still receiving applications for the position. If a better applicant comes along, the firm may bring that person in as well. That person may even get an offer, and the firm will wait for the other person to respond before rejecting you. In the alternative, you could be brought in as the better candidate and then an even better candidate shows up. You need to understand that you are not the only candidate the law firm is considering and, as such, this can create a delay.  
The Firm Has Concerns about You and Wants to Take Time to Figure Them Out
This is also very common. While there are multiple concerns that the law firm might have, one of the most common concerns is that you may have been fired from your existing job. Law firms want to hire people who are currently employed. This suggests commitment and that the attorney is doing good work and not experiencing problems. If a law firm sees any warning signs you may have been fired from your job, the firm will often delay for weeks or months to see if you are still there. This sounds strange, but it happens all the time.
Firms will also delay pulling the trigger if one of your interviewers did not like you or there are other concerns. If there is anything you can do about those concerns, then you should do your best to do so. In one case, I had a candidate that the law firm reported to me on a Friday did not seem that interested and that "in all probability" the firm would be rejecting him on Monday.
I made the candidate come into my office on a Saturday and we worked on a series of letters to the people with whom he had interviewed, telling them how important a job with the firm would be to him. We worked from 10:00 am until 2:00 am on a series of drafts to each person. It worked. Instead of getting rejected by the firm on Monday morning, he got an offer.
When you have waited to hear back from a law firm what are some things you can do to continue your job search?
See the following articles for more information:
Conclusions
The most frustrating thing for attorneys applying to law firms is hearing nothing. While there are countless reasons for this, it happens to everyone. My best piece of advice for candidates is to make sure to apply to as many places as possible. While you cannot control individual law firms and their recruiting departments, you can control how often this happens to you. Because this tends to happen so frequently, you are best having more rather than fewer options.
See the following articles for more information:
About Harrison Barnes
Harrison Barnes is the founder of BCG Attorney Search and a successful legal recruiter. Harrison is extremely committed to and passionate about the profession of legal placement.
His firm BCG Attorney Search has placed thousands of attorneys
. BCG Attorney Search works with attorneys to dramatically improve their careers by leaving no stone unturned in job searches and bringing out the very best in them.
Harrison has placed the leaders of the nation's top law firms
, and countless associates who have gone on to lead the nation's top law firms. There are very few firms Harrison has not made placements with.
Harrison's writings about attorney careers and placements attract millions of reads each year.
He coaches and consults with law firms about how to dramatically improve their recruiting and retention efforts. His company LawCrossing has been ranked on the Inc. 500 twice. For more information, please visit
Harrison Barnes' bio
.
About BCG Attorney Search
BCG Attorney Search matches attorneys and law firms with unparalleled expertise and drive, while achieving results. Known globally for its success in locating and placing attorneys in law firms of all sizes, BCG Attorney Search has placed thousands of attorneys in law firms in thousands of different law firms around the country. Unlike other legal placement firms, BCG Attorney Search brings massive resources of over 150 employees to its placement efforts locating positions and opportunities its competitors simply cannot. Every legal recruiter at BCG Attorney Search is a former successful attorney who attended a top law school, worked in top law firms and brought massive drive and commitment to their work. BCG Attorney Search legal recruiters take your legal career seriously and understand attorneys. For more information, please visit
www.BCGSearch.com
.