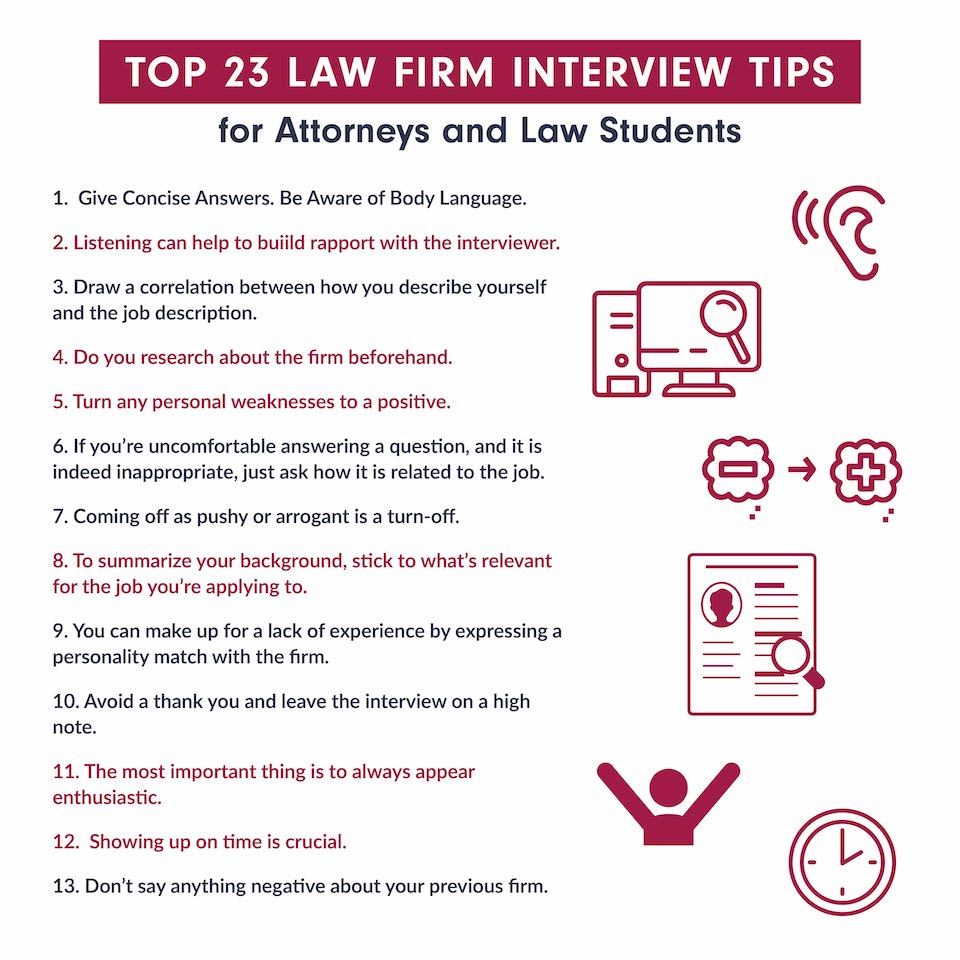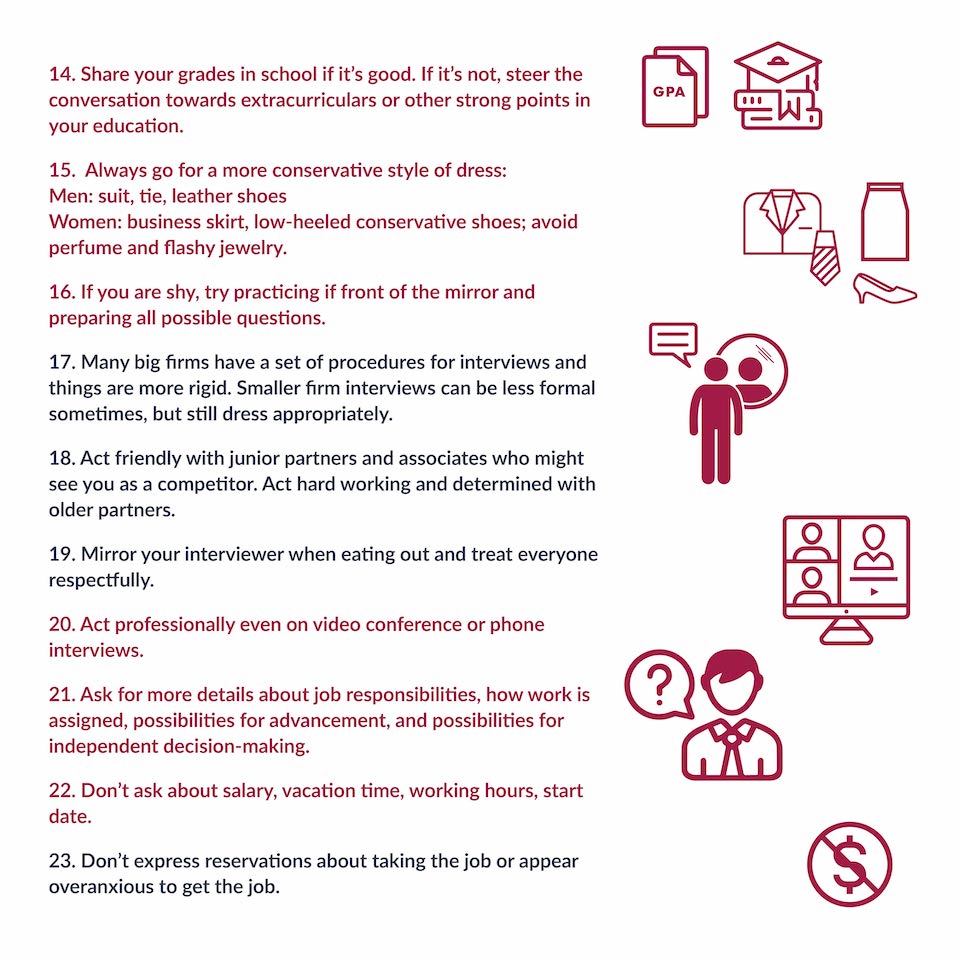 1. What are the most important rules of thumb for attorneys to remember about law firm job interviews?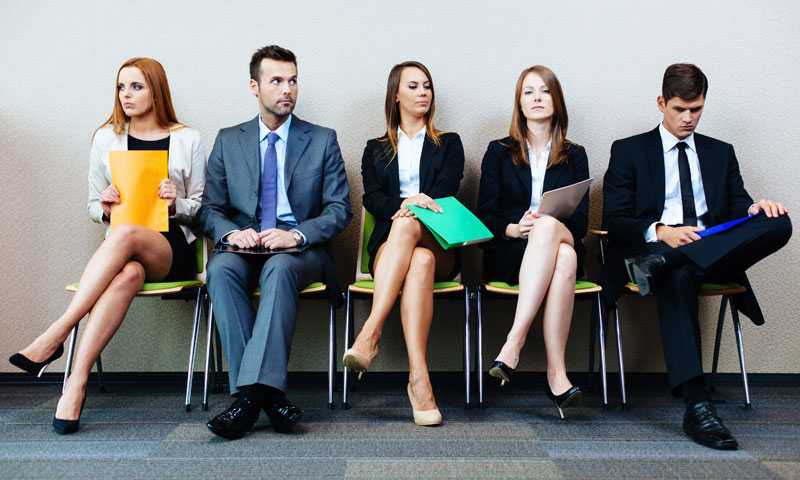 2. What is the best way to develop a rapport with the interviewer?
A job interview is like a blind date in that both sides feel a little nervous and forced. Standard blind date rules apply: nice handshake, maintain eye contact, smile when appropriate, and always listen!
Listening is the most crucial part. It can be difficult for attorneys to get out of talking mode, but the interviewer should do about 80% of the talking.
Paraphrase what the interviewer says back to him or her to show you are paying attention.
3. Is there a decent way to answer the dreaded question "Tell me a little about yourself?"
Treat it like an essay in school and think about it before hand.
Draw a correlation between how you describe yourself and the job description, be subtle, but connect your personality with the firm's work.
"What do you know about our firm?" How can this question be best handled?
If you're using a recruiter, they will do the necessary research and tell you everything you need to know beforehand.
If not, always do your research. Use the Internet.
Learn about the firm's philosophy, successes, and history.
4. Can you recommend any particular resources for doing research on a firm prior to the interview?
Review the law firm website.
Review articles about the firm online.
Talk to people you may know who have interviewed or worked at the firm.
5. What if you're asked to address your personal weaknesses?
This can be turned into a positive as well; say you're a workaholic, that you can't let a problem go until it is resolved.
It's best to keep everything positive, that way you create a positive association in the interviewer's mind.
6. How do you address inappropriate questions, like are you married, or questions about politics?
If you're uncomfortable answering a question, and it is indeed inappropriate, just ask how it is related to the job.
Be polite even if you think it's inappropriate.
7. Does the adversarial nature of lawyers work against attorneys in a job interview situation?
A job interview is not a test of wills, it's an opportunity to demonstrate that you can think, listen, and articulate.
Coming off as pushy or arrogant is a turn-off. Even if the job requires aggressiveness, you don't want to seem like someone who is difficult to deal with.
8. What's the best way to summarize your entire background?
Even for law students and young attorneys it can be difficult to encapsulate their whole history in a few sentences. For experienced attorneys, it can be a nightmare.
Stick to what's relevant for the job you're applying to.
Refer to the resume; make it easier for the interviewer.
Bring a list of representative casework.
9. What about under-qualified attorneys? How can they address a question about their background?
The interviewer may have already made up their mind about whether you're over or under-qualified, but you can make up for a lack of experience by expressing a personality match with the firm.
10. How about after the interview … thank you letter or no thank you letter?
The cons of the thank you letter outrank the potential benefits.
Even the most gracious and classy thank you letters can backfire.
They can make you seem desperate like you have no other options.
Its best to leave on a high note and thank you notes give you an extra opportunity to screw up.
11. What's the best way to handle a bad interview?
Put it behind you.
Don't let it get you down because everybody has bad interviews.
The most important thing is to always appear enthusiastic. After a bad interview, be sure not to let it show in the next interview. Lawyers need to be "up" when appearing in front of judges or clients, so it is crucial to show that you have an upbeat personality.
Getting rejected after an interview is usually not your fault. Internal firm politics and issues of personal chemistry generally play a very heavy role in employment decision-making.
12. How can a qualified attorney screw up in the interview?
Showing up late is a sign of disrespect.
Criticizing your last job is a major red flag.
Lack of preparation will always make you look bad.
It's important to be confident, but don't be arrogant or act like loose cannon. Never appear as though the job isn't important to you.
Don't lie! Getting caught in a lie is the worst way to spoil an interview.
13. "Are you interviewing anywhere else?" "Why are you leaving your present position?" or "Why did you leave your present position?" — how do you address this? What if you parted on bad terms?
You never want to say anything negative about your old firm.
You don't want to seem like a gossip. They will think you might badmouth them if they hire you.
Turn it into a positive. Say that you want increased responsibility with a firm that offers growth or a firm that is a match with your personality and skills.
14. What about "How did you do in law school?" Can you honestly answer the question if you didn't do well in law school or went to a bad school?
15. How important are the clothes you wear?
Clothes aren't the most important factor, but they can't be underestimated.
No one ever got a job for dressing nicely, but people have lost out on jobs for not dressing nicely.
Always go for a more conservative style of dress:
Men: suit, tie, leather shoes
Women: business skirt, low-heeled conservative shoes; avoid perfume and flashy jewelry.
Even if the firm is more casual, dress conservative for the interview.
16. Any advice for the shy? How do you appear to be confident when nervous?
Rehearse! Write up practice questions and answers.
Do it in front of the mirror.
Have a friend or relative ask you questions.
Be thoroughly prepared for every possible question. Its better to be over-prepared than to be caught off guard.
Be conscious of the telltale signs of nervous behavior, fidgeting, stammering, saying "you know"
Try to relax, but don't get too relaxed. Revealing too many personal details, taking off your shoes, or treating the interviewer like one of your pals can make you look like a crazy person.
17. What are the differences in interviewing with a big firm vs. a small or mid-sized firm?
Many big firms have a set of procedures for interviews and things are more rigid. They will often have callback interviews, which is not a guarantee that you will get an offer.
Smaller firm interviews can be less formal sometimes, but you should always appear conservative even if the interview is less formal.
18. What are the differences between interviews with associates and junior partners and interviews with senior associates and partners?
Junior partners and associates are still "gunners" who are often in competition with the rest of the attorneys. Do not act too competitive or they might see you as a threat. Act friendly.
Older partners aren't usually caught up in competition with the rest of the staff. They will want to see a competitive edge. They will also be more concerned with things like grades. Act hard working and determined.
19. How should an attorney handle an interview in an unconventional situation? Law firms will often take you out to lunch or for drinks to get to know you.
The worst mistake is to get drunk. If the interviewer is drinking, have the same thing and take it very easy.
Eat at the same pace as the interviewer and only order the basics. Don't order an appetizer or desert if the interviewer doesn't, etc. This ties right into the whole notion of appearing conservative at all times.
Mind your manners and always treat your servers with respect. The same goes for receptionists in the office. No one wants to work with a jerk, so always be courteous to everyone in the entire job interview process.
Don't let your guard down. Unconventional interviews like this test mainly your small talk skills, but you should approach them with the same level of respect and enthusiasm as any other interview.
20. What about video conference and telephone interviews?
Technology is advancing and videoconferencing is becoming more and more common.
It's a great way to look for a job during a lunch break without battling traffic, etc.
Don't forget that they can see you. No nose picking, yawning, looking around the room.
21. How important is it to ask questions?
It shows you're paying attention and capable of critical thinking.
Ask for more details about job responsibilities, how work is assigned, possibilities for advancement, and possibilities for independent decision-making.
22. What questions should be avoided?
Don't ask about salary, vacation time, working hours, start date.
Don't appear overanxious to get the job.
Don't express reservations about taking the job. If you have reservations, deal with them later. During the interview, your goal is to make a positive impression
23. For more information about law firm interviewing please see:
Learn why attorneys usually fail law firm phone-screening interviews in this article:
See the following articles for more information:
Frequently Asked Questions
How To Research A Law Firm For An Interview?
Securing a fantastic legal career requires several criteria that you have little or no control over.
You cannot control the economy, competition, or insider connections. One significant element that you can and should influence is the ability to research your target law firm.
Do you want to stand out from the crowd? Make it your objective to be the most well-informed applicant who walks into that interview room. This will also help you understand more about the position and decide whether or not it is a good fit for you.
Take a look at these tips on how to research a law firm before your legal job interview
, as well as the questions you should be asking yourself.  
1. What Does The Firm Say About Itself?
Your first task: Create a clear image of how each firm differs from the competition. Unfortunately, "top-line" research is likely to discover far more parallels than differences in how competing firms market themselves.
Despite this, there are distinctions to be found - for those prepared to put in the effort. Scour the Internet, social media sites (particularly LinkedIn), and printed materials for relevant information. Look for your prospective employer as well as the top competitors of that firm. Then, to make sense of everything, create a matrix or spreadsheet. Among the possible columns for your database:  
What values does the firm espouse?
What accomplishments have they publicized in news releases?
What subjects arise most often in blog posts, speeches, and white papers?
By consistently condensing the data, you will spot similarities and distinctions between businesses more readily. This will assist you with preparing for interviews. Finally, you want to build "benchmark" profiles that can later be used to determine whether a firm's "employment brand promise" matches up with the reputation your study is revealing.  
2. What Do Legal Professionals Say About The Firm?
How? A Google search is an excellent place to start when looking for basic information and "leads" on individuals you may wish to contact. You should seek out persons who have opinions about your target business, ask a few open-ended questions, then really listen — both to what they say and what they do not say. Other excellent resources for legal sector research include:  
Bar associations.
Legal professionals who used to work at your target firm.
Industry media.
Law school librarians.
Academics.
School alumni with current (or past) connections to the firm.
3. What Do The Numbers Say About The Firm?
It is also important to collect quantitative data on key indicators and anecdotal information (conversations, experiences, and other subjective accounts) about a company. Indices that reveal these telltale signs include:  
Average Hours Billed/Year,
Average Revenue/Partner and
Average Salaries for New Associates
One of the primary advantages of quantifiable facts is "Apples-to-apples" comparisons that highlight the distinctions between businesses.
In addition, the legal sector has numerous business organizations, consultants, and academic institutions that integrate complex data with insider opinions. Take a look at their annual reports on key issues such as:  
Best places to work
Best firms for minorities
Best firms for women
4. How Well Does The Firm Fit Your Career Interests and Work Style?
You will need to figure out how each target firm relates to your professional interests and work style. Are you OK with the "sharp elbows" and aggressive gamesmanship that is common in specific organizations? You will want to be prepared for those situations.
If you are looking for a law firm that specializes in a specific area, it goes without saying that you will want one that can fit your needs. Perhaps you would like to study from an experienced practitioner with a good reputation in your field? These topics are more than "snippets" when it comes to obtaining comprehensive knowledge. You must
be sure that the firm understands your career goals and that you are a good fit before jumping into a job search.
When It is Showtime, Your Research Investment Is Well Worth the Effort.
Remember that job interviews are two-way streets.
Of course, you want to make an excellent first impression. However, for those who do their research, the interview process is a unique chance to discover what is behind the company's glossy brochures and glitzy websites. This will allow you to ask questions that set you apart. You will also have prepared your mind to "hear" things that less-educated candidates will not understand.
If you truly understand why a company is a good fit for your talents and interests, it will give you confidence when talking with an interviewer. You will be poised and self-assured when you walk into the interview after doing a fantastic job of research. You w will not have to repeat the same basis as everyone else asks if you practice these pointers. You will be ready to engage in a nuanced discussion — one that makes a significant impact on those evaluating your capabilities.  
How To Dress For A Law Firm Interview?
If you want to "fit in" as a rookie lawyer, it is time for some law firm attire. But first...
What Not To Wear?  
Do not wear anything too flashy or ostentatious. That means no mardi gras beads and no lime green boxers with Swarovski crystals on them. No, I am serious!!
Do not wear anything too tight or revealing to make you look more like a date than an attorney.
There are no rips in the jeans, torn sweaters, etc., unless, of course, it is vintage and fits your personality otherwise.
Leave behind any tee shirts with logos of heavy metal bands, "Born to Lose," or that one where the guy is wearing the dress.
No flip flops, ripped jeans/shorts, shallow cut tops for women, cargo shorts, and sleeveless shirts (for men). If you are a man who must wear a suit without a jacket, make sure it is not too tight around your upper arms. A gentleman prefers to be comfortable, not smothered.
Do not wear anything with stains or wrinkles (in most cases).
The Fit Is Important:
Make sure your suit is tailored to fit you well, but it should not be tight either. It should move and stretch with you as body parts move during the day. It should be comfortable and fit you well in the places it is supposed to- such as the shoulders. Do not wear any garment that constricts your movement or makes you feel like a stuffed sausage.  
Make sure your clothes are not too big for you either unless, of course they are on sale and, if needed, can be tailored to fit you well. The idea is, the clothes are supposed to fit *you*, not hang on you like a garbage bag.
Make sure your clothes are not too small either. If so, they will make you look lanky or out of place in an interview context. Unless it is part of your personal style and unless it is spring or summertime, it might be best to go up one size.
The Clothes Should Be Clean:
Make sure your clothes are clean. If they are not, take them to the cleaners before the interview (or better yet, change into other clothes if you brought an extra set). This includes your watch band and any other accessory.
If you do not know what "clean" means, the best way is to give it a thorough wash and press before wearing them for the interview. Make sure there are no stains.
It Is All About The Details:
Make sure your clothes are not wrinkled too much either. This includes any necktie you might be wearing.  
Polish your shoes if necessary.
Make sure you have enough money to buy a decent lunch or bring one with you (if allowed). You never know what the interview day will entail, and it is always good to eat when you are hungry than risk passing out after an interview.
And finally... If you are going to style your hair, make sure it does not look like a bird's nest. Make sure you have a good haircut. Ask your barber for advice if need be, but if in doubt, go with a classic cut that will suit any setting and will not make you look like the village idiot. You want to impress them when you shake someone's hand, not make them laugh.  
Dress Professionally for a Legal Interview: Key Words to Search for Inspiration
Smart attire: This is formal and conservative wear. Example: Full suit, skirt suit.
Smart casual wear: This is generally neat yet casual attire. Example: Blazer, white shirt, nice overcoat, neat jeans, and brown shoes.
Casual attire: This is a touch less dressy than smart casual wear. Example: Collared shirt and jeans.
How To Prepare For A Law Firm Interview?
Many law students and non-law students need to know the right way of interviewing for a job. It is so frustrating talking to one lawyer after another and finding out that they have been using the wrong methods of getting hired by law firms. So many ask: "How can I prepare myself for a law interview?" "What kind of questions should I be asking?" "How do I turn a
law school interview
into a job offer?"
The truth is that there are many ways to prepare for an interview. It is not just about knowing how to dress and what to say; it is also about how to think and feel. The best way to prepare for a law firm interview is to know what you are getting into.  
When Do I Need To Start Preparing For A Law Firm Job Interview?
Answer:
Immediately! The earlier you start preparing for your first law firm job interview, the more options you will have. Waiting until the last minute to learn everything you can about interviewing could mean that you miss out on grabbing your dream position or even any position at all.  
Where Do I Begin My Law Firm Interview Preparation?
Answer:
Start with yourself and who you are as a person. A law firm interview is not just a chance for you to sell yourself but a time for a lawyer to learn more about who you are, not just what skills and qualities you have.  
What Are Some Ways Of Knowing Who I Am And How To Sell Myself For A Law Job?
Answer:
The key way of knowing who you are is by using an interview preparation guide. The best way to prepare yourself for a law job is to understand what you are getting into. Often, bars and firms put certain expectations on their employees, so applicants must understand the needs of an area of law before they begin applying for jobs.
Some ways that can be used to sell yourself at your interview include: dressing professionally, knowing everything about the company you are interviewing with (including where they are located, their reputation with the local bar association, etc.), and most importantly; having a plan of action that shows what you can bring to the table.  
What Is A Plan Of Action And How Does It Help Me To Get Into A Law Firm?
Answer:
A plan of action is basically a summary of yourself and your practice or area of law that you can memorize. It is also important for job applicants to describe why they want to work as a lawyer and what kind of goals they have in mind. Generally, this plan should include information such as the length of time the person has been practicing as a good lawyer, their experience with similar cases or instances, and other qualifications that can bring value to any law firm. The more prepared you are for a job interview, the better.  
Is Proficiency In Microsoft Office And Speaking Well Enough To Land A Job?
Answer:
Some may think that proficiency in Microsoft Office or speaking is enough to land a job. But it is not just about knowing how to use a computer, nor talking smoothly – it is also about being able to think on your feet and having a solid work ethic. Proficiency in this area will give you the basics of what anyone needs to know for a law firm interview, but if you are serious about getting hired, you will need to go beyond these requirements and take it up a notch. The more qualifications and soft skills you have the better.  
How Do I Prepare For An Attorney Interview?
The most common ways students and fresh grads usually prepare for attorney interviews are
:
Step 1:
Practice your answers with a friend or classmate. They can help mimic the tone and speed of an interviewer and ask follow-up questions. They will also be able to tell if what you are saying is convincing or not.
Step 2:
If you have an idea of when the interview is, look into the firm's background and available opportunities. This way, you can have realistic expectations about your potential employer.
Step 3:
Familiarize yourself with the legal jargon used by lawyers. You can use this to show that you are really interested in the job because you already know what is involved.
Step 4:
If possible, go through an internship with a law firm, government office, or nonprofit organization. This will give you first-hand experience of what it is like to work as an attorney and help you decide what kind of law you want to pursue.
Step 5:
You can also take online courses or short-term seminars offered by various schools and organizations. These may not be as flexible as other options, but they will allow you to study the subject without quitting your job. Keep in mind that these resources should only supplement your learning; they should not be the only thing you rely on.
Step 6:
If you want to prepare for your interview correctly, do not do it alone. Get a mentor or coach familiar with the legal profession and help you efficiently form answers that will further convince the interviewer of your qualifications. Attorneys are good mentors because they have years of training in communication skills vital to practicing law.  
What Is The Best Law School Interview?
The best law school interview is one that puts you at ease, allows you to show your best side, and leaves the interviewer impressed enough with you that they want to see more from you…and are willing to pass on a positive note. The best law school interview can also be a springboard for a productive student/faculty relationship – and having a good rapport with your interviewer may lead them to put in a good word on your behalf, either now or later.
So what is the best law school interview? One that allows you to shine and boosts your chances of getting into law school.  
1. Pick The Right Law School For You:
Before you can begin preparing for your law school interview, you need to decide where it is that you want to go. The best school for one prospective student may not be the right fit for another; while some people look strictly for salary potential or prestige, others prioritize location or small class size. For example, if money is not an issue for you (and if it is, law school may not be the right choice for you), then your best bet might be to attend a more prestigious school in an area that interests you.
On the other hand, if money is tight and location is important, attending a lower-ranked school near where you grew up may allow you to both graduate from law school and live without gouging yourself financially. Speaking with alumni or others who have been through the process can help determine what makes a good fit for you – making sure that you attend a school where your career objectives are supported rather than squelched.  
2. Know Who You Are And What You Want:
One of the best ways to ensure that you are ready for your law school interview is to know yourself. Ask yourself what you can bring to a particular institution and how it fits into your career objectives. Knowing the ins and outs of who you are will allow you to choose an appropriate law school. You may even want to research which faculty members work in your preferred field of practice so that you can mention them during the process.
For example, if you are interested in environmental law, interviewing at a school known for its ecological study programs makes sense; on the other hand, if you are looking to move into business or tax law later on, when choosing between schools heavy on those specialties (or at least having such knowledge) makes sense. Knowing who you are and what you want you to match the school with your personality, rather than vice-versa. At the same time, certain schools may produce more high-paying jobs on average, and if the school is not a good fit for you personally, it will not matter if you graduate and go on to make a million dollars a year. What will matter is that you did not enjoy yourself as you were pursuing your degree – and law school should not be about something as negative as regret.
(While we are discussing what is important, it should be noted that doing enough research to understand which faculty members have written or said anything about your field of interest is a good idea. This will allow you to show off the strengths of both yourself and school, rather than simply knowing who is on staff there.)  
3 . Know The Law School:
If you are interviewing at Harvard University, stop what you are doing right now and look it up. What are the school's traditions? The law school's faculty has produced presidents, Supreme Court justices, CEOs of Fortune 500 companies, international human rights attorneys – you name it. Which of these is extremely important to you? Knowing who went there can help you decide which students might be likely to share your goals and methods for success.
How rigorous is the program? What kind of reputation does it have in your area of interest and practice? These are all valid questions to ask before you bring yourself to an interview.  
4 . Dress To Impress:
At some schools, this may mean wearing suits and ties; good business casual will suffice at others. In any case, you will want to come across as polished and professional. This does not mean that you need to look like you work on Wall Street during the day; it means that your outfit should make it clear that you care about yourself and your appearance.
This is particularly important if multiple interviews are involved in the process (some schools use multiple mini-interview systems). If you do not look like someone who values their appearance, then it is unlikely that anyone interviewing you will believe that you value the law school's reputation enough to be concerned about your own.  
5 . Be Yourself:
At the end of the day, there are plenty of ways to prepare for an interview; in fact, there are entire books on the subject. But you will need to remember that ultimately, every school is looking for unique applicants with their own perspectives and goals when interviewing candidates. You want to show them who YOU are when it comes time to talk about your future (and theirs). Even if not everyone in the room is keen on your views, you want to make sure that you are at least comfortable with the statements coming out of your mouth.
Again, this is not about being confrontational or obnoxious; it is about letting the law school know that you are confident in yourself and what you have to offer its program. Just as an environmental activist should not be interviewing for a tax collection firm or vice versa, so too should those with opposing interests and ideals not apply to the same law school.  
6 . Know The Information:
Aside from knowing what qualities your interviewer seeks and which alumni had the most success in their fields of interest, you will also want to know some key facts about the school itself – many of which are available online. While you do not want to show up with a list of questions, do consider doing some research in advance so that when asked about the school, you will have an intelligent response ready.
If nothing else, good etiquette would suggest knowing how prized graduates from this program are ahead of time. If your interviewer is impressed by this fact, then they will likely be more interested in you as an applicant.  
7 . Go With Your Gut:
Let's say that everything goes exactly as expected during your interview – you hit it off with your interviewer(s), and the school is up to snuff. This does not mean that you should accept a seat in the class without taking a moment to think about it.
One of the oldest cliches in business is "never close a deal until you have a signed contract," The same logic applies here. If you want to attend this school, then go ahead and use it; if not, do not be afraid to pass up on the opportunity if it does not feel right for you. Whether or not you accept an offer depends largely on your personal comfort level with both the school and its representatives, but be sure to take a moment after speaking with them to decide whether pursuing this program is something that makes sense for you right now.  
8 . Do Not Get Too Nerdy:
It is important to remember that the interview is not just about you, but rather, you AND law school. While it will be appropriate to show your interviewer(s) why you are enthusiastic about attending their school, it is perhaps more important to show them WHY law school interests you outside of what it can do for your career.
When people think about attending law school, they tend to focus on all of the big picture ideas – becoming a lawyer and practicing law, for example. But you will want to make sure that your interviewer understands why you also see yourself working and studying in this particular environment (for example: "I am interested in attending the University of Oregon because it captures my attention with its unique mix of students and location" or "I am especially drawn to the University of Oregon's programs in intellectual property law because I see me specializing in that field down the line.").
With so many applicants vying for each spot available at law school, you want to make sure that the interviewers can see you as more than a number – and that is going to take a little finesse.  
9 . Follow-Up:
Lastly, it is always a good idea to send a follow-up note or email after your interview. Not only does this demonstrate good etiquette, but it also shows the interviewer how thoughtful you are about the school and that the interview was a priority for you.
As a postscript, provide a list of references
– either printed or electronic – that your interviewer can contact if they need more information about your qualifications as an applicant. This is especially helpful when you are interviewing with alumni from this particular school since they will be best suited to portray your personality accurately.  
10 . Remember, This Is Not A Negative Rounding Process:
One last point before you leave the interview is that this is not a negative rounding process. When I mention that it will feel like an interrogation, I mean it because you do not want to appear overly nervous. It is a stressful process, and there are certain things they may want to say or ask, but it is important to remember that this is not an invitation for them to attack your candidacy.
In most cases, you are ready for these questions and can give thoughtful responses in return. However, sometimes you need a moment to collect your thoughts or gather the motivation to answer one query instead of talking about something else.
With these ten tips in mind, you will be ready for anything during your interview! Best of luck!


Click here to contact Harrison

 
About Harrison Barnes
Harrison Barnes is a prominent figure in the legal placement industry, known for his expertise in attorney placements and his extensive knowledge of the legal profession.
With over 25 years of experience, he has established himself as a leading voice in the field and has helped thousands of lawyers and law students find their ideal career paths.
Barnes is a former federal law clerk and associate at Quinn Emanuel and a graduate of the University of Chicago College and the University of Virginia Law School. He was a Rhodes Scholar Finalist at the University of Chicago and a member of the University of Virginia Law Review. Early in his legal career, he enrolled in Stanford Business School but dropped out because he missed legal recruiting too much.
Barnes' approach to the legal industry is rooted in his commitment to helping lawyers achieve their full potential. He believes that the key to success in the legal profession is to be proactive, persistent, and disciplined in one's approach to work and life. He encourages lawyers to take ownership of their careers and to focus on developing their skills and expertise in a way that aligns with their passions and interests.
One of how Barnes provides support to lawyers is through his writing. On his blog, HarrisonBarnes.com, and BCGSearch.com, he regularly shares his insights and advice on a range of topics related to the legal profession. Through his writing, he aims to empower lawyers to control their careers and make informed decisions about their professional development.
One of Barnes's fundamental philosophies in his writing is the importance of networking. He believes that networking is a critical component of career success and that it is essential for lawyers to establish relationships with others in their field. He encourages lawyers to attend events, join organizations, and connect with others in the legal community to build their professional networks.
Another central theme in Barnes' writing is the importance of personal and professional development. He believes that lawyers should continuously strive to improve themselves and develop their skills to succeed in their careers. He encourages lawyers to pursue ongoing education and training actively, read widely, and seek new opportunities for growth and development.
In addition to his work in the legal industry, Barnes is also a fitness and lifestyle enthusiast. He sees fitness and wellness as integral to his personal and professional development and encourages others to adopt a similar mindset. He starts his day at 4:00 am and dedicates several daily hours to running, weightlifting, and pursuing spiritual disciplines.
Finally, Barnes is a strong advocate for community service and giving back. He volunteers for the University of Chicago, where he is the former area chair of Los Angeles for the University of Chicago Admissions Office. He also serves as the President of the Young Presidents Organization's Century City Los Angeles Chapter, where he works to support and connect young business leaders.
In conclusion, Harrison Barnes is a visionary legal industry leader committed to helping lawyers achieve their full potential. Through his work at BCG Attorney Search, writing, and community involvement, he empowers lawyers to take control of their careers, develop their skills continuously, and lead fulfilling and successful lives. His philosophy of being proactive, persistent, and disciplined, combined with his focus on personal and professional development, makes him a valuable resource for anyone looking to succeed in the legal profession.
About BCG Attorney Search
BCG Attorney Search matches attorneys and law firms with unparalleled expertise and drive, while achieving results. Known globally for its success in locating and placing attorneys in law firms of all sizes, BCG Attorney Search has placed thousands of attorneys in law firms in thousands of different law firms around the country. Unlike other legal placement firms, BCG Attorney Search brings massive resources of over 150 employees to its placement efforts locating positions and opportunities its competitors simply cannot. Every legal recruiter at BCG Attorney Search is a former successful attorney who attended a top law school, worked in top law firms and brought massive drive and commitment to their work. BCG Attorney Search legal recruiters take your legal career seriously and understand attorneys. For more information, please visit
www.BCGSearch.com
.
Harrison Barnes does a weekly free webinar with live Q&A for attorneys and law students each Wednesday at 10:00 am PST. You can attend anonymously and ask questions about your career, this article, or any other legal career-related topics. You can sign up for the weekly webinar here: Register on Zoom
Harrison also does a weekly free webinar with live Q&A for law firms, companies, and others who hire attorneys each Wednesday at 10:00 am PST. You can sign up for the weekly webinar here: Register on Zoom
You can browse a list of past webinars here: Webinar Replays
You can also listen to Harrison Barnes Podcasts here: Attorney Career Advice Podcasts
You can also read Harrison Barnes' articles and books here: Harrison's Perspectives
Harrison Barnes is the legal profession's mentor and may be the only person in your legal career who will tell you why you are not reaching your full potential and what you really need to do to grow as an attorney--regardless of how much it hurts. If you prefer truth to stagnation, growth to comfort, and actionable ideas instead of fluffy concepts, you and Harrison will get along just fine. If, however, you want to stay where you are, talk about your past successes, and feel comfortable, Harrison is not for you.
Truly great mentors are like parents, doctors, therapists, spiritual figures, and others because in order to help you they need to expose you to pain and expose your weaknesses. But suppose you act on the advice and pain created by a mentor. In that case, you will become better: a better attorney, better employees, a better boss, know where you are going, and appreciate where you have been--you will hopefully also become a happier and better person. As you learn from Harrison, he hopes he will become your mentor.
To read more career and life advice articles visit Harrison's personal blog.