Summary: Here are the top 10 interview tips that law students need to know. If you're a law student, take a look at these helpful tips.
For the World's Largest Collection of Law Firm Interview Resources Click Here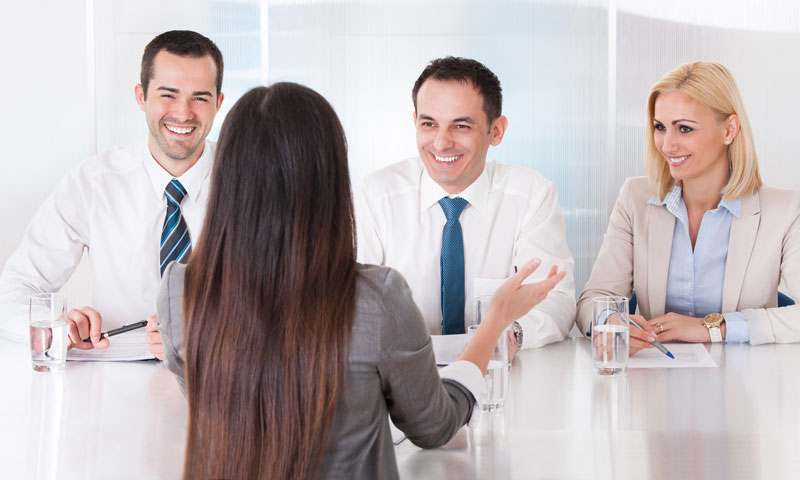 1. Make a good first impression.
Employers begin their evaluation the moment they lay eyes on you.
When you meet the interviewer, be psyched up. Give the interviewer a good, firm-but not bone-crushing-handshake while making good eye contact. If you don't naturally sparkle, ratchet up your sparkle quotient. Most applicants fail to be energetic and inspired in their interviews. You can't present yourself to your best advantage unless you're animated and engaging.
2. Observe interview formalities.
You're being too chummy if you address interviewers you don't really know by their first names. And don't give short shrift to dressing appropriately. Employers want you to be dressed for their lawyers' most formal activity. You'll always be OK if you dress as you would for a jury trial. Avoid anything too high-fashion. Wear a conservative suit, with conservative accessories. Women who choose skirted business suits play it safer than women who choose pantsuits. Skirts that are too short or too long take suits out of the realm of business attire.
Smart employers know that applicants never look better than they do for their interviews.
If an interviewer concludes you aren't dressed appropriately for the interview-a time dedicated to putting one's best foot forward-he or she won't count on your setting a higher standard on the job. The employer will avoid the problem simply by not hiring you.
See the following article for more information:
3. Be personable and easy to talk to.
Many job candidates adopt an interview persona
: They become artificially inhibited and humorless.
You need to preserve your natural spontaneity and ability to converse easily.
Imagine how you talk to people you run across in relaxed situations without a lot riding on the conversations. If you're more natural in casual encounters, you need to work on being more comfortable in interviews. Practice in mock interviews. When you're as comfortable in your interviews as you are in conversations over the water cooler, you can expect to reap more than your share of job offers.
See the following article for more information:
4. Be responsive.
When interviewing, as when taking exams, you need to answer the call of the question. Don't take the interviewer's first question as your opportunity to launch into a monologue covering everything you think he or she ought to know. Wresting control from the interviewer doesn't mean you're scoring points. Give interviewers a chance to ask what they want to know. When interviewers seem to venture far afield-by asking what you do for fun, for example-it could be because your résumé tells them you have the credentials they're looking for. The issue then becomes whether you bring the right intangibles-attitude, drive, determination, and interpersonal skills-they're looking for.
See the following article for more information:
5. Artfully frame your qualifications.
Describe your experience in terms of what the employer's lawyers do. For example, imagine a district attorney's office looking for a prosecutor. If you've prosecuted cases, you would say, "I'm a prosecutor." But if you've worked for a public defender, you would say, "I'm a criminal lawyer." Now let's say you have no criminal law experience, but you've worked in civil litigation. I've had applicants apologize: "I know, unlike lots of your applicants, I don't have any criminal law experience, but I can learn it." What they should have said is, "I'm a litigator. Your lawyers are trial attorneys. I'm a trial attorney."
You need to frame your experience differently depending on what you're applying for.
For example, a civil litigator applying for a court's research
attorney position
would emphasize skills other than litigation: "I'm a researcher and writer."
Persuade the interviewer that you can do what the employer's lawyers do.
6. Demonstrate-don't merely recite-your good qualities
. I've had many applicants lethargically claim to be enthusiastic, meekly claim to be confident. I've had applicants say to me-voices quavering, hands trembling-that they will be effective trial lawyers because they never get nervous. It's not sufficient simply to claim you are enthusiastic, confident, interested, and the like. Your demeanor determines whether you're credible.
See the following article for more information:
7. Be positive, open-minded, and nonjudgmental.
You're being negative when you tell the interviewer you want to work for his or her firm because of (1) a boring summer experience somewhere else; (2) the poor quality of life in other kinds of practice; or (3) the desire to get into the real world and out of an uninspiring
law school experience
. If you raise the specter of being difficult to please, your prospects will plummet. Be strictly positive.
8. Come clean about grades.
When asked about your academic standing, don't resort to coy responses like, "My grades are respectable" or "I'm not in the top half." When faced with vague and ambiguous responses like these, employers are content to assume your grades are too low to be competitive. Be forthcoming. If you can, say: "I'm at the [so-and-so] percentile." And be positive: "I've done well in [certain kinds of classes]." Or, "I'm a hands-on learner and have enjoyed success clerking."
See the following article for more information:
9. Ask only pertinent questions.
Contrary to conventional wisdom, you needn't ask questions simply for the sake of showing interest. Ill-considered questions will hurt you. Don't ask questions that are hackneyed: "What do you like most and least about your job?" Or, "What is your typical day like?"
You appear unprepared when you introduce a question with, "I should know this, but ...." The same goes for, "What does your firm do?" and "Does your firm do [such and such]?"
You might as well say, "I know next to nothing about your office. Can you tell me about it?"
Any questions you ask should be designed to impress the interviewer. Introduce your question with what you know: "I know your firm has [such and such a practice area]. Would I have the opportunity to become involved in that?"
You can convey that you are a motivated, hard-charging performer with a question like this
: "I'm interested in how lawyers progress in your firm. I'm looking for a merit system in which lawyers who work harder and produce more reap greater rewards. How does your firm link compensation with performance?"  
See the following article for more information:
10. Go with the flow.
Although rehearsed answers work for the questions you've anticipated, delivering canned answers is not your objective. Your objective is to be responsive and quick on your feet, to be at your best while going with the flow. You need to be responsive not just to questions but also to the tone the interviewer sets. If the interviewer is outgoing, don't be reserved. If the interviewer structures the interview, don't be freewheeling. You can't totally plan how to behave. Be nimble. Your behavior should vary with the interviewer.
Learn why attorneys usually fail law firm phone-screening interviews in this article:
See the following article for more information:
See the following articles for more information about interviewing: