For the World's Largest Collection of Law Firm Interview Resources Click Here
With law firms becoming more dynamic and embracing new technology, the videoconference interview is becoming increasingly popular. Law firms recognize that the videoconference interview displays a cutting-edge technological aspect that is appealing to many young attorneys and saves the firm time and money. Without needing to pay for plane tickets, rental cars, hotel rooms, and expensive dinners, the firms are able to focus their resources on improving the firm environment, paying larger bonuses, and increasing associates' goodwill.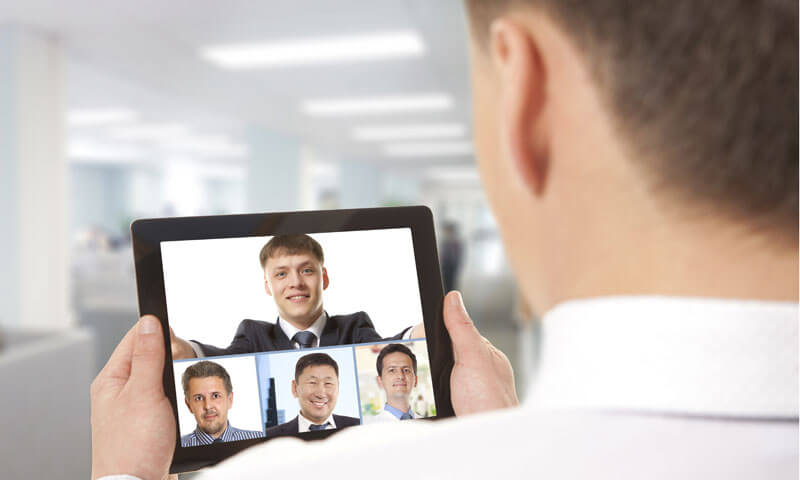 In addition to the economic reasons, there are several other advantages to videoconferencing. Most important, your actual and apparent comfort level will be much higher with videoconferencing. Because you did not just get off a plane after a three-hour flight, you do not have to be concerned about your clothing looking clean and pressed. Similarly, you will look and feel fresh and rested. Plane delays, cancellations, and rush-hour traffic will not be a consideration for either party. This advantage alone is an enormous benefit to both you and the firm. Another advantage exists for the circumspect
job seeker
. If you are looking for a new job on the sly, videoconferencing will allow you to interview in another part of the world during your lunch hour. A round of interviews with different partners and hiring associates can be compressed into one videoconference interview, and there will be a more efficient use of everyone's time. The final advantage of videoconferencing lies in the atmosphere and locale of the interview. All parties will be on neutral ground, and intimidation and "home-court advantage" will not exist. This eliminates one of the largest factors of nervousness in interviews today.  
The single-largest disadvantage of the videoconference interview is the palpable lack of your physical presence at the interview. You are judged by your mannerisms, your body language, and your overall physical appearance during a traditional interview, and videoconferencing is a poor way to send a good, strong physical message to your future employer. However, if the firm requests a videoconference interview, here are several hints to help you succeed:  
You are not alone in the room.

Many people forget that videoconferencing is interactive. You can see and hear everything that occurs at the firm, and vice versa. It is very easy to feel like you are watching television, but you must remember that this TV can see and hear you too. With that in mind, be very careful not to yawn, look around the room, pick your nose, or do anything that you would not do in a physical interview. Keep shuffling and moving to a minimum, and try to avoid making any ambient noise.
 

Technology is not perfect, but you can use it to your advantage.

Look at the camera while you are talking and listening. If you are making eye contact with the interviewer on the screen, you will look like you are looking down at the floor. Videoconferencing is done over a phone line, and there will likely be some degree of lag. To avoid overlapping your words with the firm's, pause frequently so that the interviewer can interject without interrupting. Avoid very brief responses because they may not even be received by the interviewer. Finally, speak clearly and slowly in your normal tone of voice. You will likely have a microphone clipped to your lapel, and you do not need to shout. Because the effect of your body language has been minimized, gestures, eye contact, and facial movements are even more essential. Use visual and aural cues to gauge the conversation, as well.
 

The camera is a master of manipulation and disguise.

Cameras tend to bleach colors when transmitting. As a result, you will look paler than normal. Women may find it useful to wear a heavier layer of makeup than normal, and men may want to consider some light makeup to keep their natural color visible to the interviewer. The same concept is true for your clothes. Avoid anything that is a solid white or other bright color or has a detailed bright pattern. Bright and flashy jewelry will only serve to distract and should be left at home. The best clothing for videoconferencing is neutral, untextured clothing, such as medium-blue to pastel colors with a medium to dark jacket.
 

Actors can take hours before being ready for the camera.

Get there early because you will have to be wired properly, seated comfortably, and positioned correctly in front of the camera. With most setups, you will be able to see yourself on a side monitor. Use this image to adjust the camera's position, e.g., if you want to be visible only from the shoulders up or if you want to be framed from the waist up.
If you use these tips during your video conference interview, you will discover that you will come across more natural, attentive, and endearing than interviewees who assume that this is just like any other physical interview. A few tips and tricks can give you the upper hand over any competitor.    
Click here to contact Harrison
About Harrison Barnes
Harrison Barnes is the founder of BCG Attorney Search and a successful legal recruiter. He is extremely committed to and passionate about the profession of legal placement.
His firm BCG Attorney Search has placed thousands of attorneys
. BCG Attorney Search works with attorneys to dramatically improve their careers by leaving no stone unturned in job searches and bringing out the very best in them.
Harrison has placed the leaders of the nation's top law firms
, and countless associates who have gone on to lead the nation's top law firms. There are very few firms Harrison has not made placements with.
Harrison's writings about attorney careers and placements attract millions of reads each year.
He coaches and consults with law firms about how to dramatically improve their recruiting and retention efforts. His company LawCrossing has been ranked on the Inc. 500 twice. For more information, please visit
Harrison Barnes' bio
.
About BCG Attorney Search
BCG Attorney Search matches attorneys and law firms with unparalleled expertise and drive, while achieving results. Known globally for its success in locating and placing attorneys in law firms of all sizes, BCG Attorney Search has placed thousands of attorneys in law firms in thousands of different law firms around the country. Unlike other legal placement firms, BCG Attorney Search brings massive resources of over 150 employees to its placement efforts locating positions and opportunities its competitors simply cannot. Every legal recruiter at BCG Attorney Search is a former successful attorney who attended a top law school, worked in top law firms and brought massive drive and commitment to their work. BCG Attorney Search legal recruiters take your legal career seriously and understand attorneys. For more information, please visit
www.BCGSearch.com
.
Harrison Barnes does a weekly free webinar with live Q&A for attorneys and law students each Wednesday at 10:00 am PST. You can attend anonymously and ask questions about your career, this article, or any other legal career-related topics. You can sign up for the weekly webinar here: Register on Zoom
Harrison also does a weekly free webinar with live Q&A for law firms, companies, and others who hire attorneys each Wednesday at 10:00 am PST. You can sign up for the weekly webinar here: Register on Zoom
You can browse a list of past webinars here: Webinar Replays
You can also listen to Harrison Barnes Podcasts here: Attorney Career Advice Podcasts
You can also read Harrison Barnes' articles and books here: Harrison's Perspectives
Harrison Barnes is the legal profession's mentor and may be the only person in your legal career who will tell you why you are not reaching your full potential and what you really need to do to grow as an attorney--regardless of how much it hurts. If you prefer truth to stagnation, growth to comfort, and actionable ideas instead of fluffy concepts, you and Harrison will get along just fine. If, however, you want to stay where you are, talk about your past successes, and feel comfortable, Harrison is not for you.
Truly great mentors are like parents, doctors, therapists, spiritual figures, and others because in order to help you they need to expose you to pain and expose your weaknesses. But suppose you act on the advice and pain created by a mentor. In that case, you will become better: a better attorney, better employees, a better boss, know where you are going, and appreciate where you have been--you will hopefully also become a happier and better person. As you learn from Harrison, he hopes he will become your mentor.
To read more career and life advice articles visit Harrison's personal blog.