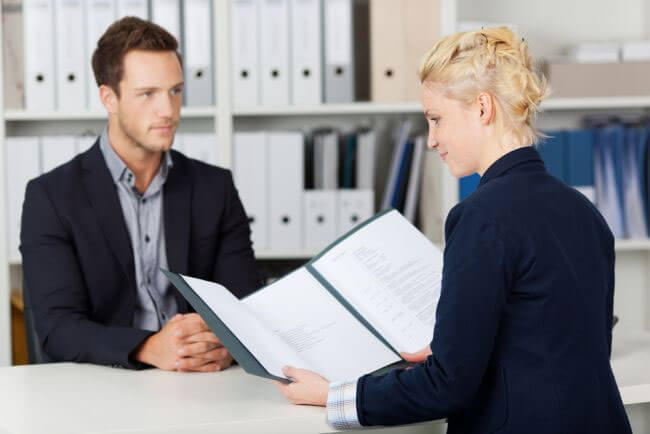 "Tell Me About Yourself."
This is often the first question asked in the interview. It is important to understand that this is your chance to make yourself memorable. Your interviewers know this, and they are waiting for you to show them what you've got.
Try to avoid sticking to your resume. Obviously this is a work interview, so avoiding it altogether would be artificial. Having said that, it is important to tell your interviewer things they don't know about you from reading your resume. For example, they know where you went to law school, but they don't know why. Is there an interesting reason you chose that school? Why did you choose your current firm? Is there an interesting reason you are practicing in a particular area of law? What is it that gets you excited about practicing law in their city or their firm? Why did you choose your undergrad major and how has it served you as a lawyer? Your interviewers want to know why you are choosing them so they can assess whether your expectations line up with what they actually offer, and therefore, whether you are a good fit.  
They also want to know that you are interesting. Ask yourself where your interests lie. Always keep in mind that you are in fact in a job interview, so if your true interests will take significant time away from your ability to work hard, you may want to avoid discussing those at length. However, interests such as playing sports, animal rescue, collecting, music or acting are always great things to discuss and will get your interviewer interested in who you are as a person. You may want to avoid discussing your true desire to live abroad for an extended period, your side career as a nightclub DJ, or your multiple Ironman triathlons, all of which will detract from your ability/desire to spend adequate time working hard at their firm.
Last keep in mind that this is the moment to find commonalities with your interviewer. If you noticed something in your interviewer's background that is similar to your background, this would be the time to bring it up. You increase your chance of being remembered.
"What Questions Do You Have for Me?"
Interviewees often feel tired at the end of an interview, and seldom know what to ask. However, you can miss another opportunity if you simply say, "I think all my questions have been answered, but thanks!"  
There are some standard questions which can be viewed as being repetitively asked, but which should still be asked at some point, because you do need to obtain this information. Even in large firms, you want to show that you are ambitious about taking on responsibility, and want to know what you need to do to move up.
They are:  
What will my day look like?
What kind of matters will I be working on?
How is feedback given and how will I know I'm doing a good job?
What is the partner-associate ratio on staffing matters?
Will I get client contact, and when?
How is the work assigned? Will I be working directly for certain partners? At what level would I be managing associates more junior to me?
Why are you hiring for this position? (Did someone leave, or is the practice growing)?
How does your office interact with other offices in the firm? Would I only work with partners in my office, or firm wide?
Will I be staffed on a wide variety of matters or do you prefer associates to specialize in an area?
These questions show that, you are thinking about what your life will look and feel like at their firm.
Interviewing the Interviewer
Once you have asked the informational questions described above of one interviewer, there is usually no need to ask them again. When subsequent interviewers ask what questions you have, you can use this question as an opportunity to get your interviewer to talk about himself. This is especially useful for junior and entry-level attorneys.  
What has been your interviewer's most exciting experience at the firm?
Why did he choose this firm?
Why did he choose this practice group?
What is his favorite part about working at the firm?
How would he describe the firm's culture?
 
Conclusion
The main take-away from this article is this: don't shrink away from open-ended questions. You will do yourself a great service if you spend some time thinking about how you would answer them. You can even have a friend or spouse run you through the questions prior to the interview so you can get more comfortable. It could be the difference between getting an offer and not getting one.
Learn why attorneys usually fail law firm phone-screening interviews in this article:
Interested in More Interview Advice?
See Our Most Popular Interview Articles: