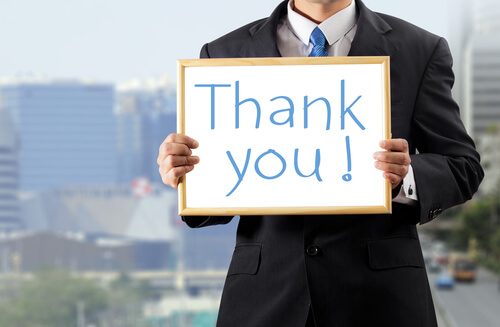 But let's explore why you should send a thank you note for each interview. Undoubtedly, there are associates who interview and get the job with nary an interview thank you card sent. But ask yourself this, "Is not sending a thank you note after your interview the classy thing to do? Is it a sincere and kind act? And, could sending a thank you note for my interview help my chances in getting this job?"
Will sending thank you notes after your interview help your chances in securing the position?
According to CareerBuilder, "Nearly 15% of hiring managers say they would not hire someone who failed to send a thank-you letter after the interview. Thirty-two percent say they would still consider the candidate, but would think less of him or her." Think of interview
thank you notes
as part of your "campaign" to get the job. A failure to send them could actually hurt your chances!
A thank you note for your interview can set you apart from other candidates.
Let's say you're the head of the corporate practice group at a large law firm and you just interviewed two really stellar candidates. Both had simply terrific interviews, but you only have one offer to give. The next day you receive a sincere handwritten job interview thank you note written on beautiful stationery from one of the candidates. This candidate, in her note, in essence has asked for the job and expressed her extreme interest in the position. In this partner's experience, highly interested candidates end up working very hard and doing tremendous work. At this point, the partner begins to lean toward this candidate and gives her the offer.
A thank you note can remind the firm of your candidacy.
If you are one of ten candidates who interviews for a position, then it will become difficult for the interviewers to clearly remember you and the answers you gave during the interview. Sending a thank you note is a good opportunity to remind the firm of your candidacy and to make a stronger impression in their minds.
Interview thank you notes give you an opportunity to ask for the job.
Now I'm not saying that you need to be highly aggressive or pushy in your thank you notes. But you should mention that you would really like the position and why. When I help my candidates with interview preparation, I often tell them to make sure that, as a closing note, they express their interest in actually receiving an offer. Firms
like
to hear that you are interested, as well. It's a two-way street! And a thank you note is another venue for you to get this point across. Furthermore, it is also the very last chance you have to make an impression.  
The email vs. handwritten note conundrum.
I
probably get this question the most these days
. Is sending an email thank you note appropriate in this day and age? Various opinions abound, leading many candidates to be confused. In short,
either is fine
.
I happen to think handwritten notes make a great impression and also show that the candidate spent more time on the note's composition. But while a handwritten note will gain you serious style points a la Jacqueline Kennedy Onassis, it does lack speed. There is no doubt that emails are a much faster alternative. And if a firm indicates that they will be making a quick decision, I actually suggest emailing thank you notes in this instance. Furthermore, not everyone has a big box of Crane's personalized stationery sitting in their desk. If you don't have thank you notes on hand, do NOT wait to send them until you've bought a box. Just send an interview thank you email.  
Further, if writing out the handwritten notes is so daunting that you think it might actually prohibit you from doing it, then you've got to go with emails. Also, ask yourself this, do people often compare your handwriting to a prescribing physician's? Then do the reader a favor and email your note.
Even if you don't receive the offer or even want one, sending a thank you note after your interview can be a good networking opportunity.
It's very possible you may not end up working for the firm where you interviewed for whatever reason, but an interview is a great way to make contacts and expand your network. You never know where people will ultimately end up, and it's possible that a partner could transition to your current firm and you could end up working for them anyway. You would want that person to have a favorable opinion of you, right? Friendly relationships can get you a long way in the law. Furthermore, it just makes good business sense to have strong contacts in a variety of firms and corporations. A thank you note helps continue and strengthen that relationship.
So, what are the rules on how to write a thank you note after an interview and send it? What is best to say in an interview thank you card?
Do not send the same note to every person. Vary it. I have heard many attorneys say that they compare notes with their colleagues to see if the candidate wrote the same one to every person.
 
Try to send your interview thank you notes as soon as possible.
 
Thank the recruiting coordinator. A lot of attorneys forget this and a good recruiting coordinator can have a lot of power in hiring decisions. This is very important to remember when writing a thank you note after an interview.
 
If you are only going to send one thank you note, then thank the hiring partner or the partner with whom you spent the most time.
 
Don't say you're a "perfect fit" after a screening interview. You don't have enough information at this point and you will look foolish or naïve.
 
Be formal, but keep it brief.
 
If sending a handwritten note, use good paper. If you don't have good monogrammed paper at this point in your career, then add this purchase to your to do list. Style points can go a long way when interviewing.
 
Spell check. Spell check. Spell check. If you are handwriting your notes, then you need to be doubly sure that you aren't misspelling something. Consider typing out what you want to say in Microsoft Word before transcribing to your note. If you don't show attention to detail in your thank you notes, then how might your work product look?
 
Focus on content and avoid too many adjectives. Tell the reader what you gained from the interview instead and what appeals to you about their practice.
 
Write up some thank you notes after interview samples to keep on file, always remembering to switch them up and make them meaningful and personalized for each interview.
See the following articles for more information: