Question:
I recently went through a full round of interviews with a mid-size law firm. I met with around 8 attorneys on this callback- and I think things went pretty well. My question relates to thank you notes (which I hate writing because I never know what to say). Do firms expect or even care if I write a thank you note after an interview?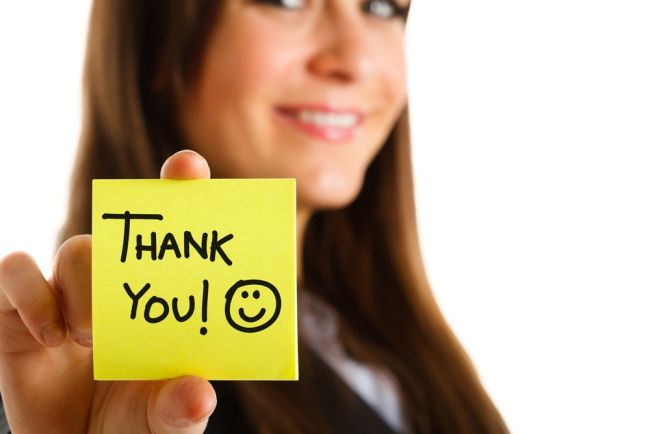 Answer
Dear F.H.,
Your question does not surprise me at all. It seems to be a fact of life that many people, including attorneys, hate writing thank-you notes. When you are conducting a job search, one of the things that will bring you peace of mind is the knowledge that you have done everything in your power to convey a favorable impression to your potential employer. Unfortunately for you, this includes writing thank-you notes to each person you interview with and meet throughout the interviewing process.
As an example, if you participate in a firm interview and meet a recruiting coordinator, two partners, and five associates, you really should plan on sending out a personalized thank-you note to every person you encounter at the interview. The good news is that thank-you notes do not have to be long novels. In fact, a short and concise note that conveys appreciation for the other person's time is really the best kind of thank-you note you should send. Ideally, it is best to send a handwritten card that (1) reconfirms your interest in the firm and (2) thanks the other person for taking the time to meet you.
You also want to make sure that if you are sending multiple thank-you cards to different people at the same firm, each message differs slightly from the others. There is a large possibility that your interviewers may literally ''compare notes'' regarding your thank-you messages. It would also be wonderful if you could include a small detail or conversation piece from your personal interactions with each person in his or her thank-you card. This small gesture will show you were genuinely interested and listening during each interview and create a stronger personal connection through your message.
When picking your thank-you cards, I recommend going as simple as possible. Try to avoid any cards with graphics or pictures. The best cards to use in a professional setting are the plain cards that say ''Thank You'' in elegant script on the front and are blank on the inside.
I think sending an actual thank-you card is a nicer and more thoughtful gesture than sending an email message. I do think, though, that a thank-you message sent through email is acceptable if you are either short on time or live overseas-in which case mail delivery would take an extremely long time. Showing appreciation to your interviewers via your thank-you messages, will hopefully cement the firm's favorable impression of you. Good luck and I hope all goes well with your search!