For the World's Largest Collection of Law Firm Interview Resources Click Here

The annual metamorphosis is upon us. Responding to their primal instincts, law students across the country are shedding the protective cocoon of jeans, sweatshirts and sneakers and are poised for flight in suits, scarves or ties, and briefcases loaded with resumes and writing samples (and, I hope, travel-size toothpaste, toothbrush, comb, and other necessities for emergency touch-ups). It's the on-campus interview season, affectionately known as OCI.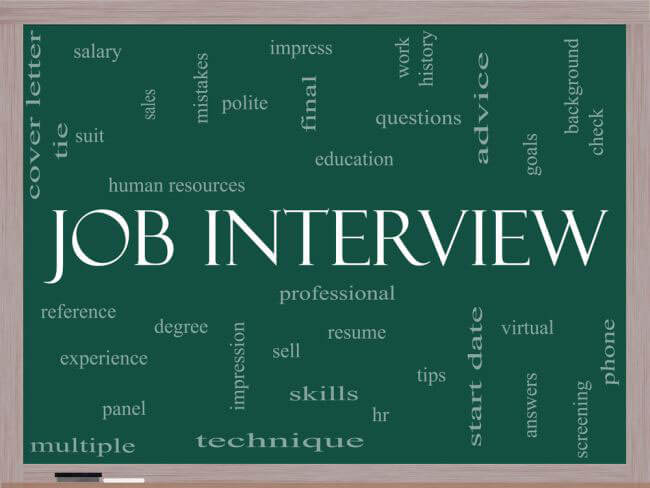 This year, second- and third-year students seem to again be leaving no stones unturned in light of the bad economy. Most students seem to be interviewing as widely as possible and describe themselves as "taking no chances" or "covering all bases."
Would you consider yourself one of those students? Let us know in the comments!
Like it or not, we have chosen a profession with pronounced manic depressive tendencies, and the ever-expanding legal employment market seems to need to correct itself about every 10 years or so.
In a boom economy, it is just about impossible to screw up an interview. Employers are looking for a way to register a favorable impression. Maybe you won't get an offer if you state something on the order of "I hate being a team player" or "On principle, I refuse to revise my drafts," or "I never bother to read the cases -- the head notes are good enough for me." But just about anything short of that level of provocation is going to be acceptable. In an economy where hiring is tighter, interviewers are looking for "disqualification factors.

Most law students have entirely adequate social skills, but I still hear reports of being unable to salvage an interview that went sour for no apparent reason at all. Here are a few suggestions:
Don't just schmooze the interviewer. Make a point of talking about something with legal substance at some point during the session. An interview is not a test of legal knowledge, but you have to show that you have the mentality of an attorney. For better or worse, lawyers talk law. Read the local legal newspapers beforehand, during, and after OCIP. It's much better to discuss a hot topic in breaking law than to chat about the law school experience or the World Series.
Bring something new or different to the conversation. The recent terrorist attacks are at the forefront of everyone's mind these days, and rightfully so. But don't use your precious 20 minutes to rehash the same information or theories that everyone is receiving on the news and through e-mail. For example, the other day I got to talking with one of my students about the president's Sept. 20th address to the nation. She had actually pulled the selective service statute and read it, and we started talking about the discretionary aspects of the draft. I was very impressed by how well she had educated herself on the topic; an interviewer would feel the same.
Interviewers are people, too. Pay attention to signals from the interviewer. If it is early in the day, the interviewer may not yet have hit on an interview agenda that works for him so don't sit there looking puzzled if you don't understand the question. Use your moot court skills to reprise the question or ask for clarification, and respond as well as you can. If it is late in the day, the enthusiasm and attention of the interviewer may be flagging, particularly if he has heard the same answers too many times to distinguish them anymore. Interviewing at the end of the day has a strategic advantage because you are more likely to be remembered, so try to inject something that differentiates your answer.

Don't just rattle on if the interviewer seems uninterested. Change gears if you can. Hold up your end of the conversation if the interviewer is fading and needs you to carry the day. On the other hand, think before deciding to ask outright if the interviewer is tired or bored. Everyone hates warm fuzzies in an interview (and, thankfully, in most other areas of law as well). You may end up placing the interviewer on the defensive, and that can be difficult to impossible to rectify in 20 minutes or less.
Have a good attitude! As for your own attitude, it's show time, my friends. An attorney who used to be an actor once commented that it takes a surprising amount of mental preparation and concentration for performers to get themselves "up" for just a five-minute interchange with Jay Leno or David Letterman (not that either of them provides the gold standard for interviewing). With a few notable exceptions, even seemingly ditzy guests take seriously the impression they hope to convey. If you are cranky because of the vicissitudes of your private life, park your bad mood at the door and get in role. You have laid stake to the interviewer's limited time, and you must make good use of the opportunity.
Be positive but don't overdo it. Your ambivalent feelings about becoming a lawyer and your negative impressions of law school or law students may be entertaining at a happy hour, but they hurt you in an interview. Like most lawyers, I have a healthy disdain for people who insist that everything is fine. In our profession, everything never is. However, you have to temper your skepticism in an interview. Interviewers are not so naive as to expect you to engage in law school boosterism, but they have been chosen for this task because they believe in the employer and the profession, and they expect you to be able to do the same. Keep some balance in your perspective and don't come across as a contrarian.
Focus on the future. If you came directly to law school from college, you have to professionalize the interview and, to a certain extent, compensate for your relative youth. Don't just talk about your undergraduate experience, even if the interviewer went to the same school and belonged to the same sorority and played on the same lacrosse team. You have to prove your mettle as a future lawyer, not as a past undergraduate. After a little gossip or nostalgia to break the ice, switch the focus to the future; you will probably discover that you have just as much common ground ahead of you as behind you.
That was then, this is now. If you were out in the world for a while prior to law school, beware of getting sidetracked in an interview. I started law school at the age of 40, and had had a fairly interesting life, so it was tempting in interviews to talk about my past accomplishments. I particularly recall one interview that fixed on a cookbook I had been involved in writing and producing. It was a great conversation, and I was shocked when I did not receive an offer. The interviewer had seemed so interested by everything I had to say! I later realized that I had entertained the interviewer for 20 minutes and given him a great idea about what to buy for his wife's birthday, but I never used the opportunity to show what I knew about law or what I could bring to the firm.
Career changes. One more word of advice for career-change law students: Don't come off as an iconoclast. Part of your job in an interview is convincing the employer that you are sincere about wanting to practice law. Do not communicate anything to an interviewer that indicates that your resolve is casual and that you believe you can always go back to doing what you were doing before. On the other hand, be careful about explaining why you left your former profession. It is better to portray your legal education as a logical extension of your earlier interests, rather than a last resort.
If something goes wrong, deal with it. Sometimes an interview just doesn't gel and you know it right away and simply can't change course. The common wisdom is to stop obsessing after the fact -- cut your losses and focus on the interviews that have more potential for call-backs and offers. I am not sure this is entirely good advice. Certainly you should stop obsessing over what you cannot have. Instead, discuss the event with someone you trust and try to understand what went wrong. Just blaming the interviewer is usually counterproductive. Interviewers vary widely in style and personality, but so do clients -- and you have a lifetime of clients ahead of you. Think about what you might have done differently. Understanding how you come across in this kind of setting is likely to be helpful in the future.
Watch out with call-backs. The most common disaster in call-back interviews occurs when law students let down their guard and say things that are unnecessary or regrettable. A call-back is not pro forma and does not guarantee an offer. As you meet with people at the firm, agency or organization, consider the expectations of each listener before you speak. Avoid saying things that sound silly or flippant. Be engaged but don't prattle. Keep your sense of humor.
See the following articles
Learn why attorneys usually fail law firm phone-screening interviews in this article:
Click here to contact Harrison
About Harrison Barnes
Harrison Barnes is the founder of BCG Attorney Search and a successful legal recruiter. Harrison is extremely committed to and passionate about the profession of legal placement.
His firm BCG Attorney Search has placed thousands of attorneys
. BCG Attorney Search works with attorneys to dramatically improve their careers by leaving no stone unturned in job searches and bringing out the very best in them.
Harrison has placed the leaders of the nation's top law firms
, and countless associates who have gone on to lead the nation's top law firms. There are very few firms Harrison has not made placements with.
Harrison's writings about attorney careers and placements attract millions of reads each year.
He coaches and consults with law firms about how to dramatically improve their recruiting and retention efforts. His company LawCrossing has been ranked on the Inc. 500 twice. For more information, please visit
Harrison Barnes' bio
.
About BCG Attorney Search
BCG Attorney Search matches attorneys and law firms with unparalleled expertise and drive, while achieving results. Known globally for its success in locating and placing attorneys in law firms of all sizes, BCG Attorney Search has placed thousands of attorneys in law firms in thousands of different law firms around the country. Unlike other legal placement firms, BCG Attorney Search brings massive resources of over 150 employees to its placement efforts locating positions and opportunities its competitors simply cannot. Every legal recruiter at BCG Attorney Search is a former successful attorney who attended a top law school, worked in top law firms and brought massive drive and commitment to their work. BCG Attorney Search legal recruiters take your legal career seriously and understand attorneys. For more information, please visit
www.BCGSearch.com
.