Harrison Barnes' Legal Career Advice Podcast - Episode 19
Listen to The BCG Attorney Search 2019 State of the American Lateral Law Firm Legal Market Report Podcast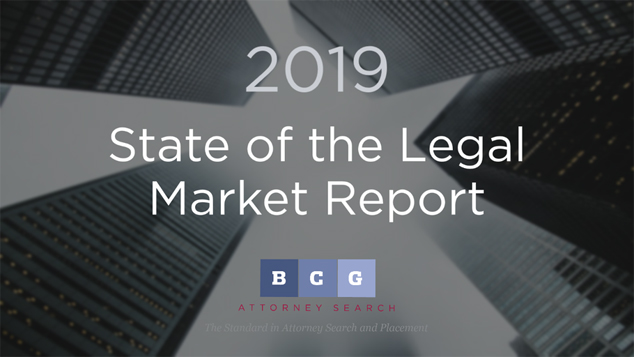 The 2018 legal market was even stronger than the 2017 market. We had more candidates interviewing and getting hired in 2018 than we did in 2017.
The market is so strong that a majority of the candidates we placed this year were entertaining multiple offers from top firms.
In a market this strong, the supply of attorney candidates at smaller firms—especially those in niche practice areas and niche markets—dwindles. These firms, which have not typically used recruiters in the past, came to us for help in large numbers this year.
Following in Milbank's footsteps, many top firms raised salaries for associates of all levels starting in the summer of 2018. The reaction from firms' corporate clients was mixed, with many clients expressing unhappiness about the ever-increasing cost of legal expenses, and many companies indicating they would turn to alternative legal solutions to keep costs down.
The uncertainty regarding how the revenue-driving clients might react to these salary raises seemed to slow down interviews and hiring in big firms significantly. The already competitive landscape for attorneys looking to lateral within the large firm space became even more so.
Many millennials recognized that these biglaw salary increases came at a steep cost of working even harder, leading to a trend of seeking refuge in boutique or "lifestyle" law firms or simply quitting the practice of law altogether.
To address client cost-concerns, large firms are increasingly creating staff attorney positions rather than partner-track associate positions. This is true particularly in more commoditized areas of law, such as patent prosecution and trademark.
Senior level litigators had a very, very difficult time getting positions in larger markets. Litigation is increasingly becoming a dangerous practice area for large law firm attorneys with few opportunities for advancement.
This annual report from 
BCG Attorney Search
summarizes our recruitment, placement and job search of hundreds of attorneys each year in firms throughout the country. I watch our candidates go through every stage of the job search process—from submitting applications and going to interviews, to accepting offers. By closely observing this process and the trends that reveal themselves, we get a profound understanding of the legal market and what is in demand in markets and practice areas across the nation.
[i]
I.  Introduction
The legal market in 2018 showed no signs of slowing down. We had a very busy year at BCG Attorney Search. We had more candidates interviewing, getting offers, and getting placed this year than we did in 2017. However, building on a trend that presented itself in 2017, this hiring activity has been a little atypical.  
As a preliminary matter, it is important to note that our legal recruiting firm has historically dealt with the best candidates seeking positions in the best law firms. To some extent, our placement results have typically shown demand at the higher end of the legal market—the best attorneys seeking positions in the best firms. In 2018, by contrast, the candidates we were able to place were no longer almost exclusively candidates coming from the best law schools and law firms. Across the board, our recruiters made placements of candidates in large and small law firms that almost never would have been made in normal market conditions. We also were approached by a higher-than-average number of smaller and boutique firms that had never used recruiters before that were seeking our help finding qualified attorneys.
The purpose of this report is to look behind these trends to understand the market forces that are causing this sea change.
This report relies heavily upon data and statistics compiled by BCG Attorney Search. We discuss specific data concerning interviews and placements in various practice areas below. For more detailed information on the data discussed in this article, please see the following links:  
II.  Continued Trend Toward Placements at Small, Boutique and Mid-Sized Firms and Away from Large Firm Placements
In 2017, we noted that much of our placement activity has been moving away from the larger, AmLaw 200 firms toward boutiques and small-to-midsized firms. This trend continued in 2018. For both interviews and placements, the lion's share of activity was with firms outside the AmLaw 200.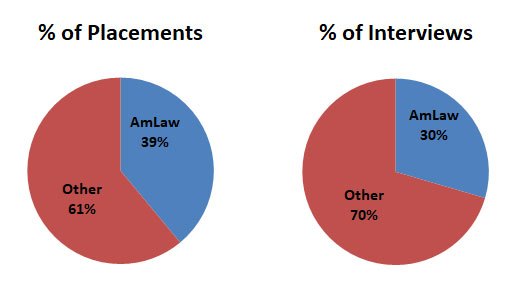 There are several factors driving these statistics.
The Rise of Sophisticated Boutiques
Over the last few years, there has been a rather dramatic trend of biglaw partners leaving their firms to start their own highly specialized, sophisticated boutiques in very niche practice areas. Not only are these new firms cropping up in relatively large numbers, they are growing incredibly quickly as well, opening new offices and hiring attorneys in droves. This is not surprising, as these firms generally have much lower overhead than their behemoth counterparts—which translates into lower billing rates—but also have comparable in-depth expertise. These smaller firms are therefore a very appealing option for businesses looking to cut legal expenses without sacrificing quality.  
We are seeing more and more candidates who are already burned out from the biglaw slog come to us
looking to go to these boutique firms
. These firms are very enticing for young, hungry attorneys. The lean staffing provides junior and mid-level associates much more early-career responsibility, more training opportunities, and more client contact than biglaw. In short, attorneys at these boutiques get to the business of being fully-formed lawyers more quickly. Many of these boutiques are even matching the new biglaw salary raises (discussed below), making this option even more appealing for attorneys looking for a refuge from the pressure of biglaw without having to sacrifice as much pay.  
This year we placed several very well-credentialed attorneys from top firms at boutique firms started by former biglaw partners. We expect that trend to continue into 2019.
Strong Market Competition Forcing Smaller Firms to Seek Recruiter Help
This year we received a surprising number of calls from small and mid-sized firms seeking to use a recruiter. The idea of using a recruiter was so novel to many of these firms, that I found myself explaining over and over simply how the recruiting process works in general. We got a particularly large influx of job orders from firms in niche practice areas—even practice areas that have not traditionally used recruiters to hire, like insurance defense—and in niche markets.  
These firms were turning to recruiters for the first time because they were having a harder time than they have in the past attracting
any
qualified candidates. Many firms told me they had posted their jobs on their firm website, job boards, bar association sites, etc., and had gotten only a tiny handful of resumes—many of which were not even from actual attorneys! This is an indicator that there is not enough talent in these markets. In slow legal markets, there is traditionally plenty of talent to go around, even in smaller markets. But in stronger economies (and good legal markets), like we had in 2018, the supply of attorneys dwindles, making it much harder for small firms in niche markets to attract talent.  
These firm opportunities are great from a recruiting perspective because these smaller firms are often not looking for the same superstar attorneys that the AmLaw firms are seeking. We were able to place a large number of attorneys in these firms that, in years past, we would not have been able place at all.
Large Firm Placements Have Become Even More Competitive
Large law firms are more difficult for lateral attorneys to get positions in and have become better at understanding the sorts of attorneys that are likely to be more committed to the practice of law than they were in the past. The largest law firms in major cities (New York, Washington, DC, San Francisco) are more difficult to get positions in than they have ever been. The bar continually goes up in regard to how difficult it is to get positions in the largest, most competitive law firms—except for some attorneys in niche practice areas. Attorneys who confine their job searches to the largest law firms do so at their peril because there is a lot more opportunity in smaller to midsized law firms.  
In addition, as discussed in more detail below, the most recent rounds of biglaw salary increases dramatically slowed down the interviewing and hiring process at the top firms.  
III.  Effect of 2018 BigLaw Salary Increases on Lateral Hiring Market
In June of 2018, Milbank, Tweed, Hadley & McCloy announced associate salary raises, which set off a chain reaction throughout many of its peer AmLaw 100 firms and even several sophisticated boutique firms. Brand new attorneys at firms that matched this salary raise will now be making $190,000. The last time firms did this, only two years ago, I explained in detail
the potential perils for the law firms that engage in these kind of salary wars
. For now, however, I'd like to focus on how these raises appeared to affect the lateral hiring market for the top firms.
Slow Down in Large Firm Interviews and Hiring
Once the salary raises were announced, we noticed a significant slowdown in interviews and placements with the large firms. Corporate law firm clients often react to these kinds of salary increases by moving their work in-house or to alternative legal providers, demanding alternative fee arrangements or that their matters be leanly staffed, and segmenting their legal services. If these institutional clients, who drive revenue and hiring decisions within law firms, are balking at these salary increases, it makes sense that the law firms themselves have been a bit gun-shy to hire laterally until the net effect of these salary increases on the firm's bottom-line is analyzed.
The top firms have appeared to take this corporate reaction very seriously, and appear to be taking a very careful approach to hiring. If they over-hire in the wake of these salary raises, and potentially lose business as a result, there will inevitably be layoffs down the road. This has resulted in an incredibly slow and deliberate interview process. Many of our candidates had 3 or 4 rounds of interviews before offers were handed out, if they were handed out at all.
Interestingly, however, the slower-than-average hiring market over the summer evolved into a higher than normal hiring rush at the end of the year in these top firms. We had a flurry of interviews and placements throughout December right up through Christmas, and even placed a couple of attorneys on New Year's Eve.
Attorneys Left Out of Money Grab Seek to Jump Ship or Leave BigLaw Altogether
The most-cited reasons to justify these salary raises are: 1) associate retention and 2) attracting top talent. To a large extent, this gambit appears to have paid off for these firms. We saw fewer candidates looking to make a lateral move if they were at firms that matched the new Milbank salary scale. On the other hand, we had several candidates come to us this year who were at top firms that did not match the salary raises and were looking to jump to a firm that did.
However, while better money might be motivation to stay, in many cases these pay raises come with increased expectations on the associates from both partners and clients. Some firms were very transparent that more money = more work. For these firms, the increased salaries were expressly tied to increased billable requirements to be bonus-eligible. Indeed, some firms, like Fish & Richardson, cited the desire to keep their billable hour requirement static as a reason
not
to match the new Milbank scale.
But even for firms that were less explicit about the new expectations from their associates, these salary raises inevitably come with strings attached. Associates will have increased pressure to deliver high quality work to appease clients who may be footing a higher bill, and may feel more compelled to write off hours. To potentially counteract some of these associate concerns, and in an effort to keep associates ostensibly "happy" despite the increased workload, some firms are getting creative. For example, Orrick announced an interesting incentive in December of this year: paying people to take vacation. The firm will foot associates' one-week vacation costs of up to $15,000! But even this perk comes at a high price—it is only available to associates on the partnership track who racked up at least 2400 client billable hours in 2018.
At the end of the day, superstar associates seem to be reacting to these salary increases in one of two ways: 1)
chase the money
(i.e. lateral to a firm that is paying top-of-the-market salaries) and swallow the somewhat bitter pill of a crazy workload, or 2) decide they've had enough of the biglaw rat race and seek employment at "lifestyle" firms and boutiques in an attempt to achieve better work-life balance.  
IV. Observations on the Market for Mainstream and Niche Practice Areas
Mainstream Practice Area Activity in 2018
Mainstream practice areas for large law firms are
litigation
 and
corporate
. These are considered "mainstream" practice areas because this is where most of the revenue at the largest, full-service law firms comes from.
While we've observed a general trend over the last few years towards a rise in demand for practitioners with highly specialized skills, the legal market has been strong overall for the past couple of years. As a result, mainstream practice areas were also busier, and demand increased. This is a sign of a healthy and expanding legal market in all respects. Placements and interview activity in corporate and litigation increased rather substantially in 2018 compared to 2017.  
| Litigation, Corporate | 2017 | 2018 | % of Growth |
| --- | --- | --- | --- |
| % of Placement | 39.61% | 43.81% | 10.59% |
| % of Interviews | 39.16% | 44.33% | 13.20% |
The Data Indicates the Market Is Healthy and Expanding
The need for generalists is important to understand as it relates to the health of the overall market. Legal recruiting is always active for law firms seeking specialists because specialists are difficult for law firms to find on their own. In contrast, most markets are teeming with generalists who email their resumes without any solicitation to major law firms all day long, obviating the need to advertise positions or hire legal recruiters to track them down.
However, when there is a high demand for generalists, this means that law firms are having a difficult time locating these attorneys on their own. When generalists are in high demand, this means there is a shortage of attorneys in the open market, and they are not contacting law firms looking for positions. This is very good for the legal market and means that the best attorneys are gainfully employed.
Notable Growth in Certain Niche Practice Areas in 2018
We saw some significant growth in a few surprising practice areas this year: 1) Patent Agents, 2) Insurance Coverage, and 3) Insurance Defense. I will discuss some likely reasons behind each of these trends in turn.  
1. Patent Agents
| Patent Agents/Technical Specialists | 2017 | 2018 | % of Growth | 2017 Rank | 2018 Rank |
| --- | --- | --- | --- | --- | --- |
| % of Placements | 0.25% | 1.74% | 597.72% | 30 | 15 |
| % of Interviews | 0.56% | 1.85% | 229.40% | 26 | 15 |
While
we saw a slight dropoff in interviews and placements for both patent prosecutors and intellectual property litigators in 2018
, we actually observed a significant increase in interviews and placements of our
patent agent
candidates, particularly at larger firms. This has been a very surprising development, as most large firms have not traditionally used recruiters for patent agent placements.  
This trend can likely be attributed to the fact that patent prosecution is becoming increasingly commoditized. Corporations are demanding to pay less for their patent application fees, and are more and more accomplishing this by looking to boutiques or solo-practitioners for their patent prosecution needs. IP boutiques often work more on a volume basis, have lower overhead, and charge a flat rate, allowing them to offer high quality work at a lower cost than big firms.  
The larger firms, on the other hand, which are often slave to the billable hour model, have few good options to provide similar-caliber work on the cheap. In an attempt to cut costs, rather than having a mid or senior-level associate prosecute the patent, the big firms have the cheaper but less skilled junior associates do the work. The end result is often not as high quality as the company can get from alternative legal service providers for the same amount of money.  
While some firms have chosen in recent years to completely spin off their prosecution practice to address these growing cost concerns, others have appeared to keep costs down by going the patent agent route—hiring very qualified patent agents that they can bill out at a lower rate than unqualified first years and deliver a better overall product. These top firms won't pay for just any patent agents, and the bottomless pool of candidates with science backgrounds looking to break into the patent agent game will still have a hard time finding a position with these firms. But highly credentialed, experienced patent agents will give these firms a competitive advantage that will help keep the patent prosecution costs low, quality high, and, importantly, keep the whole scope of the patent work with the firm.  
We expect to continue to see patent agents, especially those with PhDs and substantive experience, to be able to find opportunities inside law firms in the coming year.  
2. Insurance Coverage
| Insurance Coverage | 2017 | 2018 | % of Growth | 2017 Rank | 2018 Rank |
| --- | --- | --- | --- | --- | --- |
| % of Placements | 0.62% | 2.26% | 262.92% | 24 | 10 |
| % of Interviews | 1.38% | 2.03% | 46.75% | 18 | 13 |
In 2018, the US experienced a record-setting year of natural disasters that were not only devastating but incredibly costly, and insurance companies are largely footing the bill for these tragedies. Insured losses from the Camp and Woolsey wildfires in California alone are estimated to run between $9 and $13 billion.
With such an overwhelming amount of liability hanging over their heads, insurance companies are going to be fighting with their insureds over insurance coverage issues in an attempt to reduce their cost burden, and insurance coverage attorneys are going to be very busy for the foreseeable future. It makes sense, then, that one of the biggest increases in hiring activity in 2018 was for experienced insurance coverage attorneys.
We saw a 17% increase in overall job postings in this practice area, and a dramatic spike in interviews and placements of our insurance coverage candidates. In 2017, insurance coverage was ranked as our 24th largest percentage of placements across all practice areas. This year, that ranking jumped up to 10th. We expect to see this trend continue into 2019.  
3. Insurance Defense
| Insurance Defense | 2017 | 2018 | % of Growth | 2017 Rank | 2018 Rank |
| --- | --- | --- | --- | --- | --- |
| % of Placements | 0.62% | 2.08% | 235.00% | 25 | 12 |
| % of Interviews | 0.55% | 1.84% | 237.77% | 27 | 16 |
Firms that specialize in insurance defense
do not typically call upon legal recruiters to hire attorneys
. Even larger firms that do this kind of work will solicit our help to fill other attorney roles, but will not use recruiters for their insurance defense hiring needs. This is largely because insurance companies negotiate rates down dramatically for this kind of work compared to what a firm can charge for more typical commercial litigation work. Furthermore, there is often high turnover rate in law firms that do this kind of work, so firms typically don't like to pay recruiters for candidates who may end up leaving after just a year.  
However, in 2018, this conventional wisdom was turned on its head. We saw a whopping 92% increase in total job postings for insurance defense attorneys this year. While many of those job openings were at firms that were still not seeking recruiter assistance to fill the role, we got a record number of job orders from insurance defense firms that
were
seeking our help. With that many more openings in the market, it is not surprising that smaller insurance defense firms, especially in niche, regional markets, were unable to find qualified applicants for their positions.  
The reasons behind this radical increase in activity is not as readily apparent as the reasons behind the insurance coverage spike—which is likely tied to numerous natural disasters we experienced in 2018. But, whatever the reason for this increase, the high demand for these attorneys kept up busy throughout the year, and we expect to continue to see a need in this practice area in 2019.
V.  How and Why Law Firms Hire Lateral Attorneys Through Legal Recruiters
To put this data and these trends in context, it is important to review why law firms hire lateral attorneys through recruiters. The role of legal recruiters as agents in the recruiting process for law firms has traditionally been confined to the "high end" law firms in the country. As we noted in 2017, this pattern has appeared to change, as many less prestigious law firms are starting to use recruiters. The trend picked up even more momentum in 2018.  
Law firms hire lateral attorneys through recruiters when: (1)
they are confident they have profitable ongoing work to give the attorney
, (2) there is a shortage of readily available people in the market who complete the work attorneys do, and (3) when the candidate is someone who will impress the law firm's clients and result in ongoing work being given to the firm.  
Law Firms Hire Lateral Attorneys Through Legal Recruiters When They Are Confident They Have Profitable Ongoing Work to Give the Attorney to Do
Law firms hire laterally through legal recruiters when they are succeeding and confident about the future. Law firms that use recruiters are almost always doing work on behalf of stable companies that (within reason) can afford to write an endless series of checks for having their legal work done. This typically means that the attorney will be mainly working for companies that are large enough and have sufficient revenue that legal bills of even hundreds of thousands of dollars a month (or more) do not affect them.  
In large cities, these companies may be giant public corporations. In smaller cities, they may be hospitals, local banks, divisions of large national companies, local universities, governments, and other local organizations with healthy revenues and growth. Law firms that service these sorts of institutions are the clients of legal recruiters. In contrast, law firms that do "piecemeal" work that is unpredictable, or who work for individuals (as opposed to companies) tend to rarely, if ever, use legal recruiters.  
Law firms that use legal recruiters have "good legal jobs." A good legal job might pay two or even three times as much in New York City compared to Albany, New York—but the position is still a good one in Albany. A good law firm job typically offers the prospect of stability, a good income, and upward advancement. Law firms with good legal jobs will typically not do a lot of work for individuals and be somewhat "class-conscious" regarding the pedigrees of the attorneys they are hiring. They want to hire people they can "sell" to their clients (and clients expect their law firm's attorneys to look good on paper).  
Law firms that have profitable, ongoing work make a lot of money from their attorneys. They have money to spend on salaries, are unconcerned about temporary slowdowns in the legal market and are also unconcerned about nominal legal recruiter fees that are most often less than even 5% of the revenue that an attorney generates in a year. In fact, because law firms that use legal recruiters have confidence in their hires and the money to support them, we have found that attorneys typically last longer and have better careers with law firms that hire them through legal recruiters than those that do not. A law firm that has confidence in its future and is well managed has no issues with a recruiter's involvement in a placement and only wants to hire the best people that it can.  
Because of how delicate a legal career is and because attorneys want to protect themselves from the risk that a firm without sufficient work will hire them—only to discard them a short time later—most highly qualified candidates typically want a legal recruiter involved in their placement. Legal recruiters have "good legal jobs," and law firms that use legal recruiters have profitable work and are confident about their futures.  
This discussion would not be complete without us noting that many smaller and midsized law firms used our services this year. This was an indicator that profitable, ongoing legal work has been moving downstream to a greater extent than in the past. This is a good sign for the legal market and seems to imply that there is more profitable work out there.  
Law Firms Hire Lateral Attorneys Through Legal Recruiters When There Is a Shortage of People in the Market They Can Hire and Locate Informally
Law firms hire lateral attorneys when there is a shortage of people in the market they have immediate access to. Law firms are typically bombarded with unsolicited resumes from attorneys—even highly qualified ones—when the market is not healthy. Due to this, law firms often do not even need to advertise their positions or use recruiters because the applicants for their positions are right in front of them. Attorneys inside of law firms, recruiting personnel, and others typically have all sorts of "contacts" in the market they can draw from when they are hiring. When a law firm hires this way, they typically recognize and feel comfortable with the person. A proven, known commodity is considered better than one that is not known.  
Also, before law firms will go out in the market seeking people—whether it is posting ads on their website, external job boards, or contacting legal recruiters—the law firm will see if there is anyone they already know who they can invite to interview for the job. Many law firm jobs are filled informally like this. This is one reason, for example, that in-house positions with corporations are so difficult for attorneys to find—most of these positions are filled informally because they are in demand from associates with no business at risk of losing their jobs, or attorneys wanting fewer hours, for example. Once an attorney is in-house and in charge of hiring, they will often hire attorneys they are already working with at an outside law firm, or recruit former colleagues they worked with before, or people they knew from law school.  
When law firms do not know of attorneys they can bring in to assist them, they contact recruiters, put positions on their websites and start advertising these positions. (Recruiters have access to so few in-house positions, for example, because there is so much demand for them). This indicates that there is a shortage of attorneys in the market and law firms take action and hire this way when they cannot find qualified people through informal channels.  
One of the reasons that niche practice areas are so popular for lateral hiring is that there are just not many attorneys with niche skills in the market compared to attorneys in mainstream practice areas. Law firms do not have contacts or resumes, or mainstream attorneys to draw from and hire and therefore need to promote these positions by posting advertisements and contacting legal recruiters.  
Law Firms Use Legal Recruiters to Find the Sorts of Candidates Their Clients Will Approve of
Law firms work for clients and, as such, they want to hire attorneys who are acceptable to their clients. This means they look for attorneys who have the pedigrees and background the law firm can "sell" to its clients. In general, large companies and others with lots of legal work are concerned about the pedigree of the attorneys their law firm uses.  
For a law firm to hire laterally, the clients of the law firm need to approve of the hire as well. This means that the person hired should have the sorts of qualifications that the client will pay for. If it is a large, prestigious law firm, the prior law firm the attorney worked in, and their law school,
as well as other pedigree information, will be important
.  
VI.  State of Individual Practice Areas in 2017
Below we discuss the trends within the various practice areas. In addition to setting out the interview and placement data, we give each practice area an informal health status in terms of what we expect the health of that practice area to be in 2019. The statuses are: 1) Dying, (2) Sick, (3) Stable, (4) Vibrant, or (5) Very Vibrant. Use the images in the key below to quickly identify the health of a practice area.  

| Practice Area | Percentage of BCG's 2018 Placements |
| --- | --- |
| Litigation | 29.75% |
| Corporate | 14.06% |
| Labor & Employment | 6.13% |
| Intellectual Property - Patent | 5.79% |
| Real Estate | 4.51% |
| Intellectual Property - Litigation | 3.65% |
| Finance | 3.59% |
| Environmental and Land Use | 2.60% |
| Trusts and Estates | 2.37% |
| Insurance Coverage | 2.26% |
| Tax | 2.20% |
| Insurance Defense | 2.08% |
| Bankruptcy | 1.74% |
| Energy and Oil & Gas | 1.74% |
| Patent Agents/Technical Specialists | 1.74% |
| Antitrust and Competition | 1.50% |
| Construction | 1.45% |
| Intellectual Property - General | 1.45% |
| Intellectual Property - Trademark/Copyright | 1.45% |
| Technology Transactions | 1.45% |
| Immigration | 1.39% |
| Health Care | 1.27% |
| Municipal Law | 1.16% |
| Entertainment and New Media | 0.75% |
| ERISA/Executive Compensation | 0.69% |
| Government and Government Relations | 0.64% |
| Data Privacy | 0.58% |
| Education | 0.41% |
| Alcohol Beverage Law | 0.35% |
| Food & Drug Administration | 0.35% |
| Telecommunications | 0.35% |
| Maritime and Transportation | 0.23% |
| Other | 0.17% |
| Workers Compensation | 0.17% |
| Electric Power | 0.00% |
| Family Law | 0.00% |
| Government Contracts | 0.00% |
| International Trade | 0.00% |
Litigation
2018 Litigation Health: Stable
| Litigation | 2017 | 2018 | % of Growth | 2017 Rank | 2018 Rank |
| --- | --- | --- | --- | --- | --- |
| % of Placements | 29.26% | 29.75% | 1.66% | 1 | 1 |
| % of Interviews | 26.32% | 33.72% | 28.12% | 1 | 1 |
Litigation was a little busier in 2018 than it was in 2017.
The majority of attorneys in the market are litigators.
Approximately 40% of all attorneys inside law firms are litigators—and the percentage is probably much higher (my guess is over 50%) if you count solo practitioners, government attorneys, and other attorneys around the country. The majority of attorneys out there are litigators, and the total likely exceeds 50%. With so many litigators in the legal market, the fact that recruiters place many of them should not be a surprise. You would think that if more than 50% of attorneys are litigators that our percentage of placements would track that percentage, but that is not the case because there is an oversupply of litigators for the amount of demand.
As it was in 2017, the majority of litigators we placed in 2018 were with smaller to midsized law firms. For law firms that do not pay the top of the market rates, there was a major demand for litigators all around the country—particularly in areas outside of major American cities. Law firms outside of major cities were hungry for junior to midlevel litigators and eager to hire. Our offices around the country typically received multiple phone calls each day from smaller to midsized law firms seeking litigators. Law firms were hungry for litigators all year.
Regarding demand, there is plenty of demand for litigators in all but the largest law firms. Law firms that are not charging top of market billing rates seem to be going through a "growth phase" around the country. Many of these law firms are finding that they are getting more work and need to hire more attorneys.
The larger law firms, in contrast, remained very competitive for getting positions in 2018. The requirements that they seek tend to be extremely high. The requirements for lateraling into the largest law firms are much higher for litigators than they are for attorneys in most other practice areas. The largest and most respected firms are interested in attorneys with the best grades, from the best law schools, coming from the best law firms and with the most prestigious clerkships. The emphasis on qualifications for litigators tends to be higher than it is for attorneys in other practice areas in the largest law firms. Attorneys from large law firms did not do as well in the market as they might have done in previous years—it just seems to be getting harder and harder for them.
Some observations I made in 2017 repeated themselves in 2018:  
Litigation generalists with stellar qualifications (the cream of the crop from top law schools and law firms) in New York; Washington, DC; and the Bay Area got few—if any interviews. Washington, DC and New York were what I would term "bloodbaths." In contrast, attorneys with these same qualifications in previous years would have numerous interviews. These markets continued to be very slow.
I came across countless senior attorneys throughout the year who were laid off or fired from large law firms—there was just no demand for them, and they were left groveling for anything. Some of these attorneys took jobs in public service and other roles that paid a fraction of what they had been making working for major law firms.
I saw many attorneys from top Ivy League law schools lose their jobs and go to work as solo practitioners and take other jobs you normally would not associate with attorneys with top credentials, including work as insurance defense attorneys and the like. This is not something I was happy seeing. It was sad watching these attorneys reduced to this.
Litigation has become a very difficult practice area for attorneys to succeed in. There are so many litigators out there that only the very best litigators can successfully lateral to "good firms." Unlike corporate, patent, real estate, and other practice areas, it is difficult for an attorney to 
go in-house
 and have other options available when the attorney becomes more senior. Without substantial portable business, the path of many large law firm litigators is to become solo practitioners and do other sorts of similar jobs after leaving large law firms if they do not become partners. It is very sad, and with an oversupply of litigators in the market, far too many talented litigators are ill-advised trusting the large law firm route in large cities.
Top law firms are much more pedigree-conscious with litigators than they are with other sorts of attorneys. They expect their litigators to have clerkships, be on law review, the order of the coif, and so forth—from top law schools. Even litigators with these sorts of qualifications, though, are experiencing a certain level of hardship moving laterally. Incredibly, in major cities there is an actual oversupply of litigators who clerked for federal circuit judges, attended top law schools, and were at the top of their classes. In previous years, these attorneys would see many doors open for them. This is just not the case anymore.  
The litigators who have had the most success have often been those coming directly out of federal circuit court clerkships.
The market has gotten so tight that the largest and most prestigious law firms hiring lateral litigators do not even view federal district court clerkships very highly anymore—but there is still interest in federal district court clerks from the Southern District of New York and a few other select jurisdictions.
The market for litigators has become so status conscious that clerking for a federal magistrate is something that seems equivalent to attending a fourth-tier law school—permanently barring all but the luckiest attorneys from the most prestigious law firms.
An explanation for the slowdown in lateral hiring is largely due to the laws of supply and demand discussed earlier. There are too many lateral litigators seeking jobs, and this has set the bar very high for attorneys getting hired. There are just not a lot of positions for litigators with "good law firms" at the moment. Every litigator out there is having serious issues getting a position. The economy has been relatively good, which has decreased to some extent the amount of litigation work available, as people tend to be less litigious in good times than in bad.  
| Practice Area | Time Zone | 2017 | 2018 | % of Growth |
| --- | --- | --- | --- | --- |
| Litigation | Central / Mountain States | 5.91% | 4.17% | -29.47% |
| Litigation | Eastern States | 12.94% | 9.14% | -29.31% |
| Litigation | Pacific Standard Time | 10.42% | 16.44% | 57.78% |
| Practice Area | Time Zone | 2017 | 2018 | % of Growth |
| --- | --- | --- | --- | --- |
| Litigation | Central / Mountain States | 5.39% | 5.58% | 3.54% |
| Litigation | Eastern States | 9.21% | 12.56% | 36.43% |
| Litigation | Pacific Standard Time | 11.72% | 15.58% | 32.90% |
In 2019, What Are the Prospects for Moving Laterally as a Litigation Attorney?
 
Litigation is doing very well for attorneys seeking positions in small to midsized law firms: There are plenty of positions available.
Litigation is expanding outside of major cities and doing well in smaller to midsized markets.
To be attractive to large law firms in major cities, litigators need to have exceptional qualifications (grades, schools, clerkships, and firm experience). This is because there are so many litigators out there (and litigation is by far the most popular practice group) that credentials help sort the "best" from the "good."
Because litigators need the bar to go to court and sign pleadings, it is also more difficult for them to move laterally and get positions in other states.
Corporate (including Corporate Finance)
2018 Corporate Health: Stable
| Corporate | 2017 | 2018 | % of Growth | 2017 Rank | 2018 Rank |
| --- | --- | --- | --- | --- | --- |
| % of Placements | 10.35% | 14.06% | 35.81% | 2 | 2 |
| % of Interviews | 12.84% | 10.60% | -17.38% | 2 | 2 |
Corporate has always been a leading practice area for attorney placement firms to place lateral attorneys. The work is specialized, requires specialized skills only learned in large law firms, and takes time to learn. Finally, corporate work is done on behalf of corporations "doing deals" and other forms of business where the cost of hiring expensive corporate attorneys is somewhat of an afterthought. Despite the fact that corporate attorneys do not make up the majority of attorneys in the United States, in all but the most recessionary environments, they will constitute a large portion of placements made by most legal recruiting firms.
Read a Broader Description of This Practice Area
Here
.
| Practice Area | Time Zone | 2017 | 2018 | % of Growth |
| --- | --- | --- | --- | --- |
| Corporate | Central / Mountain States | 3.11% | 2.03% | -34.86% |
| Corporate | Eastern States | 4.23% | 6.48% | 52.37% |
| Corporate | Pacific Standard Time | 2.83% | 4.86% | 71.79% |
| Practice Area | Time Zone | 2017 | 2018 | % of Growth |
| --- | --- | --- | --- | --- |
| Corporate | Central / Mountain States | 3.43% | 1.42% | -58.69% |
| Corporate | Eastern States | 6.00% | 5.71% | -4.90% |
| Corporate | Pacific Standard Time | 3.27% | 3.48% | 6.27% |
In 2019, What Are the Prospects for Moving Laterally as a Corporate Attorney?
 
Corporate is a very competitive practice area—particularly in the largest markets. Attorneys in the largest markets are facing a great deal of competition for corporate positions and the qualifications needed are high.
The market for corporate attorneys is not "hot", and there appears to be a large supply of them in the market.
When the economy is good, corporate attorneys are often in strong demand. The economy seems to be very good in 2018, but there appears to be many corporate attorneys chasing a limited number of jobs.
The best opportunities for corporate attorneys tend to be in midsized markets where they are more in demand than in the largest markets.
Regarding the ability to lateral between states, cities, and even countries, corporate is probably the best practice area to be in. Corporate attorneys can relocate to different states without a lot of difficulties. We relocated numerous corporate attorneys in 2018.
Corporate is also a good practice area for attorneys interested in business and making a lot of money. Many corporate attorneys end up working inside of companies as in-house counsel or building books of business at their next firms.
When the economy is slow, it can become more difficult for corporate attorneys to move laterally and there are a lot of layoffs. Corporate work tends to mirror the strength of the larger economy and number of deals going on there.
Corporate is a very difficult practice area to start a career in because attorneys can get laid off and lose their jobs early in their careers and never get the training needed to become seasoned.
Corporate is the best practice area for attorneys interested in building a book of business. Because corporate attorneys tend to advise their clients on an ongoing basis about a variety of issues, they typically can get spin-off work (litigation, real estate, tax, and so forth) that they can send to other attorneys in their firm.
The majority of placements we are making are for attorneys with specialized corporate skills—specialists as opposed to generalists. Large law firms increasingly have all sorts of specialist corporate attorneys who do aspects of finance, securities, mergers and other work. In the largest markets, corporate attorneys are extremely specialized and in demand for niche and not generalist skills.
Labor & Employment
2018 Labor & Employment Health: Stable
| Labor & Employment | 2017 | 2018 | % of Growth | 2017 Rank | 2018 Rank |
| --- | --- | --- | --- | --- | --- |
| % of Placements | 5.63% | 6.13% | 8.99% | 5 | 3 |
| % of Interviews | 5.94% | 6.01% | 1.20% | 5 | 3 |
Employment picked up a little in 2018 compared to 2017. There were a couple of major trends that we noticed in 2017 that seemed to be gaining more momentum.
First, firms that do mainly labor and employment seemed to be busy and growing. These law firms seem to be doing well and across the board are hiring and healthy. Almost every employment-only law firm seems busy and to be doing well. These employment law firms are all using recruiters to seek out and bring them the best talent. Employment-only law firms seem to be thriving in the current market. Despite this fact, these law firms are a small slice of the market and cannot do all of the hiring in the market.
Second, major law firms seem to be retrenching to some extent with their hiring of employment attorneys. A strong source of placements in previous years involved attorneys moving from employment-only law firms to work in the employment practice groups of higher paying major law firms. This is not occurring as much anymore. In fact, many major law firms seem to be viewing employment as an unprofitable practice area and are moving away from it.
In the employment field, billing rates tend to be lower because clients simply will not pay high billing rates for employment attorneys. As a consequence of this, many large law firms are moving away from doing this work, and when they are not, they are often hiring attorneys as "staff attorneys" to do the work rather than associates. This seems to be occurring with a great deal of regularity, and more and more law firms are moving toward this. This accounted for a lot of the decrease in hiring.
Read a Broader Description of This Practice Area
Here
.
| Practice Area | Time Zone | 2017 | 2018 | % of Growth |
| --- | --- | --- | --- | --- |
| Labor & Employment | Central / Mountain States | 0.75% | 1.74% | 132.64% |
| Labor & Employment | Eastern States | 1.37% | 0.93% | -32.32% |
| Labor & Employment | Pacific Standard Time | 3.51% | 3.47% | -1.18% |
| Practice Area | Time Zone | 2017 | 2018 | % of Growth |
| --- | --- | --- | --- | --- |
| Labor & Employment | Central / Mountain States | 1.27% | 0.75% | -40.94% |
| Labor & Employment | Eastern States | 1.59% | 1.34% | -15.77% |
| Labor & Employment | Pacific Standard Time | 3.08% | 3.92% | 27.27% |
In 2019, What Are the Prospects for Moving Laterally as an Employment Attorney?
The prospects for moving laterally as an employment attorney are strong. An employment attorney can almost always find a good position.
The observations made about employment in 2017 apply to 2018 as well.  
Employment is a strong practice area for lateral attorneys, and employment attorneys are generally in demand at all points in time.
Employment is a good practice area because there is a barrier to entry to some extent and employment attorneys are specialists to some extent.
There is a high demand for attorneys of color, women, and gay and lesbian attorneys in this practice area.
One problem with this practice area, however, is that it is not that profitable for most major law firms (except wage-hour class actions) because the billing rates that firms charge for this work tend to be lower (since much of it is routine and not that complex).
Employment is a safe practice area for attorneys to be in and there are opportunities for strong employment attorneys at all points in time.
The one drawback is that the compensation attorneys make in this practice area tends to be lower.
Intellectual Property—Patent
2018 Intellectual Property—Patent Health: Sick
| Intellectual Property - Patent | 2017 | 2018 | % of Growth | 2017 Rank | 2018 Rank |
| --- | --- | --- | --- | --- | --- |
| % of Placements | 6.37% | 5.79% | -9.13% | 3 | 4 |
| % of Interviews | 6.84% | 5.28% | -22.86% | 3 | 4 |
Patent prosecution dipped in 2018 for the first time in the last few years. As discussed in more detail above, many large law firms are having issues maintaining their patent prosecution practices and staying busy. Because a lot of patent prosecution work is now being done for flat fees, this is making it more difficult for large law firms to be competitive and many are doing less and less patent work. This is creating more work for smaller law firms, and this is where a lot of the work is going.
We worked with many senior patent prosecution attorneys this year who were being pushed out of their firms. While we were able to place many of them, several attorneys had to settle for staff attorney positions, which came with a significant pay cut.  
About Harrison Barnes
Harrison Barnes is a prominent figure in the legal placement industry, known for his expertise in attorney placements and his extensive knowledge of the legal profession.
With over 25 years of experience, he has established himself as a leading voice in the field and has helped thousands of lawyers and law students find their ideal career paths.
Barnes is a former federal law clerk and associate at Quinn Emanuel and a graduate of the University of Chicago College and the University of Virginia Law School. He was a Rhodes Scholar Finalist at the University of Chicago and a member of the University of Virginia Law Review. Early in his legal career, he enrolled in Stanford Business School but dropped out because he missed legal recruiting too much.
Barnes' approach to the legal industry is rooted in his commitment to helping lawyers achieve their full potential. He believes that the key to success in the legal profession is to be proactive, persistent, and disciplined in one's approach to work and life. He encourages lawyers to take ownership of their careers and to focus on developing their skills and expertise in a way that aligns with their passions and interests.
One of how Barnes provides support to lawyers is through his writing. On his blog, HarrisonBarnes.com, and BCGSearch.com, he regularly shares his insights and advice on a range of topics related to the legal profession. Through his writing, he aims to empower lawyers to control their careers and make informed decisions about their professional development.
One of Barnes's fundamental philosophies in his writing is the importance of networking. He believes that networking is a critical component of career success and that it is essential for lawyers to establish relationships with others in their field. He encourages lawyers to attend events, join organizations, and connect with others in the legal community to build their professional networks.
Another central theme in Barnes' writing is the importance of personal and professional development. He believes that lawyers should continuously strive to improve themselves and develop their skills to succeed in their careers. He encourages lawyers to pursue ongoing education and training actively, read widely, and seek new opportunities for growth and development.
In addition to his work in the legal industry, Barnes is also a fitness and lifestyle enthusiast. He sees fitness and wellness as integral to his personal and professional development and encourages others to adopt a similar mindset. He starts his day at 4:00 am and dedicates several daily hours to running, weightlifting, and pursuing spiritual disciplines.
Finally, Barnes is a strong advocate for community service and giving back. He volunteers for the University of Chicago, where he is the former area chair of Los Angeles for the University of Chicago Admissions Office. He also serves as the President of the Young Presidents Organization's Century City Los Angeles Chapter, where he works to support and connect young business leaders.
In conclusion, Harrison Barnes is a visionary legal industry leader committed to helping lawyers achieve their full potential. Through his work at BCG Attorney Search, writing, and community involvement, he empowers lawyers to take control of their careers, develop their skills continuously, and lead fulfilling and successful lives. His philosophy of being proactive, persistent, and disciplined, combined with his focus on personal and professional development, makes him a valuable resource for anyone looking to succeed in the legal profession.
About BCG Attorney Search
BCG Attorney Search matches attorneys and law firms with unparalleled expertise and drive, while achieving results. Known globally for its success in locating and placing attorneys in law firms of all sizes, BCG Attorney Search has placed thousands of attorneys in law firms in thousands of different law firms around the country. Unlike other legal placement firms, BCG Attorney Search brings massive resources of over 150 employees to its placement efforts locating positions and opportunities its competitors simply cannot. Every legal recruiter at BCG Attorney Search is a former successful attorney who attended a top law school, worked in top law firms and brought massive drive and commitment to their work. BCG Attorney Search legal recruiters take your legal career seriously and understand attorneys. For more information, please visit
www.BCGSearch.com
.
Harrison Barnes does a weekly free webinar with live Q&A for attorneys and law students each Wednesday at 10:00 am PST. You can attend anonymously and ask questions about your career, this article, or any other legal career-related topics. You can sign up for the weekly webinar here: Register on Zoom
Harrison also does a weekly free webinar with live Q&A for law firms, companies, and others who hire attorneys each Wednesday at 10:00 am PST. You can sign up for the weekly webinar here: Register on Zoom
You can browse a list of past webinars here: Webinar Replays
You can also listen to Harrison Barnes Podcasts here: Attorney Career Advice Podcasts
You can also read Harrison Barnes' articles and books here: Harrison's Perspectives
Harrison Barnes is the legal profession's mentor and may be the only person in your legal career who will tell you why you are not reaching your full potential and what you really need to do to grow as an attorney--regardless of how much it hurts. If you prefer truth to stagnation, growth to comfort, and actionable ideas instead of fluffy concepts, you and Harrison will get along just fine. If, however, you want to stay where you are, talk about your past successes, and feel comfortable, Harrison is not for you.
Truly great mentors are like parents, doctors, therapists, spiritual figures, and others because in order to help you they need to expose you to pain and expose your weaknesses. But suppose you act on the advice and pain created by a mentor. In that case, you will become better: a better attorney, better employees, a better boss, know where you are going, and appreciate where you have been--you will hopefully also become a happier and better person. As you learn from Harrison, he hopes he will become your mentor.
To read more career and life advice articles visit Harrison's personal blog.