LLM (Master of Law) in the United States of America is offered a residential program with various specialized courses like taxation, commercial law, and many others. At 9 months to 1-year duration, it can be either an onsite or distance learning course depending upon the university one chooses to
apply for LLMs
at an average cost between 12 K-70K tuition fees per academic session/yearly period.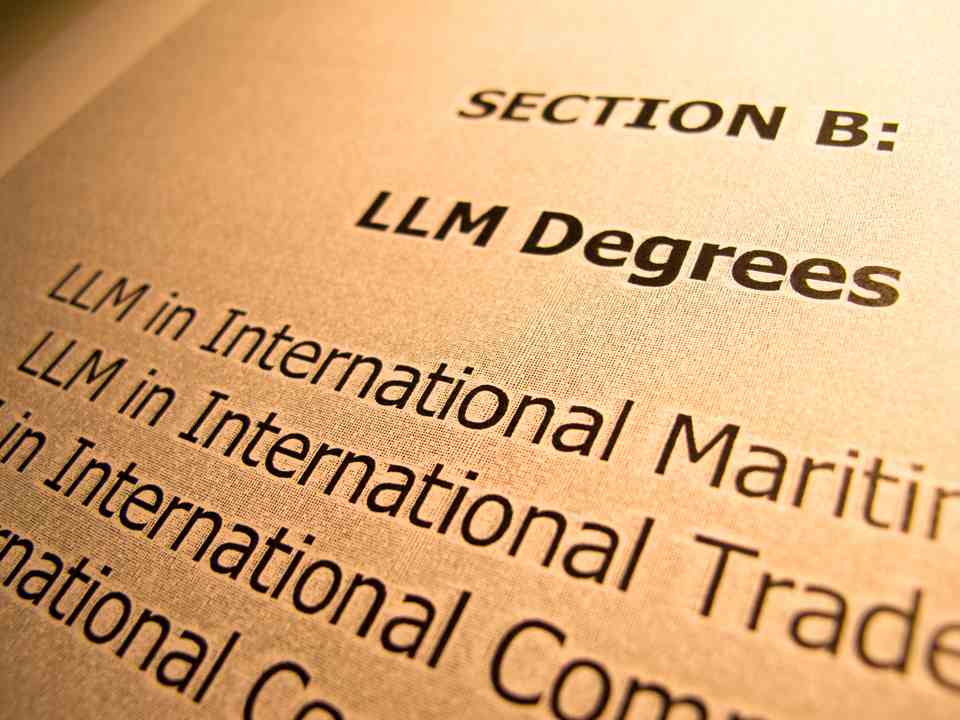 An LLM in American Law will give you a
comprehensive understanding of the US Legal System
. This will include American constitutional law, commercial law, civil litigation practice and procedure, contracts, criminal law, criminal procedure, immigration law, international law, and employment law. Further specializations such as environmental law, tax law, or health law are usually offered too.  
Why Study LLM in USA?
Following are some of the reasons that attract international students to LLM programs:
The law-trained diplomats and policy advisors learn to negotiate treaties and maintain international relations as part of their training.
On January 1, 2019, the American Bar Association (ABA) released a report on lawyer activity, which revealed a consistent growth in attorneys practicing law: 12.4 percent (highest since 2010).
USA legal studies focus on the Socratic teaching method to improve the argumentative dialogue among the students, which is an essential skill for lawyers.
The students will work on pro bono cases as part of their curriculum throughout the year due to high legal clinic requirements in the United States.
In the United States, female attorneys are enthusiastically received. The number of female lawyers practicing in legal clinics has risen by 5% (compared to the previous ten years) in 2019.
Diversity is valued in the legal profession in the United States. In 2009, just 20% of minorities were associate attorneys, whereas in 2018, that number rose to 24%.
International graduates can practice law without any discrimination in these law firms.
Entry-level salaries in legal firms range between 58,000 USD and 70,000 USD.
LLM in USA Course Curriculum
LLM is an abbreviation for Legum Megister (a Latin word), which means Master of Law. Students are required to complete at least 24 credit hours while studying in the United States. Academic courses make up about 18 units, with the remaining being filled by seminars or a project, depending on the university.
Following are some of the standard courses taught in LLM in the USA:  
Fundamentals of US Law
Legal Research & Writing
Constitutional Law, Regulations and Public Policy
Criminal Justice
Legal History and Legal Theory
Litigation and Dispute Resolution
Social Justice and Human Rights
Qualifications needed to Study LLM.
An applicant must have a first professional degree like a Juris Doctor (JD) from an accredited ABA-approved law school or a first law degree (JD, LLB, or the equivalent legal education) from a foreign law school. You may include information from your high school/mid-year assessment or other educational experience at your discretion. Other factors influencing the admissions decision include grades from other academic pursuits, letters of recommendation, occupational interests, professional and personal accomplishments.
For international students, it is essential to have a high level of fluency in the English language. Proof of English proficiency is required for admission of international students belonging to non-English speaking countries. The minimum score requirement for most of the top-ranking universities of USA are given below:   
TOEFL (iBT): 100
IELTS: 7.0
Eligibility for LLM in USA Admission
Juris Doctor (JD) from an ABA-approved US Law School or first degree (JD, LLB or equivalent) from a foreign law school
Minimum 3.0 GPA on a 4.0 scale or 83% at bachelors level (varies with the university)
Minimum 2 to 2 years of work experience (depends upon university)
Proof of English proficiency
Documents Required for LLM in USA Admission
Transcripts of 10th, 12th, and bachelors degree
Evaluation of foreign transcripts by LSAC's LLM Credential Assembly Service (CAS)
Minimum 2 letters of recommendations
Essays based on the questions asked by the university
Curriculum Vitae (CV)
US Visa Requirements for International Students
The USA has different types of visas. F1 is used for those who want to pursue academics in universities in the USA. The US student visa is issued post submission of the following documents:  
University Acceptance Letter
Migration, provisional, character, and birth certificates
Original I-20 signed and approved by both the university authority and candidate
GRE scorecard and proof of language proficiency
Two letters of recommendation; Resume; Statement of purpose
Financial Proof: Last 6-month's bank transaction and balance certificate; Sponsorship letter from sponsor and relationship certificate with sponsor
Assets valuation
SEVIS Fee receipt
See Also:
Why an LL.M. Degree is Almost Always a Bad Idea for Attorneys: In Most Instances, an LL.M Will Never Get You a Better Job and Only More Debt
Reasons to Study LLM
LLM or Master of Laws is a postgraduate degree
that offers students an opportunity to deepen their understanding of the law. The LLM in the USA enables students to develop expertise in various subjects of law, practice, and study various kinds of legal systems. Law schools accepting students for this course are primarily located in Washington D.C., California, New York, Illinois, Michigan, and Pennsylvania.
Following are the reasons to Study LLM in the USA:
1) Experience American Legal System
- This course helps students experience the US legal system first hand by studying various subjects of law that follow an entirely different pattern than what is taught in India. However, some common threads can be seen in both the legal systems that have been adapted from English.
2) Further Specialization-
An LLM degree enables students to further specialize in a specific field of law and gain expertise in it like:  
Intellectual Property Law
Criminal Justice Law
International Law and Business Transactions
Public International and Comparative Law
Business Law and Taxation
3) Career Opportunities-
LLM degrees also provide students with many opportunities to participate in international conferences, seminars, etc. They may present their research work or get published in journals of international repute, which will help them get recognized by recruiters at various law firms and legal establishments.
4) Study Abroad-
LLM in the USA provides students with a rare opportunity to study law in the US and experience the American way of life while studying at their universities. Students can also utilize this platform to get exposure to the international environment, which helps them gain many other skills.
5) Ease of Admission-
LLM is a postgraduate degree that does not require any specific bachelor's degree, making it easier to get into law school. Also, fewer students compete for LLM admissions as it is a master's course and therefore the competition level is lesser than those enrolled in an undergraduate program.
See Also:
Should I Go Back to School to Get My LLM?
Where can you study LLM?
In the US, several universities are offering an LLM in American Law.  
University of Southern California (USC) Gould School of Law,
Vanderbilt Law School, University of Connecticut School of Law (UConn Law),
Georgetown University Law Center (GULC),
Boston University School of Law (BU Law),
Cornell University – Cornell Law School,
Hofstra University School of Law,
St John's University School of Law,
Case Western Reserve University School of Law,
Wake Forest University (WFU) School of Law,
Florida State University – College of Law,
The University of Baltimore – School of Law,
Loyola University New Orleans – College of Law,
The University of California,
Hastings College of the Law,
The University of California,
Los Angeles (UCLA) School of Law,
Whittier Law School,
Penn State University – Penn State Law,
Loyola Law School Los Angeles,
University of Illinois (UIUC) College of Law,
The University of California,
Davis (UC Davis) School of Law,
Washington and Lee University School of Law (W&L Law),
Golden Gate University (GGU),
Santa Clara University School of Law,
Duke University – Duke Law School,
The University of Wisconsin – UW Law School,
Washington University in St. Louis (WUSTL) School of Law (WU Law),
The University of Hawaii at Manoa – William S. Richardson School of Law (WSRSL), and
University of North Carolina (UNC) School of Law.
Job Prospects for LLM Graduates
LLM students who attend law schools in the United States may apply for Optional Practical Training (OPT). Before completing their degree, LLM students should apply for this training. OPT has a duration of up to 12 months.
The job can be on a contractual basis, paid or unpaid. After completing the OPT program, graduates can apply for an H1B visa to begin working for a US employer. Every year, 65000 H1B visas are provided to foreign nationals.
To practice as a lawyer, you must first pass the state's bar exam.
The majority of the states, including New York and California, allow students to take this exam even if they have a foreign degree in law.
However,
only those students who have earned a degree from ABA-approved law schools are permitted to take the Bar exam in 23 states of the United States.
As a result, international students with a foreign bachelor's degree in law who wish to practice in these jurisdictions must obtain
an LLM degree from an American institution
.  
Conclusion
Law school is an expensive investment that can take up to three years of your life. As a result, it is important to do research on the best programs in order to be certain you are making the right decision for yourself and your family. If you are interested in studying law abroad, LLM programs offer students opportunities unavailable at home- like study abroad experiences or earning credits towards their degree while still living outside of the United States. It is also possible for international graduates who have earned degrees from foreign universities without ABA approval (or US bachelor's degrees) to study at American institutions if they want to work as lawyers in states where this is permitted after taking bar exams required by each state individually. The job prospects for these graduates may vary depending on their home country, the institution where they graduate from, and other factors.