The College of William & Mary had a law school as early as 1780, but the modern version emerged during the latter half of the 19th century. In the United States, Canada, and some international law schools, the modern law school curriculum was well established by the turn of the century. There are over 230 law schools in the United States. These schools admit over 40,000 new students each year and graduate just under 34,000. Graduates of law schools receive a Juris Doctor (Doctor of Law) degree, commonly referred to as a J.D. Law school applications are competitive and can be expensive. The average law school curriculum takes three years to complete and covers the basic foundations of law across all jurisdictions, although some schools are more focused on specific areas of law, such as environmental or health care law. In the present day, there are very few law schools that allow complete online education, however law schools-and the bodies that accredit them are slowly beginning to allow more forms of distance education. Over 90% of law school graduates become practicing attorneys. Law school graduates do have a variety of employment options, as discussed below in more detail.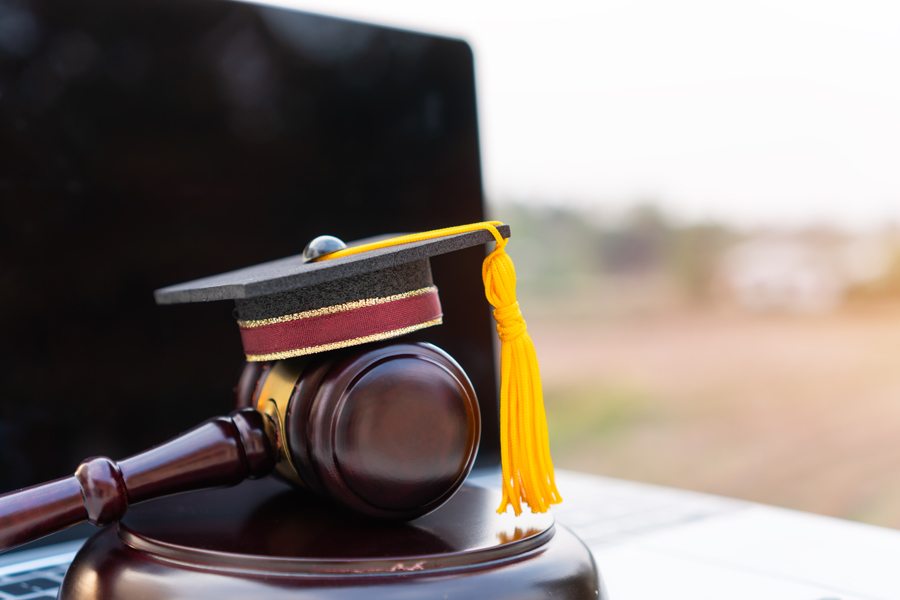 Is it Hard to Get into Law School?
Law school admission is highly competitive,
as over 60,000 students apply every year for one of the 40,000 available seats at the roughly 230 law schools across the United States.
Students typically apply to six different law schools. The competition for the
highest-ranked law schools
grows even more intense as law school rankings often affect the first job offers graduates receive. Many factors are considered by law schools when choosing their students, including previous education and life experience. Students are also evaluated according to their undergraduate major. In addition to pre-law/political science degrees, there are many other degrees that create excellent preparation for law school. As a result, law schools value students whose backgrounds are diverse in terms of their education and experience.  
How Does The Law School Application Process Work?
In law school, the application process is rigorous, and there are several factors involved in acceptance:  
Standardized test scores on the Law School Admissions Test (or LSAT). GRE scores are also increasingly accepted. The average LSAT score of each law school is published. Applications within (and preferably above) the average are more likely to be accepted.
Undergraduate performance. In addition, law schools take into account your undergraduate and graduate degrees. Even though many undergraduate degrees prepare excellent prospective law students, it is important to demonstrate your passion for your undergraduate major. Extracurricular activities and work experience that demonstrate a passion for a field of study may be considered.
Describe how you are likely to be a good law student in a letter of recommendation from a professor. Lawyers are bound by professional standards, which means letters of recommendation speak to more than just your capacity as a student.
A unique and diverse combination of life experiences. Considering the incredibly broad nature of the legal profession, law schools seek students with rich, unique life experiences.
Credential Assembly Service (CAS) is a service provided by the Law School Admission Council (LSAC) and required by most ABA-approved law schools. If you pay CAS, they will package your transcripts, LSAT scores, and letters of recommendation. If you apply to the law schools of your choice, they will contact the CAS directly and request a copy of your report. Register for the CAS around July so that you can complete your file as soon as possible.
Applying to law school is also expensive. Between the cost of a standardized test, the application fee to a law school (which averages $80), and the cost of the Credential Assembly Service (CAS), the cost to apply to one law school is between $400 and $450. The average applicant applies to six additional schools at a cost of $60 to $100. Nearly $1000 is usually spent per law school application by most applicants. In addition to using preparation courses or materials, most applicants also add to the overall cost of the application process by taking standardized test preparation courses.  
What Is Accreditation For A Law School And How Important Is It?
A law school graduate must be licensed by a state's law licensing agency
in order to practice law.
Law students usually attend law schools accredited by the American Bar Association
, because most states require
lawyers to graduate from an ABA-accredited law school
. To be accredited by the American Bar Association, a law school must meet its requirements. Still, there are six states in which bar exam candidates can apply without attending a law school that is accredited by the ABA. Applicants in these states must attend a law school approved by the licensing agency. Some jurisdictions do not require a J.D. at all. As an alternative to a J.D., such jurisdictions require an internship.  
What Is The Cost Of Attending Law School?
It varies widely depending on whether one attends an in-state public school, an out-of-state public school, or a private school. According to US News and World Report's analysis of the 2018-2019 academic year, the cost of in-state public schools is over $20,000 less than the cost of a private law school. In addition to private schools costing over $50,000 per year, public out-of-state schools cost over $40,000 per year on average. Depending on a school's ranking and prestige, however, the costs associated with it can vary widely. In the United States, the most expensive public school (the University of Virginia) costs over $60,000. The least expensive option (the University of District of Columbia) costs less than $15,000.
The extra cost of private schools does not negate the advantages of a law school education. To lure top students, private schools typically offer more financial aid to applicants who need it. To be considered for a scholarship, it is important for you to get a good LSAT score, which is used as a benchmark by most law schools for prospective students.
Public law school education is also not inferior due to its lower cost. Nearly 30% of the top 25 law schools ranked by US News and World Report are public universities. For students who wish to practice law in the same jurisdiction as their university, public universities also have an advantage since their faculty and community are often closely connected to the local legal community.  
Approximately How Long Does Law School Take?
ABA-approved law schools offer 83 classroom hours prior to graduation. The classes generally take place over six semesters with three years between each semester. A law school's three years are generally abbreviated as 1L (first year), 2L (second year), and 3L (third year).  
What Will I Study In Law School?
In a traditional three-year law school program, students are taught the fundamental subjects of law in their first year: contracts, torts, civil procedure, property, criminal law, and constitutional law. A legal writing and research methods class is also generally required of first-year students.
Students focus on business administration and legal processes
during their second year.
Legal careers
are prepared through these classes. Third-year students specialize in their fields of law, such as
environmental law
,
health care law
, or
tax law
.
There are some law schools that emphasize a specific area of law rather than teaching a general curriculum. Students who want to specialize in Environmental Law often choose the Lewis & Clark College of Law at Northwestern University. Law schools also offer joint degrees that allow students to earn their Juris Doctor while also earning a
Masters of Business Administration (MBA)
, a Doctor of Philosophy (Ph.D.), or a healthcare degree such as an MD or Masters in Public Health (MPH). Combining both degrees takes less time and money than obtaining them separately. A lawyer can also focus his or her studies and expand their job prospects through a law degree.  
Can I Get A Law Degree Online?
Approximately 83 of the minimum hours required to earn a J.D. must be learned in a classroom setting, according to the American Bar Association. Online courses are allowed by the ABA but the hours may only total four per semester.
A law school accredited by the ABA generally does not allow distance education during the first year.
In other states, however, there are no ABA-approved law schools needed for attorneys to become licensed.
In addition, the ABA is expected to update its regulations regarding distance education, because students are increasingly pursuing advanced degrees through distance learning. Online Juris Doctor programs may be the future at the University of Syracuse College of law. A combination of online and on-campus education is offered in this ABA-approved program. Syracuse's program, called JDInteractive, is more flexible than a traditional legal education but still takes 3+ years to complete and combines live classroom and online learning.
See Also:
The Class They Didn't Teach in Law School: Junior Associate 101
When I Graduate, Will I Be A Lawyer?
Almost all jurisdictions do not require lawyers to have a Juris Doctor. Licensing is regulated by a licensing authority in each state or territory (commonly referred to as "State Bar"). Law school graduates who wish to practice law must pass another examination, prove that they are morally fit and pay membership fees to the State Bar of the state in which they reside. In some cases, a law school graduate must apply for a license to multiple states if their law license does not necessarily extend to other states.
Some states do not require the completion of a Juris Doctor degree (or a J.D. from an ABA-accredited law school) in order to be admitted to the State Bar. The applicant is still required to meet the other requirements for admission to the Bar in these states.  
After I Graduate, What Kind Of Job Can I Get?
Upwards of 90% of law school
graduates
go on to practice law
, and most find employment within 10 months of graduation. Despite this, the
practice of law
is remarkably diverse and the types of jobs and salaries differ significantly.
In general, jobs exist in both the public and private sectors. Law firms and corporations both offer jobs in the private sector. Generally speaking, private sector jobs pay more, resulting in increased competition. Graduates who accepted jobs in the private sector had a
starting salary
between $60,000 and $85,000, according to data from the class of 2017. Most of the respondents earned over $85,000, with a much smaller percentage earning over $150,000.
Jobs in the public sector
pay less than those in the private sector. Among them are jobs as criminal prosecutors, public defenders, and non-profit advocacy. Starting salaries for
most public sector jobs
are less than $60,000. When law school graduates accept jobs in the public sector, they can often qualify for student loan forgiveness programs.
A lawyer's starting salary tends to increase rapidly with experience, which is also important to note. Lawyers' salaries in 2019 topped $120,000. Law school graduates also prepare for careers other than law, leveraging their education in various ways. There are dozens of career options for law school graduates, including law enforcement, finance, and many more.