Harrison Barnes' Legal Career Advice Podcast - Episode 45
Listen to There Are Only Three Reasons an Attorney Should Ever Switch Law Firms Podcast
Attorneys who switch law firms often do so for misguided reasons.
Truly, there are only three reasons an attorney should leave one firm for another.
Those are (1) you don't fit in your current firm's politics, (2) you have no work, and (3) you can get into a more prestigious law firm.
Otherwise, you should stay put in the firm you are now in.
Summary: Should you switch law firms? Find out if it's really worth trying to make the move in this article.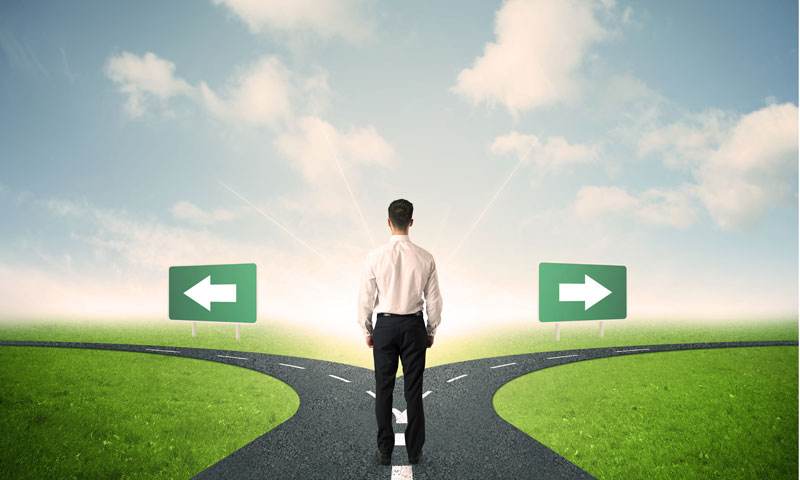 Attorneys make the decision to switch jobs for a variety of reasons.
I have found that many attorneys' reasons for switching jobs are misguided. Out of every 10 attorneys I speak with, I tell four of them that their current situation is just fine—they should stay right where they are. The other six have solid grounds for making a switch. Ultimately, their reasons boil down to the three described in this article.
Here are the three main reasons you should ever switch jobs: (1) you are on the wrong side of the political climate of your office, (2) you do not have access to work, or (3) you can get into a more prestigious law firm (but this is not always a sufficient reason either). There is quite a bit of depth to each of these reasons; they are more fully explored below.
At the outset, I want to make an observation that I hate to make because it is so harsh, but it's true. If you are ever unemployed as an attorney for any length of time, it is exceedingly difficult to get a new job. There are many reasons for this, but the main reasons are that any new law firm reviewing your resume presumes you either (1) could not play political games correctly, or (2) did not have access to work.
These "intangibles" operate in the background, determining every attorney's future inside of a law firm and ultimately governing what happens in their careers. If an attorney does not do these things well, the presumption is they will not succeed in their next law firm. When evaluating your candidacy as a lateral hire, law firms judge whether or not you are currently employed and ask a bunch of questions in your interview about how busy you are. (You should always be busy).
This is how the profession works. Yet, incredibly, many senior partners and most associates never fully grasp the importance of access to work and navigating firm politics. This is why most attorneys do not succeed in large law firms.
Law firms (and the rest of the world) always seem to cheer for the attorney who is trying to move up and get into a more prestigious or larger law firm. Attorneys who are motivated to constantly challenge themselves and push themselves to get better are always respected by future employers. You should always try to improve and advance.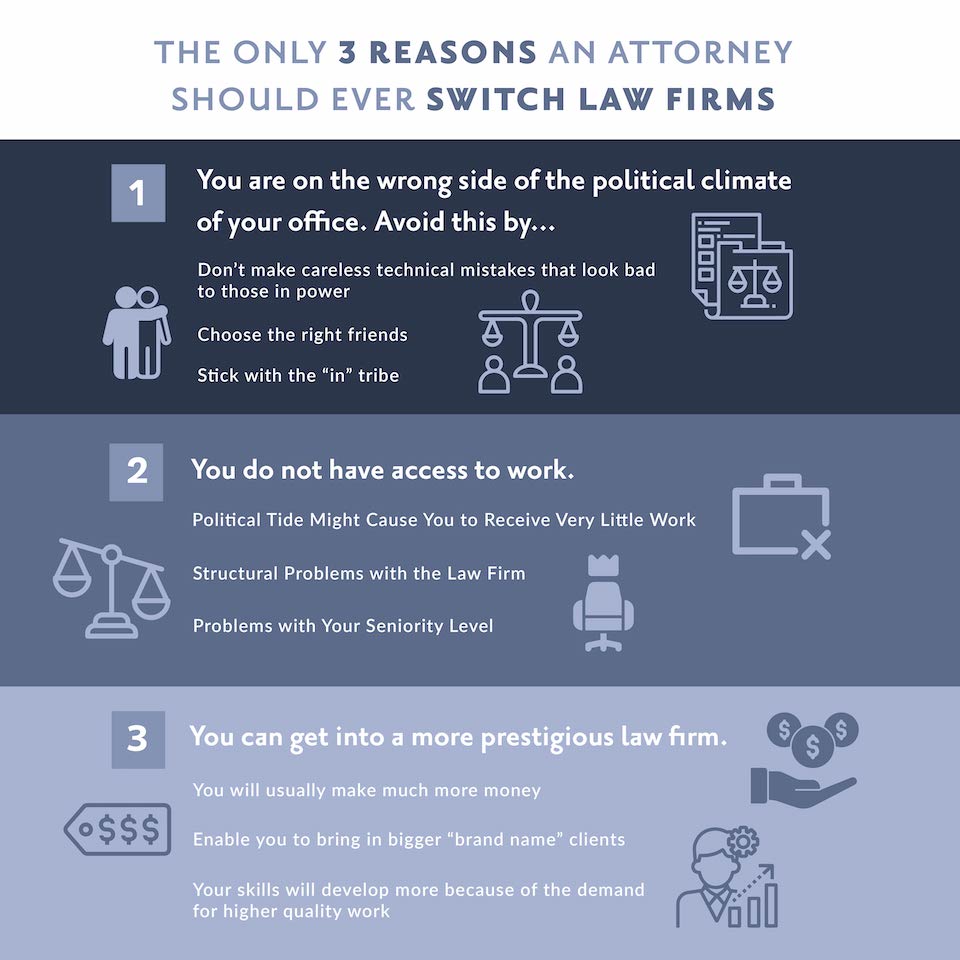 1. Political Reasons: The Tide of Opinion in the Office is Against You and You Are Not Part of the "Group"
In most law firms there are individuals with lots of business and power. The individuals close to these powerhouses derive their strength from this. If you are part of a group with lots of business and power the following happens:
You can advance and make partner without any business. People with power surround themselves with allies. The people in power want to be around those who support them, make them feel good and show they can be trusted.
You will be protected during layoffs and recessions. The people who lose their jobs during recessions are generally those who do not have strong enough political allies. If you have powerful allies, they will generally protect you during recessions and your job will be spared if at all possible.
You will have consistent access to work. Some allegiances are strong. Parents always feed their children and countries always feed and pay their armies. Similarly, work goes to the people who are closest to the rainmakers. Those in power give work to their allies first and foremost.
You will learn how to get business. If attorneys with business are supporting you, they will also teach you how to get business yourself, or you will pick it up from watching how they behave around existing and prospective clients. Being around those with business will help you develop your own rainmaking skills and advance within the firm.
You will have the option of moving to new firms. If you are close to powerful people with business, they will probably bring you along if they switch firms for some reason. I see attorneys with moves on their resumes all the time because someone in power brought them along. Those with business and power always want to bring allies to be their eyes and ears and support them at their new law firm.
You will be privy to important information that can protect your career. Those in power will often share important information with attorneys close to them. Insider information can help an attorney avoid certain people or matters or get close to certain people and matters—or know when and when not to look for a job.
You will be given business as a partner. Most partners in major American law firms are close to other partners with major clients. The partners with major clients keep those without clients busy. If you do not have business as a partner, nothing is more important than staying close to the right people.
Sometimes there is only "one" powerful person with all of the business, and everyone tries to get close to him or her. Other times there are several of these people or even groups of these people—some more powerful than others. You need to be part of the most powerful tribe you can. This will help you be a better lawyer and have a stronger career.
The people with the power in any legal office generally control things such as who makes partner, who gets the most compensation as a partner, who gets laid off during recessions and who advances. If you are not part of this group, or if these people are against you and you can't rectify the situation, then you are generally going to have a very difficult time advancing.
It is not always easy to spot who is in power inside of a law firm; however, the longer you are at the firm, the more you will be able to identify these people. These people sometimes even operate in the background, affecting the future of everyone else in the firm.
I was a summer associate inside of a law firm in New York when a partner I had never seen suddenly appeared in front of me at a cocktail party.
"Are you enjoying getting experience?" he asked me.
"Yes," I said.
"Good. Because that is why we have brought you here for the summer. We want you to get experience."
He then disappeared as quickly as he had shown up. It gave me a strange feeling at the time. I felt like what he was saying was, "I hope you are enjoying all the money we are spending on you." It was unsettling and did not feel good—even though he seemed somewhat friendly when he said it.
Later that summer I learned the law firm had wanted to cancel the summer program because things were slow. Years later I realized the man I spoke with was the most powerful partner in the firm—a guy with $30+ million in business. What he was saying, in effect, was, "I hope you are enjoying the money I am spending on you. You'd better at least be getting some good experience that will make you valuable to me later." He was clearly not too happy to be largely footing the bill for the summer program.
A few years after law school I joined a different New York-based law firm. The associates I met all spoke of "working there a few years" and then going to a new firm. I really didn't understand this at the time and it didn't make a ton of sense. It seemed to me that the pay was good and the firm was well-respected, so why not stick around?
I later learned most young associates in these large law firms are harshly reviewed early in their careers. They make mistakes and this makes them stronger and better attorneys. In the course of being trained, however, many associates also make a ton of mistakes and get a reputation for being less-than-stellar. In large law firms in New York and other cities, being stellar is the only option if you ever hope to advance.
Instead of taking their chances somewhere where they are considered less-than-stellar, many associates pick up and move to another firm. This is a positive move in some cases. You can literally improve your career by moving because you start at a new firm with a "fresh slate." This new start gives you the opportunity to build a new reputation and impress those in power.
One of the reasons young attorneys often move firms two or three times before they find a home—whether they are doing it consciously or not—is they are not part of any group that is going to protect them. Young attorneys are learning on the job and they enter their jobs not knowing what they should be doing. Just as important as the quality of work an attorney does and the number of hours they bill are their political skills. This is also important for more senior attorneys as well. Senior attorneys in a situation where the political tide has turned against them are often far better switching to a new firm than staying where they currently are.
As a preliminary matter it is important to note that the talk about hours, political skills and so forth is all premised on "being close" to the people with the most work. The people with the most work and clients are generally the ones that control what happens in a law firm. If you have business, you are generating money to support the law firm. The attorney with business is like the "King" and everyone is currying to be near him, influence him and receive favors and gifts from the King.
Regardless of how you are regarded politically, impressing a King within a firm is one of the most important things you can do. I know an attorney who spent nine years in a large law firm toiling somewhat anonymously in his office, churning out briefs and arguing relatively unimportant motions for superiors. By a series of events, he somehow made it onto a trial team with a colleague with tens of millions of dollars in business who is one of the more well-known litigators in the United States. For six weeks the two of them worked out of a hotel in a small Midwestern town. The associate tirelessly worked on briefings, anticipated when the partner wanted a cup of coffee, discussed trial strategy and witnesses with the partner every night and gave the case his all.
It was the smartest thing the associate could have done. A few weeks after returning to the firm's main office, the partnership voted on new partners. Suddenly someone who was poised to wander off in-house or maybe become "of counsel" was nominated for partnership and championed by the most powerful partner in the law firm. Of course everyone wants to do what the King wants, so the young attorney made partner and succeeded because he impressed the King.
For most attorneys, though, if you are an anonymous worker drone inside of a law firm not much will ever happen to you. You are like a cow sitting out to pasture, helplessly waiting to be slaughtered. You are eating the grass—but you are going to die eventually. The only way to rise above all of this is to understand that you need to get in with the right people, play the right political games and not do anything to doom you politically. Here are the political mistakes you must avoid at all cost:
a. Don't make careless technical mistakes that look bad to those in power.
Attorneys often make mistakes early in their careers (or even later) that literally destroy their options with a given firm and undermine the trust that others have in them. In some cases, it could be filing a wrong document, failing to file a given document, or giving a client completely wrong advice. In other instances it could be forgetting about an assignment or doing something late. When this occurs, the tide of an entire office can turn against an attorney.
Due to the highly technical nature of being a patent attorney and the many mistakes that can be made in scientific equations and analysis, it is exceedingly common to see patent attorneys jump around from firm to firm when the tide of one office turns against them. The mistakes are never discussed (to do so would make the firm and attorney look bad), but they often result in patent attorneys being "blackballed" inside of law firms.
Litigators often forget to file a certain document or file something late. Even the best litigators on the verge of making partner in a large law firm will be "frozen out" and lose their jobs if they make a serious mistake.
Once those in power look down on an attorney for making a mistake, recovery is often difficult—or even impossible (depending on economic conditions and how much work the firm needs to be done). Attorneys then make the decision to look at new law firms.
b. Don't Make a Careless Remark.
Attorneys make careless remarks all the time that "reveal their cards" and permanently get them politically blackballed or even forced out of the firm. Careless remarks include things such as:
"That's administrative work; can't you have someone else do it?"
"I'm not comfortable working on Saturday/Sunday."
"This is the sort of work I did as a junior associate, isn't there someone else that can do it?"
Anything that shows a lack of commitment will be met harshly and severely. In fact, even one remark like this will often doom an attorney as someone who cannot step up and get things done when someone is counting on them. Even your facial expressions, body language, sighs and so forth are something that can be taken the wrong way.
Law firms (and higher-ups bringing in the work) believe that work is a privilege and having work is something attorneys should respect and want to do—the more work the better. Work helps you bill additional hours, helps the tribe succeed, and allows everyone to advance. If you turn away and/or avoid work it's not looked upon kindly.
Other types of careless remarks include saying something negative about a powerful superior, making a racist or sexist remark to the wrong person and so forth. These sorts of mistakes have devastating consequences if they get back to the wrong people, and can negatively impact on an attorney's career.
You need to watch your mouth and be careful about the things you say. Words have power and can cast a negative light over you, often instantly and permanently.
c. Don't choose the wrong friends.
From a political standpoint, the smartest attorneys are generally cordial but careful about choosing friends when they get into any new situation. In fact, politics in law firms can be so dicey and fluid that the smartest, most political attorneys often keep their distance, acting friendly with people but avoiding "alliances" for years! This is often the right way to go because choosing the wrong friends can be a real mistake inside of a law firm.
The calculus is pretty simple. If you are friends with someone inside of a law firm that is pissing off those in power, is making trouble and is seen in the wrong way, you too are going to be "guilty by association"—especially if you are not well-known to those in power. Therefore, your job inside of a law firm is to keep your nose clean, be careful about firm alliances and be nice and friendly to as many people as possible without overcommitting.
When you are close to the wrong people they will constantly want to share their negative opinions about the firm and job with you, complaining about what an awful place the organization is (despite the fact it has been around for decades and will likely still be functioning when they die). These opinions will eventually rub off on you, start depressing you and make you believe you are in the wrong place. You will think it—and if you think it (even if you do not say anything), you will show it in the office.
People are "tribal" animals, and the last thing you want to do is be associated with the wrong tribe. Law firms expel those who are antagonistic to their interest of survival and making money; this is how all economic units and groups work. Your job is to avoid association with these groups if you want to survive in your current firm. Nevertheless, these are the same sorts of groups that may leave to join a new firm, form their own firm, or help your career in other ways. Your job is to be as smart as possible and choose groups wisely.
About Harrison Barnes
Harrison Barnes is a prominent figure in the legal placement industry, known for his expertise in attorney placements and his extensive knowledge of the legal profession.
With over 25 years of experience, he has established himself as a leading voice in the field and has helped thousands of lawyers and law students find their ideal career paths.
Barnes is a former federal law clerk and associate at Quinn Emanuel and a graduate of the University of Chicago College and the University of Virginia Law School. He was a Rhodes Scholar Finalist at the University of Chicago and a member of the University of Virginia Law Review. Early in his legal career, he enrolled in Stanford Business School but dropped out because he missed legal recruiting too much.
Barnes' approach to the legal industry is rooted in his commitment to helping lawyers achieve their full potential. He believes that the key to success in the legal profession is to be proactive, persistent, and disciplined in one's approach to work and life. He encourages lawyers to take ownership of their careers and to focus on developing their skills and expertise in a way that aligns with their passions and interests.
One of how Barnes provides support to lawyers is through his writing. On his blog, HarrisonBarnes.com, and BCGSearch.com, he regularly shares his insights and advice on a range of topics related to the legal profession. Through his writing, he aims to empower lawyers to control their careers and make informed decisions about their professional development.
One of Barnes's fundamental philosophies in his writing is the importance of networking. He believes that networking is a critical component of career success and that it is essential for lawyers to establish relationships with others in their field. He encourages lawyers to attend events, join organizations, and connect with others in the legal community to build their professional networks.
Another central theme in Barnes' writing is the importance of personal and professional development. He believes that lawyers should continuously strive to improve themselves and develop their skills to succeed in their careers. He encourages lawyers to pursue ongoing education and training actively, read widely, and seek new opportunities for growth and development.
In addition to his work in the legal industry, Barnes is also a fitness and lifestyle enthusiast. He sees fitness and wellness as integral to his personal and professional development and encourages others to adopt a similar mindset. He starts his day at 4:00 am and dedicates several daily hours to running, weightlifting, and pursuing spiritual disciplines.
Finally, Barnes is a strong advocate for community service and giving back. He volunteers for the University of Chicago, where he is the former area chair of Los Angeles for the University of Chicago Admissions Office. He also serves as the President of the Young Presidents Organization's Century City Los Angeles Chapter, where he works to support and connect young business leaders.
In conclusion, Harrison Barnes is a visionary legal industry leader committed to helping lawyers achieve their full potential. Through his work at BCG Attorney Search, writing, and community involvement, he empowers lawyers to take control of their careers, develop their skills continuously, and lead fulfilling and successful lives. His philosophy of being proactive, persistent, and disciplined, combined with his focus on personal and professional development, makes him a valuable resource for anyone looking to succeed in the legal profession.
About BCG Attorney Search
BCG Attorney Search matches attorneys and law firms with unparalleled expertise and drive, while achieving results. Known globally for its success in locating and placing attorneys in law firms of all sizes, BCG Attorney Search has placed thousands of attorneys in law firms in thousands of different law firms around the country. Unlike other legal placement firms, BCG Attorney Search brings massive resources of over 150 employees to its placement efforts locating positions and opportunities its competitors simply cannot. Every legal recruiter at BCG Attorney Search is a former successful attorney who attended a top law school, worked in top law firms and brought massive drive and commitment to their work. BCG Attorney Search legal recruiters take your legal career seriously and understand attorneys. For more information, please visit
www.BCGSearch.com
.
Harrison Barnes does a weekly free webinar with live Q&A for attorneys and law students each Wednesday at 10:00 am PST. You can attend anonymously and ask questions about your career, this article, or any other legal career-related topics. You can sign up for the weekly webinar here: Register on Zoom
Harrison also does a weekly free webinar with live Q&A for law firms, companies, and others who hire attorneys each Wednesday at 10:00 am PST. You can sign up for the weekly webinar here: Register on Zoom
You can browse a list of past webinars here: Webinar Replays
You can also listen to Harrison Barnes Podcasts here: Attorney Career Advice Podcasts
You can also read Harrison Barnes' articles and books here: Harrison's Perspectives
Harrison Barnes is the legal profession's mentor and may be the only person in your legal career who will tell you why you are not reaching your full potential and what you really need to do to grow as an attorney--regardless of how much it hurts. If you prefer truth to stagnation, growth to comfort, and actionable ideas instead of fluffy concepts, you and Harrison will get along just fine. If, however, you want to stay where you are, talk about your past successes, and feel comfortable, Harrison is not for you.
Truly great mentors are like parents, doctors, therapists, spiritual figures, and others because in order to help you they need to expose you to pain and expose your weaknesses. But suppose you act on the advice and pain created by a mentor. In that case, you will become better: a better attorney, better employees, a better boss, know where you are going, and appreciate where you have been--you will hopefully also become a happier and better person. As you learn from Harrison, he hopes he will become your mentor.
To read more career and life advice articles visit Harrison's personal blog.