Corporations are the mainstay of American business. Corporate attorneys help these businesses comply with myriad laws and focus on the corporation's principal business – creating profit for its shareholders.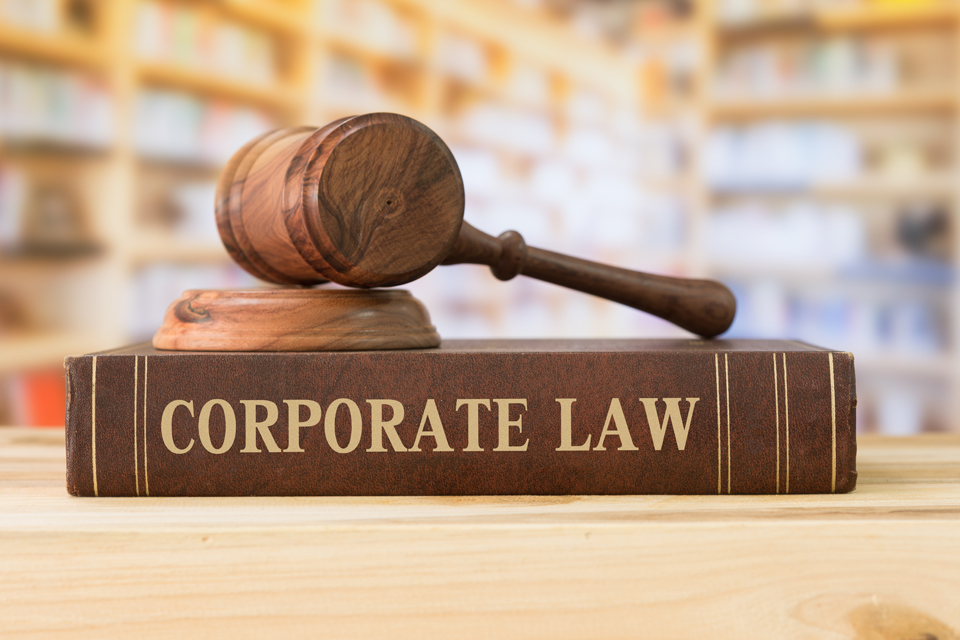 Areas of Concentration of a Corporate Attorney
Corporate lawyers
help create the entity and run its operations.
That is different from a litigation lawyer, which is in the business of prosecuting.
The scope of responsibilities that a corporate lawyer has is immense. Smaller incorporated businesses have one or two corporate lawyers that do everything without specializing.
Larger firms have entire departments that concentrate on specific areas of the law.
Corporate lawyers
help create the entity and run its operations. That is different from a litigation lawyer, which is in the business of prosecuting.
The scope of responsibilities that a corporate lawyer has is immense. Smaller incorporated businesses have one or two corporate lawyers that do everything without specializing. Larger firms have entire departments that concentrate on specific areas of the law.  
Corporate Attorney's Role in Entity Formation
When a business is about to form
, the role of a corporate lawyer is to
provide advice to company founders
on the best type of business entity (corporation or other, like a partnership or limited liability company). If the founders choose incorporation, the lawyer gives counsel on the best state for incorporation. This is generally the state the business resides in or the State of Delaware. Many companies choose Delaware because of its recognition as a pro-business climate that does not tax out-of-state income.
More than half the companies on the New York Stock Exchange incorporate in Delaware.
When the founders have chosen a state and are ready, the attorney completes the incorporation process:  
Filing a certificate of incorporation
Providing contact information for a registered agent
Drafting corporate bylaws
Appointing directors
Holding a first board meeting
Issuing stock to shareholders.
Corporate Lawyer's Role in Legal and Regulatory Compliance
There's a whole host of laws and regulations that govern businesses and corporations in particular. The corporate lawyer provides advice to corporate management, and in some cases, is in charge of compliance with these laws and regulations.  
Corporate Securities
These are equity securities (stocks), debt securities (bonds), and similar. The Securities Act of 1933 requires companies that issue
securities
to the public to register with the Federal Government.
There are detailed rules to follow regarding the disclosure of information to shareholders and investors. The Securities Exchange Commission (SEC) is responsible for the enforcement of these rules.
Compliance with the Securities Act of 1933, and its subsequent amendments, is burdensome and can quickly lead to legal trouble with the SEC. The corporate lawyer oversees compliance with these securities rules and performs the necessary tasks associated with them. For example, they prepare reports on initial stock offerings, quarterly and annual disclosures and provide the SEC information about other topics of interest to the regulatory agency. This information includes issues that impact stock prices, like impending legislation, sub-par financial results, or government investigations.
The SEC has broad subpoena powers, which it uses to investigate potential violations. The corporate lawyers also make sure their corporation responds promptly to these subpoenas.  
Sarbanes-Oxley
Congress enacted the
Sarbanes-Oxley Act of 2002
in response to major corporate scandals like Enron and WorldCom. It contains 11 sections that impose additional responsibilities on boards of directors and criminalizes specific misconduct.
A significant focus of the legislation was on audits. The Act makes it unlawful for a corporate officer or director to fraudulently induce, coerce, or otherwise mislead any auditors concerning the company's financial disclosures. The Act also provides harsh criminal penalties for any corporate member that alters, destroys, hides, or falsifies records or documents with the intent to impede a federal investigation.
Finally, Sarbanes-Oxley provides whistleblower protection. It prohibits retaliatory action against employee whistleblowers, including adverse actions, demotions, suspensions, or termination. Federal courts have held that merely identifying a whistleblower is not permitted under the Act.
Corporate lawyers must familiarize themselves with all the rules in Sarbanes-Oxley and educate corporate management about them, with the goal of compliance.  
Mergers and Acquisitions
Corporations merge
or acquire other businesses to add property, production capabilities, or a brand name to the portfolio. It also occurs to remove a competitor from the field. Mergers and Acquisitions (M&A), however, can reduce competition, a hallmark of American capitalism.
Several antitrust laws govern this area, which prohibits unlawful mergers and business practices that illegally inhibit competition. Antitrust laws aim to protect the advantages of competition for consumers and ensure that companies operate as efficiently as possible to keep prices low.
The corporate lawyer has two main functions when it comes to M&A. The first is engaging in them and providing legal advice to corporate management regarding the proposed transaction.
This entails a detailed assessment of the target company's critical assets and liabilities.
Second, the corporate lawyer has the equally important task of ensuring compliance with federal and state antitrust laws.  
Human Resources
Many corporations have thousands of employees, and these employees have rights. There are various laws governing employees, including equal opportunity, discrimination, labor, whistleblower protection, safety, etc. All these laws have to be understood and complied with.
Companies have dedicated human resource professionals that handle the day-to-day operation and compliance with these laws. However, the laws can be complicated, so the corporate lawyer frequently advises them on legal questions.
Other Corporate Attorney Responsibilities
While a corporate attorney focuses much time on regulatory compliance, they also participate in its smooth operation.  
Contracts
Corporate lawyers draft, review, and negotiate contracts. These can be anything from nondisclosure agreements to property leases to multi-billion dollar acquisitions.  
Venture Capital
Expanding businesses need capital. Venture capital is financing that investors provide to growing companies, which uses the infusion of funding to building infrastructure, research, marketing, and sales. Corporate lawyers help find this capital.  
Intellectual Property
Many corporations are engaged in the business of manufacturing products or providing entertainment services. To protect their investments, these companies patent the design and manufacturing process of products, copyright their entertainment, and guard their identity with trademarks.
Intellectual property (IP)
is one of the most complex areas of the law.
A corporate lawyer generally does not practice this area of law, but they do have responsibilities. The corporate lawyer ensures the protection of its products
, services, and identity by either supervising in-house IP lawyers or hiring an outside firm to handle complex matters. These include registering and obtaining patents and trademarks from the U.S. Patent and Trademark Office and litigating any corporate intellectual property violations.  
Legislative Affairs
Every aspect of a corporation's business and operation is impacted by the government, whether on a federal, state, or local level. The corporate attorney familiar with regulatory compliance must stay on top of new proposed laws and regulations potentially impacting the company. This work includes researching and analyzing proposed legislation.
Many corporations, especially larger ones, go further. They attempt to influence new legislation through lobbying legally. This involves advocating with elected officials and their staff and even trying to help draft new legislation more favorable to the company.
The corporate attorney will either be responsible for this effort, supervise or work with a department of legislative affairs dedicated to this endeavor.  
Litigation
Corporate lawyers are generally transaction lawyers, not litigators. However, when the company is being sued or needs to sue, the corporate attorney has a role. They will often hire outside litigation counsel. They oversee them and ensure that outside counsel represents the corporation's best interests in a competent and fiscally responsible manner.  
How do I Become a Corporate Lawyer?
After graduating from law school and passing the bar, there are several
career paths to becoming a corporate lawyer
.
First, you can look for entry-level jobs at corporations and work your way up the ladder. Second, you can get a job with an enforcement agency like the SEC or obtain the experience you need to become an
Assistant U.S. Attorney
. This work experience will be invaluable to learn the details of corporate law. It will serve you well later when you want to find a lucrative position as a corporate lawyer in the business world.
See also: