Law firms with small staff rarely dedicate enough time to learning the best practices for hiring and managing team members. With this law firm hiring & staffing guide, you will learn how to find the right people to join your legal team, how to onboard them efficiently, and how to manage them effectively so that your firm will be a successful one as well.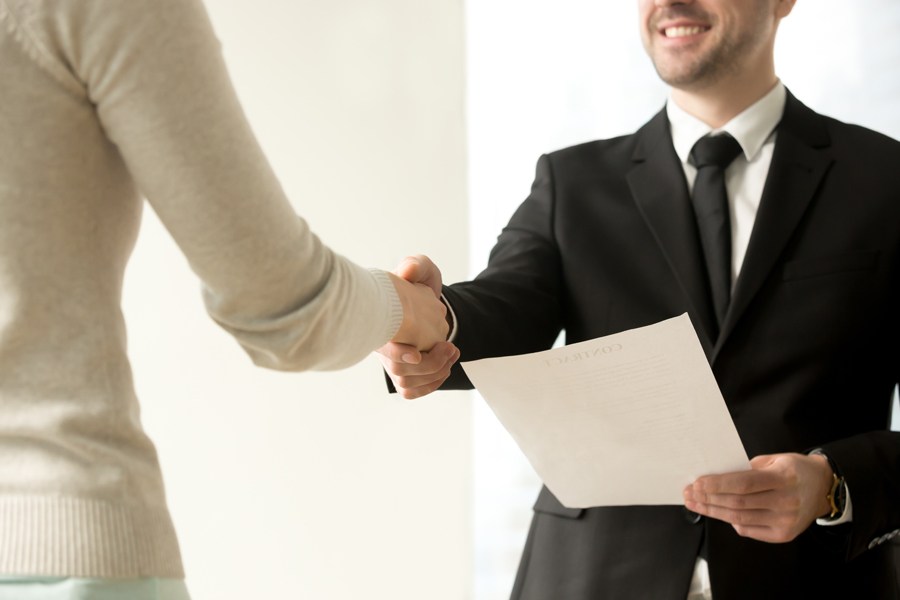 You must create a law firm hiring and staffing process that works for both you and the employee. Understand your values, set up a process that makes sense, and establish how you will treat your team members.
A vacancy is typically filled in 42 days on average. The work you do for clients and the running of your business will still need to be managed during that time. You need to structure your firm before hiring your first employee so that it can support a team.  
What Are the Signs That Your Law Firm Is Ready to Hire?
You risk financial trouble if you hire too soon. Hire too late, and you might hire the wrong person because of desperation. 
Knowing when to hire is essential
if you wish to grow your business.  
Are you refusing client work? To grow your business, you need new work. If you are too busy to handle work, you may have to turn it down.
Client service is suffering at your company? Client communication may be lacking and deadlines may be missed.
Do you lack the time to keep track of all your business tasks? This will have an adverse effect on your finances and growth if your accounting is neglected.
Do you work all the time? Starting a business takes a lot of time. Nevertheless, do not neglect to take a break; otherwise, you will experience burnout, which will negatively affect your business.
Are you lacking a solid growth strategy? There may be a time crunch that prevents you from implementing a growth strategy for your firm.
It may be time to hire extra help if you answered "yes" to any of these questions. This could make or break the success of your law firm.  
Law Firm Staffing: Who Should You Hire?
A
law firm staffing strategy
should begin with deciding who to hire. It is important to decide which role will have the greatest benefit for your company if filled. To determine which candidates fit within your firm's culture and values, you must remain mindful of diversity and inclusion.  
How to Decide Who to Hire First?
Think about where you need the extra help the most after identifying the red flags in your workday and identifying your current pain points. A law firm's first hire usually includes:  
Receptionists
Legal assistants
Paralegals
Clerks
Marketing and advertising specialists
You might consider hiring a legal assistant or a secretary if you are falling behind on administrative tasks. Choosing a paralegal can be a good step if you need help putting the pieces of the case management puzzle together. You may choose to hire an associate attorney instead if you continue to turn away a large number of leads.
Make note of your strong points and your weaknesses. You cannot do everything yourself, even if you are a jack-of-all-trades. Trying to do so may leave you failing yourself, failing clients, and potentially committing ethical violations.  
Alternatives to Hiring an Employee in Law Firm Staffing
Utilizing contractors or remote providers to meet your needs can keep your costs low. Accounting, marketing, and billing are just a few of the legal services that contractors offer. With a virtual receptionist, you can ensure smooth client intake and answer phone calls.
See Also:
The Only Six Factors Prestigious Law Firms Care about When Hiring Lateral Attorneys

Law Firm Hiring and Staffing: Diversity and Inclusion
Inclusive and diverse companies improve employee engagement
and provide a variety of perspectives that lead to increased creativity and innovation. Additionally, 65% of employees attribute their satisfaction with their jobs to the respect they receive from their colleagues. Also, inclusive and gender diverse companies generate 2.3 times the cash flow of non-inclusive companies.
Diversity and inclusion
in the legal industry are rare despite the benefits they provide. For this problem to be resolved, small law firms must hire diverse teams as a priority. Expand your pool of applicants as you work to build your team by:  
Streamlining Your Criteria: You may experience bias in the hiring process of your law firm if you apply some criteria such as years of experience. Eliminate extraneous hiring criteria.
Redefining Your Idea of Diversity: Both ethnic diversity and gender diversity are prominent. But, you should also consider physical disability, affiliation with a religious group, and geographic location.
Evaluating Your Candidates Using a Single Method: Identify a system that allows you to evaluate all candidates consistently, to help minimize bias.
See Also:
Law Firm Diversity: They All Talk the Talk, But It's Harder to Walk the Walk
Employers: How to Interview, Organize, and Delegate Jobs
You should create an organizational chart and structure for your company before hiring an associate or another employee. It is helpful to get your organization down now since the chart will not reach its full potential until you have more than a few employees. Organization charts streamline communications, defining both accountability and reporting structures. 
Identify your firm's key roles and responsibilities before creating your organizational chart. The list includes management responsibilities and business tasks. The great example includes:  
Client intake
Project management
Sales and marketing
Litigation
Accounting and billing
You can then decide which role you will take on initially once you have made a list. You can then delegate tasks to the rest. These roles may not be filled by current team members, but they might help you in the future find employees based on your needs.
Developing an organizational chart is a fluid process, changing as your company grows. Make sure your organizational chart reflects any changes you make to your staff or work schedule.  
Interviewing Potential Candidates: Best Practices

Most interviewing processes
begin with a 45- to an hour-long initial interview.
Use best practices for interviewing
in order to utilize your time and determine the best fit for the role.  
Prepare ahead of time. Prepare your questions and talking points based on what you are looking for in an associate or employee.
Ask the right questions to determine a candidate's talent. Instead of simply asking, "What is your biggest strength?" ask questions involving how a candidate might solve problems in your firm or how they could make a process more efficient. Create introspective questions considering their responsibilities and the role they will play.
Candidates should be allowed to ask questions. Through the questions they ask, you can gain valuable insight into a candidate's abilities and experience.
Keep in mind cultural fit. Tell them what your company's values are. Analyze how a candidate feels about your values and how you do business.
See Also:
Top 10 Interview Questions During Your Law Firm Interview
Communication Across Departments and Locations
Depending on the size of the firm, attorneys and contractors may be located all over, and some even work remotely. Open and honest communication is essential to a successful business and a high level of collaboration.  
Firm-Wide Team Meetings: Best Practices
While daily communication is important for your business, you should also hold weekly firm-wide meetings to keep everyone up-to-date (especially when you are growing rapidly). There is the ability for meetings to be either extremely efficient or completely ineffective. These best practices will help make your meetings effective:  
Start on time. Every minute lost is an opportunity lost. Your team will also be negatively impacted. Focus attention on the meeting objectives by starting on time, every time.
Stick to your agenda. Prepare your agenda ahead of time and follow it. It may be necessary to schedule another meeting to address additional issues or move those items to the next week's agenda.
Plan the next steps for your action plan. Use the items discussed in your meeting to create an action plan before closing your meeting. Your team must decide which steps to take next and who is responsible for them. You need to let your team know how you are doing.
Give time for concerns and highlights. Discuss any concerns or concerns that are immediate with your team. Save other items for a later discussion.

How to Keep Communication Open & Honest
Building trust between you and your employees requires
open and honest communication
. Increasing employee motivation and fostering good team relationships are known benefits of this method. To create a work environment that fosters this communication:  
Employee handbooks should be prepared. Identify the company's mission, values, policies, procedures, and codes of conduct in employee handbooks. Your team will benefit from this document by staying focused on practice areas that are important to your business.
Utilize technology. Collaboration tools can be used to build a cohesive team, no matter where employees work.
Open your doors to everyone. Allow your employees to contact you whenever they have a question or concern. Maintaining this connection helps you stay informed about what is happening at your company while building trust.
Feedback is encouraged. Request feedback from your team about how things are going, including how messages are being communicated. You can use this knowledge to enhance your business strategies and communication.
Managers Should Be Trained
People often leave managers, not companies. Be sure to provide all your manager with proper management training.
Developing your manager as a leader is critical
as you grow your company. Train them frequently to ensure they perform to their full potential. Well-trained managers are:  
Skilled Communicators: Communicating effectively with subordinates builds trust. The feedback they provide enhances productivity and efficiency in your organization.
Productive: Able to accomplish tasks in the most efficient manner possible. Ability to set and meet realistic goals.
Morale Boosters: A manager's confidence in his or her career is a key to employee morale. Employees feel the same way about their managers.
Happy: The more successful managers understand how to accomplish their goals, the more satisfied they will be.
What is the best way to train your management team? Make sure they participate in leadership training programs. Delegation strategies, management practices, and more are taught in these programs. Make sure you provide your managers with feedback often and are open to listening to their concerns and answering their questions. Make sure you review your goals and vision with managers quarterly or annually so they understand their roles better.  
Best Practices for Retention, Promotions, Performance Reviews & Succession Planning
During the hiring and staffing process, you will realize the
importance of employee retention
. Law firm hiring and staffing are long and complex processes that require more effort than any other aspect of your business. Finding the right fit, however, takes time. On average, an employee's exit costs 33% of their annual salary, which is a dangerous amount for a small law firm.
Retaining employees is the key to avoiding the cost. Start by hiring employees who are a good fit for your own firm. Focus daily on creating an environment where everyone is proud to be an employee. Listed below are some ways to achieve this:  
Establish A Fair Compensation And Benefits Structure
Compensation models for law firm hiring and staffing are usually loaded with variables. It is confusing to sort through compensation formulas and models, which range from client origination credit to non-billable administrative duties. A compensation and benefits structure that rewards what enhances your firm's core values and discourages anything that diminishes them is crucial.
Start by deciding what benefits you will provide your employees. Here are some questions to ask:  
Will your compensation be competitive?
Will you offer health, dental, or life insurance?
Will you offer bonuses that award performance?
How will you handle pay raises in the future?
Will you pay hourly or salary?
You need to choose an organizational structure that motivates employees to perform better and fits your bottom line. Take a look at what your competitors charge. Be realistic about what you can and cannot afford. You should remember that each member of your organization may have different paths to success.  
Give Quality Performance Reviews & Proper Promotions
Employees who are satisfied with their
performance feedback
are more engaged and committed to the organization, according to research. Engagement typically leads to higher performance than dissatisfaction in the workplace. To help your employees see growth opportunities and celebrate their strengths, it is crucial to give them quality performance reviews. Here are the steps to take:  
Prepare. Prepare ahead of time for the review. Analyze every aspect of the employee's work to identify the positives and negatives that deserve attention.
Give constructive feedback. Do not simply point out deficiencies. Do not just criticize but explain what should be improved, and how. Share both the positive and the negative feedback.
Encourage questions and concerns. Performance reviews are discussions. You should encourage your employees to speak openly and freely about their roles, responsibilities, and concerns.
Request feedback. Find out how the employee felt about the performance review and what action you can take to make it better.
Nearly 70% of employees who face a high retention risk say that in order to advance their careers, they will have to leave their organizations. It is common for employees to seek out employers who offer them opportunities to move up the ladder. If there are no opportunities, retention levels decline. In order to retain talent, it is essential to promote high-performing employees. Ultimately, it will be less expensive to promote them than to replace them.  
Create a Succession Plan for Your Firm
When an attorney is no longer able to practice, a succession plan outlines what to do to take care of clients. Additionally, it prepares employees for changes in law firm organization, roles, and responsibilities. An effective succession plan should include:  
Information about clients and accounts should be stored according to the instructions written down
A description of the disposition of closed client files and a description of various equipment leases and contracts
Payment information for current liabilities
Information about computers and other technology
Information about the compensation of successors
In the event of death or retirement in your company, creating a succession plan will ease the stress involved.
See Also:
21 Reasons You Will Never Get a Job with a Major Law Firm Now (or Ever Again)
7 Skills Law Firms Look For During Hiring Process

1. Drive And Endurance
A lawyer's job requires long billable hours to succeed. The job requires you to sacrifice a small part of yourself sometimes. Energy-filled and stamina-filled lawyers are more likely to achieve success in their lives since they are willing to go the extra mile to deliver the results their clients expect.  
2. Good Communication
The ability to communicate clearly, both written and verbally, is an essential quality of a solicitor. You have the perfect opportunity to showcase your talents during the application and interview process. Ensure you demonstrate to your interviewer that you are a good communicator by listening and speaking when needed.  
3. Attention To Detail
When working with colleagues and clients, lawyers should pay great attention to detail. Small details are important in written documents as well as in verbal communications. Allowing a small error to slip through the cracks can cause a great deal of trouble.
To determine whether candidates meet this requirement, recruiters test spelling, grammar, punctuation, and punctuation.
The candidate will probably be immediately turned down if his or her application contains small errors.  
4. Teamwork
Being a successful lawyer requires teamwork. It is hard to show someone in an interview that you are a good team player, so prepare some examples from previous situations where you contributed to or lead a team successfully. During the interview, you can also describe how you feel you will be able to contribute to a future team. As a recent graduate, you can use examples such as captaining a sports team or being a class leader.  
5. Commercial Awareness
Candidates who are interested in how businesses work and how they will affect their clients are sought by law firms. People look for someone who understands the "big picture" and is aware of what is going on around them. An effective lawyer is also an excellent business adviser. Prepare yourself for questions concerning this aspect of your career by following the news and stories in the business world.  
6. An Entrepreneurial Instinct
A change in business models is underway, with an increasing focus on expanding law firms' entrepreneurial abilities. Keep your eyes open for new opportunities and chances to do business.  
7. Well-Rounded Person
Stress in the business world tends to be easier to handle for people with a good balance in life. As a lawyer, you should take part in extracurricular activities since a healthy mind fosters a healthy body, as they say.