Summary: Find out what the 20 most popular articles on BCG Attorney Search were this year and read them for yourself to learn why they are so popular.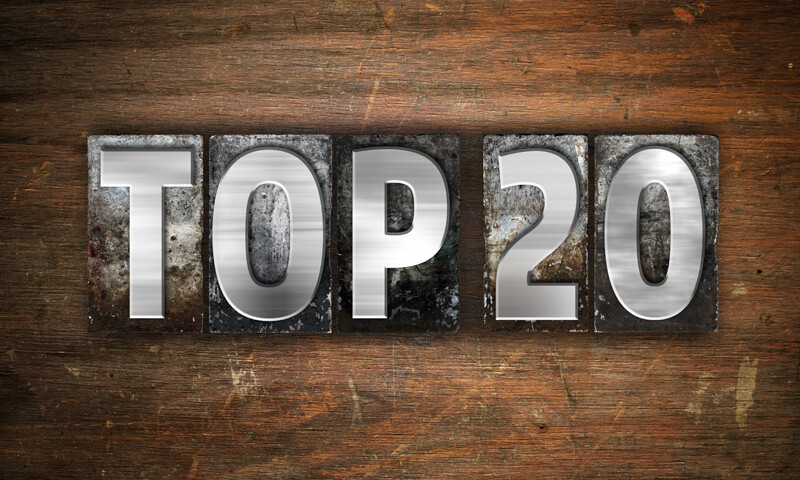 The year 2016 has been a big year for learning how to grow and succeed as an attorney at BCG Attorney Search. The 20 most popular articles of the year focus on attorneys and how they can improve their career.  
In order to maximize your job search, attorneys should be looking in more than one market. In this article, Harrison Barnes explains the importance of not letting another state and another bar exam hold you back from finding a job. The article explains the bar admission process and different ways that an
attorney can obtain a license in another state from where they are practicing.
The article also discusses what to do if you don't pass the bar exam and still want to make use of your J.D. degree.  
For those not deeply knowledgeable about the legal industry, terms like of counsel and equity partner are foreign.
Harrison Barnes explains the terms and how they relate to the hierarchy in law firms
. A true understanding of the terms is important for even associates to understand so that they know what they are working towards.  
Too many attorneys destroy their chances of success in the legal industry because of preventable mistakes on their resumes. Harrison Barnes teaches attorneys and law students what they need to do in order to be taken seriously from the most prestigious law firms. Too often applicants provide too much basic and vague information instead of going back to the roots of demonstrating that they are ready for the job and that they are the most capable person for the job.  
Getting a job in a large law firms is highly competitive. Keeping the job is even more so. A future outside of a major law firm provides less money, less prestige, less important work, and the possibility of quitting the law. Harrison Barnes explains the common mistakes that attorneys make and how to not make those mistakes so you can make your position in a major law firm last.  
Moving to an in-house position is quite often not the good career move that attorneys think it is. Harrison Barnes advises attorneys in this article to rethink their assumptions of what going in-house means for their future career prospects. The hours may be better in-house and the pay relatively adequate, but trying to move back to a large law firm position after going in-house is nearly impossible.  
Understanding what state the legal market and practice areas are in is very beneficial to an attorney looking to make a lateral move. Harrison Barnes provides a rundown on the state of the legal market with detailed explanations of why the practice area was active or slow and his predictions for the future.  
An attorney that can provide their own business will have a much greater chance of being successful. As a new associate, working long hours and doing quality work are important, but building the skills to generate business is more important to long-lasting success. Harrison Barnes examines the most important methods attorneys can utilize to build business of their own.  
Law school fails to teach attorneys everything, especially this one thing that can kill their career. In this article, Harrison Barnes delves into why attorneys are not taught this important lesson and why it is so important for them to realize.  
The legal industry literally sucks the life out of many of those working in it. Attorneys are subjected to high stress, which translates into unhealthy habits and unhappiness. In this article, Harrison Barnes attempts to prevent other attorneys from falling into the pit where they become unhappy, unhealthy, and desperate for any way out.  
Becoming partner is pretty much every attorney's goal. Law firms do not want you to make partner so they make the path extremely difficult, so difficult in fact that most attorneys give up before making it. Those that are made partner make it for these seven reasons. Harrison Barnes explains how you can have the best chance of making partner.  
Attorneys are required to work in stressful conditions with clients that are stressed out over their current legal need. Harrison Barnes explains in this article how many attorneys feel like they must be perfect and free of any mistakes to be a good attorney. What many attorneys fail to fully understand is that mistakes happen, but they generally are not a big deal and won't affect their future success in their current position.  
Once an attorney has been out of law school for a couple years, their law school becomes less significant to future jobs. In the article, Harrison Barnes lays out the truth about how an attorney's law school really is not what law firms care most about. The fact that an attorney attended a prestigious law school does not mean they will be a good attorney, so law firms still need to see things that demonstrate to them that you have what it takes to get the job done and done well.  
Much of what an attorney does is read and write. If an attorney does not possess strong reading and writing skills then they will not be good at their job. Law firms need attorneys that can produce strong writing pieces that are free of errors, because it shows their attention to detail and ability to produce quality work. BCG Attorney Search provides answers to the most frequently asked questions regarding writing samples.  
How better to learn about acing your interview than from law firm attorneys and recruiting managers in Washington D.C.? This article covers pre-interview preparation, first impressions and etiquette, the actual interview, and post-interview tips.  
Attorneys with five years of experience are at a crucial point where they can easily adjust their career to be successful. If they wait another year or more without taking these steps then their career is going to struggle.  
Any tips and advice for bettering your law firm interview are beneficial. This article has collected 23 tips that are the most asked and helpful for attorneys. Take these tips to heart and start practicing with a mock interview so that your next real interview will be a hit.  
Harrison Barnes is attempting to teach attorneys how to succeed by first getting them to understand why so many attorneys fail. By understanding what makes attorneys fail and how to prevent those mistakes from happening to you, you will be better prepared to succeed.  
With competition comes frustration and anger when things don't go as planned. Attorneys have to be competitive if they wish to be successful, but some go too far or take the job too personal. Attorneys get angry when things don't go their way either regarding their career, cases, clients, and more. Harrison Barnes explains that if an attorney cannot figure out how to let the anger go then it will affect their future.  
This article dives into what going in-house fully entails. In-house positions are often made to seem glamorous and like the best decision ever. Other attorneys admit that they fully regret going in-house. While there are some attorneys that will like being in-house, the truth is that getting out of an in-house position and back into a major law firm is very difficult because firms usually don't want those kinds of attorneys.  
The motivation behind working in a large law firm is often wrong. Attorneys often go into these positions with the wrong intentions and expectations. Harrison Barnes takes a look at the three reasons that attorneys should have for working in a large law firm. If your reasons don't align with these then you may want to rethink your situation.