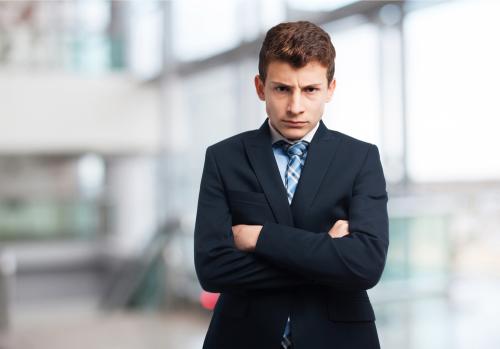 Several years ago, a solo practitioner from Ohio applied to
work with BCG Attorney Search
to help him find a job. His name was Michael Winston. He applied several times and each time I told him we could not work with him. Mr. Winston had never worked in a law firm, performed unremarkably in law school, and had been unemployed for a few years. I had nothing to sell because he had no experience.  
Unbeknownst to me at the time, Mr. Winston became convinced that I did no recruiting whatsoever and that my only purpose was to write about the legal market, advertise jobs and then tell people that I could not help them. He presumed I got some sick pleasure out of this and was holding him back. Why else would I not be interested in representing him?
Mr. Winston then somehow made the leap to believing that I was responsible for keeping him unemployed. He became very, very upset and set up a website that immediately attracted all sorts of followers. The followers were people I had been unable to help and who seemed to believe that I was responsible for their lack of success.
The website was a series of rants that mainly seemed to convey the idea that I was participating in a conspiracy to keep these attorneys down. All sorts of vicious personal attacks ensued against me and also against my wife.
BCG Attorney Search
was said to be a complete fiction and Mr. Winston informed his readers that he was on a mission to expose this. According to the blog, my entire purpose in the world was apparently to keep attorneys down and unemployed.
I have more to say about Mr. Winston in a moment, because it is an incredible story that ends up being quite tragic. However, before I tell you more about Mr. Winston I would like to ask you:  
What do you think was going on here?
Why would a cadre of unemployed attorneys take a legal recruiter so seriously and believe that he was keeping them out of the job market?
Then, I would like to ask you:
Have you ever blamed others for your own lack of success, or for the lack of positive things happening in your career?
Let us know your answer to these questions in the comments!
Attorneys are
extremely competitive
by nature. They have to be. Attorneys admire and respect other attorneys who are also competitive. Would you want an attorney who is not competitive to defend you or represent you? I would not want such an attorney in my corner. The simple fact is that the more competitive the attorney is, the more capable the attorney is—irrespective of paper qualifications. Society wants and needs competitive attorneys. Large law firm attorneys often bill the most hours not because they have to, but because they tend to be the most competitive. If a law firm can find the most competitive attorney, then that firm is probably serving its clients extremely well.
How important is the competitive nature of attorneys to law firms? For starters:  
The people that go to the best schools and get the best grades get the access to the most jobs and the highest paying jobs.
The attorneys who bill the most hours generally have the most job security.
The attorneys with the most business generally get the most jobs.
Over the past year I have represented a couple of former Olympic athletes (now attorneys) with decent, but not stellar qualifications. You would have thought the opposite, however. There was literally a major feeding frenzy over both of them—even though their practice areas were not in very much demand. One attorney received at least 10 offers and the other at least five. This all occurred when much more qualified candidates (from better firms, better law schools, and with better grades) were not experiencing even a fraction of this success. What was going on? The only thing I could think of was what one firm said to me when it wanted to interview one of these candidates:
"We want our attorneys to be competitive."
As I observed all of this interest, the only thing I could conclude was that "the competitive spirit" presumed to be inherent in a former Olympic athlete was driving the extreme interest in these candidates.
If there is one thing attorneys are competitive about it is their status in the legal profession. A major undercurrent of the legal profession involves the "status" of an attorney. Status is something that all animals (including humans) are extremely concerned with. When dogs meet they sniff one other to understand each other's relative status. The animal that is lower status knows that if it attempts to challenge the higher status animal it will upset the higher status animal and could get hurt. Attorneys have a very good understanding of their status in the legal community. Status makes them feel good about themselves and more successful. Without the ability to compare themselves to others, attorneys' own status becomes meaningless.
What do you look for when determining a person's status in the legal profession? Let us know in the comments!
When attorneys meet each other, they generally do what dogs do and start sniffing each other out immediately:  
Where do you work?
Where did you go to law school?
When attorneys are discussing their relative status with one another, and one attorney shows any form of superiority over the other, the other attorney generally feels threatened. The threatened attorney will react either by (1) accepting his or her lower status (choosing not to fight), or (2) fighting (and choosing not to accept his or her lower status). A similar phenomenon occurs when firms go up against each other. When a small law firm is battling a large law firm, for example, the fight is often just as much about "status" as it is about the issue at hand. Attorneys are motivated by status and are competitive with one another.
Status happens within law firms as well.
Are you a contract attorney? Are you a partner or an associate? Are you an equity partner or an income partner?
Law firms that are of the highest status get the best candidates. Attorneys (correctly) believe that working for certain (high status) law firms will improve their own status as attorneys in the legal community.
Status is everywhere. You should watch how status is playing out in the games between attorneys, between law firms and in the legal profession generally. When an attorney is confronted by his or her own lack of status in the legal profession the attorney generally can do one of the following:  
Make efforts to improve the attorney's status.
Help elevate the status of others so that they reciprocate by helping elevate the attorney's status.
Get others to help elevate the attorney's status.
Hurt the status of others so the attorney feels better about his or herself and his or her lack of status.
Have others help the attorney pull down and disparage the status of those who threaten the attorney's status so the attorney feels better about his or herself and his or her lack of status.
If you are a competitive attorney you will be faced with these five choices. Every attorney is competitive and most attorneys are eager to improve their status within their own law firms, within the legal profession and within society.
Which one of these choices would you prefer to use and why? Do you think it is ever right to hurt another person's status? Tell us your thoughts below!
Most of the things I write about (on
this website
,
hb.org
and
other websites
) involve the profound importance of making choices "1 through 3" and avoiding choices "4 and 5."
The best thing you can do for your career is to make efforts to improve your own status, but you must go about this in the correct way. This means working hard, getting an LL.M. from a prestigious law school if you did not attend one originally, getting business, becoming a better attorney and more.    
You can also help elevate the status of others so they help you elevate your status. This means you work hard for people so they want to return the favor. Finally, you can also get others to elevate your status for you—often even if you do not deserve it. You can do this through family connections, getting a favor from a powerful person and so forth.
Very few attorneys make choices 1 through 3 when their status is threated. In fact, the majority of attorneys I come into contact with make choices "4 and 5" at some point in their careers and become the sort of people who blame and attack others. They may not make this choice initially, but they generally will at some point in their careers when their status is threatened. This is one of the major reasons why attorneys are so angry and become negative people who disparage and tear down others.
There are two reasons for this.
First, the legal profession by its very nature makes it very difficult for an attorney to attain and maintain high status. Achieving initial status (law firms, big firms) is extremely competitive. Even if an attorney does achieve this initial status, holding onto this status is exceptionally difficult because the majority of attorneys do not survive more than five years or so in large law firm.  
Second, and most importantly,
attorneys are actually trained to blame others for everything
… We respect an attorney's ability to make his or her clients look better by dressing down the other side and making them look bad. Attorneys are expected to take their clients' side and make the other side look less deserving—regardless of the matter at issue. This is how we (as attorneys) view things:  
If something has gone wrong (in a transaction, litigation matter and so forth), then someone other than our client is at fault.
This person (or company's) incompetence, crookedness, bias and so forth diminishes the respect he or she or it deserves as a person or company.
This person, of course, deserves to be called names, talked about poorly and, in some cases, even physically attacked (or even killed).
Our clients do not need to accept any responsibility for the situation because if they admit this that would diminish the respect they deserve as people and therefore entitle them to the same negative treatment.
Every transaction and litigation matter that an attorney takes a side on generally involves some variation of these four steps. Someone other than our client is at fault. You can see this pattern play itself out in every trial and notable transaction. In the OJ Simpson trial, for example, the police were portrayed as incompetent, racist and so forth. Because OJ Simpson's defense team maintained he was wrongly accused, the bad people were the police and perhaps even the victims (one was portrayed as promiscuous and the other a 'ne'er-do-well') who did not deserve the respect of the public, the jurors or the accused.
This need to blame others, find fault and portray others as at fault also applies to how attorneys learn to evaluate their own lives. It is very rare that I speak with an attorney who is willing to accept full responsibility for whatever issues he or she is experiencing in his or her career. Probably the worst thing that attorneys can do is blame others for the lack of the sort of success they are hoping to achieve.
What do you think attorneys can do to avoid this bias? What kind of changes need to be made in the legal industry? Let us know your thoughts!
The blaming of others and attempting to push down the status of others because of our own lack of status and success is one of the most dangerous things that we can do. Not only does blaming others lead to our continued lack of success, it also leads to the worst acts that humans can do to one another. Things like wars, the Holocaust, ethnic cleansing, a large proportion of lawsuits, many crimes and other negative things in the world are often caused by our propensity to blame others. Our interest in blaming others and in taking them down for our own lack of status is profound and is something I unfortunately hear from attorneys on a daily basis.  
An attorney gets a poor evaluation and subsequently becomes hostile to the evaluator or the law firm and makes nasty comments about the evaluator or firm to others.
An attorney makes a huge mistake on a project and blames the firm for giving him or her too much work.
An attorney does not bill enough hours and loses a bonus or is let go and blames the firm for not having enough work, not allowing the attorney to bring in certain clients, or having a "flawed" assignment system.
An attorney does not get made partner and blames the firm for being "sexist," "racist," "homophobic" or even "hating white males."
An attorney moves firms, gets fired, or quits and then blames the firm for being sexist, racist, homophobic, too Republican, or too liberal.
An attorney is having a difficult time getting a position and looks for reasons outside of him or herself to justify why it is happening.
Attorneys are very good at tearing others down, blaming them and exposing their weakness. It is part of an attorney's training and something that the better they do, the more likely they are to be successful as attorneys. When an attorney tears down an opposing side then the attorney's side looks better.
For at least a year, Mr. Winston and several of his followers continued to write about how I was the cause of their lack of success in getting jobs and status in the legal community. The irrationality of this boggles the mind when you consider there are tens of thousands of legal employers in the country and I am not even a legal employer. Instead, I am someone who tries to help people
get jobs
and
succeed
in the legal profession and in life. I want to inspire people to be the best they can be. Why would a group of people believe that I had anything to do with keeping them unemployed?
Certainly it might upset people to learn that a
high-profile legal recruiter
is unable to represent them. What is most disconcerting, though, is why someone would take all of his anger, fears and frustration about his job prospects and put it all on one person.
None of this would have been much of a problem, or even a concern, if Mr. Winston did not have so many followers who seemed to quite adamantly believe the same thing. I was puzzled by this and it quickly turned quite alarming as Mr. Winston took his show on the road. He started ranting and raving to his readers that he was going to go find me and "expose me in person."
As part of his mission to expose me, Mr. Winston reported to his readers that he drove six hours from his home in Cleveland to our
Chicago offices
where I do not work (I work in
Los Angeles
) and asked for me. When the receptionist informed him that I did not work there, he turned around and returned to his home in Ohio and logged onto his computer and let the world know that (1) he had gone to our Chicago office (where if he reviewed our website he would have found I clearly do not work), (2) looked for me and could not find me and (3) therefore concluded that
BCG Attorney Search
clearly did not exist. His posting was, of course, met with various cheers from his audience of other unemployed attorneys who, for reasons that are unclear to me, leeched onto Mr. Winston's postings and turned the blame for their own lack of success in the legal market on me.
Has someone ever gone to great lengths to blame you for something that you did not do? How did you respond?
I am used to this, of course. I receive phone calls, emails and so forth regularly from
attorneys looking for positions
who are extremely upset with me when they learn I cannot help them. I obviously represent a good source of anger for these attorneys about the job market.
I called Mr. Winston numerous times and told him that I do exist. I offered to help him look for a position and he had no interest in me helping him—he preferred to be angry. His writing became more and more inflammatory and threatening. Eventually, I had to take him to court to get him to take down his writings. He agreed to take the writings down and then repeatedly put them up again and again—even after he got a
job as a prosecutor
in Cleveland. The writings showed so much contempt and were so unprofessional that it likely alarmed his colleagues in the East Cleveland Prosecutor's Office.
Mr. Winston did not last too long as a prosecutor. After being a prosecutor, he started his own solo practice representing drug dealers and others. Then this happened:
A lawyer who represented one of three defendants in a lengthy Franklin County drug-trafficking case killed himself on March 13 after reportedly fleeing from the scene of a shooting in Cleveland.

Michael D. Winston, 38, died from a self-inflicted gunshot wound, the Cuyahoga County medical examiner's office ruled last week.

Winston, whose law office was in Cleveland, represented Kiersten Smith, 23, during a trial that began in January and lasted four weeks in Common Pleas Court. When the trial was over, Winston was fined $500 by Judge Pat Sheeran for twice being about an hour late to court and for failing to appear for a meeting regarding jury deliberations.

The jury acquitted Smith of two counts and was unable to reach a verdict on one count of heroin possession with a gun specification. She is scheduled to be tried again on April 27.

Winston's suicide occurred minutes after Cleveland police responded to a shooting at an E. 84th Street house. Officers said they saw a man run from the scene and get into a car parked on E. 85th Street, where he shot himself in the head.

How would you have handled someone like Winston? Is there anything that you would have done to prevent his tragic death?

Two men in the house were shot, and one of them died. Police have not commented on what role, if any, Winston played in the shooting.

Winston, a former East Cleveland prosecutor, ran unsuccessfully for a Cleveland Municipal Court judgeship in 2013.

http://www.dispatch.com/content/stories/local/2015/03/24/justice-insider-attorney-in-drug-trafficking-case-kills-self.html
Another story reported the following:
Winston went to a home on East 84th Street after learning that the home's owner had recently won a large sum of money. There, Winston first encountered 60-year-old Walter Saunders and fatally shot Saunders in the head. Winston then shot 52-year-old Irvin Hannon in the chest. Winston then placed a blanket over Saunders body and searched the house for money, unaware that Hannon had called police. When police arrived, they saw Winston "running from the East 84th Street home with stolen cash falling from his pockets." Winston shot himself when police cornered him inside a "get-away" car.

http://www.cleveland.com/naymik/index.ssf/2015/03/former_east_cleveland_prosecut.html
I am not sure what ultimately happened with Mr. Winston. He clearly had a lot of anger and beliefs about others that simply did not make a lot of sense. At the time of his murder-suicide he was fighting with a judge and scheduled to give testimony against her. Winston is an exaggerated version of what most attorneys do, however: They blame others and often irrationally. They blame others as a way to feel better about themselves.  
Conclusions
When I was growing up one of my relatives used to drive me through neighborhoods of nice homes in our city. The goal of these drives was not to admire how other people lived; I was given other kinds of messages:  
In order to live like this you can never see your family and you must work all the time.
Many people who live like this need to do bad things to others in order to live like this.
If you live like this you clearly are "cheating" or doing something wrong.
There were all kinds of reasons I was instructed that financial success must be the product of being bad—or that there was something wrong with people who were successful. Because this was the result of being bad, instead of feeling bad about ourselves for not being as successful as others, we were able to feel good about ourselves. Similarly, children who grow up poor are often told by their parents that kids who have a lot of things are given these things by their parents because their parents do not love them. From a young age, most of us are taught that we can feel better about ourselves by finding fault in others who are more successful.
The entire tabloid industry—and it is huge—generally is about finding fault in stars and others who look so successful in the limelight. When we find fault with others whose existence makes us feel bad about ourselves, we feel better about ourselves.
The need for status in the legal community is something that is incredibly important to most attorneys. However, the desire to tear others down and attack them because of one's own lack of status serves no useful purpose. The only solution to the predicament of feeling a lack of status is to not care at all, to attempt to elevate one's own status, or to have others help elevate one's status. In my opinion, the best option may be to simply go about doing the best one can and simply not care at all.
Do you agree that the best solution is to not care but to do the best that you can? Let us know what you think below!
About Harrison Barnes
Harrison Barnes is the founder of BCG Attorney Search and a successful legal recruiter. Harrison is extremely committed to and passionate about the profession of legal placement.
His firm BCG Attorney Search has placed thousands of attorneys
. BCG Attorney Search works with attorneys to dramatically improve their careers by leaving no stone unturned in job searches and bringing out the very best in them.
Harrison has placed the leaders of the nation's top law firms
, and countless associates who have gone on to lead the nation's top law firms. There are very few firms Harrison has not made placements with.
Harrison's writings about attorney careers and placements attract millions of reads each year.
He coaches and consults with law firms about how to dramatically improve their recruiting and retention efforts. His company LawCrossing has been ranked on the Inc. 500 twice. For more information, please visit
Harrison Barnes' bio
.
About BCG Attorney Search
BCG Attorney Search matches attorneys and law firms with unparalleled expertise and drive, while achieving results. Known globally for its success in locating and placing attorneys in law firms of all sizes, BCG Attorney Search has placed thousands of attorneys in law firms in thousands of different law firms around the country. Unlike other legal placement firms, BCG Attorney Search brings massive resources of over 150 employees to its placement efforts locating positions and opportunities its competitors simply cannot. Every legal recruiter at BCG Attorney Search is a former successful attorney who attended a top law school, worked in top law firms and brought massive drive and commitment to their work. BCG Attorney Search legal recruiters take your legal career seriously and understand attorneys. For more information, please visit
www.BCGSearch.com
.