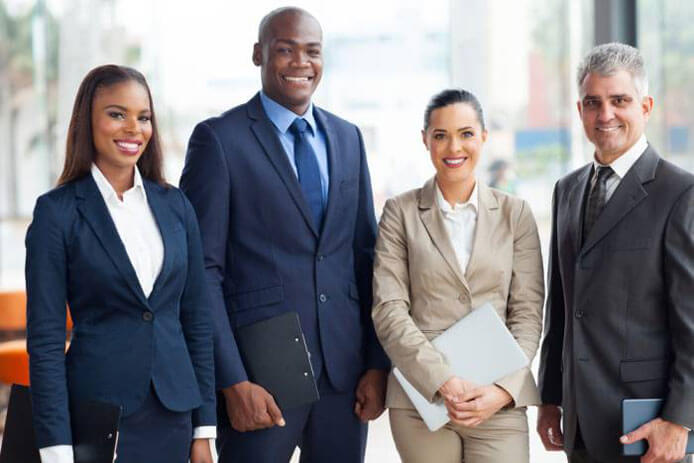 Law firm "diversity" is such a hot topic right now that a good number of law firms place their diversity policy right in the center of their web pages.  
Diversity is the topic of the day right now. Just as several hundred years ago the "big topic" in Spain was acknowledging that you were a Christian and not doing so was met with the threat of torture and death. Today, any hint that you do not support diversity is met with public ridicule, condemnation from law firms, and censure from society as a whole.
How do you feel about diversity in law firms, schools, and other places? What progress have you seen? Share your thoughts in the comments below the article.

The Importance of Diversity
I get it. I really get it. Diversity is incredibly important and not including people because they are diverse is just plain wrong. People should be hired and advanced based on accomplishment and on their contribution to a diverse environment.
How would you feel if your opportunities in society and your chosen profession were limited because of your race, sexual orientation, handicap, religion, background and so forth? You would feel horrible and there would be nothing you could do about it. This is why diversity is so important. People are entitled to be the people they are and want to be-and should be proud of who they are. It is just plain wrong for anyone to be discriminated against and held back because of who that person is.
To see BCG Attorney Search's diversity policy, please see our
Commitment to Diversity
page. For more information on law firm diversity, view our
Diversity Resources
.
See Law Firm Diversity: How Race, Gender, Age, Social and Economic Divisions Impact the Hiring, Retention and Advancement of Law Firm Attorneys for more information.
To cure past wrongs involving societal and institutional prejudice, many elite educational institutions have in the past decades gone out of their way to admit people from diverse backgrounds. These institutions seek to rectify historical imbalance and prejudice in society and it is the right thing to do.
More recently, law firms have joined the movement and jumped in full force on the diversity bandwagon. This is also the right thing to do.
But it is very important to understand that underneath the hype, some law firms are not really in the diversity game at all
. Some law firms are simply paying lip service to true diversity. A true commitment to diversity would require that these firms actually appreciate and hire people who are truly diverse, but these firms do not do this. I know that they do not do this because I have been in this business for many years and time and time again I have witnessed law firms hire candidates who conformed to law firm norms and failed to hire candidates who did not conform to those norms.
Why do you think law firms are not as diverse as they claim to be? What would help remedy this situation? Share your thoughts below.

Theory Versus Reality in Law Firm Hiring
When it comes to diversity, there are good intentions on the one hand and business realities on the other hand. As this article explains, what law firms say about diversity and what they do in practice are two completely different things. The reality is that many law firms do not support true diversity and never have-perhaps they never will.
At the outset, please understand that I am not the one making these rules; I am someone trying to get people jobs.
I am exposing the reality of the situation so that people will have the correct information they need to get the jobs they want.
This article is not just for people who are diverse and looking to get into a law firm. This article is for everyone who believes that he or she has a right to be unique and different and yet still get a job inside of a major law firm. You can be unique and diverse, of course, and still get a job in a major law firm. But you cannot be too unique or too diverse.
You need to fit in, as law firms reward fitting in. If you do not fit in to a law firm, the law firm will not hire you
.
In fact, I have encountered all of these (exact) people in the course of my work over the past few years. They all came to me after months or years of job searching. Despite their diversity and excellent qualifications, they all got fewer interviews and fewer job offers than non-diverse candidates with similar (or not as good) qualifications. After a career seeing this pattern over and over again, I can only conclude that law firms really do not appreciate diversity that much. (Or, even if firms do appreciate diversity, they do not appreciate diversity so much that it motivates them to deviate substantially from risk-averse behavior that compels them to hire non-diverse candidates over diverse candidates).
Are law firms justified in not hiring attorneys that express their diversity openly such as the ones above? Why or why not? Share your answer below in the comments.
One recent example comes to mind of a young partner in a major American city who is gay. He has $2,000,000 in business, which is enough to get a position in most law firms after less than ten years of practice. He has good educational qualifications from top schools but has never been able to
get a position in a major law firm
. There is nothing whatsoever to indicate he is gay on his resume; however, when law firms meet him they quickly pick up on it.
"How did you like him?" I asked one law firm partner who was part of a law firm that had sent me one of those diversity policies.
"Honestly," the partner said, "I felt like he was so light on his toes he was going to 'fly around the room.'" I could not believe it! Yes, this is how people STILL act in this day and age (this particular firm was in the South).
Another law firm told me they liked him but "got a strange 'vibe'" from him. The partner was obviously gay, came across as gay, and people picked up on it immediately.
He got a ton of interviews-why would he not? But firm after firm met him and passed after doing so and most simply said nothing about why they were passing. When it came down to making an offer or not, law firms would not pull the trigger and my belief was that it was because his "diversity" made them uncomfortable.  
When he did not get job offers after numerous interviews, he told me he wanted to promote his "diversity" on his resume. So we put a bunch of diverse stuff on his resume and his leadership participation in "Gay Mens' Health Crisis" organizations and so forth. I wrote enthusiastically about his interest in Gay groups to firms and highlighted his interest in Gay groups and when I did that the interviews simply stopped.
I thought a lot about this situation and how to help this candidate get hired. I came to believe that he would have been hired by many of the firms with which he had interviewed if he had been more discrete about his gayness. If he had played it down and did not show how gay he was I think he would have been hired.
So I did the unthinkable. He had one more interview coming up and I asked him something along the lines of the following when he indicated he felt law firms were discriminating against him because he was gay:
"If you were to not act gay, what do you think would happen?"
He did that and what do you think happened? He got an offer—from a top firm. He would have taken the offer, but there was ultimately a conflict that prevented it. He is still at his current firm.
Do you think this example represents the legal industry as a whole? Why or why not? Share your response below in the comments.
I have example after example of this. Years ago, I was working with two women who were both from the same law firm. They had gone to the same law school and had similar grades. They were both in the same practice area and looking for a position in the "bastion" of liberalism: San Francisco. One was white and the other was black. The black woman had a bunch of stuff on her resume about how she had been a national leader of the Black Law Students Association and was proud to have sued her law school with other black students seeking some sort of diversity. I thought she was a great candidate.
She did not get a single interview and the white woman got several interviews and job offers.
What is going on here? Deep down, I really do believe that law firms want to do the right thing-to be diverse and to hire diverse candidates such as African Americans and others. But at the same time, law firms are risk averse and seek to avoid problems. This means that when push comes to shove, they feel threatened by people who act too diverse and they prefer to hire non-diverse people whom they feel will more readily adhere to the norms of life (and work, work, work) that define the modern law firm.
Do you think a racial bias exists in law firm hiring? Why or why not? If so, what should be done about it? Share your thoughts in the comments below.

Law Firms Eschew Diversity Because They Fear It Might Lead to Destabilizing Problems and Lack of Control
Why do law firms keep hiring non-diverse people over diverse people, despite their diversity policies and best intentions? One reason is that many law firms have been "burned" in their diversity efforts when they hired diverse people who turned around and accused them of not being diverse enough, or tolerant enough, or who simply looked for problems regarding diversity. Law firms need to maintain low profiles and avoid people who seem "too diverse."
In addition to being fearful that they will hire someone who will end up making problems, law firms also are worried that they might end up hiring someone who is too independent-minded and cannot be controlled in the way that law firms are used to controlling their workers.
The "working mother" is a perfect case in point. Because law firm salaries are so high in major law firms, it has become increasingly common for many women to work and husbands to stay at home. Despite this arrangement, most women still want a day off per week, or some flexibility to work at home. In addition, working mothers often want flexibility and the ability to have flexible work schedules that allows them reduced hours, flexibility to take children to school and the doctor, and other accommodations
Seems reasonable, right? After all, a diverse work environment has all types. Working mothers, single fathers raising children and so forth.
While these arrangements are something that most law firms will certainly tolerate for people already employed with them, their feelings towards such arrangements become crystal clear once the working mother tries to find a new job offering such flexibility. In general, it does not matter if she was at the top of her class at Harvard Law School or coming from a top firm. Law firms have little interest for flexible working arrangements when hiring laterally. The same rules apply: Similarly situated people (one who is a working mother, the other who is not) will experience profoundly different treatment and one will get interviews and get hired and the other will not.
This happens all the time. It has always happened and will always continue happening. People who advertise and make an issue out of how they are different, diverse, or need some sort of special treatment will not be hired and those who fit the mold will be hired.
What are some law firms that allow for flexible work schedules? What can other law firms learn from them? Share your responses in the comments below.
But here is the good news for anyone who is more interested in getting a job at a law firm than in making a social statement about diversity or in feeling entitled to special treatment-law firms will hire diverse people as long as they do not make any issues out of being diverse.
Law firms are thus fine hiring a mother, but not if she expects to be treated differently. Law firms actually want to hire African Americans and other minorities, as long as they do not make an issue out of their diversity.
Diversity is sought and valued, but not when it is in your face.
Over a decade of enthusiastically representing attorneys of all sorts of diversity-and steadfastly believing in and wanting diversity-has led me to become a devil's advocate. So take it from the law firm's perspective. Law firms are businesses and they are driven by the needs and wants of their clients. This means that to get a job in a law firm you need to be the sort of attorney and person that a law firm client wants as well. That is a fact. And what type of person is that? It is someone who will put his or her head down, do what he or she is told, and get the work done.
So how does the woman who wants to work a reduced-hour schedule or take time off to raise her kids fit into this reality? Not so well-and not because there is anything inherently wrong with raising kids-but because it does not fit the model of a client and economics-driven law firm that demands loyalty to the firm above all else.
Have you faced or do you know someone who has faced discrimination because you wanted to work a reduced-hour schedule or take time off to raise your kids? Share your experience below in the comments.
Here is another story to help illustrate this point. Not too long ago I was representing an attorney who had some of the most amazing qualifications imaginable. This attorney not only graduated from a top law school, but she did very well there. She was a minority and had qualifications that easily exceeded those of just about every top firm she was considering. She interviewed at one particular firm and the firm loved her and was exceedingly thankful to me for finding her. The firm was prepared to make an offer to her, but then she told the firm she did not want to be a partner.
Big mistake if her goal was to get the job!
"Why?" the firm asked her—probably stunned that anyone would say such a thing and acting as if they had never heard such a thing.
"I just would like time for a life and to do other things. Being a partner is not important to me."
Just like that everything fell apart. The law firm called me and said they were no longer interested in her.
"Why?" I asked the firm—stunned that everything would go south so fast after the firm was so obviously interested in hiring her before.
"Because if we have a single person here that does not want to make partner then it destroys our culture. We want everyone to work hard and want to be a partner. We need control over them so they work hard. We want everyone here to be hungry and excited about advancing. We need to be able to give people work on the weekend and when it is needed. Clients and partners need to be able to contact the attorney whenever they need to. Why would we hire your candidate when we have countless people here that do not come with that 'baggage'?"
The firm droned on and on and I got it. They wanted control and they wanted people to be constantly motivated and committed. They did not want any "baggage."
Back to a working mother wanting reduced hours. This is the same sort of thing. A law firm cannot control her. They cannot call her whenever they want to. The attorney will not be as motivated. Instead, the firm will simply hire someone without that "baggage" because then the law firm will be confident it will not need to deal with control issues.
It does not matter what city the attorney is in. It could be San Francisco, Los Angeles, New York, or Charleston. Law firms will only accept and embrace diversity as long as it does not come with "baggage." Baggage is anything that makes you too different and not part of the "mold" that law firms require.
Why are many law firms so intent on controlling the attorneys they hire? Does it have to be this way? Why or why not? Share your thoughts below.
One of the biggest misperceptions of attorneys is that they are in control of their careers. They want to believe that they can practice law on their own terms and also be the person they are most comfortable being-whether it is advertising a nonmainstream religion, sexual preference, or work preference. They believe, mistakenly, that law firms really do appreciate diversity.
In my
career as a legal recruiter
, I have come to believe that the exact opposite is true. While it is completely unspoken, I believe law firms expect a high degree of conformity. They do not want their employees to be "too different," as that brings baggage and opens the door to problems involving control. Law firms want to hire people with whom they feel comfortable and this means that, despite policies to the contrary, they really do not support the sort of diversity that they say they do.

Conclusions
Diversity is a great policy for law firms. All law firms should be diverse. But the truth is that law firms do not really embrace people who are diverse, as what law firms are actually looking for is conformity and lack of "baggage."  
You can get into a good law firm being "diverse" and, in my opinion, it may actually help you a great deal. I place a great number of diverse candidates and it is the part of my practice of which I am most proud because I do believe that our society and its institutions should be more diverse. Those that I place, however, are the ones who tone down what makes them different and do not make an issue out of their diversity. This should not be the case, of course, and is a sign that law firms are behind the ball and not as diverse as they should in fact be.
See the following articles for more information about diversity:
Share Your Thoughts
 
About Harrison Barnes
Harrison Barnes is the founder of BCG Attorney Search and a successful legal recruiter. Harrison is extremely committed to and passionate about the profession of legal placement.
His firm BCG Attorney Search has placed thousands of attorneys
. BCG Attorney Search works with attorneys to dramatically improve their careers by leaving no stone unturned in job searches and bringing out the very best in them.
Harrison has placed the leaders of the nation's top law firms
, and countless associates who have gone on to lead the nation's top law firms. There are very few firms Harrison has not made placements with.
Harrison's writings about attorney careers and placements attract millions of reads each year.
He coaches and consults with law firms about how to dramatically improve their recruiting and retention efforts. His company LawCrossing has been ranked on the Inc. 500 twice. For more information, please visit
Harrison Barnes' bio
.
About BCG Attorney Search
BCG Attorney Search matches attorneys and law firms with unparalleled expertise and drive, while achieving results. Known globally for its success in locating and placing attorneys in law firms of all sizes, BCG Attorney Search has placed thousands of attorneys in law firms in thousands of different law firms around the country. Unlike other legal placement firms, BCG Attorney Search brings massive resources of over 150 employees to its placement efforts locating positions and opportunities its competitors simply cannot. Every legal recruiter at BCG Attorney Search is a former successful attorney who attended a top law school, worked in top law firms and brought massive drive and commitment to their work. BCG Attorney Search legal recruiters take your legal career seriously and understand attorneys. For more information, please visit
www.BCGSearch.com
.