Bar examiners are responsible for administering bar exams and grading bar exam answers, it is important to understand a state's bar exam format as well as the process of preparing for
bar examinations
. The
American Bar Association (ABA)
is an organization that regulates law schools, accredits law schools, and requires that every ABA-accredited law school offer a J.D. degree program that includes at least three years of study including substantial legal studies and hours devoted to subjects such as constitutional law, criminal procedure, contracts, property rights, and torts.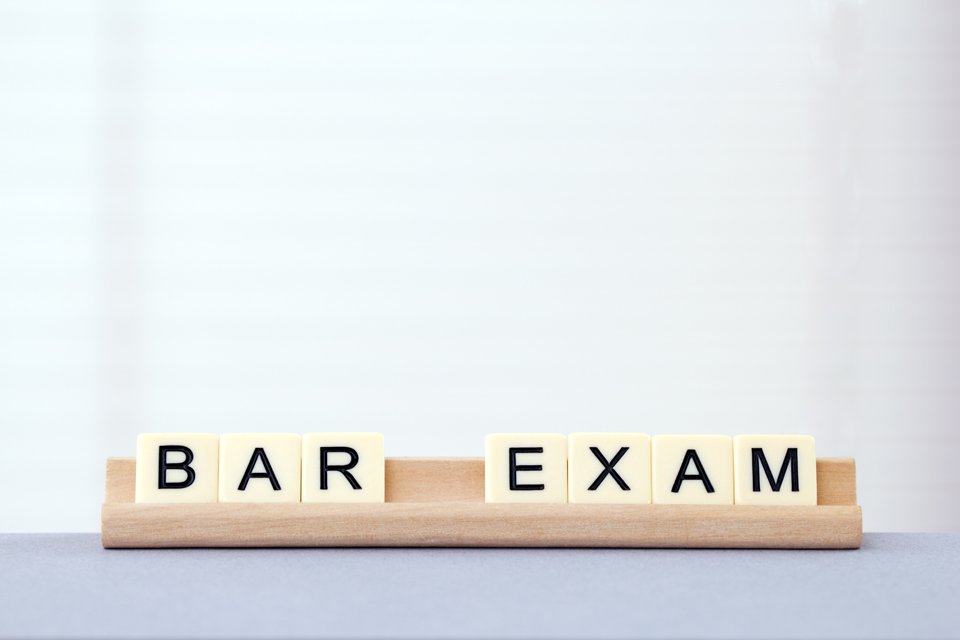 In addition, bar exams are typically scheduled to be given twice a year in February and July.
While the American bar exam does not require bar applicants to take any standardized tests as part of their bar examination application process, there is also no standardization for grading answers on the bar exam
; every state has its own set of rules and regulations that bar applicants must follow when bar examiners are grading bar exams.  
What Is The Bar Exam?
In an article on bar exam basics for
The Bar Examiner
(PDF, 346 KB), authors Joanne E. Kane, Ph.D., and Andrew A. Mroch, Ph.D., write "passing the bar exam is intended to ensure that candidates can meet a minimum threshold of necessary knowledge and skills for entry-level legal practice."
The
bar exam is a standardized test
that you must pass before being admitted into the bar association in your state. In order to practice law, an attorney needs to be
licensed by their state [bar association]
. 36 states and jurisdictions in the United States have adopted the Uniform Bar Examination (UBE) coordinated by the National Conference of Board Examiners.
You must take the Multistate Essay Examination (MEE), the Multistate Performance Test (MPT) tasks, and the Multistate Bar Examination (MBE) if you are taking the Uniform Bar Exam.
The bar exam is made up of two sections: the multiple-choice or Multistate Bar Examination (MBE), and essay questions. The MBE has 200 multiple-choice questions to complete within six hours with topics tested including Constitutional Law, Contracts, Criminal Law and Procedure, Evidence, Real Property, and Torts. You are given scratch paper to write your answers on in the bar exam room.
The essay section of the bar exam is usually three essays that you have 45 minutes to complete each one with topics tested including Family Law Problems (usually Domestic Relations), Professional Responsibility Issues or Legal Ethics, and a Federal Civil Procedure Problem.
In order to take the bar exam, you must first pass a bar preparation class that will teach you what kinds of questions might be asked on the bar exam.
Many law schools offer bar prep courses for students who are currently enrolled at their school and it is also possible to enroll in classes outside of your law school.
These test-prep classes can be found in bar review courses, which are offered by private companies that specialize in bar prep.  
Is The Bar Exam Hard?
The bar exam is widely known to be an extremely difficult test administered in all 50 states and U.S. territories. The nationwide bar exam pass rate rose to 79.64% for first-time takers in recent months. Approximately one out of five people fail the bar exam on their first attempt. The
California bar exam
is known for having exceptionally difficult exams, as demonstrated by its pass rate of approximately 44%. The bar exam measures one's ability to
practice law in a particular jurisdiction
, so it will not be an easy test.
There are several reasons why the bar exam is considered difficult. There are two full days of intense testing - one day of multiple-choice questions, and another day of essay questions. Various legal topics are covered. It is common for multiple-choice questions to have more than one correct answer, forcing you to dig deep to find the best answer. Since the sections are timed, you must have excellent time management skills. Finally, it is not enough to know a correct answer; you must also be able to analyze and apply the knowledge, as well as express it in your essay legal writing..
CPA exam takers feel that the CPA exam is tougher than the bar exam, mainly due to the amount of sections - there are 4 sections (5 including ethics). With an estimated 52.9% of test takers passing the CPA Exam nationwide, this might be true. The bar exam, however, is perceived by some as more difficult than the CPA due to the large amount of information you have to know and the time constraints. The difficulty of the CPA exam and the bar exam can both be determined by your own strengths and weaknesses.
See Also:
Will a Law Firm in California Hire Attorneys Without the California Bar?
Additional Detail About the Bar Exam
When the term "bar" is referenced, it generally means the relevant state bar association. You must
join the bar association of the jurisdiction
in which you live in order to practice law there. In a bar exam, candidates are tested on their skills, knowledge and competency to practice in a given state's legal system. The exams are generally the same, with some variation by state, and include the MBE and MEE:  
The MBE (Multistate Bar Exam) has been adopted by 49 states (excludes Louisiana). In order to determine a candidate's ability to practice law, bar examiners use the MBE. In this exam, an examinee is tested on their ability to apply legal principles, apply legal reasoning, and analyze fact patterns. As part of the full bar exam, the score is based on a uniform test. In each state that has adopted the MBE, the MBE portion of the exam is given a weight. A score of 266 is required to pass the bar exam of the New York Bar, for example. As a result, if you received a score of 133 on the MBE and a score of 133 on the written portion, you would pass.
The MEE (Multistate Essay Examination) consists of six 30-minute questions. Effective communication in writing is measured by the MEE component of the bar. It measures the candidate's ability to identify legal issues with real-life, factual scenarios, to differentiate between relevant and irrelevant information, and to present a reasonable analysis. Candidate can demonstrate knowledge of legal principles relevant to the issues being tested in this section.
Bar Admissions Requirement
Currently, each state or U.S. jurisdiction has its own
rules and regulations governing bar admissions
. The following are generally required for admission to a bar:  
Get a legal education by earning a Juris Doctor degree.
Pass a professional responsibility examination or equivalent requirement.
Pass a bar examination (except in cases where diploma privilege is allowed).
Undergo a character and fitness certification.
Formally apply for admission to a jurisdiction's authority responsible for licensing lawyers and pay required fees.
Candidates for admission to the bar must pass an examination administered by the state bar association or by the state's supreme court, with the exception of Wisconsin. Only
Wisconsin requires no bar examination
; graduates of ABA-accredited law schools can be admitted to the bar by diploma privilege.
State bar exams are usually administered by the state bar association or under the authority of the state's supreme court.
A Uniform Bar Examination (UBE) was developed by the National Conference of Bar Examiners (NCBE) in 2011. To date, 37 jurisdictions have adopted it (out of 56 possible jurisdictions). The UBE consists of three parts: the Multistate Bar Examination (MBE), a standardized test consisting of 200 multiple-choice questions; the Multistate Essay Examination (MEE), a uniform though not standardized test that examines a candidate's ability to analyze legal issues and communicate them effectively in writing; and the Multistate Performance Test (MPT), a "closed-universe" test in which each candidate is required to perform a standard lawyering task, such as a memo or brief.
Additionally, non-UBE jurisdictions usually include a combination of multiple-choice questions, essay questions, and performance tests. A few NCBE components are used by most jurisdictions. Louisiana and Puerto Rico, for instance, do not use the MBE. Many states also use state-specific content in their exams, such as essays in Washington, Minnesota, and Massachusetts. In some states, such as Florida, essays and multiple-choice questions are included in the state-specific sections; Virginia uses full essays and short-answer questions.  
Types Of State Bar Associations
Being admitted to the bar does not necessarily mean you will be a member of the bar association of that state. State bar associations are divided into two categories:  
Mandatory (Integrated) Bar
There are 32 states and the District of Columbia that require membership in the state's bar association to practice law there. This is known as having a mandatory, unified, or integrated bar.
Texas' State Bar, for example, is an agency of the judiciary under the administrative control of the Texas Supreme Court, and is composed of individuals licensed to practice law in Texas; in order to join the State Bar, individuals must register with the clerk of the Texas Supreme Court.  
Voluntary and Private Bar Associations
The voluntary bar association is a private organization of lawyers. The organization may serve social, educational, and lobbying purposes, but does not regulate the practice of law, admit lawyers to practice, or discipline lawyers. The New York State Bar Association is one example.
Every one of the eighteen states that do not have a mandatory or integrated bar association has a voluntary bar association. Likewise, there are a number of voluntary bar associations organized by geographic area (e.g., Chicago Bar Association), interest group or practice area (e.g., Federal Communications Bar Association), or ethnic or identity community (e.g., Hispanic National Bar Association).
ABA (American Bar Association) is the largest voluntary bar association in the United States with a nationwide membership. ABA denied African-American lawyers membership in 1925, which led to the formation of the National Bar Association.
See Also:
Comprehensive Guide to Eligibility of Foreign Attorneys to Waive into Different State Bars
Tips For Passing The Bar Exam

1. Acknowledge Your Achievements
Enjoy your graduation celebrations without worrying about bar exam preparation before starting your bar exam preparation. The accomplishment of graduating from law school is a great one, so it is important to take the time to appreciate all your hard work and efforts over the past three (or more) years. Relax, breathe deeply, and enjoy your final days or weeks of relaxation before you begin bar exam preparation.  
2. Prepare Your Family and Friends for the Demands of Bar Exam Preparation
Ensure that your family, significant other (or those you live with), and friends understand how important the bar exam is and how time-consuming it will be for you. Tell them that you see the bar exam as the most important exam in your career as a lawyer and that it will be a high priority for you. Therefore, preparing for the bar exam may require you to take time off from work or substantially reduce your work schedule. Consider starting your bar exam preparation early if taking time off from work is not an option. Then you are able to balance a strenuous study schedule with a work schedule, thus preventing burnout from trying to juggle both.  
3. Take a Commercial Bar Review Course
To prepare for the bar exam, future attorneys should take a commercial bar review course. The bar exam is different from other exams you took in law school. Law school study materials will not be helpful in preparing for the bar exam. Commercial bar exam courses teach you topics and guide you through practice questions similar to those you will see on the bar exam. If you prepare with a commercial bar review course, you will have a much higher chance of passing the bar exam.  
4. Prepare for the Bar Exam Like a Job
A full-time commitment to studying for the bar exam is the best way to prepare. You should study for at least eight hours every day. Bar review courses generally run from 9:00 a.m. to 12:00 p.m. You should study for an additional four to five hours in the afternoon after a short break. Your study environment is also crucial. If you go to the same place around the same time each day, your preparation may feel more like a job and may maximize your study time.  
5. Use a Variety of Study Methods
Future attorneys should use additional study tools, such as commercial flashcards, videos, and commercial outlines, in addition to the assignments offered by a bar review course. Check with your law school to see what resources it offers for bar exam preparation, such as supplemental courses and lectures by professors. Make the most of your free time by using these resources.  
6. Request Feedback on Practice Questions
In order to improve your chances of success on the bar exam, it is important to make use of all the resources available to you. Feedback from someone with experience evaluating and grading bar exam essays and practice questions is one of the most valuable tools at your disposal. By doing so, you'll have the opportunity to have the practice essays you wrote evaluated by an experienced attorney or professional (such as a professor or bar exam tutor) through any mentoring programs offered by your law school or bar association.  
7. Be Flexible With Your Schedule
As you begin to prepare for the bar exam, establish a consistent study routine, but recognize that there will be times when it is necessary to be flexible with your preparation approach. Bar exam candidates regret blindly the following everything on their course schedule and "to-do lists." Understand that it is OK if you do not complete everything your course tells you to do, especially if you realize that your course's schedule does not help you retain information. Rather than merely finishing assignments in order to check the box of completion, it's perfectly acceptable to spend more time on what you find most helpful. Be intentional about how you spend your study time, and resist the urge to complete your daily studying tasks aimlessly.  
8. Recognize your Limitations
It is important to know your limitations when
preparing for the bar exam
. Know when you have studied enough for each day, and when you have studied enough for each topic. It is easy to be consumed by studying when so much is riding on passing the bar exam. When you don't know when you have reached your limit, you can burn out and ultimately do more harm than good. Remember that your mind has a limited capacity. In order to pass the bar exam, you must work hard while knowing when to take breaks.  
9. Maintain a Healthy Lifestyle
Maintaining healthy habits during bar exam preparation may be the most beneficial and crucial step a future esquire can take toward passing the bar exam. Preparing for the bar exam properly does more than ensure success on practice questions and practice essays; it also
prevents getting sick or overly stressed before and during the test
. It is imperative that future lawyers exercise, prepare nutritious meals, and get enough sleep. In order to perform well in the bar examination, you need to keep your body and brain healthy.  
10. Be Confident in Your Preparation
Lastly, have confidence that you will pass the bar exam because you have prepared well. You are one exam away from becoming a licensed attorney! Your hard work will pay off!
For more information:
Techniques For Passing The Bar Exam
Conclusion
The bar examination is a difficult and time-consuming process, but it's not impossible. In order to secure your success on the bar exam, you need to know how to prepare for the bar exam so that you can pass with flying colors. The most important thing you can do during bar preparation is stay aware of your limitations – both physical and mental – in order to avoid burning out or injuring yourself before test day arrives. It may seem counterintuitive, but maintaining a healthy lifestyle will actually make you more successful when preparing for the bar exam because it reduces stress levels and helps keep illness at bay. Finally, never lose sight of what this whole process means: You are one step closer than everyone else who has ever taken the bar examination!