Law schools organize a legal clinic (called a law school clinic or also law clinic) that allows students to receive law school credit while they work part-time in real (not simulated) legal service environments.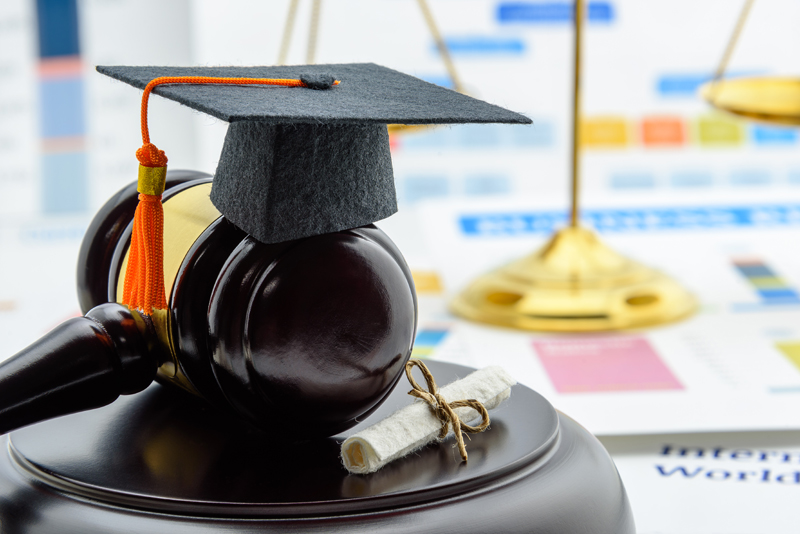 Clinical legal studies teach law clinic students how to conduct legal research; draft briefs, legal arguments, and other legal documents; and interview clients just as an attorney would do in a similar position. Even in criminal law, students are allowed to represent their clients in court. Some schools offer opportunities to second-year students as well. However, most law clinics are only open to third-year students. Clinics generally provide free legal guidance and supervision to clients, i.e., free legal services to the public. Legal clinics typically do not include classroom instruction. Before going out into the job market, students can gain valuable experience by participating in a legal clinic. Clinics are available in a variety of areas of law, including but not limited to:  
Community legal services
Criminal law
Elder law
Environmental law
Family law
Human rights
Immigration law
Tax law
Renowned Clinics at Law Schools Across the Nation
Stanford Law School's Three Strikes Project is a great example of a criminal justice law clinic. Three Strikes represents convicts serving life sentences under California's three-strikes law for minor, non-violent felonies.
Immigration Clinic is one of many clinics at the University of Texas Law School. Students from the Immigration Clinic represent "vulnerable low-income immigrants from all over the world" in federal courts before the Department of Homeland Security.
"Best Clinical Training" was ranked number one by Georgetown Law School for its clinic offerings. The majority of Georgetown University Law School's clinics involve extensive community engagement, from Affordable Housing Transactions to Social Enterprises and Nonprofits. The Center for Applied Legal Studies, one of its highlights, represents refugees who are seeking political asylum in the United States pursuant to threats of persecution in their countries of origin.
Law students at Lewis and Clark's law school have access to the International Environmental Law Project clinic, which allows them to gain experience in environmental law. Working with endangered species protection groups and building new environmental laws are past projects. 
Northwestern University's Pritzker School of Law's Appellate Advocacy Center clinic assists clients who are appealing their cases in the Seventh Circuit and the U.S. Supreme Court.
The Supreme Court of the United States has its own clinics that only deal with cases related to it. Stanford Law School, New York University Law School, Yale Law School, Harvard Law School, University of Virginia Law School, University of Texas Law School, Emory University Law School, Northwestern University Law School, University of Pennsylvania Law School, and Southwestern University Law School offer Supreme Court clinics. Clinics at the Supreme Court write and file amicus briefs, petitions for certiorari, and merits briefs. 
Choosing a law school is an important decision since clinics vary greatly in terms of number and type.
For law students, gaining legal clinical experience is an excellent way to enhance their resume, as it will allow them to experience an area of the law without committing to it permanently.  
How to Gauge the Strength of Law School Clinics?
Law school clinics provide comprehensive legal services, not just consultations.
The clinical programs at law schools are excellent when they are taught effectively, Law school professors say because they allow students to work with a client under the guidance of experienced attorneys who act as mentors.
Students who are interested in a specific legal discipline and who want to become marketable for jobs in that area tend to enroll in clinics that specialize in a specific area, such as environmental law or appellate law.
Law clinics give students the opportunity to do everything a lawyer does, as well as receive classes and training, says Aliza Kaplan, professor and director of Lewis & Clark Law School's Criminal Justice Reform Clinic.
Using a well-run clinic, Kaplan says students will have the chance to meet and speak with a client directly, and they might even be able to participate in trials. The experience helps law students gain confidence in their advocacy abilities, she says.
In addition, Kaplan says, law school clinics often represent indigent clients who cannot afford to pay for legal representation. Pro bono legal work gives inspiration to students who wonder how they can use their legal training to make a positive impact on society.
There are so many law students who are aspiring to change the world, says Kaplan.
In her words, students often participate in clinics in order to use their legal training philanthropically. She explains that the best way to judge a clinic is to learn what it has done for its clients in the past and to determine if it has made a significant, positive, and lasting impact on its community.
The following factors should be considered when comparing law school clinics:  
Who Benefits From Clinics?
A number of law school clinics emphasize public service as their mission in the interests of politics, social justice, and constitutional law.
Experts say that aspiring prosecutors, public defenders, and private litigators can greatly benefit from attending a school with a strong clinical program that focuses on trial law and honing the rhetorical skills required to succeed in a trial setting.
Trial law clinics may not be appropriate for aspiring corporate attorneys who plan to specialize in transactional legal areas, such as mergers and acquisitions, says Thomas Simeone, managing partner at Simeone & Miller, a personal injury law firm in the District of Columbia. Some law schools, like Harvard Law School and Stanford Law School, offer transnational law clinics, despite most law school clinics focusing on trial work.
The clinical program of a school should be evaluated in light of the type of lawyer that prospective students want to be, says Simone, adjunct professor of trial advocacy at George Washington University Law School.
If you plan to work at a small law firm where trial work is expected or you have an interest in criminal law, having a strong clinical program is very important. Law school clinics in an area that tends to focus on litigation like landlord-tenant law are beneficial for aspiring trial attorneys, Simeone says since they force them to become familiar with a courtroom setting.