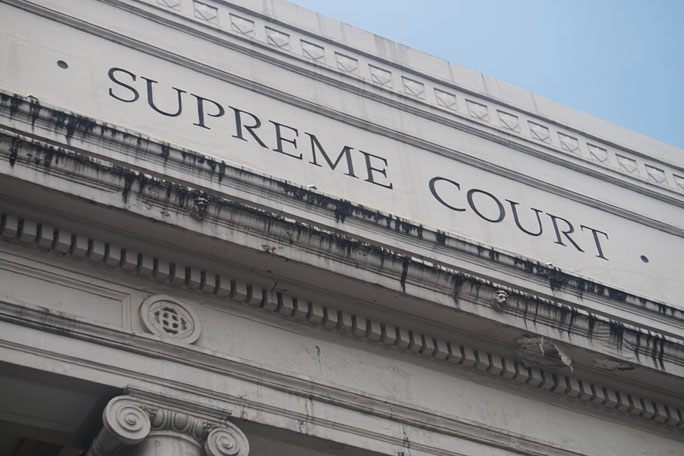 There are over 200 law schools in the United States, yet the current United States Supreme Court—the highest court in the land and one of the three branches of our federal government—is comprised of jurists who attended just two of the most elite law schools: Harvard Law School and Yale Law School.  
SCOTUS Composition, by Justices' Law Schools
For the current roster of high court justices, Harvard Law School is represented by the following alumni: Chief Justice Johns Roberts; Anthony Kennedy; Stephen Breyer; Elena Kagan; and Ruth Bader Ginsburg (who graduated from Columbia Law School after attending Harvard Law).
The Yale Law School graduates are Clarence Thomas; Samuel Alito; and Sonia Sotomayor.
Recently deceased Antonin Scalia also graduated from Harvard Law School, as did Neil Gorsuch, the man who is expected to assume Justice Scalia's seat on the high court.  
 SCOTUS Composition, by Law Clerks' Law Schools
As depicted on the chart below, the Harvard-Yale trend we see with Supreme Court justices also applies with SCOTUS law clerks. Dating back since 1960, graduates of Harvard Law School lead the list of youngsters privileged enough to clerk for a Supreme Court justice, followed by graduates of Yale Law School. During that period, Harvard sent 491 law clerks to the high court and Yale sent 378. Since 1960, Harvard has always led Yale (as well as every other law school) in sending clerks to the Supreme Court, except for the period from 2010 to the present, when Yale sent 91 clerks and Harvard sent 90.
After Harvard and Yale, the only other law schools that have sent more than 100 law clerks to the Supreme Court since 1960 are the University of Chicago Law School (148 clerks); Stanford University Law School (139 clerks); Columbia Law School (114 clerks); and the University of Virginia School of Law (112 clerks).    
Eleven law schools turned out just two SCOTUS clerks since 1960 and another 31 schools turned out just one. Many other law schools have never seen even one of their graduates obtain a clerkship for a United States Supreme Court justice.  
Importance of Supreme Court Law Clerks
Being a Supreme Court law clerk is an extremely prestigious and intellectually demanding position, and it can open many professional doors for the remainder of an attorney's career. SCOTUS law clerk positions are highly, highly selective, and contenders must generally have earned top grades at top law schools and done extensive legal research and writing in a law review context. Moreover, most judicial clerks come to SCOTUS having already completed at least one significant clerkship for a judge on one of the country's Circuit Courts of Appeal.
Law clerks perform essential roles for the justices for whom they work and are integral parts of the Supreme Court ecosystem. Though each justice has his or her own way of utilizing and mentoring his or her clerks, the basic job of a Supreme Court law clerk is to assist the justices get through their workload. This means helping organize and prioritize the voluminous legal challenges that get filed in the Supreme Court each year, researching and writing about cutting-edge and controversial legal issues, helping draft opinions, serving as sounding boards for the justices, and—at the highest level—helping justices develop and hone their legal philosophies and legacies.
Each Associate Justice is allowed four judicial law clerks, while the Chief Justice gets five.
Many former clerks go on to important positions in private legal practice and in various government positions. In some cases, former Supreme Court clerks have become Supreme Court Justices themselves, as was the case with Byron White; John Paul Stevens; William Rehnquist; Stephen Breyer; John Robert; and Elena Kagan. If confirmed, Neil Gorsuch will join this group, as Gorsuch clerked for Justice Anthony Kennedy.  
Implications for Elite Law School Domination of the Supreme Court
While few would question the intellectual ability of a top student from a top law school like Harvard or Yale to handle the analytical rigors of a Supreme Court clerkship, some question whether a high court dominated by a few elite schools and their graduates is wise for the country and for the evolution of the law. The idea is that the Supreme Court—which influences every aspect of our lives as citizens in fundamental ways—might benefit from having a wider variety of backgrounds, voices, and perspectives.
Critics of the elite composition of the Court believe that the "law of the land" should reflect the experiences, education, and ways of understanding and interpreting the Constitution of many different types of qualified jurists, including those who were educated within the "intellectual bubbles" of Harvard or Yale, but also including many other brilliant and insightful people who were educated at places besides Harvard and Yale. Advocates of a less homogenous Court believe that diversity will enhance the evolution of the law and ensure that seminal decisions that change lives and move society in different directions are as fair and representative as possible.  
Conclusions
The numbers are clear: Graduates of Harvard Law School and Yale Law School dominate our Supreme Court. They fill the seats of the Justices and they fill the seats of the judicial law clerks who provide the intellectual and organizational support for those Justices.  
| No. | Law School | 1960 to Present | 1970 to Present | 1980 to Present | 1990 to Present | 2000 to Present | 2010 to Present |
| --- | --- | --- | --- | --- | --- | --- | --- |
| 1 | Harvard Law School | 491 | 422 | 354 | 281 | 186 | 90 |
| 2 | Yale Law School | 378 | 349 | 299 | 240 | 167 | 91 |
| 3 | University of Chicago Law School | 148 | 143 | 125 | 100 | 49 | 17 |
| 4 | Stanford University Law School | 139 | 126 | 106 | 86 | 55 | 29 |
| 5 | Columbia Law School | 114 | 104 | 89 | 66 | 36 | 17 |
| 6 | University of Virginia School of Law | 112 | 103 | 81 | 57 | 41 | 21 |
| 7 | University of Michigan Law School | 85 | 74 | 57 | 38 | 24 | 11 |
| 8 | New York University School of Law | 54 | 51 | 46 | 36 | 30 | 14 |
| 9 | University of California, Berkeley School of Law | 52 | 45 | 38 | 25 | 17 | 6 |
| 10 | University of Pennsylvania Law School | 42 | 35 | 17 | 11 | 7 | 4 |
| 11 | Georgetown University Law Center | 41 | 39 | 34 | 23 | 16 | 8 |
| 12 | University of Texas School of Law | 35 | 31 | 19 | 16 | 9 | 4 |
| 13 | Northeastern University School of Law | 32 | 32 | 27 | 21 | 14 | 8 |
| 14 | Duke Law School | 22 | 21 | 17 | 16 | 11 | 9 |
| 15 | George Washington University Law School | 19 | 17 | 16 | 14 | 10 | 4 |
| 16 | UCLA School of Law | 16 | 13 | 8 | 6 | 2 | 1 |
| 17 | Brigham Young University School of Law | 15 | 15 | 13 | 9 | 4 | 1 |
| 18 | Notre Dame Law School | 15 | 13 | 11 | 10 | 7 | 3 |
| 19 | University of Minnesota Law School | 11 | 9 | 5 | 4 | 3 | 3 |
| 20 | University of Georgia School of Law | 10 | 10 | 9 | 6 | 6 | 2 |
| 21 | University of North Carolina School of Law | 9 | 6 | 5 | 4 | 1 | - |
| 22 | Cornell Law School | 8 | 7 | 5 | 4 | 4 | 3 |
| 23 | University of Southern California Law School | 8 | 6 | 1 | 1 | - | - |
| 24 | University of Arizona College of Law | 6 | 6 | 2 | 1 | - | - |
| 25 | University of Kansas School of Law | 6 | 6 | 6 | 5 | 3 | - |
| 26 | Vanderbilt Law School | 6 | 6 | 5 | 5 | 3 | 2 |
| 27 | Washington State University School of Law | 6 | 2 | 1 | - | - | - |
| 28 | Boston University School of Law | 5 | 5 | 2 | 1 | - | - |
| 29 | University of Illinois College of Law | 5 | 5 | 4 | 2 | 2 | - |
| 30 | Washington and Lee University School of Law | 5 | 5 | 4 | 2 | - | - |
| 31 | Indiana University School of Law - Bloomington | 4 | 3 | 1 | - | - | - |
| 32 | Moritz College of Law | 4 | 4 | 4 | 4 | 2 | 1 |
| 33 | University of Utah College of Law | 4 | 3 | 3 | 1 | 1 | - |
| 34 | Boston College Law School | 3 | 3 | 2 | 2 | 1 | - |
| 35 | Fordham University School of Law | 3 | 2 | 2 | 2 | - | - |
| 36 | Pepperdine University School of Law | 3 | 3 | 3 | 3 | 2 | 1 |
| 37 | University of Houston School of Law | 3 | - | - | - | - | - |
| 38 | University of Iowa College of Law | 3 | 3 | 2 | 1 | 1 | 1 |
| 39 | Arizona State University College of Law | 2 | 2 | 1 | - | - | - |
| 40 | Benjamin N. Cardozo School of Law | 2 | 2 | 2 | 1 | 1 | - |
| 41 | Columbus School of Law | 2 | 2 | - | - | - | - |
| 42 | Louisiana State University Law Center | 2 | 2 | 2 | 2 | 2 | 2 |
| 43 | Loyola Law School | 2 | 2 | 2 | - | - | - |
| 44 | Dedman School of Law | 2 | 2 | 2 | 1 | - | - |
| 45 | Tulane University Law School | 2 | 2 | 2 | - | - | - |
| 46 | University of Colorado Law School | 2 | 2 | - | - | - | - |
| 47 | University of Denver | 2 | 2 | 2 | - | - | - |
| 48 | University of Miami School of Law | 2 | 2 | 2 | - | - | - |
| 49 | University of Missouri School of Law | 2 | 2 | 2 | 1 | 1 | - |
| 50 | Washington College of Law | 1 | 1 | - | - | - | - |
| 51 | Brooklyn Law School | 1 | 1 | 1 | 1 | 1 | 1 |
| 52 | Case Western Reserve University School of Law | 1 | 1 | - | - | - | - |
| 53 | Creighton University School of Law | 1 | 1 | 1 | 1 | 1 | - |
| 54 | Detroit Law School | 1 | 1 | - | - | - | - |
| 55 | Emory University School of Law | 1 | 1 | 1 | - | - | - |
| 56 | George Mason University School of Law | 1 | 1 | 1 | 1 | 1 | - |
| 57 | Howard University Law School | 1 | 1 | 1 | - | - | - |
| 58 | Pennsylvania State University School of Law | 1 | 1 | - | - | - | - |
| 59 | Rutgers University School of Law | 1 | 1 | 1 | 1 | - | - |
| 60 | Rutgers University School of Law | 1 | 1 | 1 | 1 | 1 | - |
| 61 | Santa Clara University School of Law | 1 | 1 | - | - | - | - |
| 62 | Seattle University School of Law | 1 | 1 | 1 | - | - | - |
| 63 | Seton Hall University School of Law | 1 | 1 | 1 | 1 | 1 | - |
| 64 | St. Mary's University Law School | 1 | - | - | - | - | - |
| 65 | University at Buffalo Law School | 1 | 1 | 1 | 1 | - | - |
| 66 | Temple University Beasley School of Law | 1 | 1 | 1 | - | - | - |
| 67 | Texas A&M University School of Law | 1 | - | - | - | - | - |
| 68 | University at Buffalo Law School | 1 | 1 | 1 | - | - | - |
| 69 | University of Alabama School of Law | 1 | 1 | - | - | - | - |
| 70 | University of Florida Fredric G. Levin College of Law | 1 | 1 | 1 | 1 | 1 | 1 |
| 71 | University of Hawaii at Manoa William S. Richardson School of Law | 1 | 1 | 1 | 1 | 1 | 1 |
| 72 | University of Kentucky College of Law | 1 | 1 | - | - | - | - |
| 73 | University of Maine School of Law | 1 | 1 | 1 | - | - | - |
| 74 | University of Maryland School of Law | 1 | 1 | 1 | 1 | - | - |
| 75 | University of New Mexico School of Law | 1 | 1 | 1 | - | - | - |
| 76 | University of the Pacific, McGeorge School of Law | 1 | 1 | - | - | - | - |
| 77 | Wisconsin Law School | 1 | 1 | 1 | 1 | 1 | - |
| 78 | Villanova University School of Law | 1 | - | - | - | - | - |
| 79 | Washburn University School of Law | 1 | 1 | - | - | - | - |
| 80 | The College of William Mary Law School | 1 | 1 | 1 | - | - | - |