Your resume is usually the first contact you have with a potential employer during a job search. This shows your accomplishments as well as your experience so far. Think about who you are aiming at. Would you like to write to a law firm, a small nonprofit organization, a large government agency, private sector employers, or a judge? Learn as much as you can about the types of projects you would be responsible for if hired. Determining which skills to highlight will depend on that information. In other words, do communication and negotiation skills matter more than writing and research skills? Creating several resumes aimed at different legal employers may be beneficial.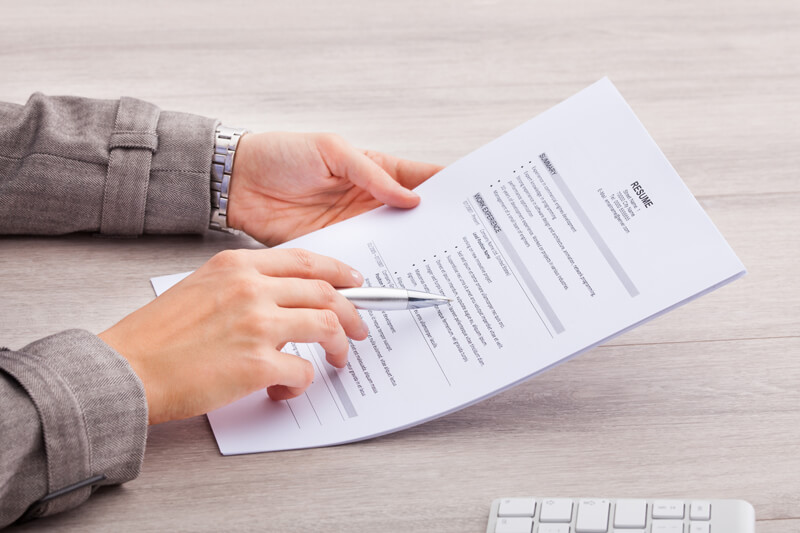 A legal resume should be concise, accurate, error-free, well organized, clear, easy to read, and visually appealing.
Your resume will probably be reviewed in no more than 30 seconds by the reader. If you want your resume to be effective, you must keep it short but offer enough relevant information to interest the employer. One page is typically the length of a law student's resume.
The quality of your law school resume can have a significant impact on your admission to law school. By highlighting unique factors and supplementing your personal statement, it may enhance your application. It takes time and effort to prepare an effective law school resume. We discuss how you can create a great law school resume, provide a few extra tips, and provide a sample and template you can use to create your own.  
What is A Law School Resume?
Creating a law school resume emphasizes many students' academic achievements for admission to a law school. Law schools generally require resumes, though not all do. If you do it right, it can highlight the achievements and skills law schools are looking for in students and make you stand out from the rest.  
How to Create a Law School Legal Resume
To create the
perfect law school legal resume
, follow the basic steps below. You should only include experiences and accomplishments from your college years and after.  
1. Use the Right Structure
Section headings should be included in your format. You should provide dates and locations for each activity in bullet points for each section. The most recent activities should come first, in reverse chronological order.  
2. Use the Right Format
Choose a font, from the multiple fonts, that is easy to read, such as Calibri or Helvetica, and a size that is easy to read.
Generally, the optimal size is between 10 and 12 points. The top, bottom, and left and right margins should be one inch.  
3. Use an Appropriate Length
It is generally suggested that you limit your resume to one or two pages, even if you go into more detail than you would in a typical employment resume. Nevertheless, you will want to make sure you check with the law school to which you are applying to find out what length they prefer for resumes.  
4. Include Your Name and Contact Information
The heading of your resume should include your name, current address, telephone number, and e-mail address. The name can be bolded or the largest font on the page, but should not be larger than 14 points.  
5. Add Your Educational Experience
Indicate where you attended college and where it was located. Your major should be included as well as the degree you earned. Provide the dates that you attended school there even if you did not earn a degree or certificate. Also, if you studied abroad, you can include that. Your overall undergraduate GPA should be included.  
6. List Your Law School Honors, Awards, and Scholarships.
Describe any scholarships, honors, class rank, and awards you received during college, as well as the years when you received them. Dean's list, academic distinctions like Summa Cum Laude, and scholarships are examples of accomplishments you might want to include.  
7. List Your Internship and Legal Experience
Your previous employment and internship experience should be listed. You should include your title, the name of the employer, the location, and the dates you worked there. Your responsibilities for each job should be bulleted. Make sure each bullet point begins with strong action words such as led, organized, or mentored. Be sure to quantify your results as much as possible, for example, "Increased sales by 20% in my first year." List your experiences in reverse chronological order, from most recent to oldest.  
8. List Volunteer Work and Leadership Organizations
List your volunteer experiences and leadership positions with the organization, community service, extracurricular activities, dates you served, and the duties you performed if you served in an organization during college. You should follow the same chronological order as your employment history.  
Tips for Creating a Law School Resume
You can strengthen your law school resume by following these tips:
Format Consistently:
Consistently format your resume and pay attention to its formatting. When adding periods to descriptions, add them to all of your descriptions or leave them out entirely.
Use Simple Explanations:
It proves that you understand the industry for which you are applying, so it is appropriate for employment resumes. The admissions committee, however, may become confused. If you use special terminology or acronyms, explain them simply or include a short definition.
Include Details About Your Academic Performance:
Include not only your GPA and honors such as the Dean's List but also your thesis title and any significant research you have completed.
Proofread Thoroughly:
Re-read your resume several days after you have completed it with fresh eyes. As a result, you will be more likely to catch typos and grammatical errors you would otherwise overlook. You can also ask a friend or family member to look for typos as well as formatting errors on your resume.
See the following articles for more information:
Law School Resume Template
For creating your own resume, here is a template. You should emphasize education, leadership, volunteer work, and membership in organizations on an excellent law school resume.
Name
123 Street
City, State 123456
email@gmail.com
EDUCATION
UNIVERSITY, City, State
Degree, Graduation date  
Overall GPA
Academic achievements, moot court, honors, and scholarships
COURSES  
PROFESSIONAL EXPERIENCE
Title
Business Name, Years  
Primary duties
Primary duties
Primary duties
Title
Business Name, Dates  
Primary duties
Primary duties
Primary duties
VOLUNTEER EXPERIENCE
NAME OF ORGANIZATION, Title, or committee you served on
Years you served  
Primary responsibilities
Primary responsibilities
Primary responsibilities

Law School Legal Resume Example
Here is an example of a law school resume:
Julie Myers
523 Main Street
Kansas City, MO 64163
Julie.Myers@gmail.com
EDUCATION
WILLIAM JEWELL COLLEGE, Liberty, MO
Bachelor of Science in Criminal Justice, June 2019  
Graduated with a 3.9 GPA
Made the Dean's List four times
COURSES
Criminal Law, Federal Jurisdiction
Ethics, Business Law, Advanced Legal Research
International Law, Commercial Law
PROFESSIONAL EXPERIENCE
File Clerk
Lansing Law Group, 2017-2019  
Began as an unpaid clerk and transitioned to paid position within 8 weeks based on assertiveness and performance
Researched cases, wrote filing summaries, and made presentations to attorneys regarding cases
Filed correspondence and other documents and filed ad hoc assignments
File Clerk Intern
Lansing Law Group, Summer 2017  
Filed correspondence for cases in real estate and criminal matters
Fielded phone calls and scheduled appointments for attorneys
Provided client reception and assisted clients with paperwork
VOLUNTEER EXPERIENCE
HABITAT FOR HUMANITY, Service Committee
2017-2019  
Organized students on campus to perform local building projects
Developed and maintained close relationships with the leaders in all major on-campus organizations to coordinate volunteer efforts
Doubled the number of volunteers from 2017 to 2018
Click Here to View Sample Legal Resumes.
Read Also:
How Attorneys and Law Students Should Write a Legal Resume: Resume Examples, Suggestions, and Resources

The 9 Best Tips for Writing a Legal Resume
A lawyer or paralegal applying for a position at a law firm or corporate legal department may find it difficult to write a resume. Consider whether certain information should be included and how the components should be ordered. Are flashy designs helpful or harmful to your chances of success?  These tips for writing legal resumes will help you land the job you want:  
1. Keep It Short and Sweet
Be concise when writing resumes. Legal hiring managers scan resumes quickly, and unnecessary words can bury the things that distinguish you from other candidates. In the case of more than five years of experience, you do not have to limit the document to one page. However, do not make it too long. Each word should highlight your strengths by highlighting your best qualities.  
2. Education or Experience First? It Matters!
The length of your career will determine whether you begin your resume with legal education or experience. Those with at least three years of experience in law or paralegal work should emphasize their expertise. You should start by completing your education if you are a new associate. Despite working for a few years, if your law school is a top-tier one, you might consider starting with your education. In any section you choose, you should describe your career in reverse chronological order: put the most recent education or experience at the top.  
3. Provide A Brief Narrative With Action Verbs
Do not use vague or wishy-washy verbs such as performed, assisted, or conducted. Use words like studied, analyzed, solved, and negotiated to describe the activities you carried out. Consider your impact as well. Describe the outcomes of your work - you won that $300 million cases because of your skillful work? Do not forget to mention it.  How you prepared legal arguments, motions, or agreements to the highest standard of precision, or how you streamlined a file system to make it easier to find specific documents.  
4. Tailor Your Resume For Each Job
If you are applying for multiple jobs, you should customize your resume for each one. Research exactly what you will be doing at the job and the kinds of cases you will handle, and edit your resume to reflect the relevant skills that will help you succeed.  On the second page of the resume, patent attorneys should list patents they have helped write.  Attorneys should list their corporate, real estate, and other transactions without naming their clients.  Attorneys can include writing samples and copies of briefs they are particularly proud of.  
5. Think Simple Elegant Layout
If you are writing a legal resume, you should avoid unusual colors and graphics. You should avoid using a flashy format for your resume. Use only one font for your document to avoid making it hard to read. Choosing a serif typeface (such as Cambria, Times New Roman, and Garamond) with a clean, neutral background is ideal.  You should use bullets, headings, and bold fonts to make your resume easy to scan.  
6. Emphasize  Relevant Professional Skills
In addition to your native language, mention your proficiency level - basic, conversational, or fluent. Include the language only if you can converse in it. Add any expertise you have outside the legal field, such as computer science or computer forensics, or any other experience you have that makes you stand out, like experience with eDiscovery software.  
7. Highlight Your Publications
You should list any articles you have published that relate to the firm's practice area on your resume. You should provide a list of your published works on your resume if you have a broad publishing history.  
8. Keep Hobbies And Interests  pertinent To The Role
Many legal employers often like to learn about candidates' outside interests because hobbies serve as icebreakers in interviews and show you are a well-rounded individual. Incorporating your interests, add activities showcasing your leadership and self-discipline skills. When listing hobbies and interests, use your best judgment to decide what belongs and what does not. You should also list your memberships in alumni, groups, or legal societies.  
9. Proofread And Get Help Reviewing For Typos
You do not want to make someone laugh with your grammatical and spelling errors - especially when you are applying for a legal job. Make sure to read your resume carefully before you send it out, as even a small mistake can lead to your legal job applications being rejected. You can spot changes easier on paper than on a computer screen, so print out a copy to proofread it. Having some friends read through it is even better. Often, they will catch errors you missed.
The purpose of an attorney or paralegal resume is not merely to introduce you to a law firm, but also to demonstrate why your skills are exactly what they are looking for.
Click here to view a collection of attorney resume and cover letter resources such as resume writing advice, overcoming common resume problems, cover letter writing advice, making your resume and cover letter stand out to law firms, keeping your resume updated, and general resume questions and answers written by experienced legal recruiters.
Interested in More Interview Advice? See Our Most Popular Interview Articles:
About Harrison Barnes
Harrison Barnes is a prominent figure in the legal placement industry, known for his expertise in attorney placements and his extensive knowledge of the legal profession.
With over 25 years of experience, he has established himself as a leading voice in the field and has helped thousands of lawyers and law students find their ideal career paths.
Barnes is a former federal law clerk and associate at Quinn Emanuel and a graduate of the University of Chicago College and the University of Virginia Law School. He was a Rhodes Scholar Finalist at the University of Chicago and a member of the University of Virginia Law Review. Early in his legal career, he enrolled in Stanford Business School but dropped out because he missed legal recruiting too much.
Barnes' approach to the legal industry is rooted in his commitment to helping lawyers achieve their full potential. He believes that the key to success in the legal profession is to be proactive, persistent, and disciplined in one's approach to work and life. He encourages lawyers to take ownership of their careers and to focus on developing their skills and expertise in a way that aligns with their passions and interests.
One of how Barnes provides support to lawyers is through his writing. On his blog, HarrisonBarnes.com, and BCGSearch.com, he regularly shares his insights and advice on a range of topics related to the legal profession. Through his writing, he aims to empower lawyers to control their careers and make informed decisions about their professional development.
One of Barnes's fundamental philosophies in his writing is the importance of networking. He believes that networking is a critical component of career success and that it is essential for lawyers to establish relationships with others in their field. He encourages lawyers to attend events, join organizations, and connect with others in the legal community to build their professional networks.
Another central theme in Barnes' writing is the importance of personal and professional development. He believes that lawyers should continuously strive to improve themselves and develop their skills to succeed in their careers. He encourages lawyers to pursue ongoing education and training actively, read widely, and seek new opportunities for growth and development.
In addition to his work in the legal industry, Barnes is also a fitness and lifestyle enthusiast. He sees fitness and wellness as integral to his personal and professional development and encourages others to adopt a similar mindset. He starts his day at 4:00 am and dedicates several daily hours to running, weightlifting, and pursuing spiritual disciplines.
Finally, Barnes is a strong advocate for community service and giving back. He volunteers for the University of Chicago, where he is the former area chair of Los Angeles for the University of Chicago Admissions Office. He also serves as the President of the Young Presidents Organization's Century City Los Angeles Chapter, where he works to support and connect young business leaders.
In conclusion, Harrison Barnes is a visionary legal industry leader committed to helping lawyers achieve their full potential. Through his work at BCG Attorney Search, writing, and community involvement, he empowers lawyers to take control of their careers, develop their skills continuously, and lead fulfilling and successful lives. His philosophy of being proactive, persistent, and disciplined, combined with his focus on personal and professional development, makes him a valuable resource for anyone looking to succeed in the legal profession.
About BCG Attorney Search
BCG Attorney Search matches attorneys and law firms with unparalleled expertise and drive, while achieving results. Known globally for its success in locating and placing attorneys in law firms of all sizes, BCG Attorney Search has placed thousands of attorneys in law firms in thousands of different law firms around the country. Unlike other legal placement firms, BCG Attorney Search brings massive resources of over 150 employees to its placement efforts locating positions and opportunities its competitors simply cannot. Every legal recruiter at BCG Attorney Search is a former successful attorney who attended a top law school, worked in top law firms and brought massive drive and commitment to their work. BCG Attorney Search legal recruiters take your legal career seriously and understand attorneys. For more information, please visit
www.BCGSearch.com
.
Harrison Barnes does a weekly free webinar with live Q&A for attorneys and law students each Wednesday at 10:00 am PST. You can attend anonymously and ask questions about your career, this article, or any other legal career-related topics. You can sign up for the weekly webinar here: Register on Zoom
Harrison also does a weekly free webinar with live Q&A for law firms, companies, and others who hire attorneys each Wednesday at 10:00 am PST. You can sign up for the weekly webinar here: Register on Zoom
You can browse a list of past webinars here: Webinar Replays
You can also listen to Harrison Barnes Podcasts here: Attorney Career Advice Podcasts
You can also read Harrison Barnes' articles and books here: Harrison's Perspectives
Harrison Barnes is the legal profession's mentor and may be the only person in your legal career who will tell you why you are not reaching your full potential and what you really need to do to grow as an attorney--regardless of how much it hurts. If you prefer truth to stagnation, growth to comfort, and actionable ideas instead of fluffy concepts, you and Harrison will get along just fine. If, however, you want to stay where you are, talk about your past successes, and feel comfortable, Harrison is not for you.
Truly great mentors are like parents, doctors, therapists, spiritual figures, and others because in order to help you they need to expose you to pain and expose your weaknesses. But suppose you act on the advice and pain created by a mentor. In that case, you will become better: a better attorney, better employees, a better boss, know where you are going, and appreciate where you have been--you will hopefully also become a happier and better person. As you learn from Harrison, he hopes he will become your mentor.
To read more career and life advice articles visit Harrison's personal blog.