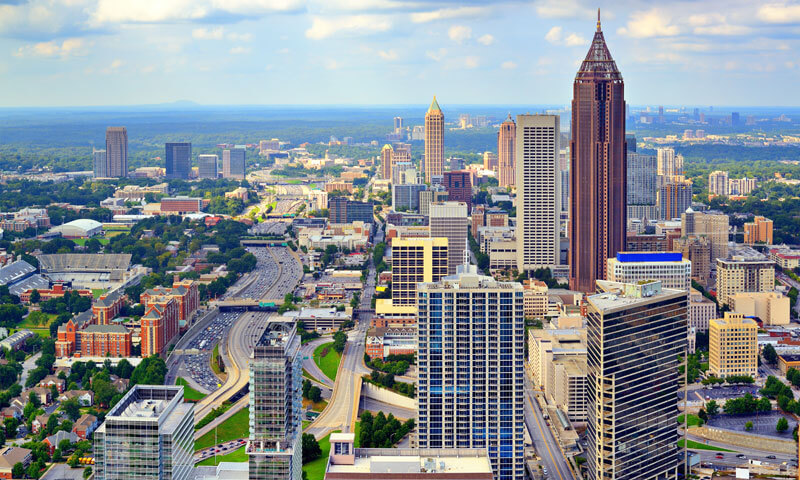 Atlanta has grown to more than 4 million people, making it the largest city in the Southeast. There's plenty of development in commercial, residential, and mixed-use properties to be found throughout this expansive metropolis, along with a surprising amount of trees. Atlanta is also home to four AmLaw 100 and three AmLaw 200 firms. Most of the large law firms are in midtown or presently relocating there. The mid-sized and smaller firms are setting up shop downtown, with just a couple remaining in Buckhead.
Atlanta is considered to be a "lifestyle" city, and the legal community is accommodating to candidates from out of state. You won't need the Georgia Bar if you take the one-day attorney's exam.
Traffic? What traffic? There exists a big misconception about the amount of time the average resident of Atlanta spends in his/her car. If you live inside the city near downtown, midtown, the Virginia highlands, or Buckhead, you can be at work in less than 15 minutes. Atlanta has been hailed as one of the nation's most drivable cities.
There are new bars and restaurants that pop up every month throughout the city. There is also a large number of music venues, and every concert tour travels through this city. Churchill Grounds, Atlanta's premier live jazz club is open seven days a week, showcasing artists from around the country. The Fox Theatre gets traveling Broadway plays and the High Museum exhibits works of art from around the world. Soon, construction will be completed on a grand symphony hall.
This year,
Inc.
rated Atlanta the number-one major metropolitan city for entrepreneurs to do business. The city has fully recovered from the malaise of the 2000 recession. Atlanta consistently outpaces the nation in job growth, too, with 61,800 new jobs generated in Atlanta in 2003, while nationally the number of jobs plummeted by 74,000.
Atlanta does not have one particular industry of focus. It is known as a diversified city. Atlanta has corporations in the energy, media, technology, manufacturing, banking, service, transportation, and many other sectors. Therefore, when one particular area is hit hard, there are usually countless other industries that excel. The hottest practice in town seems to be in real estate. It seems because of all the development being done around the city, there will always be a significant need for real estate associates.
Atlanta, Georgia Recruiters
Harrison Barnes
, Managing Director  
Harrison Barnes is the founder of BCG Attorney Search and one of the world's most successful and sought-after legal recruiters …
Nadeen Weybrecht
, Recruiter
Nadeen Weybrecht is one of BCG's most versatile legal recruiters. With expertise in the legal markets of the East Coast as well as the Southern United States…
Jennifer McNeil
, Recruiter
Jennifer McNeil handles partner, counsel and associate placements in Georgia, South Carolina, North Carolina, Tennessee, Mississippi, Alabama, Louisiana, Oklahoma, Texas and New Mexico…
Before travelling,
check the weather
.
Additional Links to Resources:
The BCG Attorney Search State of the Market Reports:
BCG Attorney Search 2019 State of the American Lateral Law Firm Legal Market Report
BCG Attorney Search 2018 State of the American Lateral Law Firm Legal Market Report
2018 Winter State of the Law Firm Hiring Market
2017 Spring State of the Law Firm Hiring Market
BCG Attorney Search 2017 State of the American Lateral Law Firm Legal Market Report
2016 Fall State of the Law Firm Hiring Market
2016 Spring-Summer BCG Attorney Search State of the Market Report
2016 Winter BCG Attorney Search State of the Market Report
2015 Fall BCG Attorney Search State of the Market Report
2015 Summer BCG Attorney Search State of the Market Report
2015 Spring BCG Attorney Search State of the Market Report
2014 Winter BCG Attorney Search State of the Market Report
2014 Summer BCG Attorney Search State of the Market Report
2014 Spring BCG Attorney Search State of the Market Report
2013 Spring BCG Attorney Search State of the Market Report
2012 Winter BCG Attorney Search State of the Market Report
2012 Fall BCG Attorney Search State of the Market Report
2012 Spring BCG Attorney Search State of the Market Report
2011 Fall BCG Attorney Search State of the Market Report
2011 Summer BCG Attorney Search State of the Market Report
2011 Spring BCG Attorney Search State of the Market Report
2010 Fall BCG Attorney Search State of the Market Report
2010 Summer BCG Attorney Search State of the Market Report
2010 Winter BCG Attorney Search State of the Market Report
2009 Fall BCG Attorney Search State of the Market Report
2009 Spring BCG Attorney Search State of the Market Report
2008 Fall BCG Attorney Search State of the Market Report
2008 Summer BCG Attorney Search State of the Market Report
2008 Spring BCG Attorney Search State of the Market Report
2007 Fall BCG Attorney Search State of the Market Report
2007 Spring BCG Attorney Search State of the Market Report
2006 Fall BCG Attorney Search State of the Market Report
2006 Summer BCG Attorney Search State of the Market Report
2006 Spring BCG Attorney Search State of the Market Report
2006 Winter BCG Attorney Search State of the Market Report
2005 Fall BCG Attorney Search State of the Market Report
2005 Summer BCG Attorney Search State of the Market Report
2005 Spring BCG Attorney Search State of the Market Report
2005 Winter BCG Attorney Search State of the Market Report
2004 Fall BCG Attorney Search State of the Market Report
2004 Spring BCG Attorney Search State of the Market Report
2004 Winter BCG Attorney Search State of the Market Report
2003 Fall BCG Attorney Search State of the Market Report
2003 Summer BCG Attorney Search State of the Market Report
BCG Attorney Search Guides:
2018 BCG Attorney Search Guide to America's Top 50 Law Schools
2014 BCG Attorney Search Guide to America's Top 50 Law Schools
2012 BCG Attorney Search Guide to America's Top 50 Law Schools