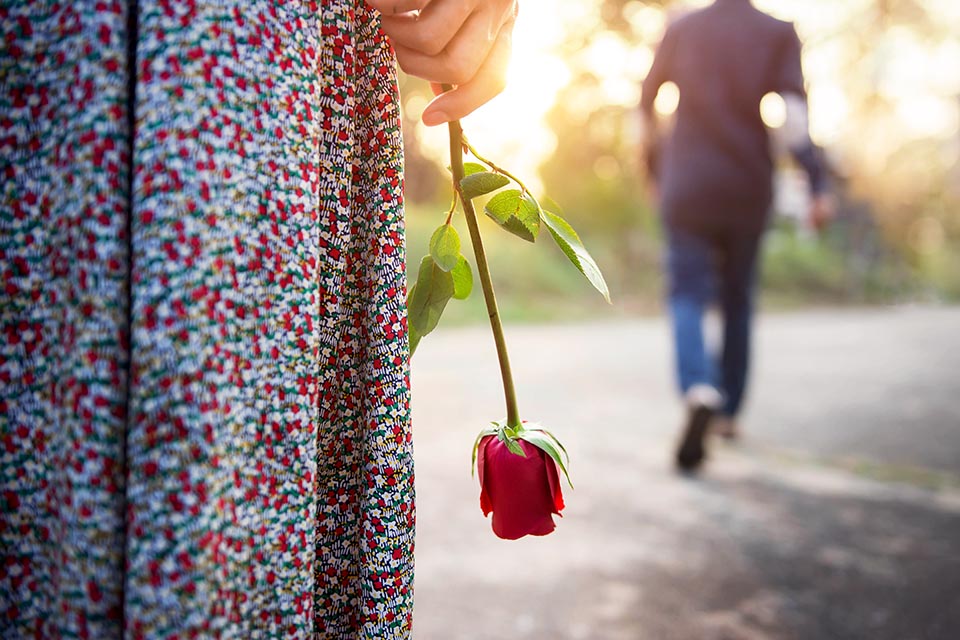 When I was in my first year of law school, I met someone I very much liked, fell in love with, and connected with powerfully. She seemed to be everything I ever wanted.
We quickly started spending all of our time together, spent our summer together, and lived together the following school year. I went to a party with her after we moved in together. I noticed her throwing herself all over another guy there. I was astonished by what I saw and thought she might have been drunk. I pulled her out of the party, and we fought about it for a few days.
By winter that year, I realized she was involved with the guy, so I moved out. It was not a good situation, but a relationship I think a lot of young people have when they are confused about what they want. We ended up getting back together by the end of the school year and moving back in together for the summer.
The summer went well, and we were engaged in the fall. On the night of my engagement, after she accepted my proposal, she told me she had been involved with this guy the entire year from the time she met him at the party. I was devastated by this but continued with the relationship and the engagement—I was in my third year of law school then.
While you might be wondering if I lived happily ever after, I did not. A few months into my third year of law school, she was involved with the same guy again. She moved out, gave the ring back, and the ridiculousness continued. If you are wondering what happened next, by spring she was back, and we ended up re-engaged. She moved with me to Michigan for the summer and lived with me during my year-long clerkship.
The summer after my clerkship we were scheduled to be married in August. She took a trip with her family to the East Coast in July and met the husband of one of her aunt's friends, who she ended up having an affair with. She then broke off the engagement and wedding that had been mostly paid for and did not move to Los Angeles when I finished my clerkship.
I moved to Los Angeles and was very happy, but she kept calling me. She traveled to Los Angeles at her own expense several times and wanted to get back together and re-engaged. So we got together again, she moved to Los Angeles, and we got engaged. Within a year, we planned a wedding and scheduled another marriage.
We were finally married a year or so later in New York. It was a strange wedding. I knew it was not the right choice but got married anyway. I drank too much at the wedding—likely because I was so confused and conflicted. 
We were married and together for a little over one year. About six months into our marriage, my wife started spending a lot of time with a guy worth hundreds of millions of dollars. One day, I left for work and then returned to the house ten minutes later because I had forgotten something. I heard her talking on the phone about her affair with this guy—she was in another part of the house and did not hear me. She denied it and told me she had not said that.
A few months after this, I was at the office, and a process server showed up and served me with divorce papers. Six months later, I was divorced. 
A few weeks after the divorce, she called me on the phone and told me to take her back. She told me she had no idea what she was going to do, could not live without me, and life was not worth living without me. I called one of her family members about this and told them I was worried, and she told me she had spent the weekend with the first guy she had an affair with during law school—it had not worked out, and she was unhappy. At that point, I had moved on and found someone else and told her I was no longer interested in her. I should have said something like that to her seven years prior when the whole thing started.
I realize all of this sounds insane. It was insane. Honestly, all the therapy in the world probably could not have fixed my ex-wife or me at the time. In this relationship, in others that would follow, in my career, and in my life, there were all sorts of mistakes made that provide compelling lessons for your career.
Relationships offer several insights into ourselves and how we are likely also to handle our careers. Few things are as powerful, formative, and essential to our long-term development as our relationships and careers. Understanding the mistakes you are likely to make in both can be extremely helpful for your long-term happiness and success.
If you think what I did—and she did—is crazy, you may one day look back on your career and realize that you too have made all sorts of errors in the following areas. Some areas are most likely to create issues in both relationships and your legal career.
See also:
You Get Secure, Stop Improving, and Take the Employer or Other Person for Granted
By the time my first wife and I got married, we were both at our worst. We both had gained a lot of weight before the marriage and were not taking great care of ourselves. The romance was waning, and we were not trying that hard to get the other party to like each other. 
The relationship was already doomed. 
As the marriage progressed, we took each other more and more for granted. I stopped taking my wife out as much, stopped doing things like putting the dishes away all the time, and she also stopped doing things for me—everything went downhill. Pretty soon, she even stopped letting me know when she would be coming home at night, and I stopped caring. We made the mistake of not trying as hard as we had with each other in the past.
In many employment situations, I have seen people start taking their jobs for granted. They do not do all their assignments, stop turning in reports, come to work later and later, and do other things as well. When an employer sees you are taking them for granted, they get resentful and see this. They want to have people around that do not take them for granted and appreciate them and the work. They want people who will work hard and add as much value as possible. They want people motivated to improve and get better and better at their jobs.
If you want to do well in your relationships, you should never take people for granted and always need to take action to improve your relationship. You should do whatever you can to make your relationship stronger and to create a better bond. Do not assume you can treat the other person poorly, or not pay attention to them, without consequences. Everyone needs to feel valued and important. You cannot take any job or person for granted.
I am sure my wife enjoyed having other people notice her and make her feel attractive and valued when I did not. The more I took her for granted—and she took me for granted—the more we grew apart. You cannot take anyone for granted for an extended period and expect to have a fulfilling relationship.
Almost every bad relationship I have ever been in has ended or run into trouble because one of us took the other for granted. We did not spend time together. We assumed the other would tolerate our lack of attention. We did not make the relationship stronger. The truth is everyone is valuable and has redeeming characteristics that make them attractive and useful. No one needs to be taken for granted.
There are people out there who will not take you for granted. You are someone's dream mate and vice versa.
The same thing goes for legal jobs. Some people dream of having the sort of legal career you have, or had in the past, and would like nothing more than to have what you would have. They would not take the job for granted and be excited about it and give it everything. Most employers know that they can find people who want to work there, and it often takes getting rid of existing people or allowing for attrition to see these sorts of people. The best employers only keep people around who do not take them for granted. The most secure people who value themselves the most also only keep significant others around who do not take them for granted.
It is also a two-way street in the legal employment arena: Many employers feel that because they are paying you a lot of money that they can pile work on you, treat you poorly, and then let you go whenever they want after all of your sacrifice. If someone treats you poorly for a long enough time and you realize there is no quid pro quo, you will resent this and abandon the employment relationship.
The fact is that you never can get secure in your position. When you feel secure and start taking your employer for granted, then you run into problems. Law firms expect attorneys, as they get more senior, to bill lots of hours and develop business. Law firms expect you to improve your legal skills, search out work, and do your best. The best attorneys are continually questioning how to do better and what they can do to improve. They are aware of their weaknesses and work at them and also reinforce their strengths. Most of the most successful attorneys out there are constantly questioning their shortcomings and working on them.
Until a few years ago, until she retired, a recruiter worked for our company who had been at her previous job for twenty years and worked for our company for eighteen years. I spoke with her every six months, and she would always demand that I critique her work more harshly, find more things wrong, and go about improving these things. Her desire to improve made her immensely successful in the long run, and she never took her job—or performance—for granted until the day she retired.
You can never take your job for granted. You can never take access to work for granted. You can never take clients for granted.
See also:
You Did Not Commit to an Employer or a Person
People who have a history of bad relationships are usually guilty of not being able to commit. People who have troubled legal careers may have issues committing. In both instances, some people never commit.
There is no reason to commit or stay committed to an employer where you will be undervalued, held back, and unhappy. There is also no reason to do the same with a person. However, to make an employment or romantic relationship work in the long term, you need to commit.
Many attorneys never commit to an employer, a practice area, or a practice setting. They are distracted by countless "bright shiny objects" in their environment that look better. A different firm would be better, a different practice setting, a different city—it is all there for the taking if the person would only move firms or do something different. Until you have committed, you never know what you are capable of.
This failure to commit creates so many problems. If you do not know what you want, you will never get it.
The truth is my wife and I were generally happy when we were together. We had a lot of fun doing things together, shared our thoughts, and were supportive of one another. She wanted to be a good girlfriend and, later, wife. We had a good relationship when we were together. She could not do it because something was guiding her that she thought was more important than her happiness with me.
She had grown up not poor but not wealthy either. She was continually sidetracked by men who had a lot of money and could provide her the sort of social introductions, status, and money that I could not. She came to believe this was important because of things that happened to her early in her life. It was not something I could control, and it overwhelmed all other sensibilities that may have been guiding her. 
Because she could not commit, I was never fully happy with her. I knew that something else was motivating her, and I was angry about this. She also felt as if she had something else guiding her, and this made her reserved and hold back in her relationship with me. Because she was not committed and I could not trust her, I knew this and took all sorts of actions to protect myself financially and otherwise that I might not otherwise have taken.
There are concrete reasons for not committing to an employer, of course. It could be a contract job; you could be unhappy, treated poorly, not like the work, and capable of doing something much better. However, very few people commit to their legal employers, practice setting, or even practice area. Consequently, very few of them have employment security or get to where they want to go professionally. 
Think of the pain that comes from not committing. I wasted almost a decade of my life with someone who could not commit. I spent emotional energy, dealt with continuous disappointment, never felt stable, and so did my wife.
Employers deal with this all the time. They never feel secure because they do not know who they can trust. They continuously need to be looking for new people. They get people involved and up to speed with work who then leave, costing the firm and clients money. People who do the work and are unhappy in their jobs do not give it their all—and this hurts the employer, too. 
A lot more comes through commitment than the opposite. Very few people commit to anything. Commitment extremely important to employers, so they make hiring decisions based on it. Commitment is arguably the most essential thing you need to show when you are applying to a new position.
See also:
Your Experience on Your Resume Shows Your Commitment
The best way to describe someone trying to do a bunch of practice areas at the same time would be to try to date multiple people at the same time. They never develop a solid foundation with anyone—how could they—because there are dabbling with multiple people at the same time. Dabbling does not work in relationships, and it does not work in the practice of law either. 
Resumes of attorneys who look like they are doing and trying to do a lot of things do not get the attention of most employers. In contrast, resumes of focused attorneys—regardless of the practice area—do get jobs. 
I place attorneys in lemon law (not a bad practice area—many make over $200,000 a year), insurance defense, project finance, corporate, personal injury, and everything in between. However, in almost every case, the people I place have very focused backgrounds—they do just insurance defense (preferably focused on one thing), or lemon law, or project finance. If you focus on one thing, you will generally be marketable.
If you have a focused resume, it does not matter where you went to law school, or how you did there—you are employable. In contrast, many attorneys from the best law schools who did the best there have resumes trying to show expertise in a wide variety of things—it is challenging for these sorts of attorneys to get jobs. 
When I review the backgrounds of the candidates I and my firm place, in almost all instances these backgrounds show a commitment to a single practice area. People benefit when they look like they do one thing. Because their experience is so focused, employers look at their backgrounds and are confident the attorney is doing what they want to do and committed to that sort of work. 
Most attorneys, however, think the more experience they get, the better. They believe it is good to have litigation and corporate experience. They think that if they have done patent work, they should also include this on their tax resume. They believe that listing everything they have ever done makes them more valuable.
Most employers—not all, but most—want to see someone who is committed to one thing. If your resume communicates consistent commitment, you look like an expert and someone who knows what they want. Employers do not want people who do not know what they want. Would you? 
You simply cannot be all things to all people. 
See also:
Your Practice Setting Shows Whether You are Committed or Not
Once an attorney leaves a law firm and goes in-house, law firms do not like hiring them again. Law firms know they are not committed to this practice setting and will likely leave in the future. If you do not commit to a practice setting, employers will not take a chance on you in the future.
If you want to work for the government, work for the government.

If you want to work in a law firm, work for a law firm. 

If you want to work in the public interest, do that.

If you want to work as a law professor, do that.
When attorneys do not commit to a given practice setting, people in other practice settings are not impressed. They know the attorney is unlikely to commit to a new practice setting and are most often unwilling to take a chance on them—would you? There are committed people, and there is not a lot of incentive to hire you if you do not look committed.
It is widespread for graduates of Yale Law School to do a wide variety of work in different practice settings and believe that their degree will open doors in a law firm after a decade or more of not working in law firms. It does not work that way—lack of commitment is toxic.
Any reasonable person who had been in my situation would have realized my wife's lack of commitment was toxic. Any man who seriously contemplated being with her in the future should have realized she was toxic and unlikely to commit. Employers think like this. If they see you are not committed and have not committed in the past, they will not be interested in you.
Many attorneys start their careers in law firms and then have a dream of going in-house—often as soon as possible. There are so many problems with this. If you want to be somewhere else, you will never give it your all and are always looking for another opportunity. You will not impress the people who could help you and will not do as well as your peers. If you leave the law firm early without sufficient training and a legal pedigree, you will never do as well in a company as you otherwise would.
The best jobs in legal departments in-house typically go to people who have demonstrated commitment and expertise by becoming partners in law firms. They get the best opportunities within companies because companies become familiar with their legal talent and reputation while they are practicing law. If you commit to your practice setting while you are there, you will do far better than if you do not.
See also:
Your Ability to Stay with a Single Employer Shows Whether You are Committed or Not
Something rare to see, that employers very much want to see, is people who can stay with a single employer for an extended period. Your staying ability says something about your character, ability to do good work, make situations work, and not quit or give up at the first sign of resistance.
My wife could not commit and stay with a single person. I am not saying I am perfect. There were indeed lots of things I could have done better in my marriage. After we were divorced, in the span of a few years, she had been in at least seven or eight "serious" relationships after leaving me. 
If anyone reasonable were to look at her background and dating history, they would conclude that something was off, and she was unlikely to commit to them too—regardless of who the legal employer was.
When I review resumes, I see people who have consistently switched positions every year or two for a decade or more. Would you want to be employer number eight at year ten? I certainly would not.
Some people make situations work, and some do not. Whenever I hired someone who was a decade or more at their previous employer, they have almost stayed the same length of time with me. If I hired someone who was a year or two with their last few employers, the same thing happens with me as well. 
The best predictor of your future success with an employer is how long you stayed at the previous one and the one before that. 
The problem with frequent job movement is it suggests you will not commit to your new employer either. It suggests there may be problems with your work product or even issues with your self-esteem.
I was speaking with a woman the other day who had at least seven jobs in ten years. When I asked her about this, she bragged that she had been "headhunted away" from each position, and this was the reason for all of her moves. I did not understand this. It was almost as if she was proud of the fact that someone else wanted her.
There is an excitement in taking a new job, interviewing, having your worth affirmed when hired, and going somewhere and having a fresh slate. You should not be doing this very often, though. If it looks like you will not commit, no one is reasonably going to hire you, because you will leave again.
The problem with leaving positions is that there is a period leading to this when people are looking for jobs, not fully applying themselves, and not serving the employer well. If you are leaving positions every year or two, this means that your service to each employer is never really 100%, and you have spent a substantial amount of time at each employer thinking about leaving—not suitable for anyone.
Something I have noticed throughout my career is that attorneys who work in smaller markets do not move firms very often. They start with a firm upon graduation from law school, or not that soon afterward, and spend the remainder of their career there in most cases. When there are not a lot of options in your environment and settling down seems like a good thing, many people do this. It may also be a case of not having that same ambitions as people who put themselves in the most competitive environments—I do not know—but people who are in smaller markets are more likely to commit to an employer.
It is also like this with many marriages and relationships. While my evidence is also anecdotal, I have noticed that people I know who live in smaller towns and smaller markets are more likely to stay married and stay together than those who do not.
See also:
You Make the Sunk Cost Argument as a Reason for Being Unhappy and Staying Unhappy
One of the reasons I stayed with my bad relationship and then marriage for so long was because I believed that we had a long history together, and I needed to honor this. We had many good times and shared many memories. These shared experiences were a bond and a reason for staying together. Why give up on someone who knows so much about you and with whom you share so much?
In the employment realm, there is something called political capital. The longer you have worked somewhere, the more people you have helped, the more positive relationships you have, the worse off you would be leaving that employer. There is a lot of truth to this. 
However, the fact that you have a history is not always a reason to remain with an employer or person. 
It is common for attorneys to contact me who have been at the same firm for decades and want to leave. It is not uncommon in some markets for attorneys to be fifteen years out of law school and still associates. When these attorneys want to move, there is a risk to this. The law firm they are at has shown they will not get rid of them and are willing to keep them around. The attorney has people in the firm who are protecting them. While the attorney has hit a bit of glass ceiling, they also have "political capital" that they might lose if they leave and go to a new firm. This "sunk cost" will not exist at a new employer, and there is a lot of risk to this.
In many instances, when attorneys go to a new firm after a decade or more at a new one and lose this political capital, it is more difficult for them to keep their jobs at new employers—and they often leave a short time later. However, this is not always the case and happens less often than not.
Many attorneys do not leave lousy employment situations because they have inertia and believe they cannot. They think the relationships they have built up, the political power, and their experience make leaving a lousy idea. In reality, moving is a good idea if you are unhappy and do not feel like you are valued. 
There is no reason for you to stay in a job you do not like or a practice setting you do not like if you are unhappy and this is unlikely to improve. A bad job can hold you back if it is not improving. The wrong mate can hold you back and make you unhappy if you are not progressing. We can easily stay in abusive and unsatisfactory relationships that never improve.
One problem with bad relationships is that our partner will remember the bad with us, the mistakes we have made, and the things that are wrong with us. They will see us in a bad light, and we know they see us that way. It is the same thing with lousy employment situations: Our employer may see the good in us but also a lot of bad. If someone does not think positively of us, and this is affecting our happiness, and this view they have of us is unlikely to change, it likely makes sense for us to leave the situation. A history like that does not make sticking with something the right decision.
One of the problems with my bad marriage was that I always had resentment for the bad things that had happened between us in the past. I could never fully trust my wife.
See also:
You Do Not Realize Your Worth or Marketability and Stay in Bad Situations Due to This
Many attorneys do not realize their worth or their marketability. They may have had a difficult time finding a position at a certain point in the past and believe it is always going to be this way. A job search can differ during different types of economies and points in your career. 
Almost every attorney I speak with is marketable somewhere and to someone. However, you may believe you are not marketable at some point in your career and think you need to settle for a specific job, geographic market, or being treated a certain way.
My ex-wife and I were both marketable and, once apart, had no problems meeting new people. Whatever the reasons we were involved with one another, there was no reason we should have stayed together as long as we did once we realized the relationship was not working. However, I think a part of me stayed with her as long as I did not because I did not know my marketability. I believed I deserved the treatment I was receiving.
I see people in bad relationships all the time and who stay in bad situations because they do not believe they can do any better. If an employer or a person is treating you badly, you can probably do better. You may not realize your marketability, or what makes you unique and in-demand. You have skills and other attributes that make you unique.
Many people in bad employment situations or relationships are led to believe by their employers or significant others that something is wrong with them, and they are lucky to have the other party. They may be criticized, marginalized, put down, or treated poorly and believe they cannot do any better. A long-term pattern of this sort of treatment makes us question our self-worth and desirability to others. We believe we are where we should be and cannot do any better.
While it is not always true, most attorneys can get better jobs if they are in a bad situation. You may not be marketable in your immediate geographic area, but the odds are always good that you can find a job if you consider enough employers in enough geographic regions. You just need to be ready for rejection and prepared to deal with this—which should not be a problem.
When I was much younger, I was in Turkey and made friends with a Greek cook who never had problems meeting women. One afternoon my girlfriend and I were spending time with him and he told us he also wanted to have a date that night. In the space of an hour, he walked up to at least four or five tourists on the street in front of a café we were sitting and spoke with them, chatted them up and asked each one out. Most said no, but one nice girl said yes, and he ended up in a relationship with her. I realized people who are not afraid to get rejected could meet more people and be happy. He always knew that whatever his situation, he could meet new people. I was impressed with this.
See also:
You Stay Put When Something Does Not Work for You
Many people live their work lives and personal lives controlled by others. They get into situations where they feel comfortable, allowing others to control how they think and what is acceptable emotionally and financially. 
Many of us are eager to give our power to others. We want to trust others to look out for us and take care of us. In some cases, this may come from a need for parenting and love we did not get when younger, or it may be because we do not want to control our lives and careers. We do not wish to assume responsibility for the condition of our lives and jobs because it is easier to give that responsibility to others. However, it is never easy to give others responsibility for what is happening to you. When you give others responsibility, you get far less than you would otherwise. 
In my case, I spent years being depressed and feeling bad. I was in such a negative situation. The best thing I possibly could have done would have been to end the relationship early and move on. Instead, I was always ready to complain to others and feel bad for myself. For whatever reason, I wanted it to work out and believe that she would have my back and be there for me—while the opposite was true. 
People also do this with their careers. I have seen people spend years complaining about their jobs, the people they work with, and what happens to them without fixing any of it. They may want to believe things will get better, and their employer will look out for their best interest—if only the person would commit and give it their all. Despite this, it may never work.
If something does not work for you, you can quickly and decisively take back your power and fix it. You can either set limits for what you expect for the person you are dealing with or simply leave. You can do the same thing with an employer; if you find yourself in a position where you are unhappy and not treated well, you can take back your power.
The truth is that you are always in control. You will most often take better care of yourself than others ever will. You need to look out for yourself. Most employers and people you are dealing with will prioritize their self-interest over your own.
Taking back your power also means that you accept responsibility for the condition of your employment and personal relationships. If you are not getting good results in your relationships, you may be doing something wrong that you can fix. If you are not getting good results in your job, there may be something off in terms of how you are doing your job. You may not be improving or doing your work as well as you could. If this is the case, you may be unhappy because your performance is not up to par.
See also:
Conclusions
I know of many people who spend decades in a series of unhappy legal careers and believe that after each successive move, something will change for the better. The reason things do not change is that every legal job is, essentially, quite similar. It is like this with relationships too: After a honeymoon period, many relationships are mostly the same and take work on both sides. Sometimes they work out and other times they do not.
The reasons we leave jobs, stay in situations that do not work for us, and make mistakes in our careers often have analogies to the way we approach our romantic lives. We are governed by many conscious and unconscious assumptions that often determine our environment and how we process the people we find ourselves with. Understanding yourself and your motivations will usually explain why your career and romantic lives are going the way they are and your success—or lack thereof.
About Harrison Barnes
Harrison Barnes is the founder of BCG Attorney Search and a successful legal recruiter. His most recent contribution to the legal community is Outplacement Attorney Resources (
OAR.com
), which directly teaches attorneys and law students the best ways to find legal jobs. Harrison is extremely committed to and passionate about the profession of legal placement.
His firm BCG Attorney Search has placed thousands of attorneys
. BCG Attorney Search works with attorneys to dramatically improve their careers by leaving no stone unturned in job searches and bringing out the very best in them.
Harrison has placed the leaders of the nation's top law firms
, and countless associates who have gone on to lead the nation's top law firms. There are very few firms Harrison has not made placements with.
Harrison's writings about attorney careers and placements attract millions of reads each year.
He coaches and consults with law firms about how to dramatically improve their recruiting and retention efforts. His company LawCrossing has been ranked on the Inc. 500 twice. For more information, please visit
Harrison Barnes' bio
.
About BCG Attorney Search
BCG Attorney Search matches attorneys and law firms with unparalleled expertise and drive, while achieving results. Known globally for its success in locating and placing attorneys in law firms of all sizes, BCG Attorney Search has placed thousands of attorneys in law firms in thousands of different law firms around the country. Unlike other legal placement firms, BCG Attorney Search brings massive resources of over 150 employees to its placement efforts locating positions and opportunities its competitors simply cannot. Every legal recruiter at BCG Attorney Search is a former successful attorney who attended a top law school, worked in top law firms and brought massive drive and commitment to their work. BCG Attorney Search legal recruiters take your legal career seriously and understand attorneys. For more information, please visit
www.BCGSearch.com
.