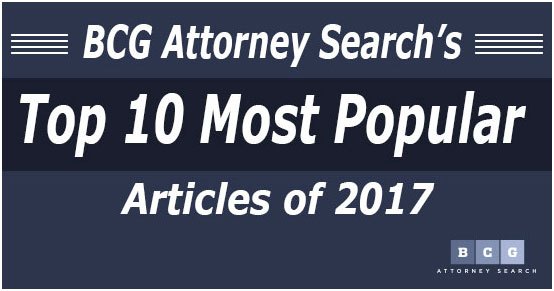 Summary:
BCG Attorney Search shares the most read articles on the site in 2017.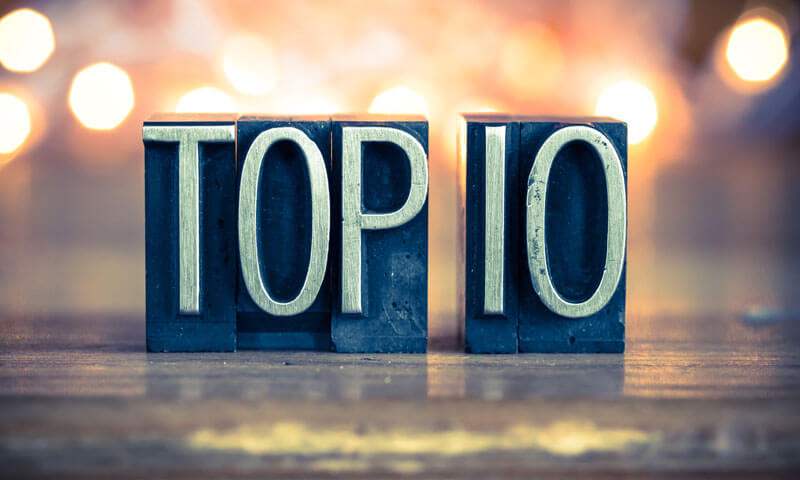 Readers of BCG Attorney Search seek informative articles about job seeking in the legal world and what to do once you have the job. That's why the following ten articles were the most read on the site in 2017.
1.
The Definitive List of Law Firm Interview Questions and Answers
To get a law firm interview, you probably already have a stellar resume. Therefore, it's up to you to be able to sell yourself once you get that meeting. But what are the questions they frequently ask and how should you answer them? This handy guide has everything that could potentially be thrown your way and what to say when the questions come.  
Do you have any advice on how to handle law firm interview questions? Share your advice below.
2.
Top 32 Reasons Attorneys Lose Their Jobs Inside of Law Firms
Any person working has the potential to lose their job—even lawyers. Harrison Barnes, the CEO of BCG Attorney Search, listed 32 of the top reasons that could cost an attorney their job, which include everything from something that is the attorney's fault (they're caught lying) to a bad market.  
What do you think is the biggest cause of attorneys losing their jobs in law firms?
3.
Why Law Firms Are Hiring More and More Staff Attorneys: Should You Work as a Staff Attorney?
Working as a staff attorney at a law firm versus being an associate has its pluses and minuses. With law firms opting to hire more of them, should you make the leap?  
Do you know any staff attorneys? How do they feel about being a staff attorney?
4.
Beware! Once You Start Working in a Law Firm, If You Leave You Will Almost Certainly Not Be Able to Return
Every overworked law firm associate has probably considered leaving at some point, but in this popular article, Barnes warns that once you leave, you'll never be welcomed back.  
Why is it so hard for attorneys to come back to a law firm after leaving the practice of law?
5.
Why You Are Unhappy Practicing Law: Soldiers and Generals in Law Firms
Attorneys are notorious for being unhappy. The work is stressful, the colleagues cutthroat, and the work-life balance nonexistent. So, what can attorneys do to find their happiness? This post provides insight into narrowing in on what makes lawyers miserable and how they can fix that.  
Are you happy practicing law? Why or why not?
6.
15 Reasons You Should Leave Your Law Firm and Look for a New Job
As mentioned above, a lot of attorneys consider leaving their law firm jobs. While it's generally advised not to quit until you've mulled over your options, you may want to exit if you've experienced any of the 15 things on this list.  
Have you ever thought about leaving your law firm? What made you decide to stay or go?
7.
15 Reasons Law Firm Attorneys Should Not Look for New Jobs
On the flip side, if an attorney wants to leave their law firm for reasons such as feeling unappreciated or having too much work, Barnes advises they should stay put. He examines legitimate reasons to quit versus scenarios that could be improved or could harm your career.  
Have you faced hard times at your law firm but decided to stick it out? Are you still glad you made that decision?
8.
How Much Does the Law School You Went to Matter When You Lateral Firms?
What law school you attended matters upon graduation when you are looking for your first job. There's no doubt about that. But once you have built experience and your own client base, how much does your law school matter? Using detailed statistics from BCG Attorney Search's job placements, the answer will surprise you.  
How much has the law school you attended affected your legal career so far?
9.
State of the Law Firm Hiring Market – Spring 2017
Each season, BCG Attorney Search releases a State of the Law Firm Hiring Market report. The report provides detailed information on what practices are booming and failing and in what locations. The report also lists hiring trends in the legal industry.  
What is the legal hiring market like in your area right now?
10.
The 18 Most Important Decisions You Make with Your Legal Career
Every choice you make in your career will affect your future. In the tenth most popular article of 2017, Barnes breaks down the 18 most important decisions you will make, from where to go to law school to what size firm you will join.  
When you face an important decision in your life or career what do you do to come up with the best answer?
See the following articles for more information:
Share Your Thoughts
 
What do you think made these the top 10 most popular articles in 2017?
How can these articles help you in your legal career going forward into 2018?
Do you have any advice for other attorneys going into 2018? We'd love to hear it.
What was your favorite article of the year? Let us know in the comments below.