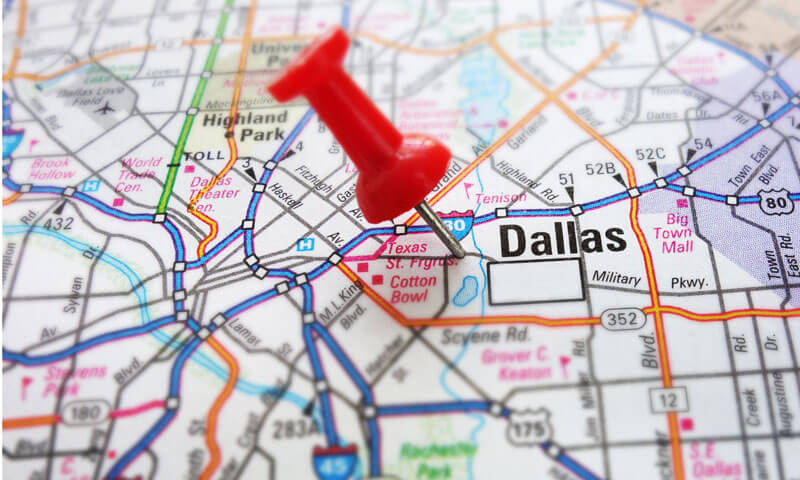 Dallas, Ft. Worth, and the surrounding cities-known as the Metroplex-constitute an economic area of about the same size as Houston. The Metroplex and Houston are, probably because of their similar size and leftover hatred from the days of the Cowboys-Oilers rivalry, eternally competitive. The bulk of the Metroplex's legal market is centered in Dallas. Houstonians say that Dallas citizens are overly showy and shallow, while Dallasites fire back that Houston is ugly and its people are coarser. We have even heard comments on both sides that the weather is better in one city or the other, though both have mild winters and stifling summers. A candidate from out of state must choose a side in order to fit in. The real differences between the cities are related to the business and legal markets.
Dallas is a city with relatively long-standing zoning restrictions. In contrast to Houston, Dallas gives the feel of being orderly and well planned. In addition, major transportation projects that are now just beginning in Houston have already been completed in Dallas. Dallas' freeways are freer, and travel time to the suburbs is more predictable. Real estate positions are more available in Dallas because land use, leasing, and transactional work related to real estate finance are important disciplines. Dallas is also more of a banking and high-tech center than Houston and, accordingly, has more white-collar characteristics. One of Houston's major population growth periods occurred in the 1970s, when numerous workers moved to the area to service the industrial facilities east of the city, the offshore drilling operations, and the ship channel activity. Dallas has become a hub for banking and finance and a major center for semiconductor research. In general, people say that Dallas is more restrictive than Houston regarding breaking in without connections to the cities' important personalities. Compared to the cities of the Old South and Northeast, however, both Dallas and Houston are relatively open to newcomers. Both are friendly locales with plenty of space.
Dallas is home to many
diverse law firms
. Some Dallas firms are small litigation boutiques with such a strong emphasis on trial work that even first-year attorneys try cases. Several trial firms have chosen offices in Dallas because it provides relatively short flights with convenient connections to any point in the United States. These firms are involved in interesting litigation, and this is a great opportunity for people seeking a lifestyle that involves active, high-level litigation matters and travel. There are many fine firms in Dallas that rank among the state's top 10. In fact, the list of the top-10 firms in Texas can be roughly split between Dallas and Houston firms.
Candidates considering a move to Dallas will find that there is a demand for well-credentialed litigation attorneys with a few years of experience at a good firm. There are also available positions with firms who want to see true courtroom and deposition experience at a level beyond that reached by most associates at larger firms. Candidates from smaller firms who have this kind of experience, along with reasonably good academic backgrounds, could also easily
find positions in Dallas
.