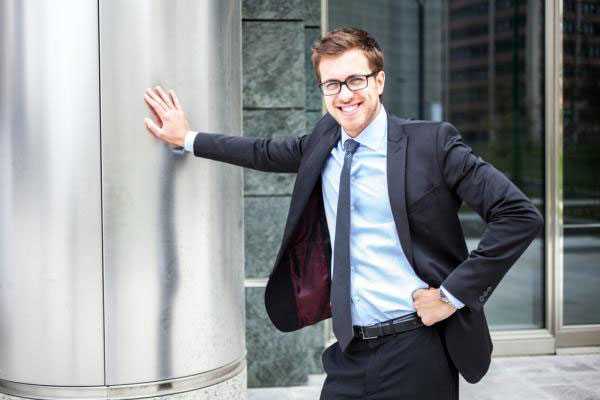 First, what's the secret to being a happy lawyer?
Like what you do and the people that you do it with
. Having just returned to my desk from an earthquake evacuation (!) I am reminded for the thousandth time that life is far too precious and unpredictable to spend it in the company of miserable jerks or on tasks that you find meaningless and/or unrewarding.  
Second, based on my time spent in the company of happy lawyers, and occasionally occupying that title myself, I've developed
a list of tips
that can either transition you into being a sunnier counselor or can help maintain an already contented mien (see Section VI, below).
II. Don't Let the Statistics Scare You
Granted, as a profession, lawyers suffer from higher rates of depression and alcoholism than non-lawyers. In an article for the
Wall Street Journal
entitled "Even Lawyers Get the Blues: Opening Up about Depression," Sue Shellenbarger reported that 19% of lawyers will suffer from depression at some point in their career, compared with 6.7% of the population as a whole, and that one in five lawyers has a drinking problem (twice the national average). Clearly then, maintaining a healthy quality of life in the face of
relentless billable hours
and high expectations by clients and colleagues to solve problems, win cases, and bring in business is a challenge. So much so that 70% of lawyers want to make a career change, and each year 19% of associates do.
But despite these grim statistics, and the 438,900 hits on Google for the search "unhappy lawyers," I firmly believe that becoming an attorney does not sentence one to a lifetime of deprivation, boredom, self-hatred, and sacrifice. Although tarnished through the years by hundreds of jokes and thousands of scandals, there remains something wonderful about a profession where one is paid to think, problem solve, and persuade. It's easy to forget this when cramming to re-work an argument for a 4 p.m. filing deadline, but when you consider that the majority of the world's population still makes a daily wage by manual labor, being an attorney is a pretty terrific gig.  
III. Definition of "Happiness" and Common Traits of Happy Lawyers
When I use the phrase "happy lawyers," I don't mean lawyers that are skipping down the hallways with sunshine shooting out of their ears and bluebirds trilling on their shoulders. Instead, I'm using it as
Merriam-Webster
intends: "notably fitting, effective, or well adapted; enjoying or characterized by well-being and contentment." I would also add "satisfied."
To me, the lawyers to whom I would ascribe this definition of happy probably don't routinely dread coming in to work, have trouble sleeping, grind their teeth to sharp points at night, or make their secretaries cry, and do refrain from throwing three-hole punches at associates. Instead, they like their work, enjoy collaborating with others, have the time and inclination to mentor, maintain interests and hobbies outside of the office, and are pleasant to be around.
My happy lawyer definition aptly describes the majority of the attorneys that I've worked for over the last seven years. As a group, they shared many of the same characteristics, such as being noted leaders in their respective practice groups and having excellent reputations. They rarely complained about their lives and generally approached their tasks with enthusiasm. Not surprisingly, these lawyers all had successful practices. Here is a list of some of their common traits:
Successful,
Social,
Effective,
Creative,
Fit,
Charismatic,
Interesting,
Compassionate,
Quick to laugh,
Recognized as leaders in their fields,
Trustworthy,
Dependable, and
Committed to their careers.
Okay, clearly I've had an inordinate amount of luck in terms of the people that I've worked for and been mentored by, but I don't think that my experiences are that unusual. I spent my first four years
practicing law as an Army JAG
, and had the pleasure of working with some of the most dynamic, intelligent, hilarious, and dedicated attorneys that I've ever met. Even with deployments, budget cuts, demanding generals, and 6 a.m. formations followed by four-mile runs followed by a twelve hour work day, they were a happy, satisfied group of people.
Upon transitioning to civilian practice, I likewise encountered lawyers that I greatly respected and was impressed by and who appeared to like their jobs and their lives. Yes, I've met some cutthroat SOBs, but they have been the exception and not the rule. My point is that I know happy lawyers exist because I've worked with many of them. And it's from my proximity to those who were, and are, happy and successful that I've developed the tips in Section VI.
IV. All Law Firms and Practice Groups Were Not Created Equal
In the unhappy event that the company you keep does not exhibit the attributes listed above, take heart in the fact that law firms are as varied as the partners that lead them. If you are currently struggling in your career, it may be that your current firm, or practice group within your firm, doesn't fit your expectations or personality. It does not mean that you won't be able to find happiness as a lawyer; however, it may mean that you need to reconsider whom you're working with and what it is that you're working on.
I offer up my experiences and observations to encourage you that being happy and being a lawyer is not an either/or proposition. You can have both; it's really a question of you figuring out how you want to spend your professional time and the people with whom you want to spend it. I can't emphasize this enough. It's imperative to remain vigilant over your career and decide what you want it to be.
See Why Your Ego Is Making You Unhappy Practicing Law and with Your Life for more information.
V. Albert Camus' "Simple Harmony"
During my time practicing law and now
as a legal recruiter
, I continue to notice that the happy lawyers most often act the same way outside of the office as they do within it. For example, one of the partners I used to work with frequently had the same laid back, intelligent manner in the office conference room as he did in front of a judge, or when we went to grab a beer across the street, or when taking a client out to dinner. He consistently approached his colleagues and daily tasks with energy and focus and was fun to be around. People would often stop by his office for a quick chat. This brings to mind a favorite quotation of mine by Albert Camus: "But what is happiness except the simple harmony between a man and the life he leads?"
That is, when one's internal traits, strengths, and interests align with one's professional tasks and pursuits, then there results a recognizable efficiency and accord. In the workplace, I've found that the attorneys, like the one I describe above, who enjoy that "simple harmony" between their inner selves and their professional selves are generally happy, successful, and satisfied with their career choice.
The attorneys most likely to experience Camus' "simple harmony" are the ones who excel at what they do because they like it. Rather than looking at writing a brief as a bore, they are probably more inclined to approach the task with energy because they see it as a means to advance the arguments that they are looking forward to sharing.
Now, if you don't like writing briefs but you are a commercial litigator at a large firm, then it will be difficult to achieve that "simple harmony" between your personal and professional selves because they are at odds with one another. You are constantly being required to do something you don't like, and this affects your overall attitude towards your work and yourself. The important thing is to recognize what you like and don't like, where your strengths and weaknesses lie, and then try to match them up with your job requirements as much as possible.
That said, every job will require tasks that are neither your favorite nor play to your strong suit. Bear in mind that being a happy lawyer is as much about exploiting your strengths as it is about overcoming your weaknesses. The Elizabethans used to refer to Shakespeare's plays, riddles, mazes, and the like as "difficult pleasures." Reaching beyond your comfort zone is difficult, but when you succeed and master the task, such as writing a winning brief or closing a complex deal, the end result is a terrific rush of pleasure at your accomplishment and a job well done.
VI. Tips on How to Become a Happy Lawyer
Do What You Love, Or At Least Like!

"Success is not the key to happiness. Happiness is the key to success. If you love what you are doing, you will be successful."
-Albert Schweitzer

Find out what you like to do and get as much of that work as you can. If what you like is not available to you in your current situation, then consider other ways to get it. Given the slowdown in the economy right now, many firms have ramped up their pro bono programs, affording excellent opportunities for associates to cut their teeth on a variety of different matters.

See the following articles for more information:
 
Make Friends

"One must be fond of people and trust them if one is not to make a mess of life."
-E.M. Forster

Law firms are social structures, and a key to successfully navigating through them is to make friends. Get to know the attorneys in the other practice groups as well as the colleagues that you work with on a daily basis. Not only will this make your time at the firm more pleasant and interesting, but it's a smart way to network, be on the inside track for vital information that could affect you (such as a merger or buy-out), and will make your bid for partner much more successful.
 
Make a Change

"The truth is that our finest moments are most likely to occur when we are feeling deeply uncomfortable, unhappy, or unfulfilled. For it is only in such moments, propelled by our discomfort, that we are likely to step out of our ruts and start searching for different ways or truer answers."
-M. Scott Peck

One of the challenges lawyers face is figuring out what they like to do and where they want to be. If after a reasonable amount of time, you find that your particular practice area or firm is not a good fit, then be sure to proceed cautiously and explore all of your options before making a change. Never leave your firm until you have secured an offer at your next position.

That said, changing firms or practice areas can make an enormously positive impact on your life. I've experienced this myself and I see it in my work on a weekly basis. Before I became a recruiter, I thought that all law firms were the same. Not true. Law firms are incredibly varied; each one has its own unique personality. Keep in mind that if you are unhappy in your current position, it could be that you're not in a good match and need to make a change.

See the following articles for more information:
 
Shake Your Money Maker

"Just do it."
-Nike

Exercise is a critical component to happiness. Here's a link to the Mayo Clinic's website that succinctly lists the numerous benefits exercise has on your body and brain: www.mayoclinic.com/health/exercise/HQ01676.

And here is a link to a brief article that describes why exercise is not an option, but a mandatory requirement for your health: blog.penelopetrunk.com/2007/06/05/regular-exercise-is-no-longer-optional.
 
Give

"Money is like manure; it's not worth a thing unless it's spread around encouraging young things to grow."
-Thornton Wilder

A first-year's starting salary is $160,000. Now, while the old adage holds true that money can't buy you happiness, giving some away certainly can. Further, many charity events provide numerous opportunities to forge professional bonds; getting involved is a sure-fire way to do something good for other people and also a smart career move.
 
Count Your Blessings

"Let us rise up and be thankful, for if we didn't learn a lot today, at least we learned a little, and if we didn't learn a little, at least we didn't get sick, and if we got sick, at least we didn't die; so, let us all be thankful."
-Buddah

Exactly.