The 2022 State of the Legal Hiring Market report by BCG Attorney Search is a comprehensive guide to the current state of the legal hiring market. Despite recent challenges, the legal hiring market remains strong, with law firms continuing to invest in their workforce and many candidates remaining in high demand.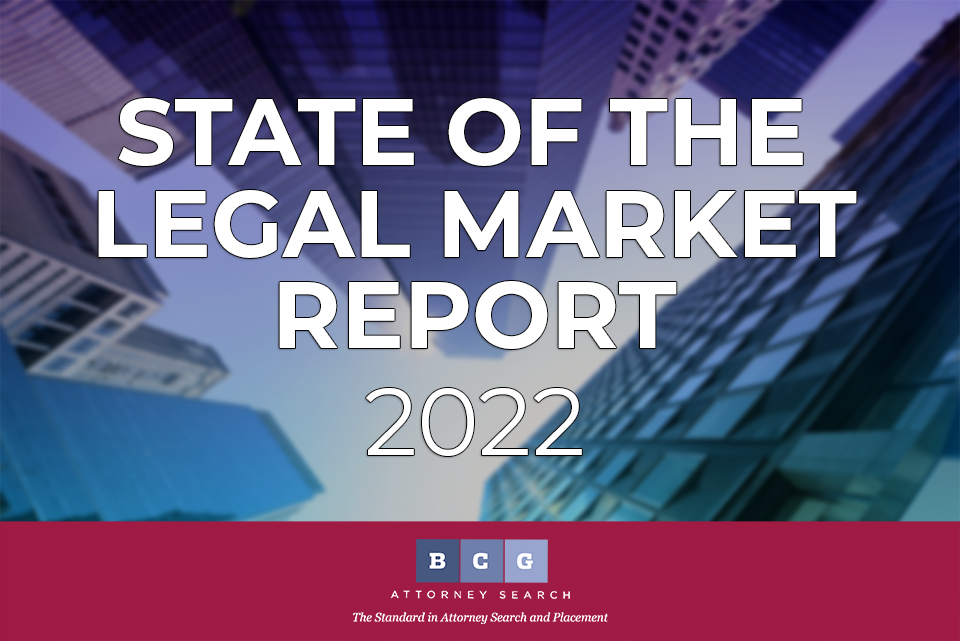 Introduction
We help find jobs at law firms every year through our work with hundreds of attorneys. BCG Attorney Search compiles extensive data
on the attorney hiring market.
We gather information on candidates' practice areas and locations getting the most traction with law firms
(through interviews and placements).
From a firm hiring perspective, we can objectively assess which practice areas and locations are in demand from extensive data provided by law firm job postings.
Besides analyzing the data, we also examine more significant market trends that influence hiring.
Ten percent of attorneys are actively seeking new job opportunities. Nearly half of all lawyers report being open to new job opportunities. With lower job satisfaction, longer workweeks, and higher burnout rates in 2021 due to COVID-19, the legal market is being shaken up. Moreover, the highest resignation rates are seen in employees between 35 and 45, after 4 million Americans quit their jobs in July 2021 after a peak in April (referred to as the Great Resignation).
With tech companies expanding and hiring at massive levels (showcasing a higher need for in-house counsel) and companies expanding in-house positions to meet a changing workforce, now is the perfect time to prepare for a possible job search. COVID-19 has changed us all - this exodus at companies should not come as a surprise. As a result of diminished self-care, a strained work-life balance, and a shifting marketplace that accepts long-term remote-work environments, lawyers are no longer afraid of making rapid career pivots.
What are some ways to prepare for this shift? Ensure that you have profiles on BCG Attorney Search and LawCrossing, and make sure your resume is always current. Those are essential for a legal job search in the digital age.
The legal market is at one of its most active hiring levels, and a resume from 1995 will not cut it in a digital-age search. You need to create a deal sheet, get in touch with your network, reach out to old mentors, increase your skills (take that data privacy certification you have always wanted to get), and be fearless in applying for opportunities that exist right now in the legal market.
You can find in-house legal work through companies like LawCrossing, which allows you to set your parameters for in-house counsel jobs. Now is the best time to make changes in your career - we all deserve professional fulfillment and happiness.
Despite National Hiring Slowdown, Legal Jobs Grew In August 2021
According to the most recent Bureau of Labor Statistics jobs report (at the time of writing), the legal profession continued its steady climb out of an April 2020 rut by adding 4,300 new jobs in August.
Compared to a disappointing national jobs report, lawyers and legal professionals got good news, which showed just 235,000 jobs added in August. Nationally, 586,000 jobs have been added each month this year. Nearly 1 million jobs were added in July alone.
The Bureau's report lowered the number of legal jobs added in July by 1,500, continuing its tendency to overstate job growth in initial reports. Since April 2020, the profession has added roughly 3,000 jobs per month.
BLS's umbrella category for professional and business services added 74,000 new jobs in August, including legal services.
In August, unemployment fell to 5.2%. The rate was 3.5% before the pandemic. At law firms, lawyers and staff have divided opinions about returning to work, with some of the latter group feeling they will not gain as much from being in the office.
Changes have taken place in the market. As a result, we are becoming better at what we do. Thanks to our hiring and interview data, we noticed a significant shift in the market that is driving an increase in the demand for different types of attorneys. There is a good chance that we will have opportunities for everyone who approaches us in the future.
This news from a legal recruiter indicates an unprecedented sea of change. There are more types of employment available than ever before. A social movement has changed the legal market itself. Our team made four placements just before Christmas. As the New Year approached, we continued to make placements. Lawyers are in high demand if you know where to look.
My career has never seen a market so receptive to legal recruiters.
2021 Hiring and Interview Statistics for BCG Attorney Search
2021 Growth or Decline by Practice Area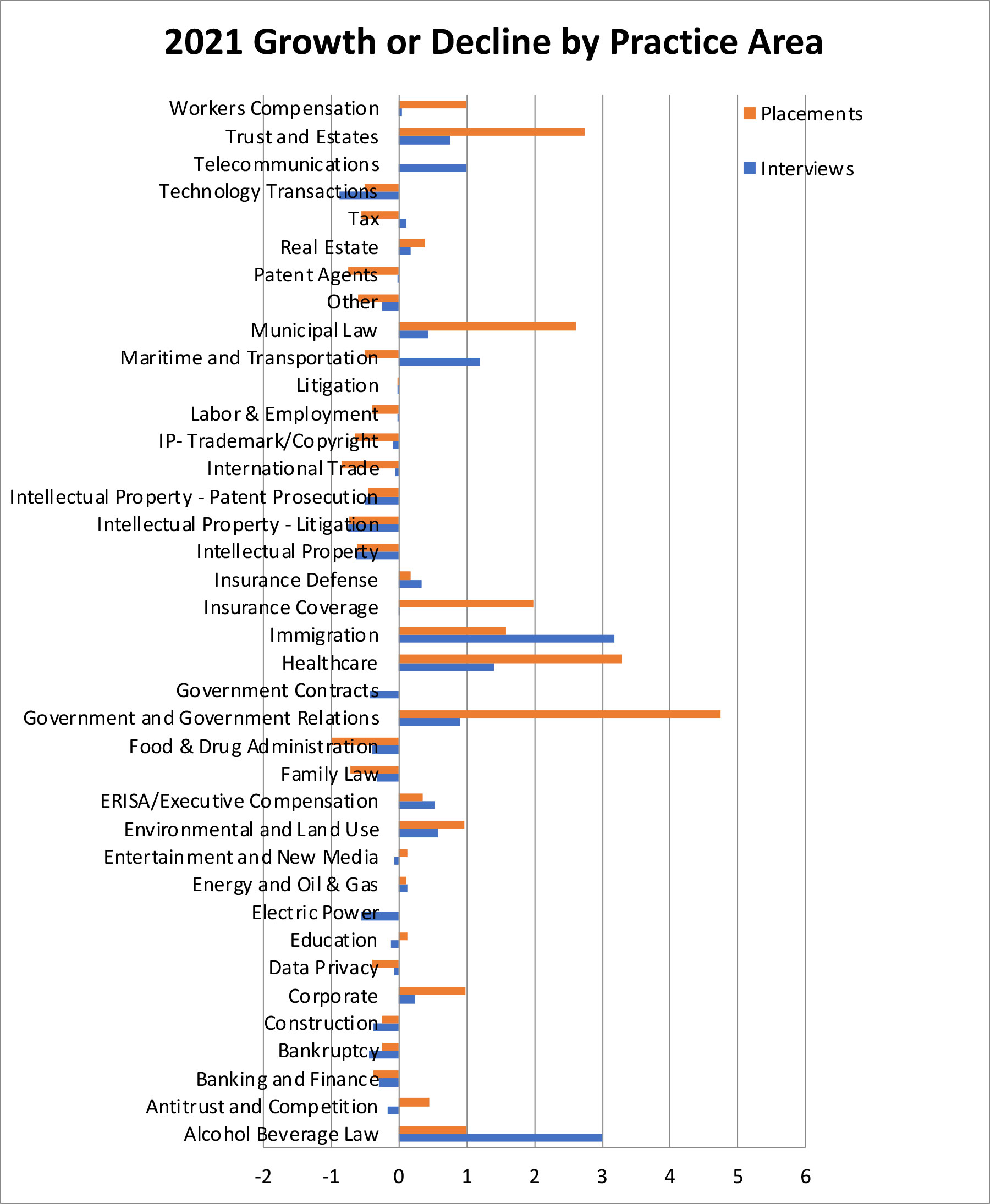 Placements 2021 Growth or Decline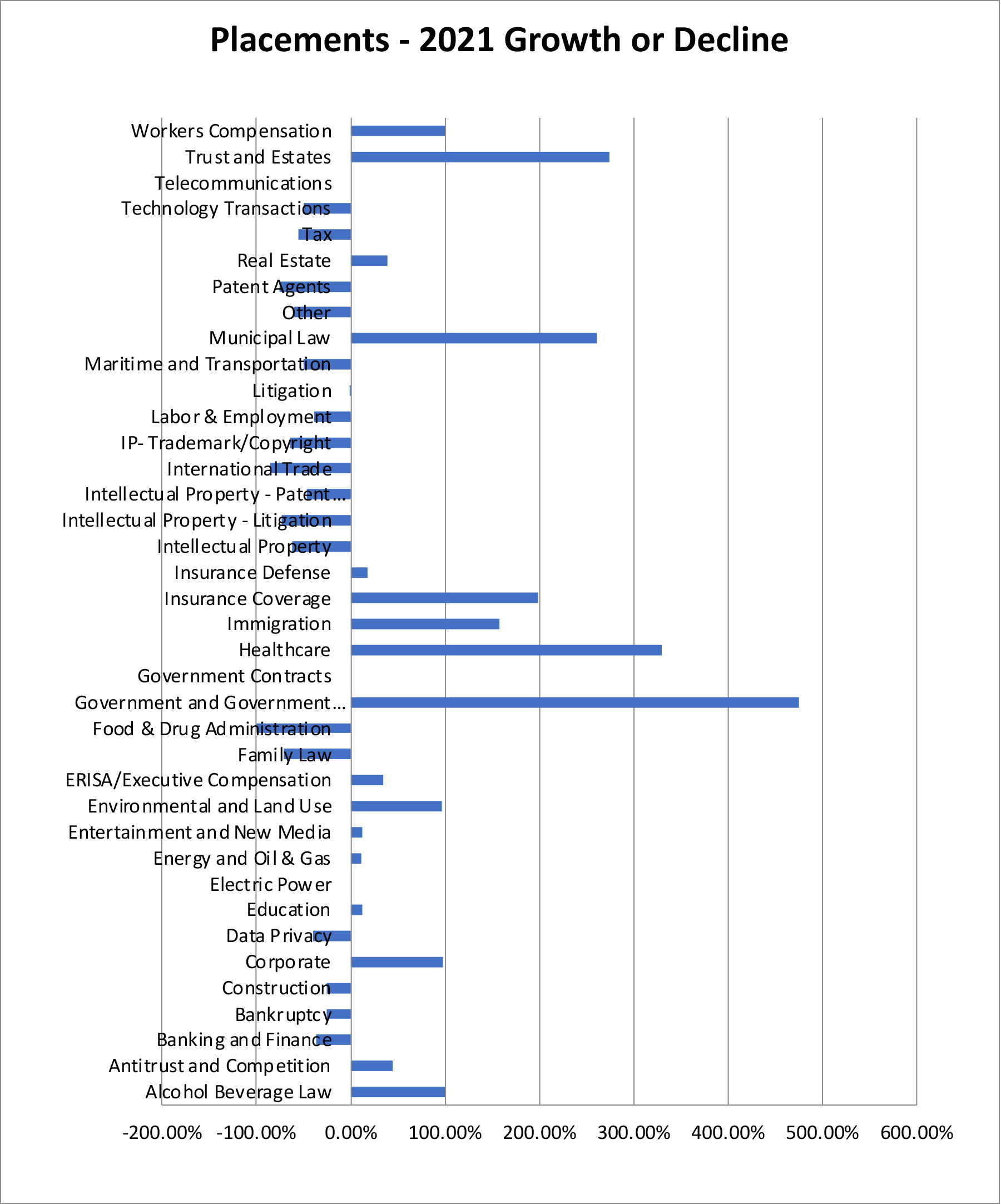 Interviews 2021 Growth or Decline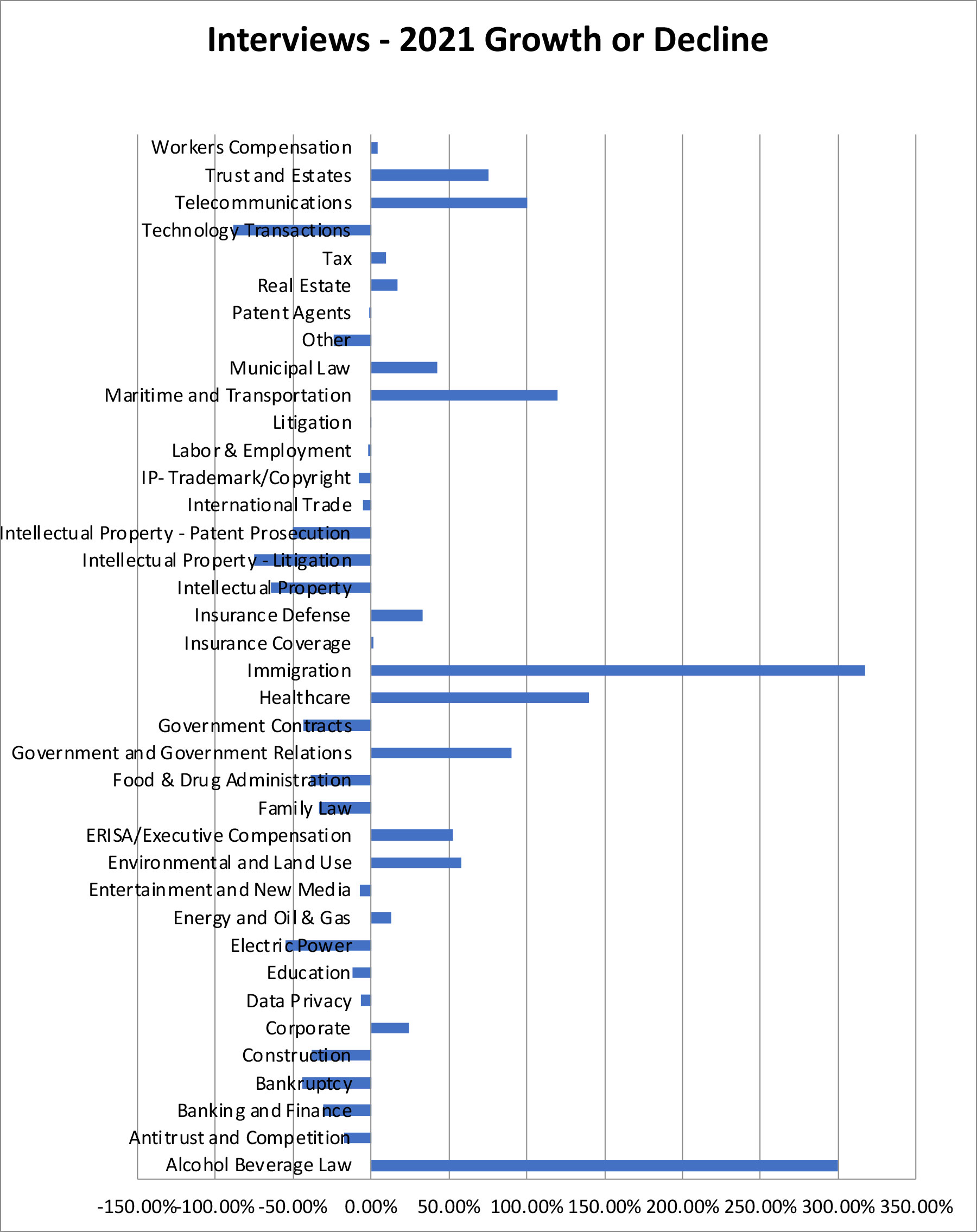 Regions Differences in Interviews and Placements Between 2021 and 2020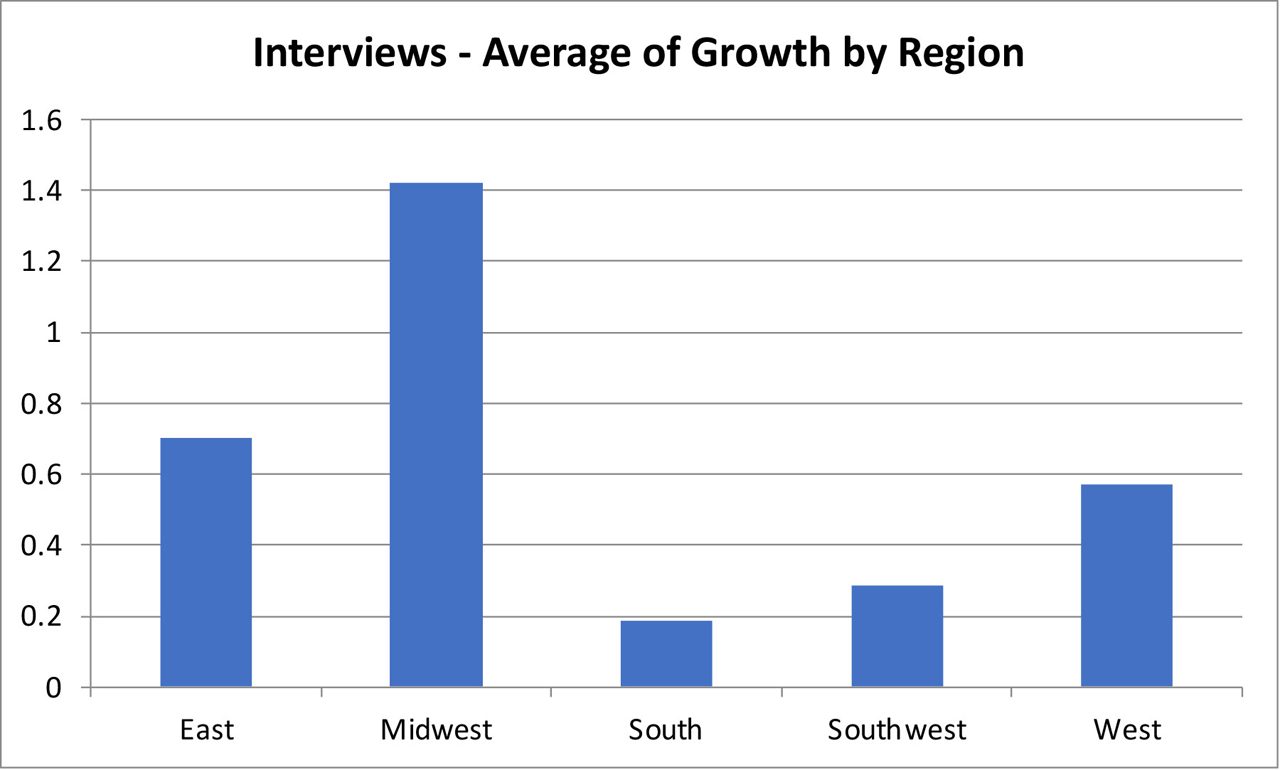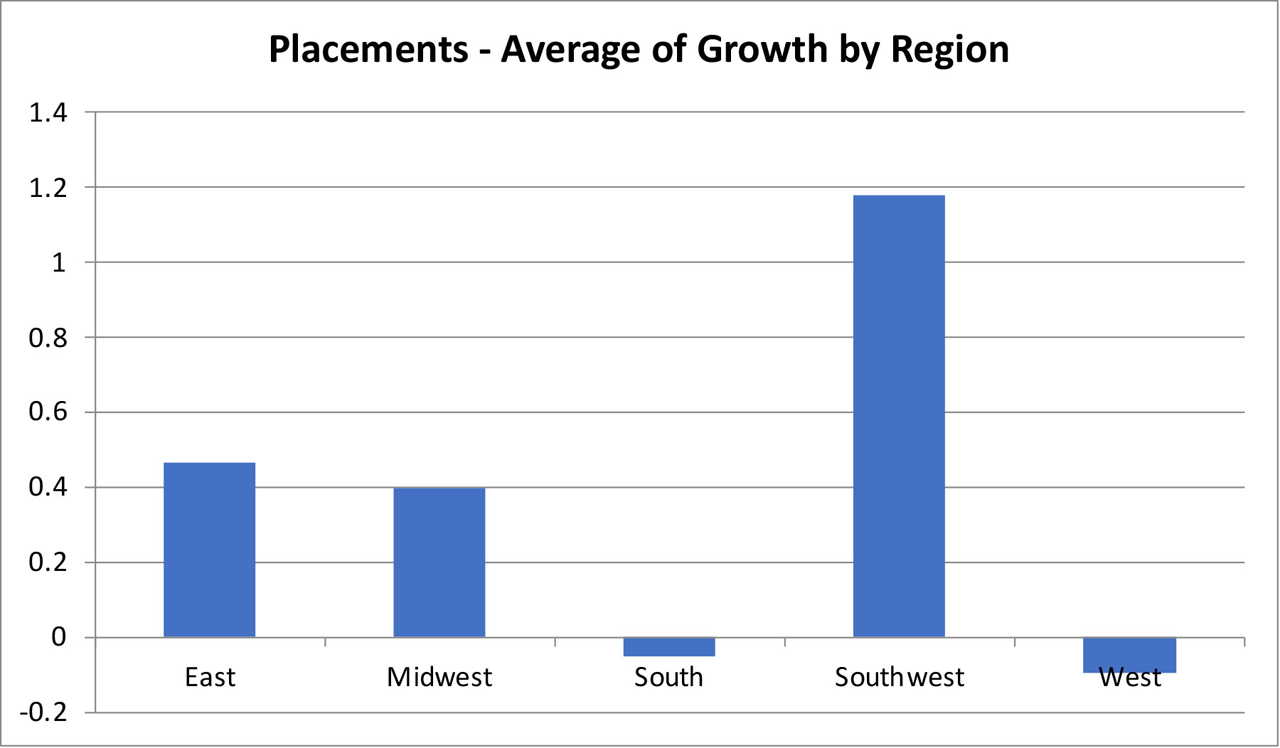 Niche Practice Areas that Grew in 2021

Data Privacy and Cybersecurity
Cyber-attacks increased as much of the working world moved online. From state bar associations to the federal government, numerous organizations and entities have developed new data security laws to better protect people's private information.
Law firms are increasingly required to provide clients with up-to-date legal counsel and support as laws surrounding client and consumer data protection evolve.
M&A
As the pandemic has wreaked havoc on markets—upending some and expanding others—it should come as no surprise that companies have been restructuring more than usual, as well as those areas of law that deal with mergers and acquisitions.
The economy is temporarily undervalued in specific sectors, and others such as pharmaceuticals and tech are still growing, so we can expect active M&A to continue in 2022. Law firms will continue to provide corporations with legal advice and documents relating to financing and contracts.
Bankruptcy
For some businesses, PPP loans helped bridge the gap, but every business' situation is different. The economy continues to be volatile, which has made running a business challenging for some. Some who the pandemic financially impacted last year have not fully recovered. In any case, bankruptcy rates remain higher than average.
In addition, PPP loans sometimes expire earlier than businesses are prepared for, so these challenges have not disappeared. Companies filing for bankruptcy will continue to need legal guidance and advice.
Taxes and Estate Planning
Tax law changes may be possible under a new administration, including lowering the estate tax exemption thresholds and eliminating step-ups in basis. While these potential changes already sparked a flurry of activity in 2021, clients looking to establish trusts to protect their wealth will likely continue to do so in 2022.
Employment
Changes to employment routines have opened the door to employment-related litigation.
Remote working has changed or even eliminated many companies' timekeeping practices. The sudden switch opened employers up to issues they were not adequately prepared for, from workers asking for reimbursement for the costs of working from home to employees feeling pressured to work outside regular business hours.
Further, many frontline workers felt they had to choose between their health and jobs. There are sure to be more lawsuits as employers attempt to balance the economic benefits of reopening or expanding in-person services with employee health precautions and local Covid guidelines.
Businesses that reopened in 2021 have faced several pitfalls, including hastily written (or non-existent) policies, vaccination requirements, discrimination, and disclosures of private health information.
2022 Outlook for the Top Five Practice Areas of 2021
Litigation Outlook in 2022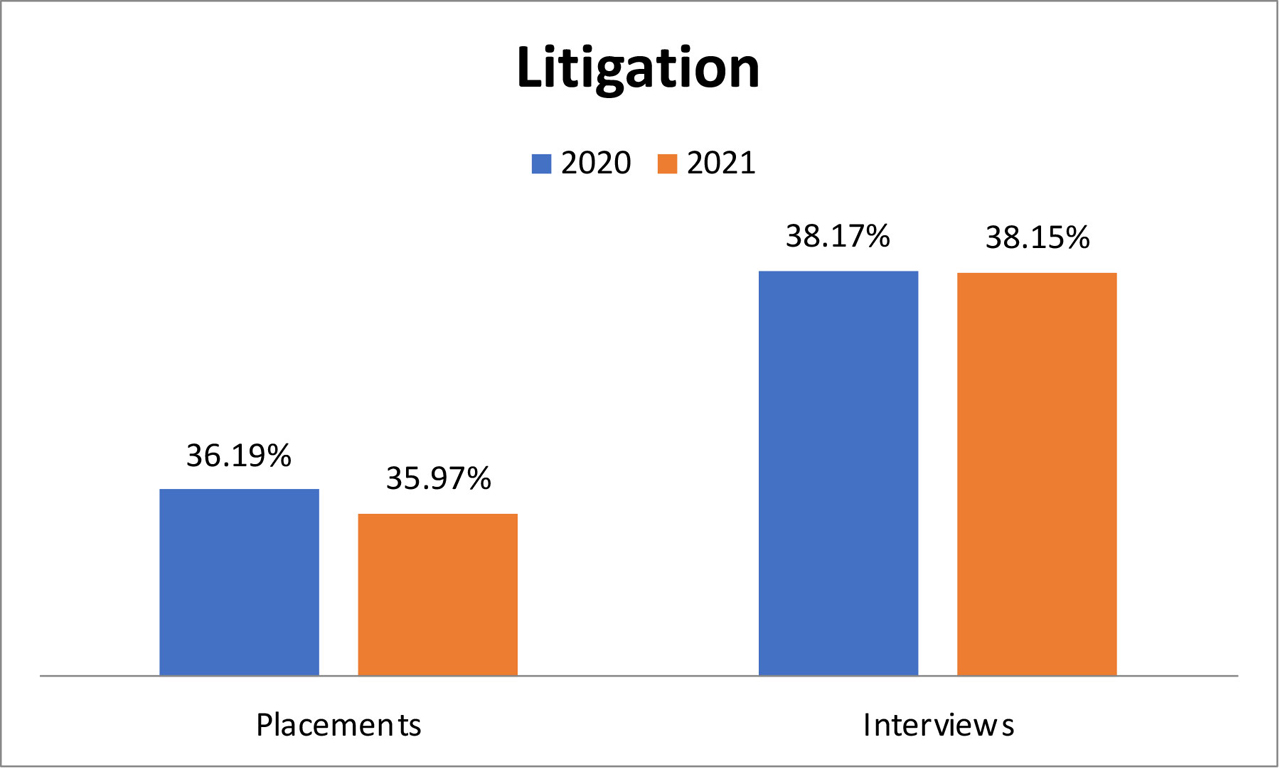 After nearly two years of a highly unusual litigation environment in our rear-view mirror, what can we expect in 2022?
Although COVID will remain an ever-present threat in 2022, its impact on litigation trends will be significantly diminished. Courts around the country have been open during COVID. Depending on the circumstances, they have adapted. Courts can now seamlessly switch from virtual to in-person hearings. The physical infrastructure is in place for jury trials, including plastic dividers and socially distant cha. Expectations have been adjusted to reflect absences of parties, attorneys, or jurors without notice due to infection, close contact, or closed schools.
Attorneys will continue to conduct less business in court than in a pre-pandemic setting.  
The Future of Virtual Litigation is Now
As the legal system adjusts to the "new normal," virtual hearings, mediations, and arbitrations will continue to become more prevalent in 2022. Virtual litigation reduces costs to parties and reduces the likelihood of infection while enabling parties to multi-task when school closings or quarantines would otherwise delay proceedings. The move to Zoom and WebEx will continue as traditionalists are forced to adapt to virtual litigation, and a younger generation grows up with virtual litigation.  
The Backlog is Still a Work in Progress
It takes significantly longer to get a case to trial due to a systemwide litigation pause in 2020 and at least 18 months of reduced volume. The court system is being forced to deal with criminal cases first, limiting the amount of space and staff available for civil cases. Increased arbitration, bench trials, and more settlements will reduce the backlog as businesses realize these problems are unlikely to resolve soon.  
Politics are… Politics
Eviction moratoriums, stimulus checks, extended unemployment benefits, labor and supply shortages, vaccines, masks: all these unique and unusual factors affect virtually every aspect of business, creating a crucible for litigation in nearly all areas.  
With the resumption of residential evictions, the people and their money will be on the move. As a result of the eviction moratorium, for both landlords and tenants, the rental housing market will be subject to increased friction that will result in more litigation in the residential and commercial real estate markets.
In addition to labor shortages and rising wages, the end of extended unemployment benefits and the waning effect of stimulus checks will hurt the labor market, contributing to an active employment litigation sector.
With no state or federal consensus, the regulation and enforcement of masks and vaccination are a jumble of federal, state, and local government action with additional measures from the private sector. 
Lawyers will be able to help businesses with these issues. Entrepreneurial lawyers have already addressed this changing environment by drafting clauses and filing lawsuits, while legislatures are lagging far behind, so there will be many new and murky issues for overburdened courts to resolve.
In litigation, 2022 promises to be anything but business as usual.
Corporate Outlook in 2022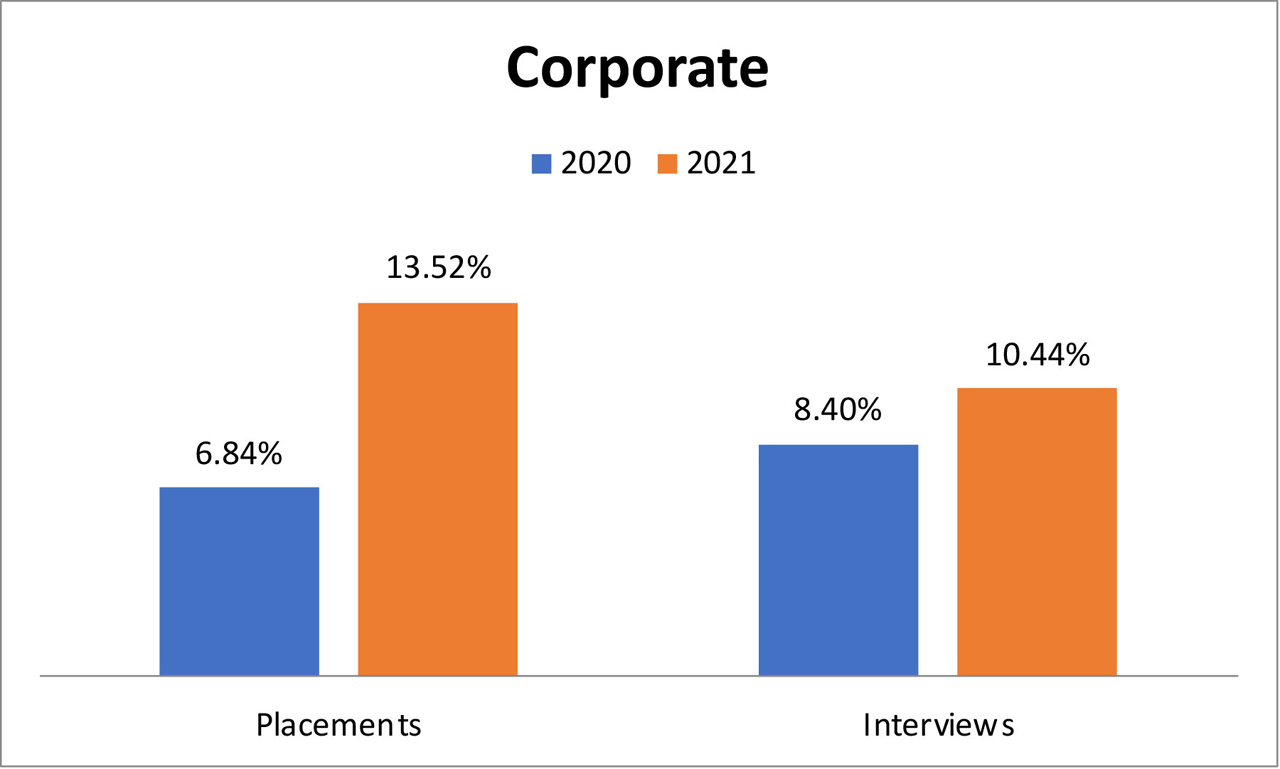 Despite how dismal the legal market may have looked in the early days of the pandemic, the industry has shown remarkable resilience. The third quarter of 2021 saw legal demand reach record levels year over year, allowing firms to raise their rates, and productivity reached its highest level in three years. Although these growth rates are mainly due to the low baselines 2020 created, demand is up solidly against pre-pandemic 2019, while productivity is down less than 1%. The third quarter of 2021 was nonetheless reminiscent of previous high times for the legal industry - not bad for an industry that is just 18 months removed from its depths.
Throughout 2021, corporate clients increasingly sought external expertise to help them navigate these choppy waters, so the average amount corporate law departments spent on outside counsel in 2021 is now higher than it has ever been - in fact, it is 35% higher than in 2016.
Current market optimism about legal spending is at its highest point in a decade. Four out of ten corporate clients anticipate an increase in legal expenditures in the next year; only half as many (20%) expect a decrease. This represents the highest expectation of a boost and the lowest expectation of a reduction in the last ten years.
How does that affect law firms? Most - but not all - law firms experienced growth this year, with corporate work, especially M&A work, leading the way. Corporate work has seen a healthy 11% increase in demand year to date among the largest law firms, even compared to the last "normal" year, 2019.
Many legal market prognosticators say that helping corporate clients manage regulatory uncertainty will be a crucial growth area as more local and national governments around the world begin to adjust their regulatory requirements to better deal with the lingering problems of the pandemic and some of the compliance issues — such as those involving government fraud and illicit financial schemes — that became all too common during the pandemic. It is also expected that environmental, social, and corporate governance regulations will increase. Regulatory issues are predicted to rise as indicated by legal spending forecasts from corporate clients, with the regulatory practice area expected to be the most substantial growth area in 2022.  
What Clients Want
During the transition from the worst of the crisis to what could be a new normal in 2022, corporate clients will look to their outside law firms to provide innovative and collaborative solutions to their strategic priorities - and help them anticipate challenges and reduce their overall risk. Although each corporate law department faces unique challenges, proactive risk mitigation and cost control are the most common.
Specifically, according to our research, corporate clients want their external law firms to demonstrate three significant attributes: strategic advising, innovative solutions, and collaborative relationships. Even though we have seen some fascinating examples of law firms providing innovative solutions to client challenges, on the whole, firms are not landing coordinated, innovative solutions. Therefore, this still represents a massive opportunity for external law firms who wish to differentiate themselves from the competition - if they can do it right.
In addition, clients seem unwilling to sit tight and wait for their law firms to figure out all of this for them. Corporate law departments are increasingly developing mechanisms to control, monitor, and assess their legal spending and the efficiency of providing legal services. Thus, corporations will continue to put more pressure on their outside law firms in 2022 to demonstrate higher levels of efficiency and offer more innovative pricing and delivery methods.
The legal needs of corporate clients have increased over the past year. Therefore, legal spending is expected to remain healthy throughout 2022. Contracts will be awarded only to those law firms that can demonstrate efficient use of their budgets in helping corporate law departments tackle the challenges they face.
Real Estate Outlook in 2022
A robust economy and strong demand from investors and occupiers across all property types will lead to a strong year for U.S. commercial real estate in 2022. As monetary policy tightens, we expect a record year of investment activity, driven by abundant capital and liquid debt markets, which will drive up values even as interest rates rise.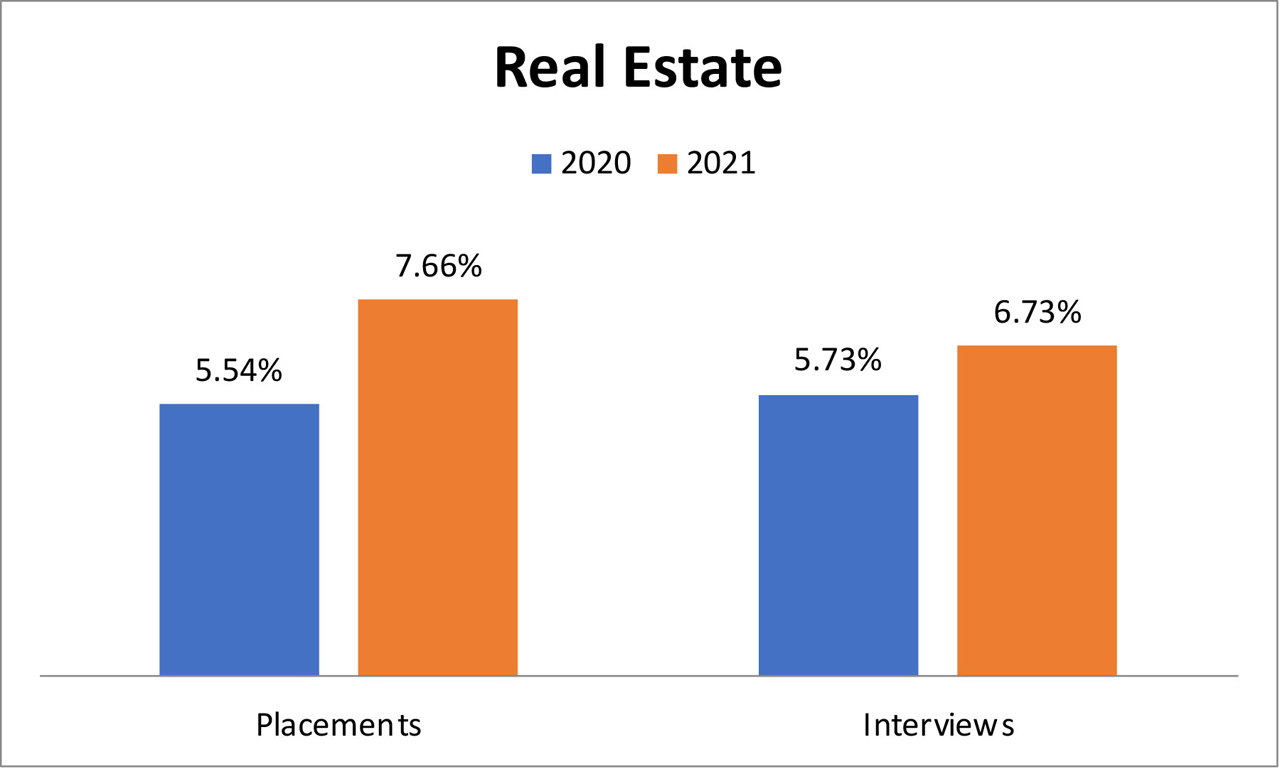 Policy Changes and Commercial Real Estate
According to the recently passed Infrastructure and Investment and Jobs Act, $550 billion will be spent on physical infrastructure over the next 10 years, which could boost commercial real estate in 2022 and beyond. Positive effects include higher short- and long-term economic growth, which leads to increased demand for commercial real estate as new projects begin and long-run productivity improves. Small markets could develop in new ways, and improved infrastructure would help local businesses thrive. 
The Washington D.C. policymakers are considering a $1.75 trillion social spending bill over 10 years. Several provisions are likely to benefit the property market. Lower- and middle-income workers could benefit from increased tax credits and healthcare subsidies. A substantial investment in green initiatives and affordable housing could increase demand in specific property sectors and regions, while universal pre-K and expanded Pell grants could expand the workforce over time.
A significant aspect of this bill relates to the tax code, which presents some risk for commercial real estate. There will be a 3.8% increase in net investment income tax (which will cover rent and capital gains), a surtax on taxpayers with income over $10 million, and tax incentives for clean energy infrastructure and building retrofits. Many of the proposed tax changes—including those affecting the 1031 exchange, carried interest treatment, and an increase in the capital gains tax rate—are now off the table.
Trust and Estates Outlook in 2022
Estate Planning Trends in 2022
In the estate planning space, I anticipate a continued trend of digitization. It is now possible to create an end-to-end digital Will. However, federal and state laws need to catch up. As a result of the pandemic, several states began to recognize documents that were notarized online, digitally, and remotely. More states are likely to jump onto this trend in the coming years as they begin to recognize remote online notarization services (RON) and e-Wills as legal documents.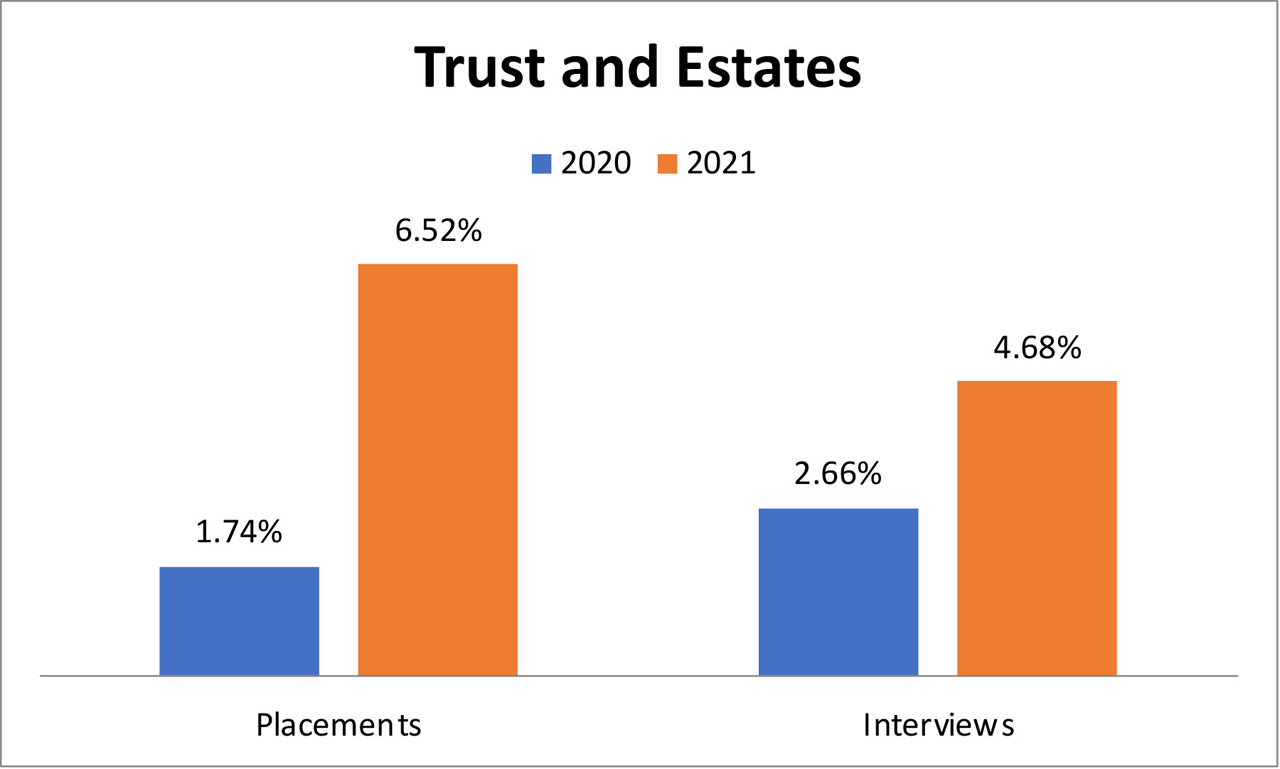 We expect and hope to see individuals realize how crucial it is to include crypto and other digital assets as part of their estate planning activities. It is all too common that individuals pass away without leaving any traces for their loved ones to access their cryptocurrency. To do so with security, foresight, planning, and preparation are required, which can all be achieved through an estate plan.
Labor & Employment Outlook in 2022
There will be plenty of job opportunities in 2022, according to these three factors:  
Demand for goods will remain high.
According to the latest report from the Commerce Department, consumer spending was higher than expected in October. During the holiday season, businesses hire more workers to produce, ship and sell more merchandise to keep up with consumer demand.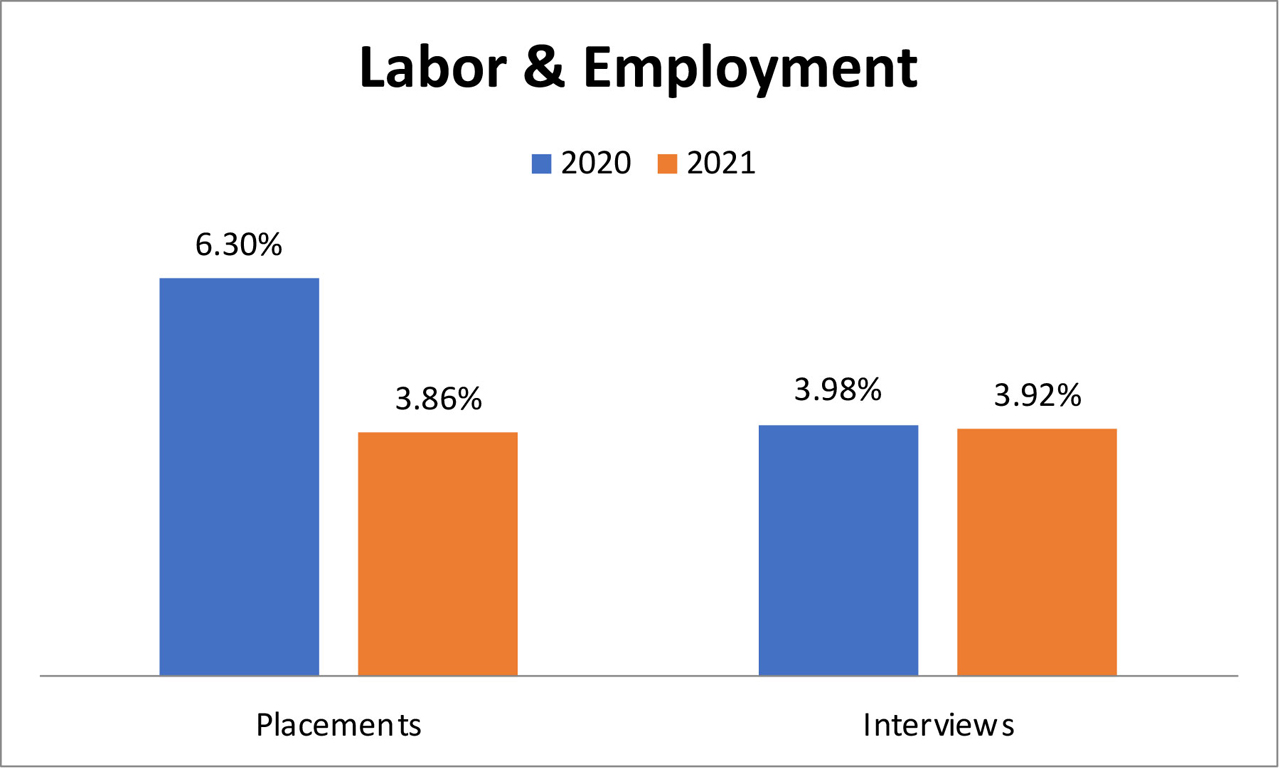 Especially across retail and manufacturing, the industries with the most job openings are experiencing the highest turnover rate. When businesses face a labor shortage, they will do what they can to attract and retain workers through better pay, perks, and working conditions.
Compared to previous months, the Labor Department reported 10.4 million job openings in September, with the most significant increases in health care and social assistance, state and local government, excluding education, wholesale trade, and information roles.
As of October, the U.S. labor market added 531,000 new jobs, led by roles in leisure and hospitality, professional and business services, manufacturing, and transportation and warehousing. After a disappointing summer for job creation, The Washington Post reports that the Bureau of Labor Statistics underestimated job growth by a cumulative 626,000 jobs between June and September.  
Demand for services is recovering.
The contagious Delta variant of COVID-19 pushed many in-person events from 2020 into 2021 and moved many more into 2022. It is predicted that many events postponed for the last two years will finally happen in 2022 due to improved vaccination rates and pandemic conditions.
This means more vacations, concerts, weddings, conferences, and other live events and the need to staff up for all of these occasions.
Corporate leaders are also counting on 2022 as the year more workers return to work and business operations return to normal after the pandemic. Industry forecasts predict that global business travel will increase by 37% next year to over $1 trillion.
The need for workers in sectors such as transportation, leisure, hospitality, and other services (including auto workers, hairdressers, and laundry workers) will increase as people return to daily life.  
Biden spending bills will add more jobs.
Joe Biden signed the $1 trillion Infrastructure Investment and Jobs Act into law. In addition to funding public transportation and broadband projects, the infrastructure bill aims to improve U.S. roads, bridges, and water systems.
According to some reports, the infrastructure bill will help create 1 million jobs over the next five years, with construction creating the most jobs.
The pandemic has displaced a substantial number of workers. The labor force participation rate, a measure of how many people are employed or actively seeking employment, has remained steady at 61.6%, down 1.7 percentage points from pre-pandemic levels.
It is expected that more Americans will re-enter the labor force in the new year as the unemployment rate steadily decreases and job opportunities abound. Moreover, with many people not working due to health concerns, improving pandemic conditions may encourage them.
Regional Differences in Interviews and Placements Between 2020 and 2021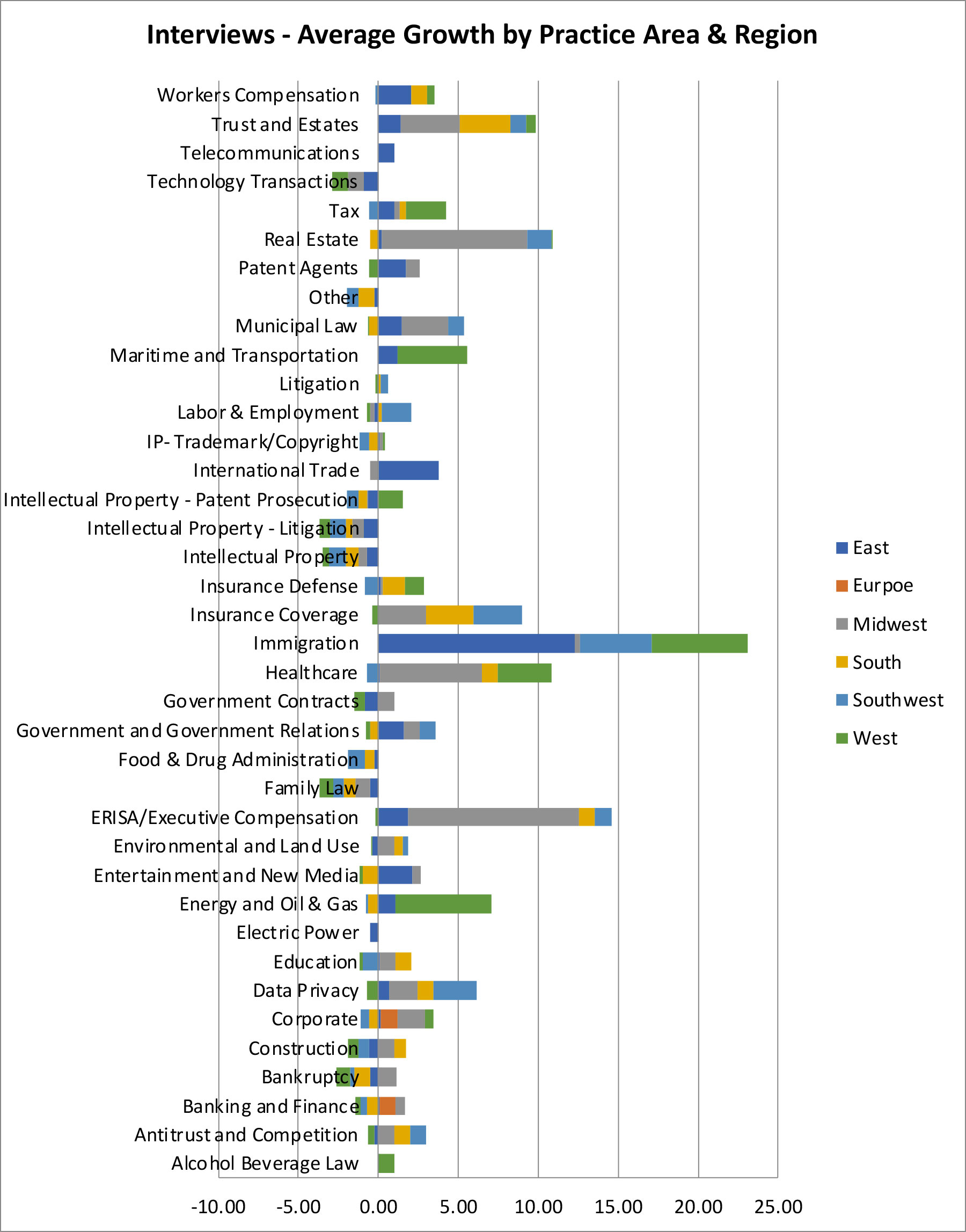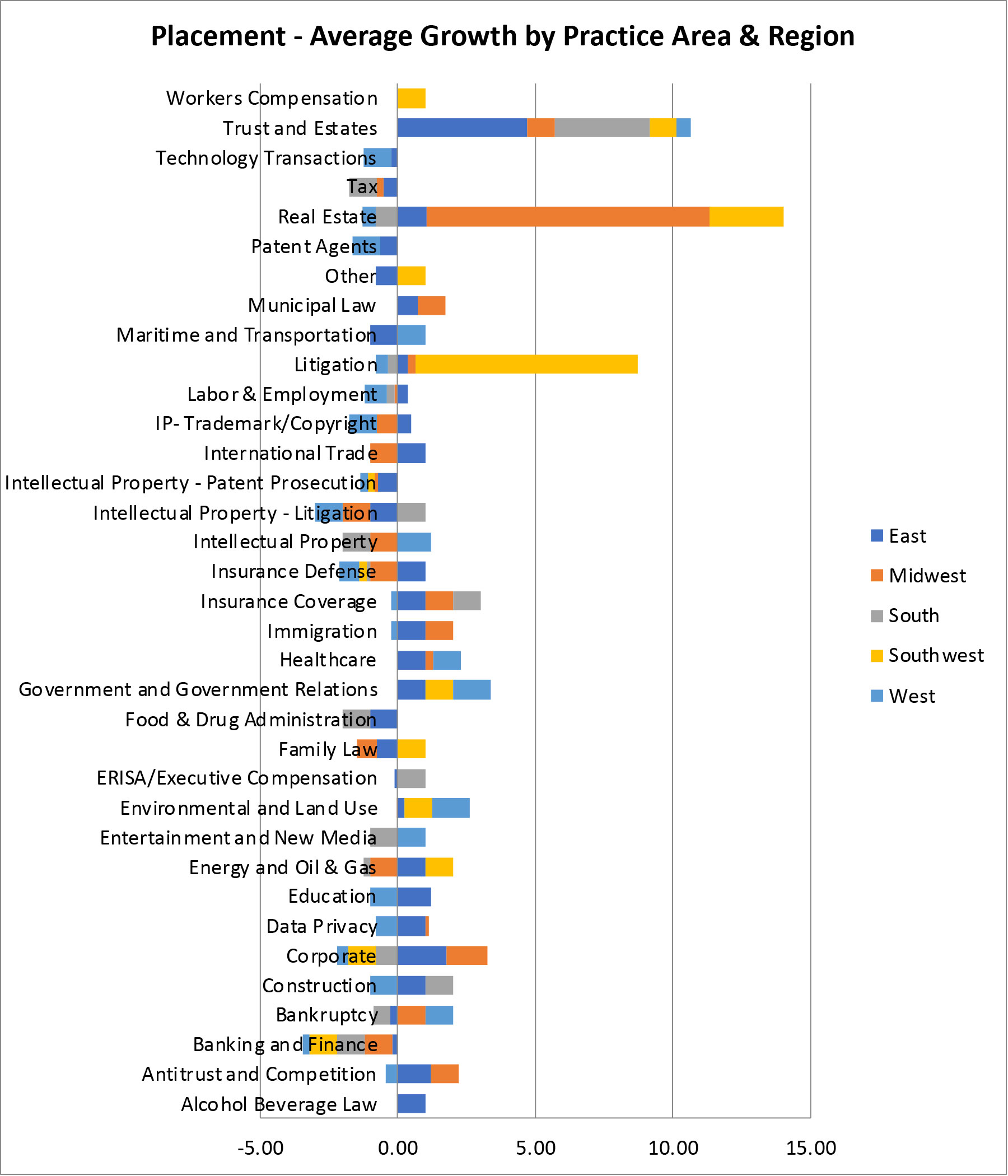 Differences in Interviews and Placements by Market - 2020 to 2021
2021 Legal Market: Why This Could Mark A Turning Point
The legal industry has never seen a year like 2021 before. Recent research of the legal market suggests that disruptions to law firm operations could provide the impetus the industry needs to adapt to the competitive realities of the market. The unprecedented events of 2020 could lead to permanent changes in the legal market, including law firm business models, the use of technology, and flexibility in staffing.
Although the COVID-19 situation has been harsh, it provides firms with the opportunity to use the new skills, technologies, and experiences they've gained during the crisis to generate sustainable competitive advantages during the post-COVID-19 period.
Evolving Market
With the Great Recession behind us, the legal services market has been slowly but inevitably moving toward a new delivery model. Evidence of this shift is found in:  
Changes in the roles and expectations of clients;
Pricing and technology; and
The growth of competition (including from non-traditional providers).
These factors have led to a more efficient, predictable, and cost-effective delivery model.
However, one thing has not changed - resistance from law firm partners. Partners largely turn a blind eye to the need for change, despite senior management's embrace of it. It is consistent with the findings of Altman Weil's 2020 Law Firms in Transition survey. More than half of the law firm leader respondents gave firms poor grades on how serious they were about offering clients more value (rather than just reducing rates). About 70% of firms cited "partners' resistance to most change efforts" as why they do not do more.
Seizing Opportunity
Current conditions could present a ripe and unprecedented opportunity for getting past previous hurdles. Among the reasons for "serious change to finally accelerate" are:  
Acceptance of Remote Work: Despite remote working arrangements becoming more common in other sectors and boasting obvious advantages, law firms have long refused to adopt them. Nevertheless, the COVID-19 pandemic forced firms to allow staff to work from home. Law firm leaders' fears turned out to be largely unfounded. Researchers have found that lawyers, including partners, increasingly embrace remote working.
Technology's Role in Delivering Legal Services: There are signs that we may be able to look back on the COVID-19 crisis as a moment that accelerated many of the changes the legal industry had resisted and introduced new ones. After being forced to adapt, partners are often more accepting of technology's role in effectively delivering legal services. As a result, they may be more willing to explore new delivery models. According to one study, eighty-four percent of firms plan to increase their technology budgets.
Persistent Client Pressures: During the pandemic, clients' desire for more value from their attorneys has not diminished. 
The Wave of Operational Adjustments: Many firms have been forced to consider changes to operations for the first time. These include reorganizing space planning, developing new training programs, revising technology strategies and investments, revamping marketing and business development strategies, and ensuring staff safety and well-being. New delivery models could also be facilitated due to this type of momentum.
Savvy law firms will take advantage of the pandemic to achieve competitive advantages for years to come.
Positioning for the Future
Some long-standing economic problems remain for many firms, including issues with productivity and underperforming attorneys, recruitment and retention, and billing and collections.
Sidebar: What Happened During the Pandemic?
Unsurprisingly, the pandemic led to some significant changes.
In virtually all law firm practices, except for bankruptcy and reorganization, demand fell beginning in March 2020 (as reflected by total billable hours). Nevertheless, many firms were able to raise their rates last year. 
The firms also reduced partner draws, cut salaries, furloughed support staff, and terminated moneymakers and support staff. Profits per equity partner increased significantly over last year, a surprise.
Trends Transforming The Legal Industry Outlook For 2022
Many people find the legal field to be highly appealing. In addition, the law directly impacts the lives of many people. Lawyers are needed throughout a person's life, from marriage to employment and beyond. Several areas of law and how it is practiced are expected to be affected by these trends. According to those closely following the industry, lawyers and their many clients will continue to be affected by retiring baby boomers, new technology, and globalization. This industry is characterized by change.
Baby Boomer Impact
The baby boomer generation remains one of the largest in history. As they continue to retire in large numbers, this will impact the general workforce in all regions. A similar situation exists in the legal profession. There will be a massive impact on the legal industry from the seventy-five million members of this cohort. Lawyers can expect more demand for assistance with areas of law such as retirement planning and passing assets to the next generation.
About Harrison Barnes
Harrison Barnes is a prominent figure in the legal placement industry, known for his expertise in attorney placements and his extensive knowledge of the legal profession.
With over 25 years of experience, he has established himself as a leading voice in the field and has helped thousands of lawyers and law students find their ideal career paths.
Barnes is a former federal law clerk and associate at Quinn Emanuel and a graduate of the University of Chicago College and the University of Virginia Law School. He was a Rhodes Scholar Finalist at the University of Chicago and a member of the University of Virginia Law Review. Early in his legal career, he enrolled in Stanford Business School but dropped out because he missed legal recruiting too much.
Barnes' approach to the legal industry is rooted in his commitment to helping lawyers achieve their full potential. He believes that the key to success in the legal profession is to be proactive, persistent, and disciplined in one's approach to work and life. He encourages lawyers to take ownership of their careers and to focus on developing their skills and expertise in a way that aligns with their passions and interests.
One of how Barnes provides support to lawyers is through his writing. On his blog, HarrisonBarnes.com, and BCGSearch.com, he regularly shares his insights and advice on a range of topics related to the legal profession. Through his writing, he aims to empower lawyers to control their careers and make informed decisions about their professional development.
One of Barnes's fundamental philosophies in his writing is the importance of networking. He believes that networking is a critical component of career success and that it is essential for lawyers to establish relationships with others in their field. He encourages lawyers to attend events, join organizations, and connect with others in the legal community to build their professional networks.
Another central theme in Barnes' writing is the importance of personal and professional development. He believes that lawyers should continuously strive to improve themselves and develop their skills to succeed in their careers. He encourages lawyers to pursue ongoing education and training actively, read widely, and seek new opportunities for growth and development.
In addition to his work in the legal industry, Barnes is also a fitness and lifestyle enthusiast. He sees fitness and wellness as integral to his personal and professional development and encourages others to adopt a similar mindset. He starts his day at 4:00 am and dedicates several daily hours to running, weightlifting, and pursuing spiritual disciplines.
Finally, Barnes is a strong advocate for community service and giving back. He volunteers for the University of Chicago, where he is the former area chair of Los Angeles for the University of Chicago Admissions Office. He also serves as the President of the Young Presidents Organization's Century City Los Angeles Chapter, where he works to support and connect young business leaders.
In conclusion, Harrison Barnes is a visionary legal industry leader committed to helping lawyers achieve their full potential. Through his work at BCG Attorney Search, writing, and community involvement, he empowers lawyers to take control of their careers, develop their skills continuously, and lead fulfilling and successful lives. His philosophy of being proactive, persistent, and disciplined, combined with his focus on personal and professional development, makes him a valuable resource for anyone looking to succeed in the legal profession.
About BCG Attorney Search
BCG Attorney Search matches attorneys and law firms with unparalleled expertise and drive, while achieving results. Known globally for its success in locating and placing attorneys in law firms of all sizes, BCG Attorney Search has placed thousands of attorneys in law firms in thousands of different law firms around the country. Unlike other legal placement firms, BCG Attorney Search brings massive resources of over 150 employees to its placement efforts locating positions and opportunities its competitors simply cannot. Every legal recruiter at BCG Attorney Search is a former successful attorney who attended a top law school, worked in top law firms and brought massive drive and commitment to their work. BCG Attorney Search legal recruiters take your legal career seriously and understand attorneys. For more information, please visit
www.BCGSearch.com
.
Harrison Barnes does a weekly free webinar with live Q&A for attorneys and law students each Wednesday at 10:00 am PST. You can attend anonymously and ask questions about your career, this article, or any other legal career-related topics. You can sign up for the weekly webinar here: Register on Zoom
Harrison also does a weekly free webinar with live Q&A for law firms, companies, and others who hire attorneys each Wednesday at 10:00 am PST. You can sign up for the weekly webinar here: Register on Zoom
You can browse a list of past webinars here: Webinar Replays
You can also listen to Harrison Barnes Podcasts here: Attorney Career Advice Podcasts
You can also read Harrison Barnes' articles and books here: Harrison's Perspectives
Harrison Barnes is the legal profession's mentor and may be the only person in your legal career who will tell you why you are not reaching your full potential and what you really need to do to grow as an attorney--regardless of how much it hurts. If you prefer truth to stagnation, growth to comfort, and actionable ideas instead of fluffy concepts, you and Harrison will get along just fine. If, however, you want to stay where you are, talk about your past successes, and feel comfortable, Harrison is not for you.
Truly great mentors are like parents, doctors, therapists, spiritual figures, and others because in order to help you they need to expose you to pain and expose your weaknesses. But suppose you act on the advice and pain created by a mentor. In that case, you will become better: a better attorney, better employees, a better boss, know where you are going, and appreciate where you have been--you will hopefully also become a happier and better person. As you learn from Harrison, he hopes he will become your mentor.
To read more career and life advice articles visit Harrison's personal blog.