Harrison Barnes' Legal Career Advice Podcast - Episode 20
Since the United States switched over from a primarily manufacturing-based economy to a service and technology-based economy decades ago, we have never seen anything like the threat posed by the coronavirus. There is no playbook.  How will the virus affect the legal economy and legal jobs in the United States?
We are in for a different kind of legal job market recession that will be meaner, longer, and more devastating than anything we have ever seen.  The coronavirus recession is going to destroy countless legal careers and prevent tens of thousands of them from ever starting.  This article will help you survive this recession.  It may be the most important article you ever read in your career.
 
The last three recessions the legal job market experienced were extremely mild compared to what we have here.
In late 2000, we realized that many of the dot-com and other companies that were being started and run with other peoples' money were never going to be profitable. There was also a severe crisis brought about by overspending on too many high-speed internet lines and other mistakes in the telecom sector.  The market pulled back funding from these companies, and markets like Silicon Valley became virtual ghost towns overnight.  
It became impossible for corporate attorneys to get jobs all over the United States for some time and
affected the legal sector.
Still, the market quickly recovered and did very well for several years.
What we have here, though, is much, much different. While dot-com companies closing had some adverse economic effects, the situation here is different. Back then, only a sliver of companies was borrowing money and staying afloat with credit from private equity and the markets. While I do not have the exact statistics, today, these numbers are much, much higher.  "Zombie" companies that run on cheap credit to survive are a significant percentage of the U.S. economy.   
Moreover, the variety of the types of companies that rely on this sort of credit is practically unprecedented.  Whether it is transportation, hospitality, or other service industries, the number of companies and the breadth of them that will fail without access to cash is enormous.  We are about to witness a recession unlike anything we have ever seen.  
There was also a recession after September 11, 2001, that was a severe blow to the legal market. However, the markets recovered fairly quickly. Large markets were again the ones that were the most severely affected. 
Attorneys lost jobs, but it was nothing compared to what happened in 2008.
The 2008 recession shook the financial markets to their core due to failing securities caused by irresponsible lending.  Banks and companies discovered that they were very vulnerable to bad loans.  The legal market experienced severe issues in the corporate sphere in particular. Hiring slowed down in the most important markets.  The government pushed massive amounts of money into banks and the financial system to prevent an all-out collapse and what they did ended up working. There was a pronounced slowdown in the legal market that lasted well over a year.    
Here is what I know: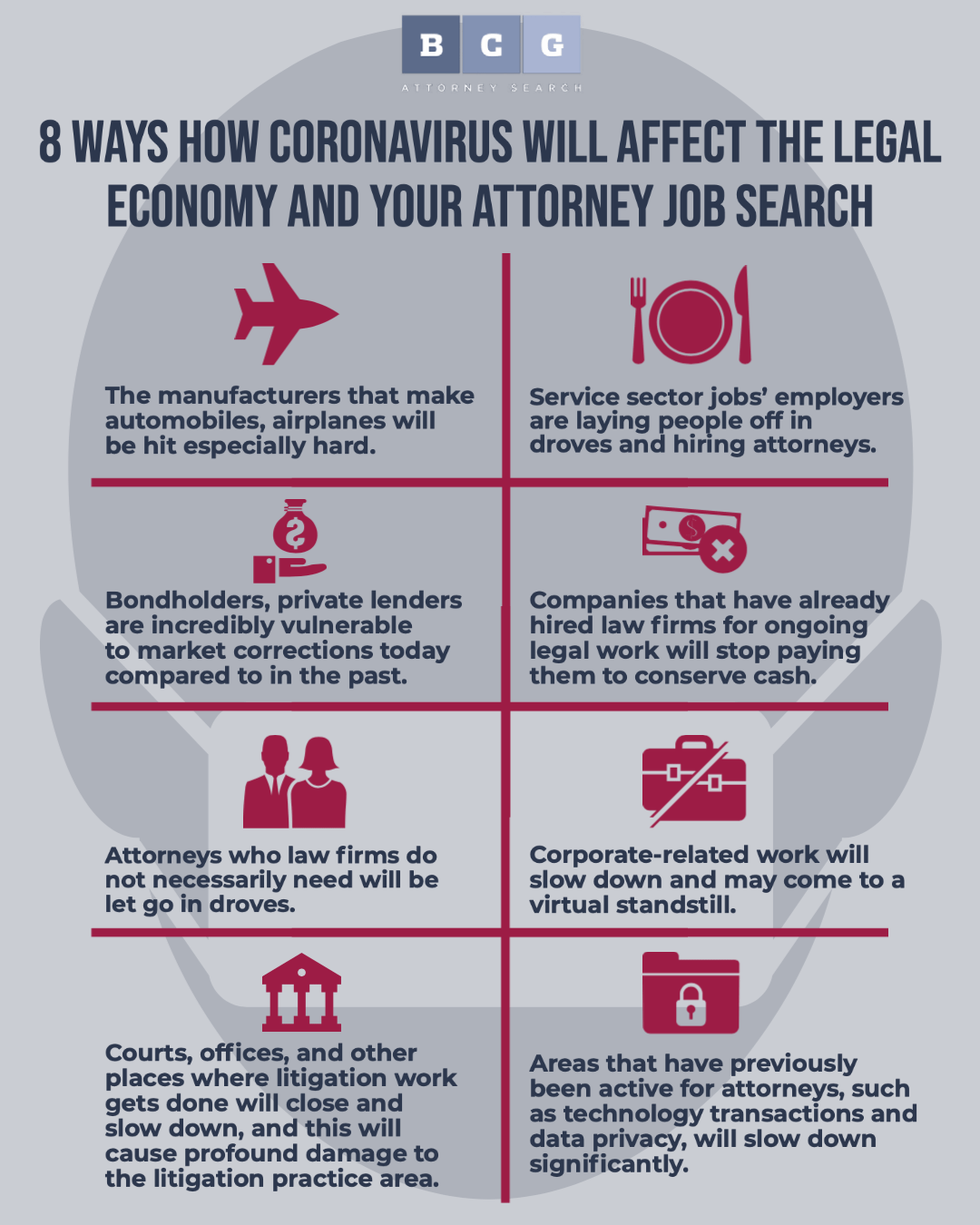 First, bondholders, private lenders, and others are incredibly vulnerable to market corrections today compared to in the past. Over 10 percent of companies in the United States and across the world rely on constant borrowing to meet expenses and cannot survive without access to loans.  These companies are known as "zombie companies" because without these loans they would go away.  These loans have been fueled by cheap credit that has existed since the government pushed interest rates to historic lows after the last recession.
Banks and private lenders will have an incentive to hoard cash now because making loans will become too risky. Loans will dry up, and with this, a large swath of companies and their legal work will go away as well.  Consumers and businesses will stop paying loans, creating a ripple effect of defaults through the economy.  While the 2008 financial crisis mainly affected banks and the finance industry, this recession will be far different because it will affect a vast number of companies that have never seen anything like this before. 
Second, a significant percentage of the American economy relies on service sector jobs such as restaurants, tourism, airlines, Uber drivers, hotels, convention centers, and other sorts of consumer-facing employers. These employers are laying people off in droves, and these employers hire attorneys.  Without revenue coming in to pay attorneys, they will stop the legal work.  Many of these companies will go out of business–this will have devastating consequences.
Third, the manufacturing sector will be affected, and manufacturers that make automobiles, airplanes, and other transportation instruments will be hit especially hard. It is impossible to imagine how many things we rely on that are manufactured by others–the list is endless. These manufacturers also hire attorneys, and they will cut back their legal work significantly.  Manufacturing is a massive share of the economy and the hit to this sector is likely to be very bad for law firms reliant on work from these companies.
Fourth, companies that have already hired law firms for ongoing legal work will stop paying them to conserve cash. Law firms will watch their collections slow down aggressively, and this will affect their cash flow.  Not only will the money and revenue coming in slow down, so too will the payment for past work that has already been done.  Law firms will see this slowdown, become extremely nervous and start cutting people. 
Fifth, attorneys who are an investment for the law firm, or who law firms do not necessarily need, will be let go in droves—and those that are junior who have been hired will have their offers rescinded in high numbers. 
Partners without business and associates with seven or more years of experience without work will also be let go in huge numbers. Unless they have vast books of business, most of these partners will want to do most of the work themselves. Law firms will use this opportunity to cut as much fat as they possibly can to save themselves.
If I were a junior associate, I would look for jobs in government, or smaller markets immediately.  If I were a law student, I would do the same.
If I were a partner without business or a senior attorney without business, I would ingratiate myself with attorneys in my firm with business, or look for places that have the work to support me.
Sixth, courts, offices, and other places where litigation work gets done will close and slow down, and this will cause profound damage to the litigation practice area. Litigation is the largest practice area in the country and has the most jobs. Courts are already closing. Clients will ask their attorneys to put work on hold to conserve as much cash as possible.  Lawyers will have less litigation, fewer depositions, fewer meetings in offices, fewer trips to court, and more.  Clients will have less money to pay for attorneys to defend them–and many will be going out of business. 
No corner of this market is likely to be spared.
Many plaintiffs' firms also rely on funding from private lenders to operate. These plaintiffs' firms are likely to be unable to access this market and will fail in droves.
Many defense firms also rely on outside funding and will fail as well.
Consumer-facing litigation practice areas such as family law will also slow.
Litigation was quite safe in late 2000, 2001, and 2008 and 2009 recessions. It is in for a massive shakeout.  
If I were a litigator, I would look for partners in my own firm with a lot of business and work, or find law firms with a lot of work.  I would start monitoring the legal job market immediately if I was worried about work slowing down.
Seventh, corporate-related work will slow down and may come to a virtual standstill from a job market perspective. There will be massive layoffs—especially in major markets. When the economy slows down, deals stop getting done because asset prices are depressed, and companies believe that doing deals is too risky.  There is also less money available to lend to fund deals. Money rushes out of stocks and into government bonds. Capital market, finance, and mergers and acquisitions attorneys will all be affected—and dramatically so.  These attorneys will lose their jobs in droves. The most likely attorneys to lose their positions will be junior associates without significant training whose hours need to be written off or those who are more senior without business.
In every recession that I have witnessed, corporate gets hit the hardest.  There is no reason why the same should not occur this time as well.  I have seen attorneys hit so hard by this in the past that much of my career has been defined in reaction to this. It has motivated me to get better and better at my job to try and save legal careers and start companies like LawCrossing and LegalAuthority to try and get attorneys jobs.   
If I were a corporate attorney without business, I would get close to the partners I with work. I would start looking for firms with work. If I were a partner, I would get close to my clients that are least affected by the coronavirus and try to get work from them.  I would also start looking for in-house jobs at companies unaffected by the coronavirus.
Eighth, areas that have previously been active for attorneys such as technology transactions and data privacy will slow down significantly. Technology companies will be hit especially hard during this recession—many rely on borrowed funds for their survival. Data privacy is a relatively new practice area, and law firms will be unwilling to invest in it in the face of a recession. In 2000, 2001, and even 2008, technology transactions was a relatively untested practice area, and law firms were unwilling to invest in it during those recessions and cut it loose. Furthermore, because these practice areas result in more "piecemeal" types of fees and are not significant moneymakers for law firms, many law firms were more than happy to cut them loose.
If I were an attorney in these practice areas, I would do whatever I could to hold on to my job, clients, and get close to attorneys with work.
If I were an attorney in these practice areas, I would do whatever I could to hold on to my job, clients, and get close to attorneys with work.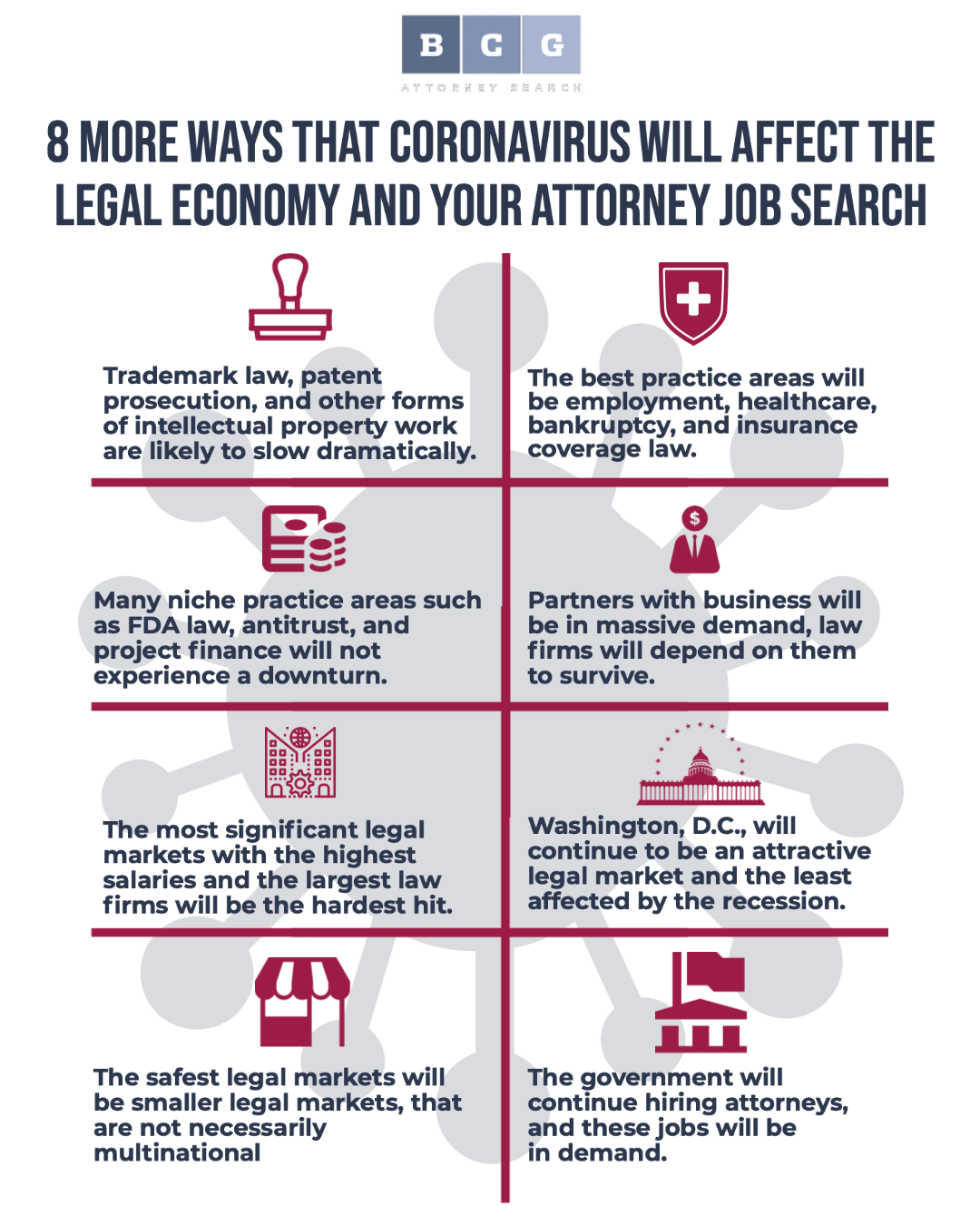 Ninth, trademark law, patent prosecution, and other forms of intellectual property work are likely to slow dramatically. Before the coronavirus, trademark law was doing very well because new businesses that have lots of money from private equity and VC backers have a lot to spend on trademarking new brands.  Trademark work is all likely to stop—and stop hard—immediately. In every recession I have ever seen, trademark law is among the hardest and most quickly hit. It is likely to be devastated.
Before the coronavirus, patent law was slowing down dramatically because companies are figuring out how to get patents done more cheaply, and there is more competition. Whereas a decade ago there was a shortage of patent attorneys, there are now many more. A vast number of law firms are moving away from doing patent law altogether and this is likely to slow down even more.  While large companies are always willing to invest and protect those investments, here they are going to be in the midst of their restructuring and will be unlikely to have as much interest in patenting new things.  
Some firms will continue to have work and have stable client bases that will be unaffected; however, this is likely to be less true in the patent field.   
If I were an intellectual property attorney worried about work slowing, I would start looking and do a national search. There are pockets of activity all over.
Tenth, in the short run, the best practice areas will be employment, healthcare, bankruptcy, and insurance coverage law. These practice areas are likely to fare well because of the specific type of economic and social conditions we are in at the moment.
Employment will do well because employers will need to understand their rights and obligations to their employees. They will contact their law firms for advice on how to deal with the slowdown, and law firms will work hard advising them.  Furthermore, employees that are upset by layoffs and other measures will start suing their employers and filing various grievances with state and federal agencies about their treatment. Many will also file lawsuits and threaten them in the short term, and this will create additional work for attorneys.
The healthcare industry will become busier than ever, and there will be vast amounts of money flowing into this sector. Healthcare companies are likely to expand and seek the advice of their law firms.  Healthcare attorneys will become extremely busy and sought out.  Law firms should start hiring healthcare attorneys now.
Insurance coverage will become a bustling practice area because insurers will fight over who should pay for what.  There will be massive claims involved in this recession that are entirely unforeseen.  Insurers will fight aggressively over who should pay for various demands, and this will keep attorneys very busy.  Law firms should start hiring insurance coverage attorneys right now.
Attorneys in any of these practice areas will be able to quickly move firms and move to better ones if they choose. If work is slow at your firm, or you want to increase your salary, you can move to a new firm.
Eleventh, many niche practice areas such as FDA law, antitrust, and project finance will not experience a downturn.
FDA law is a niche practice area but will increase in demand.  Most of this work is done by a limited number of law firms and attorneys. In the short run, there is likely to be demand for this sort of work as new drugs rush to market and companies try and speed up the approval of new medicines.  This practice area will become bustling.
Antitrust is a practice area where the cases can go on for a very long time. Not much is likely to change—large companies with antitrust concerns are generally not concerned about legal bills.
Project finance is a niche practice area; however, projects can go on for years and, in many cases, are dependent on public funding – which is likely to increase to create jobs. I do not see work slowing down in this practice area, and expect it to grow as governments fund various projects to create jobs and jumpstart the economy.
Attorneys in these practice areas should be able to move – regardless of their seniority level in many cases
.  
Twelfth, partners with business will be in massive demand. Partners with business are what law firms depend on to survive. In most downturns, the partners with the most business become the most likely to move because they are supporting and paying the salaries of partners who do not have a lot of work.  There will be a great deal of movement as law firms fight over the partners with the most business in an attempt to stabilize their practices and revenues.
Most partners with business will see law firms attempt to cut their compensation to pay for law firm overhead and other expenses, and this creates movement. The partners most likely to move will be litigators with ongoing cases and busy bankruptcy, insurance coverage, and employment attorneys.  They will have recurring business and revenue coming in.  
In the recession of 2008, many large law firms relied on revenue from intellectual property litigation cases. While corporate attorneys were not busy, they demanded to have the same salaries they had when times were good.  Many law firms attempted to equalize the pay that corporate and intellectual property litigators were receiving with disastrous results—the intellectual property litigators left and went to new firms.  While intellectual property litigation has been slow in 2020, at many firms, general commercial litigation is still busy.  Attorneys with ongoing cases driving a lot of revenue are likely to leave and look for new firms when law firms start cutting their income.  
If I were an attorney practicing and did not have any business, I would do everything I possibly could to ingratiate myself with attorneys with work and become 100% indispensable to them. Your survival depends on it.
If I were a busy partner with business, I would be prepared for changes to my compensation to pay my law firm's overhead and unproductive attorneys.  You will be able to find a more stable firm financially if you want to move. 
Thirteenth, the most significant legal markets with the highest salaries and the largest law firms will be the hardest hit. The largest law firms in the most important legal markets will be affected the most profoundly due to their high-cost structures. While many of them have huge clients with giant cash reserves who will be able to weather the recession, many do not.  Even to the extent these law firms have such major clients, these clients will still do fewer deals, and law firms cannot open courts, deposition rooms, and so forth to make litigation continue. The largest law firms will realize that they need to take drastic action and will start letting people go.
The other danger of the largest legal markets is that many of the major law firms in these markets rely on credit to operate. While these law firms may initially not lay attorneys off believing their access to credit will pull them through, most will not be able to sustain this for long. As collections slow, many will see their lines of credit pulled or called in. Lack of credit during a severe downturn is likely to have devastating consequences for these firms and the attorneys in them. I expect far more law firms to go out of business than at any time in history.  Due to their high costs of fixed obligations, these law firms will be in a much more dangerous spot than law firms not so situated.
If I were an attorney in a major legal market with a high salary, I would start trying to speak with law firms in smaller markets immediately.  I would leave my options open.
Fourteenth, Washington, D.C., will continue to be an attractive legal market and the least affected by the recession. Washington, D.C., never has had any issues during recessions.  There is a lot of government money in the town as well as lobbying money. Unlike New York, where the law firms are primarily made up of corporate attorneys, Washington, D.C., is the opposite and has attorneys more geared towards doing policy, litigation, and other practice areas that are less deal intensive.  While there will be a slowdown in corporate-related work, there is likely to be a pick up in different types of work. There will be lots of government money going around, and the local economy is likely to remain vibrant.
If I were an attorney in a major legal market, or a young attorney getting out of school, I would do whatever I could to get a job in Washington, D.C.  This is likely to be the safest legal market.
Fifteenth, the safest legal markets will be smaller legal markets dependent on a wide variety of smaller to mid-sized clients that are not necessarily multinational. The coronavirus is likely to be confined to the largest markets in the United States. Markets such as Los Angeles, Chicago, New York, Houston, Miami, Atlanta, and others where there is the most possibility for contagion are likely to experience the most dramatic economic contraction. However, there are tons of smaller to mid-sized markets outside of these significant areas where the economic contraction is less likely to occur. There are also smaller legal markets that are not dependent on business from these broader legal markets and have a more local client base that will be largely unaffected. Attorneys in smaller markets are likely to be far better protected than attorneys in major legal markets, and many of these law firms will likely not experience much of a downturn at all. 
If I were an attorney in a major legal market vulnerable to the recession, I would try and relocate home (if I was from a smaller legal market originally), or get a position in a suburban market or smaller market where salaries are lower, but work is more stable
.  
Sixteenth, the government, will continue hiring attorneys, and these jobs will be in demand. The government will pump money into the economy, and there will be hiring at the state, local, and federal levels. The government is one of the few places that is likely to be stable during this recession and for the next several years.  There will be government jobs in all markets and employment for older attorneys too. 
If I were a young attorney, I would do my best to get a government job right now in addition to searching for jobs in smaller markets. If I were practicing, I would start looking for positions in the government as well.
Conclusions
Surviving this recession means going where the work is. Work will continue in all law firms; however, there are likely to be slowdowns in almost every law firm. You need to act decisively and intelligently to survive and go where the work is. Finding work may mean relocating to a different market, moving to a smaller firm, changing practice areas, or working in-house or for the government.  There is always work when the legal market slows down, and the challenge is finding where the work is.  You need to find places where the money is continuing to flow and not where the flow is stopping.  
About Harrison Barnes
Harrison Barnes is a prominent figure in the legal placement industry, known for his expertise in attorney placements and his extensive knowledge of the legal profession.
With over 25 years of experience, he has established himself as a leading voice in the field and has helped thousands of lawyers and law students find their ideal career paths.
Barnes is a former federal law clerk and associate at Quinn Emanuel and a graduate of the University of Chicago College and the University of Virginia Law School. He was a Rhodes Scholar Finalist at the University of Chicago and a member of the University of Virginia Law Review. Early in his legal career, he enrolled in Stanford Business School but dropped out because he missed legal recruiting too much.
Barnes' approach to the legal industry is rooted in his commitment to helping lawyers achieve their full potential. He believes that the key to success in the legal profession is to be proactive, persistent, and disciplined in one's approach to work and life. He encourages lawyers to take ownership of their careers and to focus on developing their skills and expertise in a way that aligns with their passions and interests.
One of how Barnes provides support to lawyers is through his writing. On his blog, HarrisonBarnes.com, and BCGSearch.com, he regularly shares his insights and advice on a range of topics related to the legal profession. Through his writing, he aims to empower lawyers to control their careers and make informed decisions about their professional development.
One of Barnes's fundamental philosophies in his writing is the importance of networking. He believes that networking is a critical component of career success and that it is essential for lawyers to establish relationships with others in their field. He encourages lawyers to attend events, join organizations, and connect with others in the legal community to build their professional networks.
Another central theme in Barnes' writing is the importance of personal and professional development. He believes that lawyers should continuously strive to improve themselves and develop their skills to succeed in their careers. He encourages lawyers to pursue ongoing education and training actively, read widely, and seek new opportunities for growth and development.
In addition to his work in the legal industry, Barnes is also a fitness and lifestyle enthusiast. He sees fitness and wellness as integral to his personal and professional development and encourages others to adopt a similar mindset. He starts his day at 4:00 am and dedicates several daily hours to running, weightlifting, and pursuing spiritual disciplines.
Finally, Barnes is a strong advocate for community service and giving back. He volunteers for the University of Chicago, where he is the former area chair of Los Angeles for the University of Chicago Admissions Office. He also serves as the President of the Young Presidents Organization's Century City Los Angeles Chapter, where he works to support and connect young business leaders.
In conclusion, Harrison Barnes is a visionary legal industry leader committed to helping lawyers achieve their full potential. Through his work at BCG Attorney Search, writing, and community involvement, he empowers lawyers to take control of their careers, develop their skills continuously, and lead fulfilling and successful lives. His philosophy of being proactive, persistent, and disciplined, combined with his focus on personal and professional development, makes him a valuable resource for anyone looking to succeed in the legal profession.
About BCG Attorney Search
BCG Attorney Search matches attorneys and law firms with unparalleled expertise and drive, while achieving results. Known globally for its success in locating and placing attorneys in law firms of all sizes, BCG Attorney Search has placed thousands of attorneys in law firms in thousands of different law firms around the country. Unlike other legal placement firms, BCG Attorney Search brings massive resources of over 150 employees to its placement efforts locating positions and opportunities its competitors simply cannot. Every legal recruiter at BCG Attorney Search is a former successful attorney who attended a top law school, worked in top law firms and brought massive drive and commitment to their work. BCG Attorney Search legal recruiters take your legal career seriously and understand attorneys. For more information, please visit
www.BCGSearch.com
.
Harrison Barnes does a weekly free webinar with live Q&A for attorneys and law students each Wednesday at 10:00 am PST. You can attend anonymously and ask questions about your career, this article, or any other legal career-related topics. You can sign up for the weekly webinar here: Register on Zoom
Harrison also does a weekly free webinar with live Q&A for law firms, companies, and others who hire attorneys each Wednesday at 10:00 am PST. You can sign up for the weekly webinar here: Register on Zoom
You can browse a list of past webinars here: Webinar Replays
You can also listen to Harrison Barnes Podcasts here: Attorney Career Advice Podcasts
You can also read Harrison Barnes' articles and books here: Harrison's Perspectives
Harrison Barnes is the legal profession's mentor and may be the only person in your legal career who will tell you why you are not reaching your full potential and what you really need to do to grow as an attorney--regardless of how much it hurts. If you prefer truth to stagnation, growth to comfort, and actionable ideas instead of fluffy concepts, you and Harrison will get along just fine. If, however, you want to stay where you are, talk about your past successes, and feel comfortable, Harrison is not for you.
Truly great mentors are like parents, doctors, therapists, spiritual figures, and others because in order to help you they need to expose you to pain and expose your weaknesses. But suppose you act on the advice and pain created by a mentor. In that case, you will become better: a better attorney, better employees, a better boss, know where you are going, and appreciate where you have been--you will hopefully also become a happier and better person. As you learn from Harrison, he hopes he will become your mentor.
To read more career and life advice articles visit Harrison's personal blog.