You may have stalled your legal job search or career planning due to the Coronavirus pandemic, whether you are a law student or an attorney. The following tips can assist in navigating these turbulent times.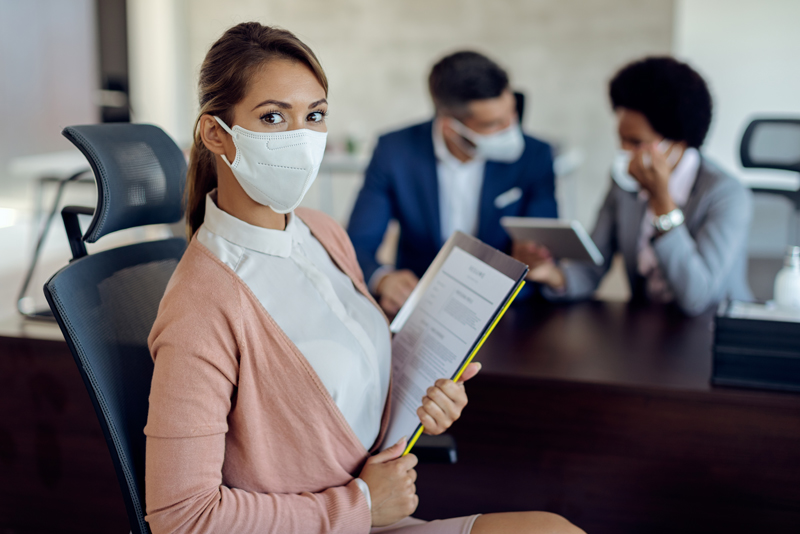 Summer Associate Interview Preparation for Law Students
Your law school hosted or planned to host an introductory session on
On-Campus Interview (OCI)
. Now you are probably wondering when OCI will happen or if your class will be the guinea pigs. With all of the uncertainty surrounding COVID-19, the truth is that no one knows for sure what will happen with
summer associate interviews
this year. However, you should prepare as best you can:
1. Consider an OCI as an upcoming event. To begin preparing for OCI bids in the coming months, you should review your school's OCI bid procedures so that you understand what will be expected of you. So that you can present a well-considered, whittled-down list of law firms to the jury at the time of bidding, you should begin researching law firms. (And since you will be studying for and taking finals during April and May, it is a good idea to get started on your research now.) Most importantly, keep in touch with your school's Career Services office and stay on top of their developments.
2. Practice video interviewing by reading up on it. An in-person interview has significantly different dynamics from a video interview. By sharpening your virtual skills, you can appear as professionals while also letting your personality shine through. In case OCI moves from your campus to the internet, do not wait until the last minute to learn the best practices of video interviewing-work on these skills now so you can polish them when the OCI moves online.
3. Schedule an appointment with your career counselor. Those of you feeling panicky about the consequences of this outbreak are not alone. The Career Services office at your school does not have a crystal ball, but it is working hard to develop plans and understand employers' plans. Additionally, they know the industry inside and out. Take advantage of your career counselor's advice, and consider how you should prepare.  
Summer Associate and Legal Internship Opportunities for Law Students
Whatever your summer law internship is at, chances are you are excited about diving into the legal profession. As a result, you probably find yourself anxious about the current job market and your long-term career prospects. All of our lives have been turned upside down, so know that you are not alone in your concerns about the future, both near and far. Second, stay informed and prepared by following these steps:
1. Move Forward:
Act as if your summer associate position or internship will go smoothly for now. If you have not heard otherwise from your employer, you should assume this is the case, and prepare yourself accordingly. Make sure to stay up-to-date on the organization's recent matters, research attorneys you wish to work with, and consider which practice areas you wish to join, so that when you walk into the door, you have well-researched goals.
2. Remain Up to Date:
You will likely receive updates about what you can expect and how they will move forward. In light of the coronavirus' uncertainty, these updates may change daily. If your organization uses email or any other communication method, make sure to check it. Ensure you respond to the employer's request so they know you are interested in the position.
3. Stay in Touch:
To get your summer offer, you put in a lot of work, as did the firm/organization that recruited you. The firm should remain in contact with you even in the case of a summer program cancellation. As your future career depends on those connections, you should make sure you nurture these relationships.
4. Consult with Career Services:
Career Services can be reached without being on campus. It would be wise to take advantage of the virtual career counseling available to you. They stay on top of the legal job market every day so they can give you insights into what firms/organizations are thinking this summer or what you can do now to prepare for all possible scenarios.  
Lateral Attorneys Looking for a Job
It took you a while to make up your mind, but then COVID-19 entered the picture. A bit off-time. Despite this, some employers still hire, meaning you can still find a job. However, a job seeker will find it difficult to conduct active searches at this time. What should a lateral candidate do?
1. Find a Search Firm You Trust:
The search firm market is huge, but not every firm is the same. Find a headhunter that you connect with, who understands your goals, and who is honest during this difficult time. Do your research. Speak with a variety of headhunter firms. Do not allow yourself to be coddled; you need to know what is happening in the legal job market.
2. Brush Up on Virtual Interviewing:
Most places do not allow in-person interviewing, so you will be selling yourself over the camera of your computer while meeting your (hopefully) future colleagues. You should make it count. Find ways to demonstrate your personality in video interviews by researching and practicing best practices. In terms of your research and preparation, a video interview should be treated the same as any other -just because you are at home does not mean you should interview on the fly (they will see if you are searching through papers for answers or using other devices). It is challenging to connect with strangers when you are not in person.
3. Do Not Forget to Network:
An informational interview will not be conducted over lunch or over a cup of coffee. However, you can network virtually so that you can grow and maintain your network. Ensure your LinkedIn profile is polished, then check in with connections and research new connections every day. You can conduct an informational interview by phone or via video chat, so do not fear choosing those options if you are interested. For catching up with colleagues and friends, schedule time for a virtual coffee or happy hour-which will also reduce your stress levels.   
For Lawyers Who Are Currently Employed with No Plans of Leaving
Uncertain about your job's future but happy with your current position? It sounds like you are like most employed people right now-working remotely and waiting for any news or announcements from the company. As far as your tasks and output are concerned, your organization is likely in a "business as usual" mode. Nevertheless, here are some tips to keep you on track:
1. Keep Working:
Many people are not following this simple advice. Stress in this situation can easily distract you from your work. Those who work from home face some challenges. You are a professional, and your firm/organization relies on you. Therefore, set deadlines and a schedule, and follow them. You can binge-read Twitter after work, turn off the TV until after you sign off, and let your work distract you from things you cannot control.
2. Avoid the Noise:
There are a lot of rabbit holes we can all fall right now, and your coworkers may be inviting you down the "what if" rabbit hole about your future jobs. That kind of self-torture should be avoided at all costs. Do your best to do your best work, unless you have heard otherwise.
3. But Protect Yourself:
Nobody can predict what will happen, so do not be left unprepared. Be sure to stay in touch with your network - as noted above, virtual meetups are just as effective- keep your LinkedIn profile updated, polish your resume, stay abreast of the legal job market, and establish yourself as an expert on the field.  
Tips for Using Social Media in Your Legal Job Search
You can get ahead of the competition by establishing your online presence and being active on social media platforms. You should explore the following platforms and ways to use social media in your summer associate search.  
Participate In Comprehensive Interview Preparation
Legal job-seekers can find an abundance of useful information on potential employers and the ins and outs of summer associate recruiting on the internet and through social media platforms. Getting a better understanding of their practices and initiatives starts with following their several social media accounts. Social media also provides an opportunity to find current discussions about trends in law since so much of it includes real-time engagement. The more you learn about the legal profession, the better prepared you will be for the future. Furthermore, you can find information on different interviewing techniques and approaches that will benefit you as you go through the hiring process, as well as extensive information about the industry.  
Network, Network, Network
We will provide you with all the tips, tricks, and data you will need as you navigate the process, as well as profiles of industry leaders, potential interviewers, and lawyers who work at your target firms. Through researching their online profiles, commenting on their posts, starting conversations, and connecting with them across social media platforms, you will build meaningful relationships and be able to use these talking points during pre-OCI events, OCI itself, callback interviews, or recruiting events.  
Stand Out From The Crowd
Two-way communication is the hallmark of social media. There is a lot of valuable information available online that can help you prepare for the event. It is important not to stop there, however. As an attorney, social media is also an excellent way to showcase your skillset and share all the insights you have gained on your journey to date, as well as your opinions on current legal topics.
Your social media presence shows how knowledgeable you are in a particular legal area and how confident you are to express your views. As the legal industry moves towards technology-infused services, having a strong social media presence shows that you are technologically savvy.
For more expert tips on job hunting click on the link:
https://www.lawcrossing.com/article/5453/Expert-Tips-for-Effective-Legal-Job-Hunting/  
How to Identify Potential Employers
The best way for law students to find summer employment is to write letters to organizations with an interest in their work, respond to job postings, contact family and friends, and make a concerted and creative effort. First-year law students begin sending or sending emails to employers as early as December 1. Nevertheless, some students in their second year may start writing letters and contacting employers while still in their first year of law school.  
Law Crossing Directory
Law Crossing Directory is one of the most comprehensive resources for information on law firms of all sizes and individual lawyers. These directories provide detailed information about a lawyer's educational background, professional affiliations, and sometimes practice specialties at different employers of counsel. Law firms can be identified by size, practice area, location, and more using an advanced search. Few job listings provide as much detail as this one.
Link:
https://www.lawcrossing.com/
BCG Attorney Search
The BCG Attorney Search is the United States' premier legal placement firm for law firm attorneys. Mail merging, searching, and other useful tools are available online. You can find job openings for attorneys who wish to practice in law firms. They also provide career advice to their members. For students, they provide case studies and reviews.
Link:
https://www.bcgsearch.com/