Summary: My teetotalling friends (not attorneys) have hinted I drink too much. Should I cut back?
Q: I think my drinking is normal – a glass of wine with dinner most nights and, very occasionally, a six-pack at a deal-closing celebration. My teetotalling friends (not attorneys) have hinted I drink too much. Should I cut back?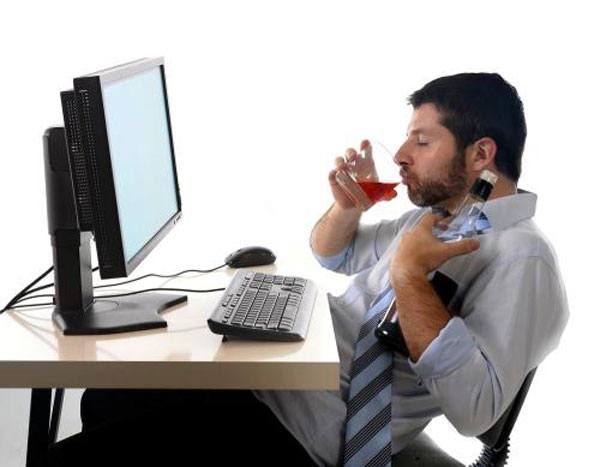 A: 
We humans have been partial to alcohol for something like 15,000 years. Even our primate cousins have been known to take a nip on occasion. Vervet monkeys living on St. Kitts, for instance, have learned how to get a natural buzz from fermented sugarcane. Presumably, their lifestyle is less stressful than that of the average overworked young lawyer, so it's no surprise some attorneys have learned how to catch more than a buzz from elixirs stronger than rotting plant life.
In moderation, drinking is probably not harmful to most of us. This is a fact researchers have believed since the mid-1800s when British psychiatrist Sir Francis Anstie observed that male patients who kept within their limit of safe drinking (up to three drinks per day) stayed healthier, while those who exceeded it put themselves at higher risk for cirrhosis and other diseases. More recently, heart researchers have shown that up to a few drinks per day can actually protect middle-aged men from heart attacks and coronary heart disease. Alas, the risks of accidents, violence, some cancers, and hemorrhagic stroke escalate with alcohol consumption. When all ways of dying are factored in statistically, even men who stick to Anstie's quota face a higher risk of premature demise than do abstainers.
All that said, a host of befuddling factors make your question fiendishly difficult to answer. Researchers at the National Institute of Alcohol Abuse and Alcoholism (NIAAA) have studied variations in so-called drinking trajectories. Some people start within the recommended limits and remain there for the rest of their lives. But up to 13 percent of Americans veer off course, winding up with some form of alcohol disorder. Many researchers have concluded that lawyers are especially susceptible to overindulgence. One study found that of a
cross-section of practicing attorneys
, 70 percent had experienced some kind of "clinically significant negative consequences" related to alcohol abuse. Researchers have tried hard to develop measures that distinguish between reasonable and problem drinking. One of the most accurate is the CAGE test, a simple four-question exam. "The CAGE test has been compared against longer and more sophisticated measures," says Ann Bradley, an NIAAA spokesperson, "and it has consistently proved an excellent means of screening for drinking problems." The questions:  
Have you ever felt you should cut down on your drinking?
Have people annoyed you by criticizing your drinking?
Have you ever felt bad or guilty about your drinking?
Have you ever had an eye-opener to steady your nerves or quell a hangover upon awakening?
A single "yes" indicates a possible drinking problem. More than one indicates a likelihood. Even if you answer "no" to all four but drinking has caused grief at home, work, or with the law, talk to your doctor about curbing the habit. If you decide it makes sense to cut back, the NIAAA offers some practical tips at its Web site,
http://niaaa.nih.gov
, plus information on how to get serious help.
What to Do
1. Write down your reasons for cutting down. For example, "My colleagues make more sense when I'm not distracted by cockroaches crawling over my flesh."
2. Set a drinking goal and post where you'll see it daily—a pop-up on your laptop screen, for instance, or your medicine cabinet.
3. Keep a drinking diary for a month, noting where and when you drink every drink. Compare your actual intake with your goal. You shouldn't need a calculator to compute discrepancies.
4. Don't keep alcohol at home.
5. Drink slowly, and never on an empty stomach. Swig something nonalcoholic between each glass of booze.
6. Skip a day or two a week. Try to work up to a week of abstinence. Note your physical and emotional states on the dry days. If they improve, use it as motivation to meet your goal. If you find yourself rationalizing, you have our permission to treat yourself as a hostile witness and cross-examine fiercely.