Obtaining client feedback serves many purposes—from helping firms make decisions based on fact to testing assumptions for initiatives to providing a mechanism for comparison with competitors. Most important a feedback program assesses client satisfaction and provides a road map for improvement.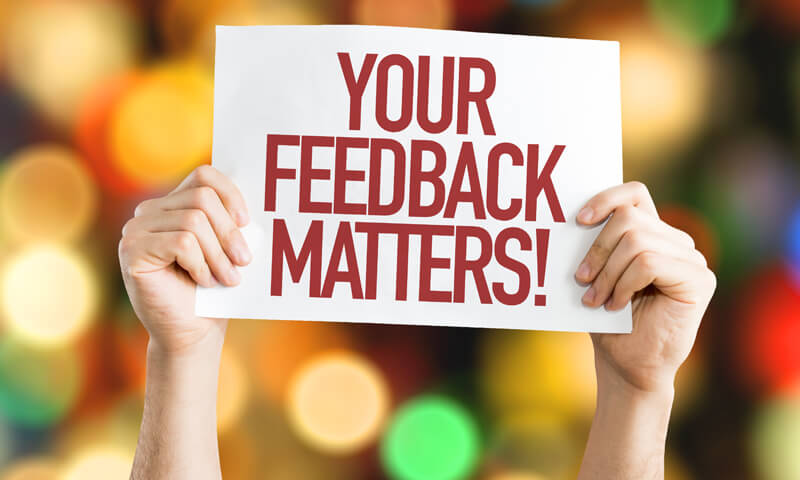 For client feedback to be a worthwhile endeavor, law firms need to approach it in a strategic manner. Current scenarios are typically "hit or miss"—dabbling, if you will. Efforts are scattered and occasional—a survey here, an interview there. Consistency is rare and follow-up, sadly, even more rare.
What is the solution? Institutionalizing the process. Law firms can learn how to do so by looking at other industries.
How To Institutionalize
There are a number of ways that a feedback program can be institutionalized:
Written Rules and Guidelines.
Don't leave the choices of when and how feedback will be obtained to chance or whim. Have written rules and procedures, and mandate the process. Specify the steps, feedback mechanisms and all details, then implement without exception.
Brand Your Program.
Just as you brand a firm, product or service, brand your feedback program. Develop core values for the program, identify specific goals, and then develop a campaign (with collateral materials, logo, tagline, and the like) to communicate this. An excellent example is the Arthur Andersen "ExCeed" program. This branded program is a cycle with four phases: (1) understanding the client's needs and expectations, (2) building the understanding into their plan of service, (3) continually improving the approach towards that service, (4) and measuring performance against the plan.
Involve Everyone in the Effort.
Train everyone in the firm to be involved in some aspect of your feedback program. The Ritz-Carlton's "Guest Recognition Program" shows how effectively this can be done. In keeping with the Ritz-Carlton "mystique," guests are not asked for their preferences. Rather, these are noted as they occur by all employees of the hotel chain. The employee then writes up a "guest preference tab," and the information is entered into a systemwide database.
For example, a guest checks into a Ritz-Carlton in San Francisco and, upon check-in, requests an "egg crate" to be used under the mattress. Next week this same guest checks into a Ritz-Carlton in Atlanta. Guess what's waiting for them under their bed?
This preference was anticipated in Atlanta because the housekeeper in San Francisco who handled the first request noted the preference and submitted it to the company's database. This type of employee participation is considered a normal, expected part of the job.
Do Something with the Results.
You would fail in your client-feedback efforts if you obtained the information but did nothing with it. Yet this is all too often the case with information obtained during client surveys or interviews. This actually does more harm than good because a false expectation of positive change was established in the mind of the client when you did the survey.
Often, follow-up does not occur because the person receiving the results either did not like or did not agree with the feedback. This is very dangerous, and there are ways to prevent this from happening. For example do not solicit feedback from a client unless you've first established hard-and-fast rules about who will see the feedback and what steps will next be taken, no matter what the client says. Also, be sure someone takes responsibility for ensuring that follow-up is handled. Don't let it slip through the cracks.
Determine an "Acceptability" Scale.
Before you gather feedback, decide what constitutes acceptable responses. The tolerance level will have to be decided by each firm, but try to be tough. A response of satisfactory should never be enough. Instead, it should serve as a catalyst for a discussion with the client or within the firm about what needs to be done to raise that rating to the next level and beyond.
Types of Feedback
Law firms can also learn a lot about feedback methodologies from other industries. For example:
Point of Purchase.
Marriott hotels use point-of-purchase by having feedback cards throughout their hotels—e.g. at the front desk, in guest rooms, and in the restaurant. In Atlanta, Hartsfield Airport has huge sandwich boards throughout each concourse asking travelers to complete a brief satisfaction survey. Law firms can solicit point-of-purchase feedback, too. A few examples include reply cards in the lobby or questionnaires included with bills.
During "Prospecting."
When you're meeting prospective clients, you can also gather feedback. During a conversation, as a prospect reveals things such as service preferences or industry issues, take a moment to write these on the back of their business card. Don't worry about being obvious—you should be. It's a compliment to them that you're considering what they say important enough to write down. Real estate brokers and other sales professionals utilize this prospecting technique.
At the Start of the Engagement.
When you go to a doctor's office for the first time, what do they typically ask you to do? Complete a questionnaire that provides information critical to your treatment. Similarly, when your firm has new clients, spend some time—preferably face-to-face—and ask them for their preferences before you begin "treating" them. If they hate voice mail or have a specific format preference for their bills, it's helpful to learn these things up front. Don't wait until they are disgruntled to learn the best way to serve them.
At the Conclusion of Matters.
Check satisfaction at the conclusion of each matter. This helps ensure that expectations have been met. In the auto industry, when your car is serviced at the dealer, it's common to receive a phone call a few days later to inquire about your satisfaction. Law firms can and should do the exact same thing.
Throughout the Relationship.
Throughout the course of the relationship, it's important to assess satisfaction and keep abreast of changes in the client's company and industry. This can be handled by written surveys, but the preferred method is a combination of informal client visits and more formal face-to-face satisfaction assessments.
At Seminars.
Keypad technology allows participants to vote using handheld devices. This technology is used at many seminars today. It's relatively easy and inexpensive and provides a chance to assess demographics of an audience, benchmark best practices and be sure the seminar is delivering as promised. Law firms are now using this technology, which is prevalent in many other industries and on game shows.
On-line.
One way to make your firm's web site more dynamic and interactive is to have feedback mechanisms—questionnaires or surveys—on the site itself. Besides being a way to gather important information, it publicly affirms your commitment to listening to your audience(s). Visit Microsoft's web site and you'll see many on-line feedback tools.
Delivering exceptional service, meeting the needs of clients and prospects, and developing innovative products and services can all be accomplished more expediently and appropriately by a strategic approach to client feedback.