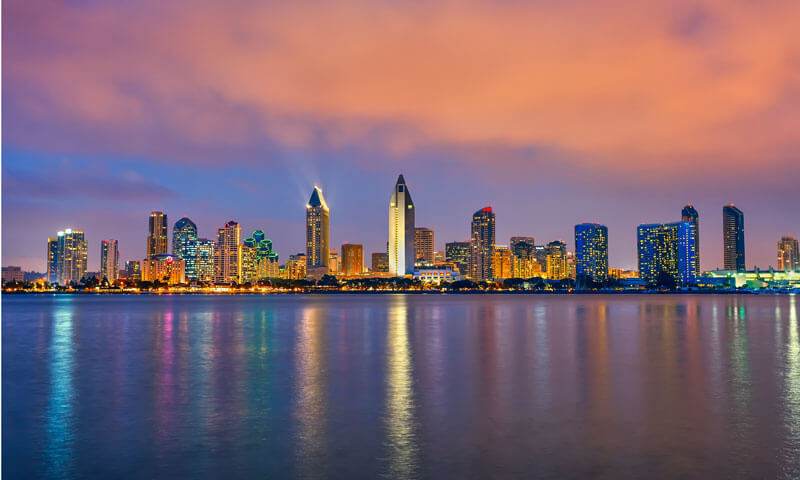 Beautiful, sunny San Diego is the place to be. Well known for its beautiful beaches, great family fun, terrific dining, and extraordinary nightlife, San Diego is one of the best spots to bathe in the sun or just stroll the Pacific in Coronado, a peninsula located just across the bay from San Diego. This charming seaside community is home to several beautiful beaches, and a favorite of the locals is the terrific dog park at Ocean Beach. There are many leisure activities located on this 14-mile peninsula, including two live theaters, miles of bike paths, tennis courts, swimming pools, and golf. For family fun, one can take the kids to the San Diego Zoo, the San Diego Wild Animal Park, or SeaWorld. Don't forget to schedule breakfast with Shamu. For nighttime dining, you won't want to miss Old Town San Diego, where you can walk through gardens, enjoy delicious hot tortillas made right in front of you, and shop at unique and fun boutiques that feature everything, including chocolates, clothes, toys, and artwork.
San Diego is a strong legal market and one of the most desirable areas to live. As such, there are a number of well-qualified candidates who apply to firms in the area. So if you aren't already in the area and are considering a move, it is important to demonstrate a commitment to relocating to the area or show strong ties to the area, such as having family there. Although a select few firms require the California bar, most firms in the area will take advantage of a great candidate when they see one.
There are many areas of activity, and litigation is probably the hottest right now. Candidates with large-firm experience and/or strong academic credentials will likely get interviews. We have firms of all sizes seeking litigators, including large national firms and small boutiques. Areas of litigation that are hot right now include complex commercial litigation, insurance litigation, and securities litigation.
There is a need for
labor and employment attorneys
at all levels. For senior-level attorneys in this practice, having
portable business
is not required. Attorneys with 2-6 years of experience in the labor and employment practice are hot as well. Experience in both litigation and counseling is always a plus.
San Diego firms are seeking experienced attorneys in the areas of employee benefits and executive compensation. Qualified candidates should have 3-5 years of solid experience in qualified retirement plans, health and welfare plans, and non-qualified deferred-compensation plans.
Junior and mid-level land use and environmental attorneys are also in demand. Qualified attorneys should have 2-5 years of experience from top law firms and strong academics. Experience in land use, environmental, and administrative law are sought after, especially experience with public agencies and experience in representing developers and property owners in land use transactions.
San Diego also needs junior and mid-level real estate and project
finance attorneys
. Qualified candidates should have 2-5 years of solid experience at a top law firm and strong academics. Transactional experience is a requirement, as is familiarity with banking and financial transactions or subdivision documentation.
Several months ago, IP and patent law were the hottest areas to be in; however, the firms' needs in this area have tapered off. Many firms are still interested in highly qualified patent and IP attorneys, though. Qualified patent candidates should be admitted to the
patent bar
. Firms have a strong preference for candidates with technical backgrounds (such as electrical engineering, mechanical, physics, biology, or chemistry).
As the market is improving, we are seeing more firms hire corporate candidates. Still, it is incredibly competitive to get a job in this area because there are so many well-qualified and experienced attorneys vying for these jobs. Qualified candidates should have experience in securities law, M&A, corporate compliance, and general corporate representation.
Partner and practice group movement is on the rise as we continue to get requests from firms for partners in all practice areas. We currently have a large number of partners interviewing at firms, and we are finding that partners with books of business of at least $750,000 are receiving multiple interviews. Partner activity is strong due to the economy: Firms simply need more people with business to generate work and make more profits. Most firms are currently seeking partners with a minimum of $500,000, and they are actively recruiting partners with significant books of business valued in excess of $1,000,000. The most desirable practice areas for partners with business are litigation, IP, bankruptcy, environmental, and real estate.
The market is definitely improving, and this is a strong market for experienced and talented attorneys. Firms are much more conservative in their growth than they were a few years ago and are
hiring attorneys
only when there is a demonstrated need for additional help in a practice area.