Presuming innocence in a criminal trial demonstrates the importance of freedom to Americans. It is common in many other countries simply to presume someone guilty until they can prove their innocence or until the government can demonstrate its case sufficiently. Despite this, the presumption of innocence in the United States of America requires the prosecution to prove its case against the defendant beyond a reasonable doubt before he can be pronounced guilty.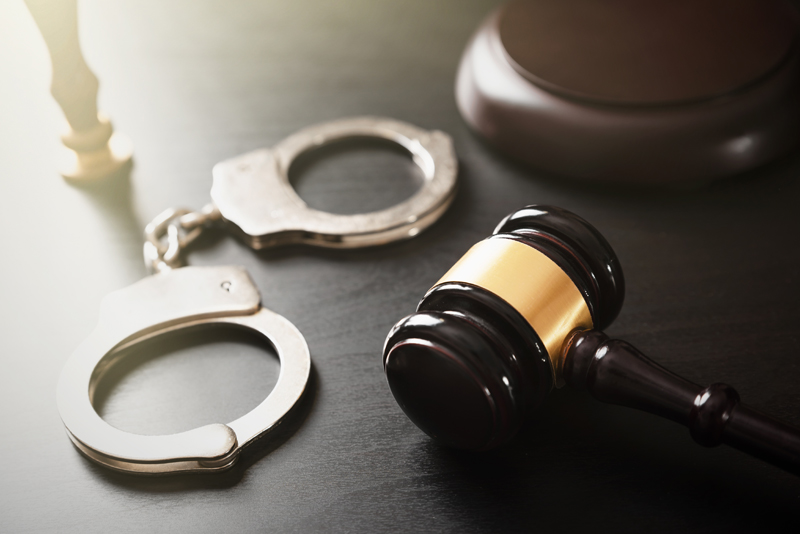 Under the U.S. Constitution, everyone accused of a crime has the right to a lawyer. Defendants are represented in and out of court by criminal lawyers.
A trial is occasionally necessary after several attempts to settle outside of court have failed.
The criminal law attorney works in
criminal law
, either as a prosecutor, defense lawyer, or judge. Opportunities for this type of attorney are available at the federal, state, and local levels.  
Overview of Criminal Procedure
At the federal level, a
criminal case
proceeds as follows.  
Initial Appearance
This is the defendant's first appearance in U.S. District Court on a complaint, generally before a Magistrate Judge.
The judge informs the accused of the allegations in the complaint and lets them know they have a right to counsel, the right to a preliminary hearing, and the right to remain silent.  
Preliminary Hearing
In this proceeding, the government attempts to demonstrate it has sufficient evidence to prosecute the case. Other issues, such as bail and release, may also be considered – or these may await a separate detention hearing.  
Pretrial Motions
The defendant asks the court to consider various motions, including those to exclude evidence or to compel discovery by the prosecution.  
Plea Arrangements
The accused reviews any plea offers from the prosecution or enters a plea of guilty or not guilty.  
Trial and Sentencing
The accused has a constitutional right to a trial by jury. If the defendant is found guilty, a sentencing options report is prepared for the court based on the U.S. Sentencing Guidelines. After sentencing, the convicted person is sent to prison unless probation was approved.  
Common Felonies Under Federal Criminal Law
At the time of the formation of the United States, there were approximately seven felonies. Now, the federal criminal code enumerates hundreds, if not thousands, of felonies. Due to the constraints of federalism and jurisdiction, law enforcement at the national level focuses on different crimes than state criminal law. These include fraud, conspiracy, embezzlement, and insider trading.  
Fraud
Fraud occurs when a person:
"knowingly and willfully … falsifies, conceals, or covers up by any trick, scheme, or device a material fact; … makes any materially false, fictitious, or fraudulent statement or representation; or … makes or uses any false writing or document knowing the same to contain any materially false, fictitious, or fraudulent statement or entry."
The punishment is not more than five years in prison unless the crime involves terrorism, in which incarceration can last up to eight years.  
Conspiracy
This is a very commonly charged offense. For example, conspiracy to defraud the United States is:
"to commit any offense against the United States, or to defraud the United States, or any agency thereof in any manner or for any purpose, and one or more of such persons do any act to effect the object of the conspiracy."
This offense is generally punishable by a fine and/or up-to five years in prison.  
Embezzlement
For example, the federal public embezzlement statute reads.
"Whoever embezzles, steals, purloins, or knowingly converts to his use or the use of another, or without authority, sells, conveys or disposes of any record, voucher, money, or thing of value of the United States or any department or agency thereof, or any property made or being made under contract for the United States or any department or agency thereof; or [w]hoever receives, conceals, or retains the same with intent to convert it to his use or gain, knowing it to have been … stolen, purloined or converted" is guilty of embezzlement.
The punishment for this crime is not more than one to ten years, depending on the amount embezzled.  
Insider Trading
The Securities Exchange Act of 1934 prohibits insider trading. Federal authorities aggressively prosecute this crime. Punishment ranges up to 20 years in prison and fines in the millions.  
Opportunities for the Criminal Law Attorney as a Federal Prosecutor
The federal government's criminal prosecution enterprise is one of the massive proportions. The nation and its territories have 94 separate jurisdictions. Each of these districts is supervised by a United States Attorney. Over 300 assistant U.S. Attorneys, or federal prosecutors, assist in the effort.
Federal prosecutors have the support of an extensive network of investigative agencies. There are over 80 federal law enforcement agencies, which have over 130,000 full-time agents. For instance, the Federal Bureau of Investigation has about 35,000 employees, while the Bureau of Alcohol, Tobacco, Firearms, and Explosives has 5,000. Other large agencies include the Department of Homeland Security and the Food and Drug Administration.
Assistant U.S. Attorneys perform the day-to-day operations of prosecuting defendants charged with federal crimes. In addition to membership in a state bar, one year of legal experience generally is required. As of 2021, the salary range for this position is $55,000 to $145,000 per year.
As federal employees, assistant U.S. Attorneys receive civil service retirement benefits and other benefits like group life insurance, healthcare coverage, dental/vision insurance, and others.  
Opportunities for the Criminal Law Attorney as a Federal Defender
Federal public defenders are
criminal defense lawyers
that work for the United States government and defend those accused of federal crimes. They earn salaries similar to the assistant U.S.
Attorneys and receive the same benefits.  
Federal Judgeships
Rewarding careers as a judge are available at the federal level.  
Magistrate Judges
These judicial officers issue warrants, conduct pretrial proceedings in criminal cases and adjudicate cases involving minor offenses. To be considered for this position, the applicant must have five years as a member in good standing in a state bar. They are appointed to a renewable term of eight years. As of December 2020, magistrate judges earn $229,500 per year.  
Federal Judges
The criminal law attorney does not apply to be a federal judge. This prestigious position is only available upon nomination by the President of the United States. Typically, members of Congress recommend potential nominees, and the Department of Justice reviews the nominees' qualifications. If the Senate confirms the nominee, they serve for life.
As of December 2020, federal judges earn $229,500 annually.  
Working as a Criminal Law Attorney for the State or County
State criminal codes remain the most comprehensive source of sanctions for criminal conduct.  
Common Felonies Under State Law
Much criminal prosecution at the state level focuses on drug offenses and violent crimes. The latter consists of murder, mayhem, sexual assault, and others.  
State Attorneys General
Each state has an attorney general who acts as the state's top lawyer. They usually have many attorneys on staff. For example, California's Office of the Attorney General employs more than 4,500 lawyers, peace officers, and other staff.
The salaries for deputy attorney generals vary widely throughout the nation. In California, they earn about $144,000 a year. As state employees, assistant or deputy attorneys generally receive civil service benefits similar to their federal counterparts.  
County Prosecutors and Public Defenders
The United States has 3,006 counties. Each one has a county prosecutor, often called a district attorney. Variously elected or otherwise chosen by local government, these officials represent the state in prosecuting crimes and often have assistant or deputy district attorneys. As county employees, these
criminal law lawyers
generally also have extensive civil service benefits. These positions, unlike criminal law lawyers at the state and federal level, are often entry-level.
Many counties also have
full-time public defenders
who defend clients in criminal proceedings.  
Criminal Defense in Private Practice
With this country's network of federal, state, and local criminal law attorneys that prosecute the law, there are significant opportunities for criminal law attorneys to specialize as criminal defense attorneys. Many of these lawyers had experience as
county prosecutors or public defenders
before turning to private practice. While the salary range depends on experience and location, the average salary is approximately $77,000 to $101,000 annually.  
County Judges
Those criminal law attorneys with extensive experience may become county judges, often called superior court judges. These positions require years of criminal law practice. Depending on the jurisdiction, judicial officers are either appointed or elected. The average salary for a superior court judge is about $173,000.  
Roles & Responsibilities of the Criminal Lawyer
In state, federal and appellate courts, criminal lawyers represent defendants accused of criminal offenses. Bail bond hearings, plea bargains, trial, revocation hearings (parole, probation), and appeals are all within their scope of practice. An attorney's job duties include:  
Interview witnesses and conduct an investigation.
Conduct legal research into case law, statutes, and crime codes.
Develop a defense strategy and build a defense.
Plead guilty to lesser charges by negotiating with the prosecution.
Assist with drafting, filing, and arguing motions to dismiss and suppress.
Trial attorney for the defendant.
Organize, draft, and file appeals.
Criminal Lawyer Salary
Salary levels for criminal attorneys vary depending on the size and scope of their practice, the clientele they serve, and where they are located. Non-profit and public defender salaries are typically modest (between $30,001 and $50,000 is typical).
According to the U.S. Bureau of Labor Statistics (BLS), average attorney salaries include the following:  
Median Annual Salary: $120,910 ($58.13 /hour)
Top 10% Annual Salary: More than $208,000 ($100/hour)
Bottom 10% Annual Salary: Less than $58,220 ($27.99/hour)
How Do I Become a Criminal Law Attorney?
A Bachelor's degree in criminal justice is a helpful stepping stone. Then, after passing law school and becoming a state bar member, the lawyer is qualified for a
career as a criminal law attorney
. Many local county prosecutor jobs are entry-level positions. In contrast, those at the state and federal level, and criminal defense positions, generally require some prior experience practicing criminal law.
As a criminal attorney, you must have the following qualifications:  
Competencies & Skills of Criminal Attorneys
The following are additional skills that criminal attorneys need to be successful in their work:  
Writing and Speaking Skills: Ability to persuasively argue a client's case before a judge and persuade a jury.
Research and Investigative Skills: Research and investigative skills are also essential in establishing a strong defense for a client.
Creative and Analytical Skills: The ability to develop a legal strategy, analyze legal case law, and litigate complex cases using strong creative thinking and analytical skills.
Legal Knowledge and Experience: A thorough understanding of all laws, procedures, evidentiary standards, and local judges that will enable you to navigate the criminal justice system efficiently and effectively.
Interpersonal Skills: For a client-attorney relationship to be successful, an attorney must have excellent interpersonal skills. A criminal defendant is often picky about her legal representation and may consult several lawyers before choosing one she likes. A thriving criminal defense practice relies on the ability to attract and retain clients.
Job Outlook
The criminal law practice niche is growing. Over the past 30 years, the number of people sentenced to prison has grown nearly threefold as crime rates rise and criminal laws change. The United States' crime rate is on the rise, and the prison population is rapidly growing. As more Americans are charged with crimes under state and federal laws, so will the demand for criminal defense lawyers.
As reported by the BLS, jobs for all attorneys, including criminal attorneys, are expected to grow by 8% from 2016-2026 compared to other occupations and industries. As a whole, occupations are expected to grow 7% in the next few years.  
Occupational Environment
Private practice and solo practices are the most common options for criminal lawyers. In some cases, public defenders work for government agencies or non-profits. It is not uncommon for criminal lawyers to work long, irregular hours. In addition to their office space, they meet with clients at hospitals, prisons, and courthouses. Criminal attorneys tend to focus on local cases. However, attorneys who have a national practice must travel frequently.
See Also: