The
biochemistry attorney
gets involved in major areas of commerce, including pharmaceuticals, pesticides, and patents.
What is Biochemistry?
Biochemistry studies the chemical processes related to living organisms.
The field is based on laboratory research that combines biology and chemistry.
Biochemists make significant contributions in many profitable fields.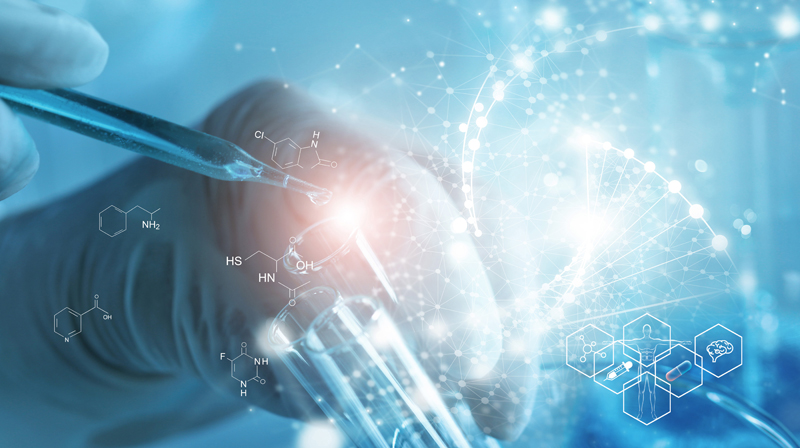 Biochemistry and Drug Development
Although biochemistry plays a critical role in many industries, they are particularly important to the pharmaceutical industry. As one medical report summarized:
"Among the fields of expertise required to develop drugs successfully, biochemistry holds a key position in drug discovery at the interface between chemistry, structural biology, and cell biology. [B]iochemistry can provide invaluable information on the dynamics and energetics of compound–target interactions... Therefore, extensive use of biochemistry in drug discovery could facilitate the identification and/or development of new drugs."
Therefore, biochemists are key to developing new drugs.  
Food and Drug Administration
The United States Food and Drug Administration (FDA) has broad regulatory authority over prescription and non-prescription drugs.  
Approval of Drugs for Humans
This process is handled through FDA's Center for Drug Evaluation and Research (CDER). CDER evaluates proposed drugs before the sale of them is legal. Its goal is to make sure the drug works correctly and that its benefits outweigh the risks.
The first step to approval is testing. This consists of the following:  
Laboratory: Before testing on living subjects, lab testing is performed.  
Animals: Well-controlled animal studies that demonstrate drug efficiency are critical.
Humans: After lab and animal testing, human subjects are next. Generally, at least two well-designed clinical trials are performed to determine that the drug is safe and effective.
Once testing data is submitted to CDER, the framework of the approval process is:  
Available treatments: CDER reviews the current state of treatment for the target condition. In other words, are there currently drugs available that may work but come with high risks? If so, there may be room for the proposed drug to provide the same treatment effectiveness with lower risk.
Benefit-risk analysis: The benefits of the drug are compared to its risks.
Mitigating risks: CDER looks at how it could minimize the risk(s) of the drug. This includes appropriate drug labeling and consumer notification of side effects.
As witnessed by Covid-19, FDA has different levels of prioritizing drug approval. In addition to its normal review process, circumstances may require the following expedited approaches:  
Fast track: This process expedites the review of drugs that treat serious conditions. They used fast-track reviews for the Covid-19 vaccinations.
Breakthrough therapy: When initial results indicate that a new drug may demonstrate a substantial improvement over existing treatments, the expedition is also available.
Priority review: Not as expedited as fast track, this process does speed up the review by focusing CDER resources on the drug.

Approval of Drugs for Animals
While the development and approval of new safe and efficient drugs for humans are of paramount importance, the business of animal treatment drugs is very lucrative.
The FDA is also responsible for these drugs. Its Center of Veterinary Medicine (CVM) approves and regulates them for animal use.
CVM has the following process for approving new veterinary medications:  
Drug sponsor: A company interested in manufacturing and selling a new drug for animal treatment collects information, conducts studies, and analyzes the results.
Sufficient evidence: The drug sponsor must decide that there is sufficient evidence that the drug is safe and effective for specific use for a given species of animals. Also, if the drug is intended for food-producing animals like chickens or cattle, the sponsor must conclude enough evidence that it is safe for consumers to eat food from the treated animals. If so, the sponsor submits a New Animal Drug Application (NADA) to CVM.
Review: CVM reviews the NADA. If it agrees with the sponsor, the drug is approved, and the company can legally sell it.
Opportunities for the Biochemistry Attorney in the FDA Drug
Approval Process
The biochemistry attorney represents pharmaceutical companies before the CDER and CVA. While much of the drug approval process is in the domain of doctors and biochemists, biochemistry attorneys are still necessary to navigate the complicated process of drug approval through CDER and CVA. They ensure all the required documents are submitted to the proper people at the right time.  
Biochemistry and Biopesticides
Biochemists are critical to the development of new drugs for humans and animals, but they are also involved in the profitable field of pesticides.
A biopesticide is a naturally occurring substance that helps eliminate or minimize the damage caused by pests. There are three main types:  
Biochemical: These directly control pests.
Microbial: These interact with microorganisms that control pests.
Plant-incorporated pesticides (PIP): PIPs are pesticide substances produced by plants containing genetic material additives.
Biopesticides are valuable because they have several benefits over traditional pesticides. These include:  
Reduced pesticide use: The use of biopesticides reduces the reliance on synthetic pesticides.
Less toxicity: Biopesticides are generally less toxic than traditional synthetic alternatives.
Small quantities: While traditional pesticides often apply a broad-brushed approach to killing, biochemical alternatives can provide a more focused attack on the specific pest causing the problem.

Federal Oversight
The Environmental Protection Agency (EPA)is responsible for ensuring that biopesticides are effective and do not pose unreasonable risks to human health and the environment. The agency carries out this responsibility through the Office of Pesticide Programs.  
Opportunities for Biochemistry Attorneys in Biopesticides
Biochemistry attorneys
work for large agricultural companies that manufacture and sell biopesticides. They represent their company before the EPA's Office of Pesticide Programs and make sure the company's submittals meet all of the office's requirements.  
Opportunities for Biochemistry Attorneys in Patents
For those attorneys with an engineering or science background (like the biochemistry attorney), a career as a
patent attorney
is possible. There are two avenues available – acquisition and litigation.  
Patent Acquisition
The biochemistry attorney must be a registered patent attorney to represent clients in their desire to obtain a patent for their biochemistry invention or discovery. This requires an engineering or scientific education and the passage of the difficult
patent bar exam
.
Biochemistry lawyers can file patent applications for those inventions or discoveries related to biochemistry.
These are not for the faint of heart. Here are a few biochemistry-related patents recently granted by the United States Patent and Trademark Office (USPTO):  
Unconstrained bio-information: It "relates to a system for estimating a degree of distraction based on unconstrained bio-information. The present invention provides a system for estimating a degree of distraction based on unconstrained bio-information, the system comprising: a degree-of-distraction measurement chair comprising a seating unit, a message transmission unit, a pressure detection unit, and a support unit."
Network-based personal genetics: "Databases and data processing systems for use with a network-based personal genetics services platform may include member information about a plurality of members of the network-based personal genetics services platform.
Medical imaging. It "relates to methods of assessing or obtaining an indication of the presence of a cognitive disorder by analyzing microstructural changes in regions of the brain. The invention particularly relates to methods of assessing or obtaining an indication of the presence of types of dementia."
It is not unusual for a patent application filed with USPTO to be rejected. However, if upon amended application, it is rejected again, there is a right of appeal with the Patent Trial and Appeal Board.  
Patent Litigation
Patent infringement is frequently litigated.
Patent holders who feel they are protected inventions or discoveries that have been infringed may file a lawsuit to recover damages or obtain an injunction prohibiting further
patent litigation.
When these patents involve biochemistry-related issues, the biochemistry attorney initiates the claim or defends the accused in federal court.  
Role of a Biochemistry Attorney
To protect your computer engineering innovations, the computer engineering attorneys:  
Identify how your competitor's innovations affect your product, client base, and business strategy by conducting patent searches and due diligence reviews.
Develop strategies for managing and protecting IP portfolios.
Advice on patent law, trademark law, copyright law, trade secret law, and other areas of intellectual property.
Assist with infringement, validity, and right-to-use issues.
Obtain utility and design patents by preparing and prosecuting applications.
Litigate and defend IP assets.
How Do I Become a Biochemistry Attorney?
First and foremost, a college degree in chemistry or biology is recommended. A
graduate degree in biochemistry
is also helpful. Then, after earning a law degree and becoming a state bar member, the sky is the limit.  
Biochemistry Attorney's Skills & Competencies
The success of this occupation will also depend on certain soft skills that you either inherit or acquire through experience. The following are:  
Problem Solving and Critical Thinking Skills: Chemistry Attorneys identify problems and propose possible solutions. Before implementing those fixes, they evaluate each one and determine which one will be the most effective.
Speaking, Listening, and Interpersonal Skills: Working on a team is an integral part of the job, so you must have good communication skills.
Time Management Skills: Good time management is essential for meeting deadlines.
Analytical Skills: Like all scientists,  Chemistry Attorneys must analyze a lot of data.
Organizational Skills: Doing this job requires accurate data tracking, as well as thorough documentation of all processes and results.
Read these articles for more information: