To protect your interests in any legal matter, you will require a lawyer no matter whether you are currently planning your business or have already begun. A qualified attorney can provide legal advice to help you navigate the requirements of various business matters and can represent you in court if you are sued. Companies have the option of hiring law firms, solo practitioners, or in-house counsel. It is imperative, however, that you interview with your lawyer before you choose one.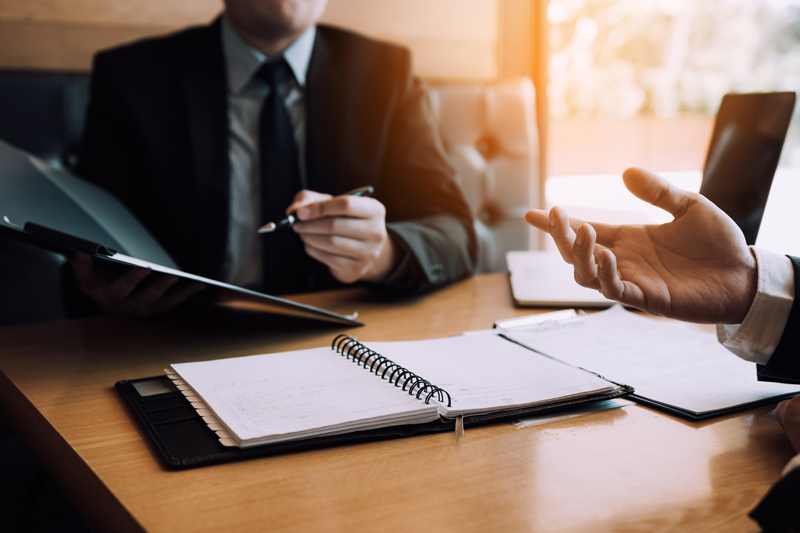 Since interviewing attorneys can be an intimidating process, we have prepared a few tips for hiring lawyers, including what areas you should look at and what kind of process you need to use
. Use these tips to help build a healthy attorney-client relationship from the beginning.
The process of hiring a lawyer should include great questions.  
All types of attorneys can be found using any number of sources, including lawyer referral services that provide lists of attorneys.
The following criteria should guide you when asking questions of lawyer candidates:
What does your company need?
Experience in your industry and expertise as a lawyer.
The candidate's relationships with other lawyers and legal experts.
Whether the candidate has experience with your competition.
Willingness of the candidates to discuss the law with clients.
The lawyer's fee arrangement.
It is also essential to consider the candidate's general attitude and purpose.
In your discussions with the lawyer, you need to determine whether they are more focused on bringing in new clients, keeping existing clients happy, or doing actual work for your company. You should hire a candidate who demonstrates at least the last two characteristics.  
If you want to hire an attorney, you need to decide if you like the lawyer you are talking to. You will need to speak with your attorney from time to time since he may have to adjust to a vastly different corporate culture.
You can ask personal questions, such as the law schools they considered when applying
, where they worked as a junior lawyer, and whether they had an experienced lawyer as a
mentor
. You can also ask them to describe a common situation they have trouble with.
How to Interview an Attorney
The following three tactics should be used when interviewing an attorney:
Have a one-on-one interview with the candidate. 
Interviewing attorney candidates in this manner is the best option.
Regardless of whether the attorney fits your
company's culture
, it is your business, so it is up to you to find one who will protect your interests above all else.  
Ask questions about behavior. 
Testing the candidate will help you determine their past behavior since it is often a good predictor of their future behavior. If the lawyer's answers to behavioral questions satisfy you, then you can consider hiring him or her.  
Negotiate rates beforehand.
It may not seem worthwhile to hire an expensive lawyer, but not having one could hurt you later. Lawyers can charge you a flat fee, by the hour, or extra for completing a task, but you must negotiate with them upfront.  
What should you ask an attorney during your interview?
If you are seeking legal representation, what questions must you ask candidates?  
What experience do you have in this industry?
Do you know anyone who specializes in this area of law?
Did you ever have any dealings with my competitors?
Can you share a time when you failed to deliver for a client?
Tell me about a time you went above and beyond to get something done.
What experience do you have in this industry?
Before hiring an experienced attorney, it would be best if you interviewed the types of lawyers who are knowledgeable regarding your industry.
If you work with deals, you should hire an attorney with contract expertise. If you create intellectual property, your attorney should be knowledgeable in
copyright and trademark laws.
A good lawyer will also keep you, your staff, and your business up to date on your industry's relevant legalities. By talking directly with you and your team and sending you memos and other literature, your lawyer can accomplish this.
If you can, prepare some legal questions for the candidate to see what kind of strategic advice they give about specific legal situations. Additional questions that are specific to your business will help you find the best attorney who can provide superior representation in a reasonable time.  
Do you know anyone who specializes in this area of law?
It is not unusual for you to need another business attorney with relevant experience to handle a rare or unusual legal issue. Your attorney may refer you to an expert if you learn that the attorney you are interviewing only focuses on specific aspects of the legal process.

Did you ever have any dealings with my competitors?
If you interview a candidate who has worked for the competition, that means this person likely has the necessary experience for your business or industry. Nevertheless, be cautious when hiring a rival's attorney because there could be conflicts of interest.

Can you share a time when you failed to deliver for a client?
One follow-up question in response to this may be: "What do you think went wrong in that situation, and what are you going to do differently now?" With this question, you will be able to learn about the candidate's attitude toward self-evaluation.

Tell me about a time you went above and beyond to get something done.
The attorney's response to this question will show how willing they are to do all they can to help their client. Although a lawyer may be bound by
attorney-client confidentiality
, they may still be able to give you general details on what he or she can do to help you, for example, if you are facing a lawsuit.

Is there anything I should know about negotiating attorney prices?
If your lawyer charges an hourly rate or a monthly
retainer
, ask whether a flat fee is appropriate or if a price is to be quoted beforehand. Make sure to also ask whether there is any contingency fee associated with their legal services and determine who will be responsible for paying filing fees. At the same time, make sure to determine what methods of payment will be used. When you sign a contract with a lawyer, ask them to hold back between 10%-20% until they deliver, or make sure they give you the deposit back if you fail.  
Also, ensure that the lawyer will not waste the money you paid them and that he will not hold it up indefinitely. It can be amazingly easy to find yourself in an undesirable financial situation if you do not agree on every detail upfront. When choosing between payment arrangements such as ownership stakes or fees, choose the latter.  
After all the details have been worked out and you have chosen this lawyer, make sure you get every detail of the agreement with your lawyer in writing. To start working with your attorney, you will need to sign a contract with all billing policies outlined.  
See also: