Our local legal newspaper focused on summer associate programs in big firms in California this week, reporting a slight decline in the numbers. Even with a decline, there are hundreds of you "summers" out there.
The insert provided lots of advice for success and quotes from recruiting staff. I thought one thing was missing though. How to suddenly jump from a law student lifestyle of nightly re-hydrated Asian noodle soup and living on the edge of poverty, to a sudden assumption that you are now entitled to dine in the finest restaurants, drink the best wines, and have daily sustenance brought to you from the most exclusive caterers in the neighborhood.
Every year around this time, I flash back to my experience in May of 2001. As a "mature" law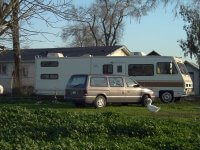 student I had experienced the finer things in my other professional incarnations before law school. However, the law school years were fairly meager in this regard, while we balanced tuition bills with the dramatic absence of a regular paycheck. By the end of law school, I was living part-time in my brother's decrepit, long-retired RV temporarily parked on a rough farm next to the Davis dump. A flock of geese lived under my RV and a herd of cows often surrounded it. There were issues of ants, bees, heat, cold, wind, clean water, leakage and odors.
Somehow, against all odds, law school finally came to a fitting conclusion. The final Sunday after graduation I threw clothes, books, and laptop into my car to move into a fairly posh temporary room in Los Altos to begin my "summer" experience at a big firm in Palo Alto the next day.
Coincidentally, the firm won a huge case that Monday, and so our summer welcome lunch became an office-wide celebration at an extremely lovely restaurant on their outdoor patio surrounded by glorious blooms and lush foliage. The firm ordered everything on the menu, the finest champagnes, and lovely wines. I felt my head spinning a bit while trying to take all this in and push out the previous day's memory of the PB sandwich eaten on the run while fighting off geese and helping my brother jump start the RV for its return voyage.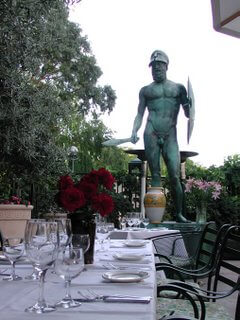 The combination of exquisite food, the aromatic blossoms, beautiful dishes, stimulating conversation, and interesting people made my thoughts wander and while staring into space for a moment, I realized my vision had rested upon the critical point of an extremely well-endowed Greek male, very much larger than life, statue. At this point, the contrast between my two parallel lives hit an all time high and the only recourse was an eye-watering case of the giggles.
Luckily, the attorneys at my firm were pretty normal folks and they had been there also. My stories of the geese and my RV brought out other great stories of survival and by the end of that first Monday, I was convinced I had chosen the right firm.
I always wonder what is going through the minds of some law students in their first summer associate big firm position if they have come from a life without wealth or privilege. My best advice is allow yourself some time to adjust. Don't be afraid to let people know what you are experiencing. You are not alone.
It will take time to decide what values and lifestyle you want to embrace as an attorney. But for now, it's OK, to do some research, experience what's out there, and don't be afraid to laugh at life and all it can offer.