Many attorneys seem to choose the prestige of a law firm without considering the practice area in which they will be working.
This is why a large number of attorneys find themselves in the wrong practice area.
While switching practice areas can be difficult, it is not entirely impossible.
Changing practice areas will entail academic and work-related qualifications.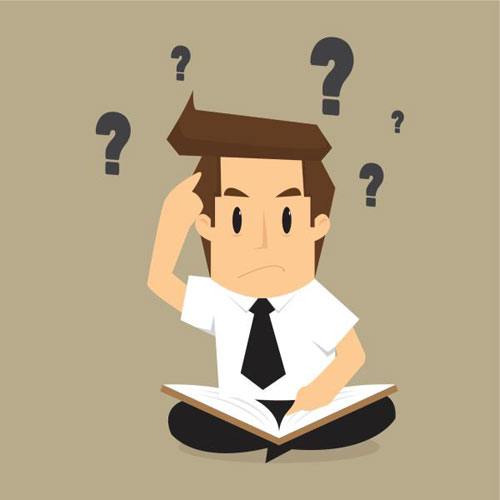 Can Lawyers Change Specialties?
Attorneys' paths to law firms are often nothing less than insanity in many regards. A majority of attorneys interview for summer associate jobs
, take the best offer and sign up with a particular firm without considering what practice area they will serve.
It is especially important that people enjoy the work they do
, and the process attorneys go through to choose a practice area makes little sense in a lot of ways. Consequently, it is not surprising that we receive many calls from lawyers seeking to switch their practice areas on a daily basis.  
Although switching practice areas is difficult, it is possible.
It depends on your academic background, your length of experience, the law firm with which you work, the current legal job market, the market demand for the practice areas you wish to leave or enter, and, perhaps, just pure luck, whether you are able to switch practice areas.
Nevertheless, the decision to change
practice areas
should be based on the question of who you are.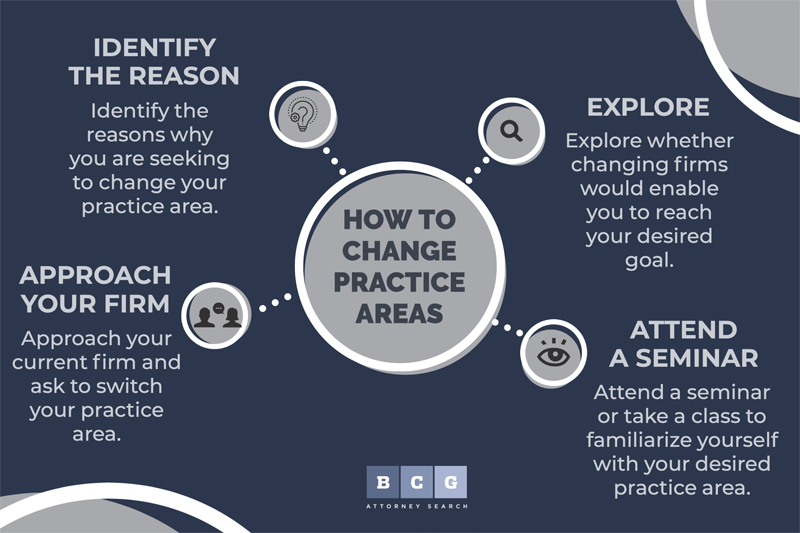 It is important to remember that switching practice areas is not an easy decision. It is more important to practice work that suits your skills and interests than anything else
.
Furthermore, switching firms to join a new practice area may not always be the best choice. A law firm may allow you to switch practices within its confines, for example. Legal recruiters should not be enlisted if this is possible.  
10 Tips to Change Legal Practice Areas Successfully
In essence, it will take a lot of effort on several fronts to change legal practice areas successfully. The process will also take time, so it is important not to rush it. The transition to your new area of legal practice may take 1-2 years.  
1. Study
You will have to start all over in law if you switch practice areas. Prepare yourself for studying! Examine current cases, regulations, and case law for family law for 30 minutes a day. In the morning, look up cases on our Supreme Court website and keep yourself up to date on the current affairs.  
2. Find a Mentor
Besides regular study,
finding a mentor is one of the most important tips for changing practice areas successfully.
There is no price you can put on that. You
do not just need a mentor who will teach you the practice of law, but also the business of it.
Therefore, you need help with the business aspect of practicing in a variety of different fields, and finding someone who can guide you in this regard is extremely important.
To find a mentor, look for people who have made themselves known as leaders in your new practice area community and start a conversation with them. 
"Is it okay to speak to you about this case?" is an example of how it can be done. Would you be able to speak with me about this challenge I am having with this judge? Do you see the same thing? Is it just that I am new? Over time, those relationships grow.   
3. Write
Explaining something to someone else is the best way to understand it. Write about what you learn instead of just reading. As soon as you are ready, post what you have learned on your website. By doing so, you can communicate that you now practice in your new field.  
4. Network with Others in Your New Practice Area
It can be invaluable for you to meet others who practice in your new area in order to learn more about who you will be interacting with. Discover the nuances of judges in your area, opposing counsels, and more. 
Attend bar events in practice areas. Make contact with others who practice in your new area of practice in your jurisdiction. You can also plan your own event!  
5. Do CLEs Targeted for Your New Practice Area
You should also investigate quality CLEs as an additional means of honing your expertise in your new area of law beyond your study of case law. In any case, you must satisfy your CLE requirements, so why not also become proficient in the new area you want to learn!  
6. Use Google Alerts
Keeping up with the latest developments in your new area of practice? If your area of practice is covered by Google results, set up an alert for new results. The notification frequency and the sites from which you will receive the notifications can both be customized so it's possible to follow as many or as few as you want.  
7. Learn the Business Side of Things
When you learn a new practice area, you will need to learn more than just the law. It's important to become familiar with the business side of things too and to seek out mentorship if necessary.
Billing in disability law cases differs quite a bit from billing in family law cases, for example.  
8. Establish a New Network
If you are moving into a new field of practice, it is recommended you think about those connections that are one or two steps away from the clients you want. Connect with these individuals. Using disability law as an example, these would-be doctors. In family law, this could be a therapist. Keeping in touch with people in these roles, attending networking events for these groups, and making it known that you practice in a relevant area of law will help you earn referrals in the future.  
9. Do Not Forget Your Old Network
Keeping and building your existing network is still very important, despite the need to build a new one. If you are doing anything different, they must know about it. When you don't practice in a particular area of law, it is likely someone from your old network will hire someone else to represent you.
It's important to note that if you become a "hybrid", your old network will become of even greater importance.  
10. Create structure
For attorneys switching practice areas in tough times, this tip is particularly useful. A structure will keep you on track and keep you sane as you switch practice areas.
Every Sunday, you must create a "brain dump" from which you can generate your weekly action plan. Ensure that items on the list get you towards those goals, and complete as much as possible during the week by examining the future plans.  
What Is The Best Type Of Law To Practice?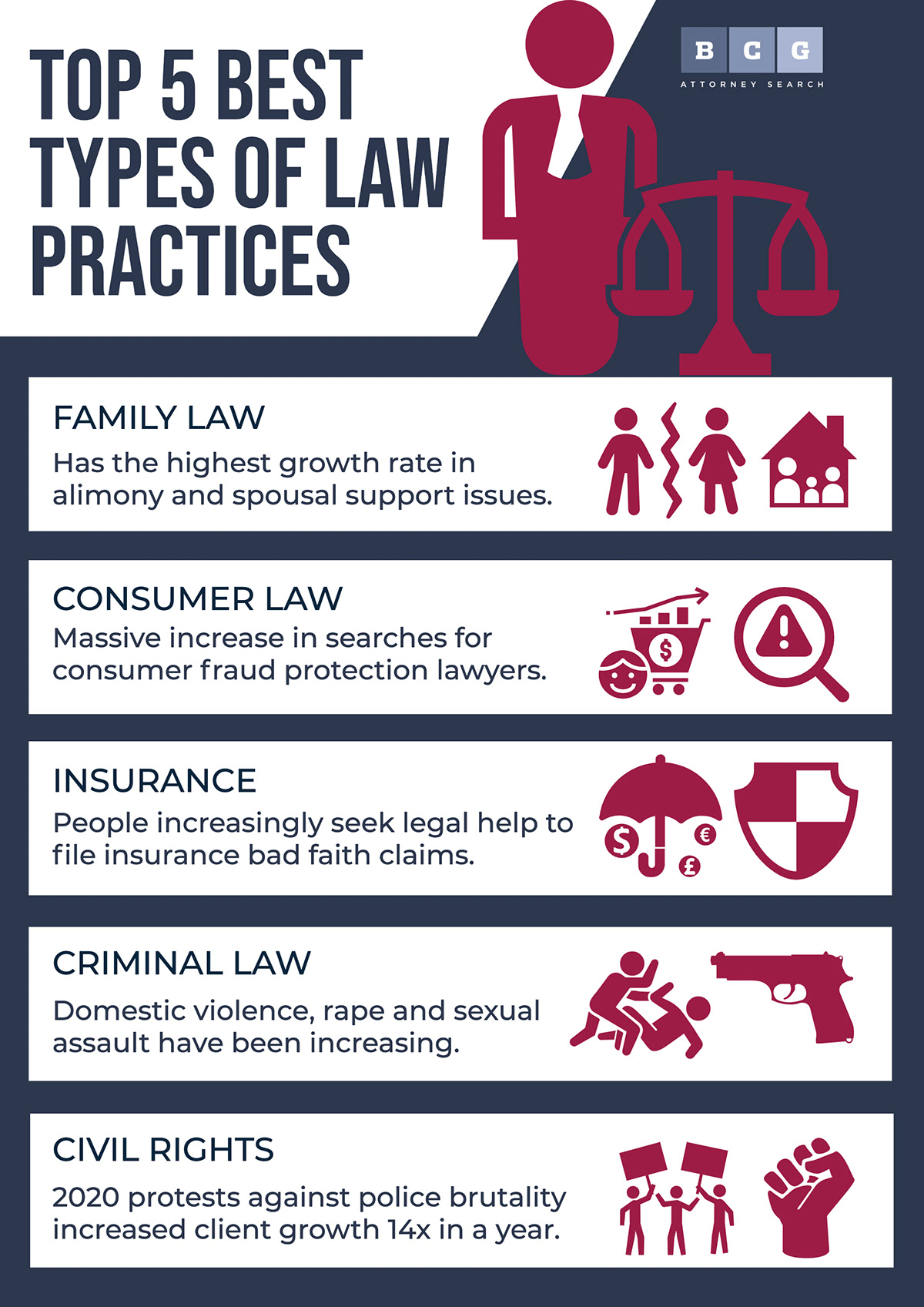 The best type of law to practice currently is as follows:  
1. Family Law: 
Family Law experienced the highest growth rate in alimony and spousal support issues during the quarantine period, even if clients' interest in divorce grew during the period. Only in August 2020, alimony legal inquiries increased 49x year-over-year (YoY).  
2. Consumer Law: 
There was a sudden and massive increase in searches for consumer fraud protection lawyers beginning towards the end of June from prior year trends.  
3. Insurance: 
There is no doubt that insurance companies have been overwhelmed with loss claims this year and denied many of them. People facing denial of their insurance claims are increasingly seeking legal help to file insurance bad faith claims.  
4. Criminal Law:
Criminal offenses saw huge growth this year, with DUIs, DWIs, and drug possession offenses topping the list with 32x increases over last year. In addition to domestic violence, rape and sexual assault saw alarming increases in clients.
5. Civil Rights:
2020 marked the start of protests across the country against police brutality led by Black Lives Matter. In June, July, and August, client growth increased 14x year over year.  
6. Personal Injury:
In contrast to past years, there were significantly fewer drivers on the road in much of 2020. The number of car accident claims was lower than normal, but the number of commercial 18-wheeler accidents increased significantly. Legal queries related to wrongful death also increased significantly.  
7. Estate Planning:
A major concern for many Americans has been estate planning since COVID-19. Accordingly, attorneys handling wills and trusts inquiries increased by over four times from the same period in the past. Similarly, inquiries about probate have increased nearly twofold.  
8. Bankruptcy:
In the wake of the pandemic, non-essential businesses were forced to remain closed for most of 2020. As a result, Chapter 7 business bankruptcy inquiries increased 6x over last year.  
9. Employment Law:
Attempts by employers to cut costs in order to avoid ranking #8 on this list resulted in historic highs in unemployment rates during 2020. As a result, wrongful termination lawyers became an attractive option for many Americans in order to negotiate a severance package or challenge the grounds for termination.  
10. Business Law:
In addition to causing business owners to re-negotiate or re-arrange their business contracts, COVID-19 also forced many companies to review their existing customer or supplier relationships.
About Harrison Barnes
Harrison Barnes is the founder of BCG Attorney Search and a successful legal recruiter. He is extremely committed to and passionate about the profession of legal placement.
His firm BCG Attorney Search has placed thousands of attorneys
. BCG Attorney Search works with attorneys to dramatically improve their careers by leaving no stone unturned in job searches and bringing out the very best in them.
Harrison has placed the leaders of the nation's top law firms
, and countless associates who have gone on to lead the nation's top law firms. There are very few firms Harrison has not made placements with.
Harrison's writings about attorney careers and placements attract millions of reads each year.
He coaches and consults with law firms about how to dramatically improve their recruiting and retention efforts. His company LawCrossing has been ranked on the Inc. 500 twice. For more information, please visit
Harrison Barnes' bio
.
About BCG Attorney Search
BCG Attorney Search matches attorneys and law firms with unparalleled expertise and drive, while achieving results. Known globally for its success in locating and placing attorneys in law firms of all sizes, BCG Attorney Search has placed thousands of attorneys in law firms in thousands of different law firms around the country. Unlike other legal placement firms, BCG Attorney Search brings massive resources of over 150 employees to its placement efforts locating positions and opportunities its competitors simply cannot. Every legal recruiter at BCG Attorney Search is a former successful attorney who attended a top law school, worked in top law firms and brought massive drive and commitment to their work. BCG Attorney Search legal recruiters take your legal career seriously and understand attorneys. For more information, please visit
www.BCGSearch.com
.
Harrison Barnes does a weekly free webinar with live Q&A for attorneys and law students each Wednesday at 10:00 am PST. You can attend anonymously and ask questions about your career, this article, or any other legal career-related topics. You can sign up for the weekly webinar here: Register on Zoom
Harrison also does a weekly free webinar with live Q&A for law firms, companies, and others who hire attorneys each Wednesday at 10:00 am PST. You can sign up for the weekly webinar here: Register on Zoom
You can browse a list of past webinars here: Webinar Replays
You can also listen to Harrison Barnes Podcasts here: Attorney Career Advice Podcasts
You can also read Harrison Barnes' articles and books here: Harrison's Perspectives
Harrison Barnes is the legal profession's mentor and may be the only person in your legal career who will tell you why you are not reaching your full potential and what you really need to do to grow as an attorney--regardless of how much it hurts. If you prefer truth to stagnation, growth to comfort, and actionable ideas instead of fluffy concepts, you and Harrison will get along just fine. If, however, you want to stay where you are, talk about your past successes, and feel comfortable, Harrison is not for you.
Truly great mentors are like parents, doctors, therapists, spiritual figures, and others because in order to help you they need to expose you to pain and expose your weaknesses. But suppose you act on the advice and pain created by a mentor. In that case, you will become better: a better attorney, better employees, a better boss, know where you are going, and appreciate where you have been--you will hopefully also become a happier and better person. As you learn from Harrison, he hopes he will become your mentor.
To read more career and life advice articles visit Harrison's personal blog.