Corporations are forever merging with another company or acquiring another business. The mergers and acquisitions (M&A) lawyer is at the heart of these complicated transactions.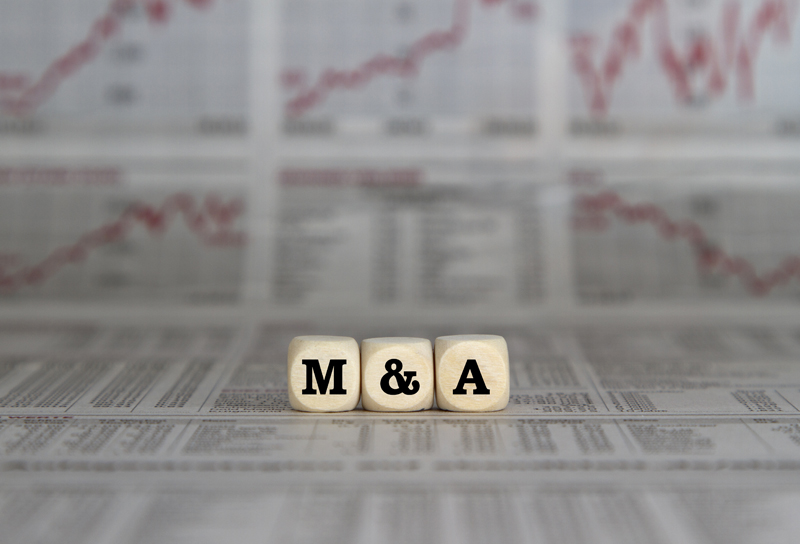 Mergers and Acquisitions
These two transactions are not the same. A merger occurs when two business entities of similar size join together to conduct business as a single entity. The merged company's stock is issued, and the formerlyseparate companies' stock is surrendered. A recent example of a merger is Fiat Chrysler and PSA Peugeot creating the new automaker Stellantis.
  An acquisition occurs when one company takes over another and becomes the owner. The acquired company legally ceases to exist because it is absorbed into the acquiring business.
They can also be distinguished by whether the transaction was friendly or not. An amicable transaction is likely a merger, but an acquisition is often hostile.  
Types of Mergers
Merger types vary depending on the original companies' business practices.  
Horizontal
The two merging business entities compete against each other, with similar products or services and the same markets. The merger of Hewlett-Packard and Compaq is an example.  
Vertical
A company and supplier's unificationis a vertical merger, e.g., a bicycle tire supplier merging with a bicycle manufacturer.  
Congeneric
This involves two businesses with the same consumers served differently. An example is asmartphone manufacturer and a cell service provider.  
Conglomeration
The two businesses have little to no overlap in customers or products, or services.  
Regulation of Mergers
The government has always considered competition among businesses to be a fundamental cornerstone of public policy.
To ensure fair competition, Congress has enacted several laws regulating antitrust activity, and these laws directly impact mergers. They prohibit unlawful mergers that illegally limit competition and outlaw practices like price-fixing and monopolies.
The antitrust laws also
create
private rights of action.
The Federal Trade Commission (FTC) is charged with civil enforcement of antitrust laws. The Antitrust Division of the Department of Justice prosecutes criminal violations.  
Careers for Mergers and Acquisitions Lawyers
The options are nearly endless for lawyers specializing in mergers and acquisitions.  
Corporate
These M&A
attorneys
work for corporations and other business entities, which continually consider mergers and acquisitions.
M&A lawyers have two significant responsibilities when working for a corporation: merger transactions and regulatory compliance.  
Merger Transactions
For example, suppose the firm wants to grow its business by acquiring another. In that case, the M&A lawyer helps protect their company's interest as the merger or acquisition proceeds. Other day-to-day duties include conducting due diligence, gathering relevant documents, negotiating all kinds of details, and drafting formal agreements. As the deal nears closing, the M&A attorney finalizes contracts, checks that closing conditions are satisfied, and gathers necessary signatures for relevant documents.
It's also possible another company wants to buy the firm employing the M&A attorney. In that case, the lawyer keeps a laser focus on assuring that the firm is entering a fair deal that protects its rights.  
Regulatory Compliance
The FTC heavily regulates mergers and acquisitions. When the FTC believes that a corporation's merger plans may violate the law, it tries to get voluntary compliance by offering to enter into a consent order with the corporation. This order is an agreement by the company that it will cease any disputed practices or eliminate unlawful anti-competitive provisions of the proposed merger. A company that signs a consent order is not required to admit any violations or potential violations of the law.
As part of this process, the FTC may issue a Civil Investigative Demand (CID), a subpoena seeking information relevant to the FTC's investigation.
Suppose the FTC can't reach an agreement with the investigated company. In that case, it may file an administrative complaint or pursue injunctive relief in federal court.
The M&A attorney works diligently to ensure that any planned mergers comply with antitrust law. However, if the FTC does launch an investigation into the lawyer's company, that M&A attorney tries as hard as possible to avoid litigation. So, the attorney is involved in every step of an FTC investigation or enforcement action. They work with the agency to negotiate a consent decree and respond to any CIDs.
However, suppose the FTC's enforcement action goes to court. In that case, the M&A attorney, who is a transactions specialist, generally coordinates a transition of the case to a litigation attorney.  
FTC
Another avenue for an M&A lawyer is to work for the FTC. In that agency, they would investigate proposed mergers, negotiate consent orders, and issue CIDs.  
Prosecution
Alternatively, the M&A attorney can work for the Antitrust Division of the Department of Justice as a federal prosecutor. These M&A prosecutors draft criminal complaints against companies engaged in merger transactions that violate antitrust law. After the complaint is filed, the defendant corporation appears before a federal magistrate judge in U.S. District Court.
The defendant corporation will likely file pretrial motions, such as motions to dismiss, for change of venue, and to suppress evidence. The M&A prosecutor files responses to these motions and may argue against them in a hearing.
Attorneys from both sides will likely discuss a plea deal. If these negotiations fail, the prosecutor will prosecute the defendant company at trial. This will include jury selection, presenting an opening argument, calling witnesses, offering evidence, and making a closing argument in favor of a guilty verdict.  
Criminal Defense
A criminal defense attorney specializing in mergers and acquisitions defends the accused corporation in court. The process (preliminary hearing, motions filed, plea negotiations, and perhaps even trial) is essentially the same as described in the M&A prosecutor's job description above.  
Plaintiff's Attorney
Federal antitrust
law
creates private rights of action for those associated with or impacted by mergers and acquisitions:
"A [corporation or person]shall be entitled to sue for and have injunctive relief, in any court of the United States having jurisdiction over the parties, against threatened loss or damage by a violation of the antitrust laws."
This provision causes no end of litigation between companies engaged in merger or acquisition discussions. An M&A plaintiff's attorney represents companies or individuals in lawsuits against other parties involved in the transaction.
The lawyer's duties include filing the lawsuit, preparing discovery requests, and conducting depositions. Concurrently, or later, the M&A attorney will likely enter into settlement negotiations, which can be court-supervised, or through private mediators or arbitrators.
If a settlement is not possible, then the attorney will represent their client at trial.  
Civil Defense
The M&A lawyer specializing in civil defense deals with the FTC and its concerns and investigations regarding the lawyer's client company.
They receive and respond to the agency's CIDs and negotiate with the FTC to narrow the subpoena's scope.
If the FTC is satisfied with the M&A attorney's response, it may close the investigation. Or, it may continue its inquiry and offer settlement negotiations. The M&A attorney represents the target corporation in these negotiations.
If settlement discussions fail, then the FTC will likely pursue injunctive relief or other remedies in federal court. The proceedings in this civil action are the same as any civil lawsuit. The M&A attorney drafts pleadings, files motions,and attends settlement negotiations, possibly including formal mediation or arbitration. If a settlement is still not forthcoming, then the M&A defense lawyer represents the defendant corporation at trial.
Alternatively, the civil defense lawyer specializing in mergers and acquisitions defends private clients against lawsuits filed by the plaintiff's attorney, as described above.  
How Do I Become a Mergers and Acquisitions Lawyer?
Interested individuals can take several steps to pursue a career as a mergers and acquisitions lawyer. First, they can pursue a bachelor's degree in business. Second, before law school, they can get work experience at either the FTC or a large corporation and work in the mergers and acquisitions department. Armed with this education and experience, and after attending law school and passing the bar, the interested individual should find many employment opportunities as a mergers and acquisitions attorney.