Summary: Find out which major law firms are leading the way in 2017 in gender equality.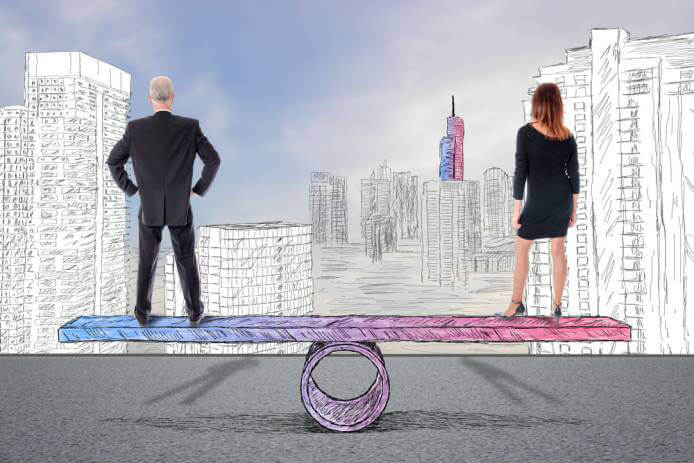 Law firms, bar associations, individual attorneys, corporate clients, and others continue to tackle the issue of gender equality in law firms. Despite about half of all law school graduates being female—and well over 40% of law firm first-year classes being female—women are not represented even nearly equal to men in partnership ranks and women continue to leave law firms at a far higher rate than men.
In 2017, where do firms truly stand when it comes to gender equality? What factors besides statistics inform the "gender equality" issue? When all factors are taken into account, which law firms are leading the way in gender equality and inclusion?
Percentage of Women Equity Partners
One way to assess relative gender equality within a law firm is by looking at the gender makeup of its equity partners. Given that the national average for female equity partners is approximately 18%, by this measure it would appear that firms with higher women equity partner percentages are doing well (or at least better than average) in reducing the gender gap.
Forbes recently evaluated firms according to their female equity partnership numbers. Each of the 20 firms included in the resulting article,
20 Great Law Firms for Women
, had women equity partner percentages that exceeded the national average. San Francisco's Hanson Bridgett came out on top, with 37% female equity partners. Other firms that made the list were:
Fredrikson & Byron
(35%),
Littler
(30%),
Holland & Hart
(27%),
Gray Plant Mooty
(26%),
Wilmer Hale
(25%),
Schiff Hardin
(24%),
Davis Wright Tremaine
(24%),
Ice Miller
(22%),
Reed Smith
(22%), and
Sidley Austin
(27%).
Percentage of Women Promoted to Equity Partner in 2016
Total partnership numbers may not be the best measure of a firm's modern-day efforts towards gender equality, however, given that existing partnership ranks reflect decades of promotion decisions. In this regard, Bloomberg's Big Law Business looked at
2016 partnership announcements of all AmLaw 100 firms
to see how many new partners were women. The study concluded that, overall, nearly 37% of all attorneys who made partner in AmLaw 100 firms in 2016 were women.
According to the Forbes study, on the top end of the spectrum were three firms in which 100% of new partners elected in 2016 were women. These firms were
Pepper Hamilton
(4 women and no men promoted),
Cravath
(3 women and no men promoted), and
Schulte Roth
(1 woman and no men promoted). Other firms that elected more female partners than male partners in 2016 were
Paul Hastings
(80%),
Ogletree Deakins
(75%), and
Pillsbury
(75%).
Five firms turned out the worst numbers when it came to partnership promotions—advancing no women but between 2 to 6 men. The firms that lagged behind with 0% female partnership promotions were:
Cahill
;
Hughes Hubbard
;
Paul Weiss
;
Shearman & Sterling
; and
Sullivan & Cromwell
.
The Diversity & Flexibility Alliance also conducts annual surveys of the gender makeup of major law firm new partner decisions. According to the organization's
2016 New Partner Report
, based on partnership promotions of 134 firms, 37.3% were women and 62.7% were men. Among the firms that had 2016 partnership classes with more women than men were:
Farella Braun
(100%),
Blank Rome
(71.4%),
Andrews Kurth
(66.7%),
Cadwalader
(60%), and
K&L Gates
(58%).
Overall Percentage of Female Attorneys
Law360 recently began compiling its own list of the
100 best U.S. law firms for women
. That publication's list is based on firms' percentage of female attorneys overall, as well as female equity and nonequity partners. "For the firms that nabbed spots on the list," the article explains, "the number of women at all levels of the firm shows that firm leaders are finding some new ways to open doors and increase diversity."
The top 10 firms on the Law360 list for 2016 were:
Walsworth – WFBM
;
Fragomen Del Rey
:
Berry Appleman
; Liebert Cassidy;
Miller Nash
; Royse Law Firm;
Eimer Stahl
;
Adelson Testan
;
Nilan Johnson
; and
Goodell DeVries
.
Other Factors That Influence Whether a Law Firm Is Female-Friendly
The concept of "gender equality" in the law firm context is complex and cannot be reduced to partnership statistics alone (although the opportunity for women to "make partner" equal to men is clearly an important consideration, given the financial benefits and prestige associated with becoming an equity partner). Other factors to be evaluated are how many of a firm's leadership positions are held by women and whether the firm has policies and programs that benefit women.
Two organizations, Working Mother and Flex-Time Lawyers, take a holistic approach in putting out their annual survey of law firms that are attractive places for women to work. As noted in the introduction to
Best Law Firms for Women 2016
:  
In the last decade, the Working Mother & Flex-Time Lawyers Best Law Firms for Women initiative has recognized U.S. law firms that create and use best practices in retaining and promoting women lawyers. The winning firms lead the industry in supporting flexible work arrangements and offering generous paid parental leave. The Best Law Firms also focus on women's business development and parity in compensation as well as increasing women's representation among the equity partnership and leadership ranks.
The 50 law firms named in the survey had at least 20% female equity partners, 30% female nonequity partners, and top rainmakers who were women. Moreover, 25% of management or executive committee seats and 25% of compensation or finance committee seats were held by women (in each case, an increase of 4 percentage points since 2012).
All of the firms that made the list offered flexible work arrangements in the form of flextime, reduced hours, annualized hours, or job sharing. Other policies that many or all of the firms offered were paid maternity and adoption leave, child care (including sick-child care, backup child care, and before/after school child care), sponsorship programs, networking groups and events for women, and women-focused business development initiatives.
When it came to
highlights for various firms on the list
, the survey found that
Arnold & Porter
"nurtures [the] development [of female lawyers] with myriad training initiatives, flexible schedules and at least 18 fully paid weeks of birth or adoption leave (plus $10,000 in adoption aid)." For
Baker & McKenzie
, the "Global Gender Initiative helps propel its talented women to success, generating opportunities (among them a 12-month sponsorship program) that raise their profile and increase their odds of being named partner." At
Kaye Scholer
 (now a part of Arnold & Porter), "Work life integration is a central theme…where alternative schedules are common."
DLA Piper
: "Lawyers really like this firm's work-family seminars; free financial, legal and elder-care consultations; subsidized backup care services; and flex options."
Morrison & Foerster
: "New moms may reduce their hours for a year, an option that has led to near-total retention."
McDermott Will & Emery
: "Formal coaching helps female attorneys shine; education, networking and mentoring groups serve them across offices and practice areas."
Pillsbury
: "Every office here has a liaison who guides attorneys using reduced-hours, flexible or remote positions; anyone taking extended leave is assigned a partner as a point of contact."
Seyfarth Shaw
: "Mothers do well at this firm, serving as office managing partners in three cities, leading the largest practice group and comprising 77% of female equity partners."
Vinson & Elkins
: "Flextime and remote work are regularly used by nearly all attorneys here."  
Conclusions
Law firms continue to take concrete steps forward on the path towards gender equality and inclusion. The most progressive firms are promoting more women into the ranks of equity partnership, hiring and retaining more women attorneys at all levels, and placing more women in positions of power—including rainmaking, management, and compensation roles.
For more information about law firm diversity, see our Diversity Resources.
But gender statistics are just one part of gender equality, which includes ensuring that law firms are places where women can (and want to) work at in the same ways as their male counterparts. Firms that are at the forefront of the gender equality challenge are taking proactive steps to institute policies and programs—including flexible work arrangements, child care options, mentorship opportunities, and business development initiatives—that benefit women and facilitate their long-term success.
For more information about diversity, see the following articles:
Learn more about law firm diversity in this in-depth book:
Law Firm Diversity: How Race, Gender, Age, Social and Economic Divisions Impact the Hiring, Retention and Advancement of Law Firm Attorneys
See the following articles for more information: