Some of these warning signs are economic based, and are thus ''measurable,'' while others involve intangibles and perceptions (e.g., a low level of trust among the partners, lack of leadership, or lack of planning), which are more difficult to detect from within. Here are a few economic based warning signs to watch in your firm.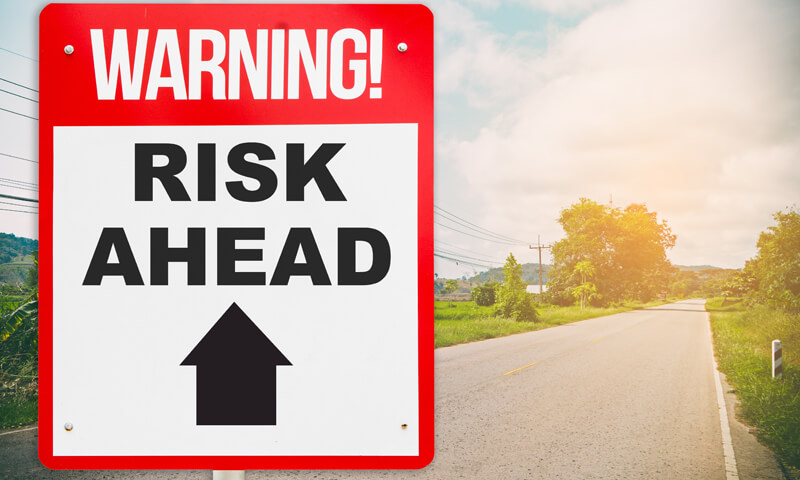 Declining Capacity
Many firms that are destined for a crisis have fared relatively poorly with respect to capacity management.
The concept of capacity management is central to all
professional service
organizations. It means that the number of service providers meets the demand load of the firm in a profitable and efficient manner. In other words, there should be a relationship between the size of the workload and the size of the pool of service providers.
The evaluation of this relationship in a law firm is relatively simple. All that is needed to get a feel for the firm's capacity management situation is total legal staff counts (preferably on a full time equivalent, or FTE, basis) and total billable hours for the past five (or so) years. Calculate an indexed growth rate for each set of data and compare the results.
See Chart 1 for an example data set.
To index the growth rates for each set of data, divide all data points by the base year (1995) value.
Begin interpreting this data by looking only at the indexed growth rate for total billable hours (a graph would be helpful with this). The trend should be upward. If not, then the inflow of work (measured as billable hours) is slowing relative to the amount of work in the base year.
To index the growth rates for each set of data, divide all data points by the base year (1995) value.
See Chart 2 for an example.
Continue interpreting this data by examining the relationship between the two series of data. A comparison of these trends indicates that the rate of growth for total billable hours (1.0 to 1.16) is greater than the rate of growth for total legal staff (1.0 to 1.11)—a favorable position that results in increased average utilization rates.
If the trends were reversed (i.e., the indexed rate of growth in total legal staff was greater than the rate of growth for total billable hours), then the average utilization would be declining.
The most important characteristic to look for here is that the two series generally track, or mirror, each other—supply should generally meet demand. If the average attorney utilization was low in the base year, then the growth rate in total billable hours should be allowed to "pull away" from the growth rate in the legal staff until the desired utilization levels are achieved. If average attorney utilization was high in the base year, then the two series should track each other more closely.
Many firms that are destined for a crisis have a large number of underperforming partners (measured by chargeable hours).
Some non-billable activities, such as firm management, practice development initiatives, pro bono activities, and recruiting result in an overall contribution to the firm and are needed to make a law firm successful. That said, other partners may be underperforming because they are practicing in low demand areas, finding a workable comfort zone that is rewarded to their satisfaction but shortchanges the firm, or just looking busier than they are. These circumstances need to be identified and addressed.
To get a handle on this issue, simply take all partners' annualized chargeable hours and calculate the percentage of partners who billed fewer than 1,400 hours, 1,401 to 1,500, 1,501 to 1,600, 1,601 to 1,700, and so forth.
Graph this data and locate the band in which the firm has its highest percentage. The relative location of this band will vary from firm to firm, but this "peak" should not be in either of the first two bands—fewer than 1,400 or 1,401 to 1,500 hours. If this is the case, then an honest assessment of the overall contribution for each partner in the band over the past two to three years is required.
It is easy to ignore this issue when the firm's economics are fairly strong. Profits are sufficiently high to sustain everyone comfortably and the hope is that low performers will turn their efforts around. Some firms evade this issue in order to preserve the firm's "culture." Once in crisis mode, however, this issue will be a very high priority for law firm management.
In fairness to those who may be better off with another firm, their ability to catch on elsewhere is obviously much higher during good times than bad.
Billing Rate Growth
Many firms that are destined for a crisis are highly resistant to increasing their billing rates.
(This point speaks more to the firm's practice areas and the perceived value of the services in the marketplace than to billing practices.)
Generally speaking, if you can't increase billing rates in the current marketplace without significant resistance from clients, then your ability to make any adjustments in a tighter economy will be virtually non-existent. Fee resistance generally has an inverse relationship to the economy—when one is high, the other is low.
Absent annual increases in billing rates, the firm is also losing ground to inflation.
To get a better perspective on this issue, gather five-years' data for your firm's average attorney billing rates along with the most applicable Consumer Price Index (CPI) data for your firm from the Bureau of Labor Statistics. Create a third set of data that represents conservative growth in the marketplace by starting with your firm's 1995 value and increasing it 7% annually. Index all three data sets (per the methodology used above) and present the results in a line graph.
If your firm's line is below the conservative marketplace growth line, then an adjustment is likely in order. If your firm's line is below both lines, then your firm is losing ground to the marketplace and to inflation, in which case a new practice focus or a new means for service delivery may be required for the future of the firm.
False Revenue Growth
Many firms that are destined for a crisis have experienced a significant and recent conversion of inventories (Accounts Receivable and Work in Progess) to cash.
Revenue growth can be achieved in several ways in any given accounting period. The most desirable growth comes from increased production, which is then billed and collected. Revenues can increase, however, in a down year or at the start of a downturn due to the mechanics of (modified) cash basis accounting—the method of choice for most law firms in their bookkeeping. As such, in a year where production may be lagging, a firm's budget revenue number may still be achievable by accelerating the billing and collections cycle.
Under (modified) cash basis accounting, revenue is recognized when cash is received, rather than when services are rendered. As such, some of any firm's revenue stream early in its fiscal year is related to billings and collections of work produced in the prior year and carried forward in an "inventory" of client services (billed and unbilled time). Likewise, some production from the end of the current year will end up in inventory, to be billed or collected in the following year. This pattern is normal and anticipated within the standard operations of a law firm.
Slow periods of production may result in an unusual focus on getting bills out more quickly and getting clients to pay in a more timely fashion. Such efforts decrease these inventories and increases revenue without increased production. In fact, most efforts to focus on billing and collections correspond with a decrease in production because of the additional effort required to bill and collect. These periods of extra focus on billings and collections deplete the firm's inventories and may alter the cash flow patterns.
All law firms go through occasional dry spells, where a little acceleration of the billing and collections cycle is acceptable. Likewise, most law firms endure a flurry of billing and collections activities prior to their fiscal year end. A recurring "extra" focus on billings and collections over several consecutive months, however, may be indicative of a drop-off in work for the firm and the need for replacement revenue.
This solution is limited in scope. The billing and collections cycle, with its related inventories of time and billings, can only be reasonably compressed so far before clients resist such efforts.
To follow this pattern, calculate the "months of fees" equivalent for inventories by summing the Accounts Receivable and Work in Progress inventories at year end and divide the sum by the value of one month's fees (Revenue / 12). Compare this number to the prior year's statistic.
Every 0.1 month decline in the "months of fees" calculation represents $8,333 per every million dollars in revenue that has no corresponding production from the current year. A decline of 0.4 -0.6 months is significant. Improvement (declines) higher than this may be indicative of a corresponding problem.
Conclusion
When the coast guard issues a gale warning, the day may be clear and sunny, but a storm is coming. The alert sailors guide their ships to safety. Those who ignore the warning signs are in for rough seas. Some might not make it back.
It is easy to ignore warning signs when things are going well. In fact, partners who view the day as clear and sunny may view proactive changes with skepticism. Proactive change means that the partners are in charge. Reactive change may mean that the firm is destined for, or is in, a crisis.
Chart 1
                                            2007       2008      2009      2010        2011
Total billable hours      240,000 254,000 262,000 266,000 278,000
Total legal staff (FTE)     150         158         161         164         167
Chart 2
                                            2007           2008          2009        2010           2011
Total billable hours      240/240      254/240    262/240  266/240     178/240
                                                = 1.0        = 1.06        = 1.09      = 1.11         =1.16
Total legal staff (FTE)   150/150      158/150    161/150  164/150     167/150
                                                = 1.0        = 1.05        = 1.07      = 1.09         = 1.11