As I was about to say the word, ''Sure, I think I can assist you in your job search,'' this candidate said something I did not see coming: ''I put in my notice yesterday and have two weeks before I am finished at my current firm.''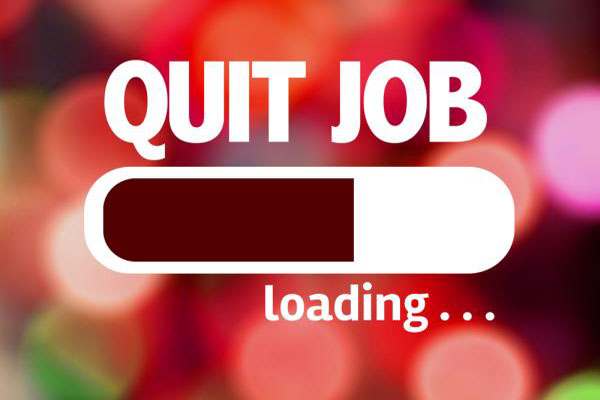 After what seemed like a twenty-minute silence, I responded with ''You did what?''
Yes, it's true, this rock-star candidate up and quit her
job
without securing a new one. Was she living under a rock? Did she not notice that we are experiencing an enormous economic recession that has hit even the best law firms like a ton of bricks? Had she not read about the massive lay-offs at countless law firms across the country?
Truth be told, by resigning from her current job, this associate just made her job search exponentially more difficult, if not impossible. Even the best firms have cut back dramatically on lateral hiring, and those that are still hiring are now moving at a snail's pace. After all, the market is flooded with highly credentialed candidates with impressive experience from the top law firms in the country.
As a legal recruiter, it seems obvious that an attorney should not quit his or her job before securing a new one. However, this is clearly not as intuitive as I thought. Consequently, I have put together a brief discussion of the reasons one should not quit his or her job without finding a new one first.
The Impression it Leaves on the Firms to Which You Apply
Here's a simple fact: it's easier to get a job when you have one. But why? Simply stated, employers want to know that another firm (or company) values the candidate's talents enough to pay for them. Moreover, while a cover letter can explain the reasons for an attorney's departure from his or her previous employer, the resume usually cannot, which leaves the firm to guess why the candidate left. And make no mistake, the first thing the firm is going to ask themselves when they read the resume is ''was this person fired?''
Even if the firm doesn't assume that the candidate was fired, it is more than likely (especially in these current economic times) that someone reviewing the resume will jump to the conclusion that the candidate was laid off. At first glance, this may not seem like a bad thing. But think about it: even when firms lay off associates for ''purely economic reasons'' they are generally going to get rid of the least-valuable associates. Therefore, unless there are special circumstances involved, it is likely that an associate recently laid of from a law firm for economic reasons was not a top performer.
Even if the firm learns that the candidate left voluntarily, questions will still remain. Did the candidate leave because he/she saw the writing on the wall and was on the verge of being fired? If we hire this candidate, is she/he going to quit as soon as the going gets rough? Trust me, these are not the types of questions that you want prospective employers to ask about you when they review your resume for the first time.
Finally, this about this: in this saturated market, where attorneys with top credentials are a dime a dozen, an easy way for firms to narrow down the pool of candidates is to eliminate those who are not currently working, no matter the reason. This means that no matter how great you may think you are, a firm may pass on you because the guy sitting next to you has decided to stick out his job until he finds something better.
Quitting before You Have a New Job Permits Firms to Which You Apply to Contact the Old Job for a Reference.
If an associate quits his or her job before securing a new one, any firm to which he or she applies is going to want to contact the prior job for a reference. While this may not be a bad thing if the associate was in good stead with the firm upon his or her departure, chances are if you want to quit today, there are problems with the job and the reference may not be stellar. And we all know that in this market, stellar references are extremely important.
Moreover, if you quit in a huff, you will likely be leaving you former coworkers and bosses with extra work to do, which may leave them with a bad taste in their mouths about you. So, by quitting, you not only leave any prospective firm with questions about why you left, but you permit them to conduct an investigation into the gory details surrounding the departure.
The Financial Strain it Places on the Attorney
While we have always heard about the
attorney
who quits his or her job expecting to take three months off and then finds his or her dream job the very next day, this hardly ever happens in ''real life'' (especially in this market). In a good market, the experts say to expect a job search to take at least three months, so one can only guess how long it will take in this market. Therefore, the attorney contemplating quitting better have a nice savings account to live on while the job search takes place. I am shocked at the number of associates who have just about no savings and yet refuse to believe me that it can take upwards of six months to find a new job in this market.
Moreover, if an attorney quits and then begins to experience financial stress (which many associates do quickly based on the impressive spending habits they develop while earning a large law-firm salary) he or she may be forced to take the first job that comes along even if it is worse than the job they recently quit. In most cases, the financial pain of not having a job is much worse than the pain of temporarily staying at a job you hate.
The Importance of Having Benefits
While I honestly believe that most of the candidates with whom I work are genuinely smart, I am shocked at the number of attorneys who do not think about the fact that they may lose their health benefits if they quit their job (or they will be subject to COBRA, which many of us know can be outrageously expensive). Add on a spouse and some kids and losing benefits or struggling to pay for COBRA can put a family under water in no time.
Conclusion
So, the next time you feel like quitting your job, remember this: doing so may make the job search process insurmountable. By way of example, I am sad to say that upon learning that the young litigation associate who gave her notice without securing a new position, I concluded that I was not going to be able to help her find a new law firm job. Make no mistake, I would have loved to work with her, but in this tough economy, the single act of quitting made her too difficult to represent.
Please see this article to find out if litigation is right for you: Why Most Attorneys Have No Business Being Litigators: Fifteen Reasons Why You Should Not Be a Litigator