I worked with a patent attorney who was working in a small town in the Midwest and being paid way below market. The attorney wanted to increase their compensation because they were being paid the equivalent of an entry-level engineer despite the fact that they were an attorney. The attorney had a good background in a hard science discipline and was looking for a firm that could integrate them and pay them a fair salary. The attorney had also attended a local law school where they had received okay grades. Due to the fact they were from a local law school and did not have good grades, the attorney believed it would be difficult for them to find a position with a national firm.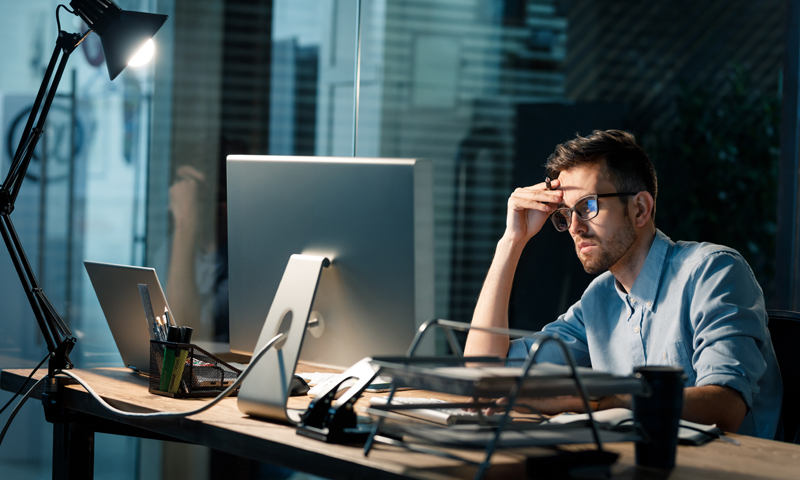 Because their salary was so low, the attorney was working nights to support themselves in a retail store
, assisting customers in finding things. The patent law firm that the attorney worked for was small and justified the salary they paid the attorney because there weren't many local firms that did the work they did, and the attorney did not have a lot of options.  
Something that most patent attorneys often do not realize is that getting a legal position within a large national firm is within their reach after they have completed a year or two of experience. The only individuals law firms have to compare a patent attorney to when they're in school are other law students, and their grades in the law schools they graduated from. Patent attorneys typically do not go to the best law schools because they are engineers and engineering courses are often very hard and have very strict curbs in them-unlike the sorts of classes that many future attorneys are taking in college. In addition, patent attorneys are often surrounded by science and engineering students who have little interest in going to law school. Additionally, these students and the overall academic atmosphere more likely did not impress upon our future patent attorney the importance of good grades, studying for the LSAT and the importance of going to the best law school possible. In fact, very few future patent attorneys end up attending the most prestigious colleges because they tend to be coming from schools with strong engineering programs that are often not the most prestigious schools.  
Because patent attorneys tend not to come from the best schools, or have the best grades in law school, they tend not to get jobs in major law firms when they are in law school. However, grades are much less important once an attorney gets out of school and has the requisite experience as a patent attorney. Also, there are far fewer patent attorneys than there are attorneys in most major practice areas and due to this major law firms are often interested in them once they get experience.  
In the case of this attorney, he had a degree in a hard science discipline and familiarity with a type of circuit that made him uncommon. To place this attorney, I researched the firms in the country that had positions over the past 15 years involving this sort of circuit. I also researched all the law firms in the area that this attorney was from in the Midwest and contacted them to see if they might have an interest in him. It is often a very good strategy to try and place attorneys in their hometown because law firms know that they are likely to stay if they go back.  
Ultimately, I was able to find a national law firm in this attorney's hometown in the Midwest that had a need for a patent attorney like him. Also, by researching the law firms that did this specific--and very narrow sort of work this attorney had a degree and experience in— I was able to get him interviews at other firms that did not even have openings. For every interview I got this candidate, the law firms did not have openings. I was able to get him interviews by using strategic outreach to law firms that did not have openings.  
A final point about patent attorneys is that they often do not realize how large the market is. There are countless small patent law firms that may have just a handful of attorneys in them that do patent work for important clients. It is not uncommon, for example, for companies like Amazon, Microsoft, and Facebook, to work with small patent attorney firms that may only have three or four people. Patent attorneys are one of the easiest sorts of attorneys for me to place when they are open to looking at firms that I find them. One of the most difficult things about placing patent attorneys, though, is that they often try to control the search process and once they do these attorneys tend to get in their way. When I am given free rein to work with patent attorneys and investigate the market for them, the results are often excellent as they were here. This attorney more than doubled his salary and is no longer working retail at night.
View BCG Attorney Search's Recent Placements
Read BCG Attorney Search Reviews
About Harrison Barnes
Harrison Barnes is the founder of BCG Attorney Search and a successful legal recruiter. He is extremely committed to and passionate about the profession of legal placement.
His firm BCG Attorney Search has placed thousands of attorneys
. BCG Attorney Search works with attorneys to dramatically improve their careers by leaving no stone unturned in job searches and bringing out the very best in them.
Harrison has placed the leaders of the nation's top law firms
, and countless associates who have gone on to lead the nation's top law firms. There are very few firms Harrison has not made placements with.
Harrison's writings about attorney careers and placements attract millions of reads each year.
He coaches and consults with law firms about how to dramatically improve their recruiting and retention efforts. His company LawCrossing has been ranked on the Inc. 500 twice. For more information, please visit
Harrison Barnes' bio
.
About BCG Attorney Search
BCG Attorney Search matches attorneys and law firms with unparalleled expertise and drive, while achieving results. Known globally for its success in locating and placing attorneys in law firms of all sizes, BCG Attorney Search has placed thousands of attorneys in law firms in thousands of different law firms around the country. Unlike other legal placement firms, BCG Attorney Search brings massive resources of over 150 employees to its placement efforts locating positions and opportunities its competitors simply cannot. Every legal recruiter at BCG Attorney Search is a former successful attorney who attended a top law school, worked in top law firms and brought massive drive and commitment to their work. BCG Attorney Search legal recruiters take your legal career seriously and understand attorneys. For more information, please visit
www.BCGSearch.com
.