03/23/2022
Willkie Adds Insurance Litigator Laura Geist in San Francisco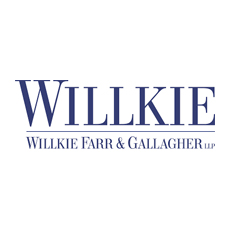 Willkie Farr & Gallagher LLP today announced that Laura Geist, a leading commercial litigator focusing on life insurance and financial services class actions, has joined the Firm's San Francisco office as a partner in the Litigation Department. Laura was previously a partner at Dentons.
"Laura is a standout litigator and we are thrilled to welcome her to Willkie. Her extensive work in class action defense litigation, as well as deep experience and sophisticated knowledge of the rapidly growing insurtech and fintech sectors, will be a great addition to our expanding team of litigators on the West Coast," said Simona Agnolucci, co-managing partner of Willkie's San Francisco office.
"As we serve our insurance and technology clients, especially where those businesses and issues intersect, Laura will be a great asset. Her litigation experience and track record of success in these arenas will be a valuable addition to our practice," said Kara Baysinger, Co-Chair of Willkie's Insurance Regulatory and Insurtech groups.
Laura has an active practice in life insurance and financial services litigation, focusing on consumer class actions and defense of Consumer Legal Remedies Act (CLRA) and Unfair Competition and Unfair Business Practices (UCL). She regularly defends new market entrants as well as Fortune 500 companies in consumer claims regarding loss of insurance, policy pricing, cost of insurance, sales practices, and consumer fraud. Laura has extensive trial and arbitration experience including Financial Industry Regulatory Authority (FINRA) arbitrations.
Her practice also includes risk consulting and litigation for emerging industries, technology companies and start-ups, including market leaders in the cannabis industry. Throughout her career, she has defended countless national and statewide class actions involving the Truth in Lending Act (TILA), the Unruh Act, the Racketeer Influenced and Corrupt Organizations Act (RICO), advertising and marketing claims under the Stored Communications Act (SCA), California Invasion of Privacy Act (CIPA), State and Federal Wiretap Acts, the Telephone and Consumer Protection Act (TCPA), and the Song-Beverly Credit Card Act.
Laura commented: "Willkie's market-leading litigation and insurance practices, and tech-focused platform on the West Coast makes the firm an ideal please for the next stage of my practice. I look forward to working my new colleagues in San Francisco and beyond to help clients navigate complex disputes at the growing intersection of technology, financial services and insurance."
Willkie's Litigation Department includes approximately 250 lawyers worldwide who represent major U.S. and non-U.S. financial services companies, accounting firms, insurance and reinsurance companies and brokers, media companies, and individuals in complex commercial and class-action litigation. The Department has extensive experience conducting internal corporate investigations and internal corporate matters. In addition, the team regularly represents companies and individuals in investigative and enforcement proceedings brought by federal and state regulatory agencies.
Want to read more law firm news?
For past editions of our weekly law firm news, click here.
---
Contact Our Recruiters Now!