09/01/15

Littler Hires First National Director of Data Analytics

Summary: Zev J. Eigen will serve as Littler's first National Director of Data Analytics.

Littler is pleased to announce that it has hired Zev J. Eigen as the firm's first National Director of Data Analytics. Eigen will work from the Los Angeles office, and arrives just as the firm launches its Littler Data Center, which aims to provide clients with Big Data strategies and analytics resources that are designed to benchmark and analyze human resources and litigation strategies.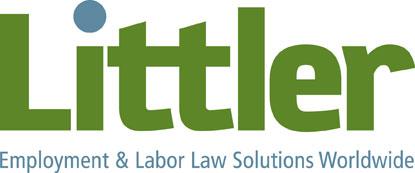 Eigen will be an asset to the firm's eDiscovery Practice and the firm's Littler CaseSmart platform, which provides clients with tailored, attorney-client privileged data analytics through a dashboard interface. Eigen's role will improve and expand the Big Data resources in a number of areas.
Tom Bender
and
Jeremy Roth
, co-managing directors of Littler, said, "Zev's deep understanding of labor laws, combined with his impressive economics and data analytics background, hits a sweet spot with skills that distinguish him from others. We continue to push the envelope to address and anticipate Big Data solutions that employers need."
Of the new position, Eigen said, "Littler's commitment to Big Data far exceeds any firm in the labor and employment arena. The firm is forward thinking in its understanding of advanced metrics and the way in which it counsels clients on risks and best practices. Data analytics drives decision-making at the highest levels of many organizations—particularly in strategy, marketing and finance. Companies relying on data analytics in HR and labor and employment law related decisions have a significant business advantage. Littler is wisely progressing in this direction to bolster services for clients in these critical areas."
Eigen is experienced in technology, statistics, social science, economics, and the law. He will be able to help clients make stronger decisions through machine learning. Most recently, Eigen was the Vice President of Strategy with Contract Standards, a company that provides machine-learning technology and tools to firms and corporate counsel.
Marko Mrkonich
, a Littler shareholder and the lead author of its paper on Big Data in employment, said, "We continue to move data analytics practices from the marketing department into the HR department and help select, manage and oversee clients' most important asset – their people. Big Data analytics operates in a unique setting in the L&E environment. Most management consultants do not have an employment lawyer's ability to understand the intersection of Big Data and employment law, and we help fill that gap."
Eigen added, "While not all clients want to be fully engrossed in the technical details related to Big Data, they do care about risk and how to mitigate it – which is what we can do with data and analytics," Eigen said. "I'm excited to return to Littler, a firm that's always been one step ahead of client needs and is engaged in deciphering data using new technologies to add client value at every turn."
Eigen graduated from the Massachusetts Institute of Technology with a Ph.D. and earned a law degree from
Cornell University
.
Source: Littler
Photo credit: oceg.org