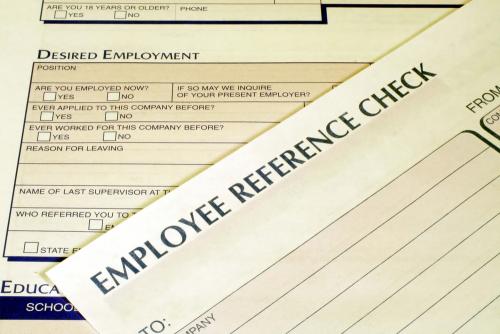 Answer:
Good questions! First of all - and most important - never, never, never let someone speak to your current employer until:  
An offer of employment has been extended
You have accepted that offer
You have told the people at your firm that you have accepted an offer
You have told the people at your firm that someone will be calling to check references.
There is absolutely no reason on earth that a potential employer should feel compelled to contact your firm prior to you accepting an offer of employment. You are absolutely correct in thinking that the partners at your firm would react negatively if they found out that you were interviewing.
However, there is nothing wrong if, prior to extending an offer, the potential employer asks you if he or she might contact a previous employer. I do not believe that it is necessary to contact any references prior to an offer being accepted, but occasionally a firm might like to check a candidate's past employer just to make sure they have a certain type of skill.
Speaking of references, before giving out any names or phone numbers, make sure that you contact the potential reference and say something along these lines:
"I have just given your name out as one of my references. I hope this is okay with you. Please remember, what you say will determine my future."
I probably don't need to tell you this, but just in case: Do not use a reference unless you are confident that your relationship is positive. I know instances where the candidate is certain that the recommendation is going to be great and therefore does not contact the reference in advance. Then a phone call comes in from the prospective employer, your reference person is totally unprepared and decides that it is best to say nothing rather than speak with someone calling out of the blue. When a reference refuses to say anything nice about you, it is generally assumed that your references from this employer are not going to be good.
It should not be too difficult to go on interviews without people in your firm discovering that you are thinking of leaving. Whether or not you are
working with a recruiter
, try to set up that first screening interview for early in the morning, during the lunch hour and after 6 pm.
Generally speaking, partners are early risers and will be happy to meet with you either in the office or at a restaurant for a breakfast meeting. (By the way, when scheduling a meeting for breakfast or any other meal, make sure that you are not going to a restaurant that is near your office or is a place frequented by people in your office.)
If you can't schedule the interview for a time when it would be expected you'd be out of the office, you are going to have to take a sick day or a vacation day or - in the best-case scenario - miss an hour or so of work and skip lunch that day.
The greatest difficulty that you face is being a part of a small firm. Your absence is far more visible than it would be in a large firm. I would recommend that you take a full day off and try to schedule as many screening interviews as possible during that particular day.
Once you are in the call-back stage of the interviewing process, you will have more flexibility to set up interviews that will work with your schedule. Once a potential employer determines that they are interested in you, they become much more accommodating.
Best of luck with your job search!
Summary: Learn when the proper time is to let a law firm that you are considering speak with a reference at your current firm.
See the following articles for more information: