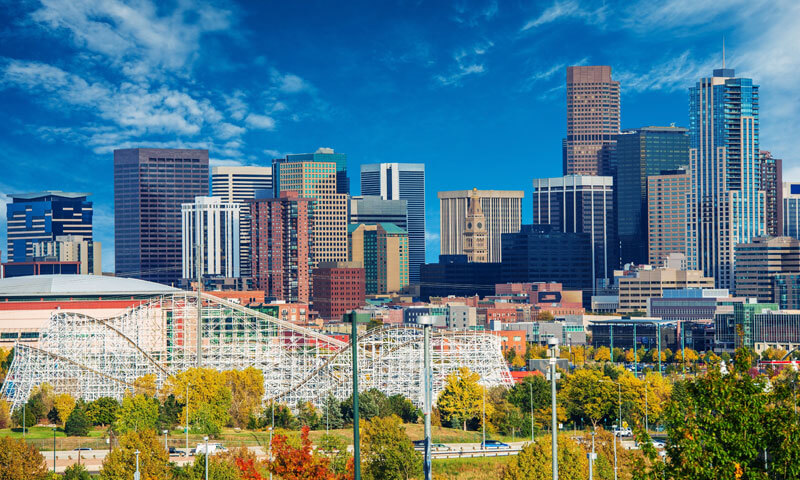 Located in the foothills of the Rocky Mountain region, Denver was ranked fifth in the nation for job growth in the '90s. With a population of approximately 3 million, Denver is a young, vibrant city, with 50% of its population under the age of 35. Major industry representation in Denver is in the telecommunications, computer software and storage, and biomedical areas. With a high concentration of two household incomes, the median household income in Denver is 15.5 percent higher than the national average.
Denver is home to some of America's most prominent sports teams. The Denver Broncos (back-to-back Super Bowl winners in '98 and '99), the Denver Nuggets, the Colorado Rockies, and the Colorado Avalanche ('96 and '01 Stanley Cup champions) provide excellent sports entertainment. Coors Field, the Pepsi Center, and the $400-million Invesco Field at Mile High Stadium are premier venues for Denver sports teams.
Denver is an outdoor mecca, a year-round haven for outdoor lovers. At an altitude of approximately 5,300 feet, Denver provides a wide variety of outdoor activities. With more than 40 state parks and 25 ski areas, one would be hard-pressed to exhaust the scope of Denver's beauty. In
Conde Nast Traveler's
December 2003 issue, 24 Colorado ski resorts were chosen among the top-50 ski resorts in North America. Vail, Aspen, Beaver Creek, Keystone, Steamboat, Snowmass, Telluride, Copper Mountain, and Crested Butte are some of the best ski areas in the country.
A shopper's dreams come true in Denver. This city houses 11 mega-shopping centers. Flatiron Crossing, a 1.5-million-square-foot mall, opened in August 2000. Colorado Mills and Park Meadows are examples of some of the area's other top tourist attractions.
Denver hosts a variety of museums, including the Aurora History Museum, the Museum of Outdoor Arts, the Colorado History Museum, and the Black American West Museum & Heritage Center, as well as the renowned Denver Museum of Nature & Science. Other attractions include The Plex, the Denver Performing Arts Complex, the Denver Botanic Gardens, the Denver Zoo, and the Denver Art Museum.
Perhaps the best-known area for nighttime fun is LoDo, Denver's downtown area, where dining and shopping is available at Larimer Square. The Denver Pavilions and the Denver Center for the Performing Arts provide great venues for excellent restaurants, theatre, and Broadway plays.
Another major Denver attraction is the beer. Breckenridge Brewery, Coors Brewing Company, and the Wynkoop Brewing Company are but a few of the breweries in the Denver area contributing to Denver's brewing of more beer than any other city in America.